Who is Clark Rockefeller?
List Price: $20.95 [Buy now and save at Amazon]
---
Enjoyable Lifetime telemovie...if you don't look too closely at it. Sony Pictures Home Entertainment has released Who is Clark Rockefeller?, the 2010 Lifetime made-for-TV movie based on the true-life exploits of German conman Christian Gerhartsreiter, who passed himself off as a variety of professionals before landing a beautiful Harvard MBA graduate with a couldn't-miss come-on: posing as a member of the wealthy Rockefeller clan. Starring TV performers Eric McCormack and Sherry Stringfield, Who is Clark Rockefeller? delivers the expected Lifetime themes of wronged women and bastard, user men, wrapped up in an exceptionally glossy package.
Through an assured flashback and flashfoward structure, we come to know Clark Rockefeller (Eric McCormack)...or do we? Beginning with a videotaped plea to "Clark" by his ex-wife, Sandra Boss (Sherry Stringfield), to bring back their kidnapped daughter, "Snooks" Reigh (Emily Alyn Lind), the complicated "Rockefeller"/Boss relationship is slowly revealed. Meeting Clark for the first time in 1993, at a party in his fabulous New York City apartment, Sandra is immediately swept off her feet by the ultra-suave, cultured Rockefeller heir, and further ensnared by this smoothie when he reveals his vulnerable side, claiming to be orphaned, estranged from his rich family, and dedicated to working pro bono for Third World economies (all of which should have spelled-out "deadbeat" to this supposedly smart cookie). Marrying Clark in 1995, Sandra has some concerns about the apparently penniless Clark's spending habits (for instance, he bounces a 2K check for wine), but she eventually accepts the role of breadwinner (with a Harvard MBA, she quickly begins to pull down some serious cash), while Clark becomes the primary caregiver for their daughter, "Snooks." However, Clark's increasingly erratic behavior and more and more outrageous lies lead Sandra to suspect that Clark may be unbalanced. As Clark pursues increasingly expensive business ventures (that mysterious peter out without compensation), Sandra is forced to take on a punishing workload, leaving little time to see her daughter. Soon, she settles on a divorce. Only then does she discover that Clark is not a Rockefeller, and that he may be a psychopathic killer.
SPOILERS WARNING!
For a Lifetime movie, Who is Clark Rockefeller? is unusually well-put together. Director Mikael Salomon's (Band of Brothers, Rome) and editor Michael D. Ornstein's smooth, confident handling of the script's complicated (for Lifetime, at least) flashback structure, and the big screen-worthy production values, including top-of-the-line sets and beautiful cinematography by John Dyer, give the movie an ultra-glossy look and feel. Thematically, it delivers the goods, too, as far as fulfilling the de rigueur Lifetime requirements for a good ol' fashioned man-hatin' melodrama: an innocent woman seduced by love, money and sex, a lyin' weasel of a charmer who puts said-innocent through hell, and a final comeuppance for the bastard by the sadder-but-wiser, newly empowered woman. Even though Who is Clark Rockefeller? is based on real events, give or take some expected dramatic liberties (and from the cursory research I did on the web, it seems to hold pretty closely to the facts), its story is as old as the hills...and that's precisely why it works so well within the Lifetime framework, where the same handful of melodramatic conventions are endlessly reworked to appreciative viewers. So on those two important levels, Who is Clark Rockefeller? can be considered successful. But it's a qualified success, to be sure, one compromised, unfortunately, by the film's central performance.
From the very first shot of McCormack, one gets the feeling that McCormack's oozing insincerity is almost totally at odds with the intent of the film, and specifically with Stringfield's performance. Who told McCormack it was okay to filter his character through a combination of phony Robert Wagner/Jonathon Hart smarminess, and The Boys in the Band's Leonard Frey's bitchiness? I understand that Clark is a con man, and that to a certain degree, it's fun for the filmmakers to telegraph the villain's intentions within the scenes, so we the audience can chuckle to ourselves and say, "See? He's smiling at her...and we know why he's smiling, the rat." That's stock and trade for a film like Who is Clark Rockefeller?. Yet as the film progresses, and conman McCormack doesn't let up on the outrageously sly winks and the polite, effete guffaws at the gaucheness of his various marks, the wonder becomes not that Stringfield's character didn't realize that he wasn't a Rockefeller, but that she didn't immediately suspect that he was gay, such is the outré tenor of McCormack's turn here. I don't think director Salomon was heading towards "camp" (I detest that word, but if any word fits McCormack here, that's it), because the film seems designed for serious intent, and certainly Stringfield plays her role in that meter.
In the script, Stringfield's character has to state over and over again that she bought Clark's blarney hook, line, and sinker, because the FBI investigators are incredulous that such a smart businesswoman wouldn't put 2 and 2 together and figure out something was off with Clark (she knew nothing of his personal history, like his S.S. # or relatives' phone numbers--nothing). That's a potentially interesting dramatic element that's teased at but left unexplored: the notion that Sandra could be so enamored with the conman that all her common sense went out the window...and her later rationalizations for his behavior once her own doubts became too strong to ignore. However, that context of infatuation versus rational thought isn't firmly established in Who is Clark Rockefeller?, because Stringfield seems visibly thrown by McCormack's performance. Contrary to being swept off her feet by the effete McCormack, Stringfield seems to be slightly incredulous at everything McCormack does--and I do mean McCormack himself, not his character, Clark. Is it me, or is Stringfield constantly rearing back from McCormack with a look of utter bemusement at his arch, prissy overacting? Stringfield, looking better than I've ever seen her (the costume designer emphasizes her killer body in a series of form-fitting business outfits), can't seem to muster up any erotic heat for McCormack when he unconvincingly tries to put the moves on her. You can see the look of...is it embarrassment on her face?...as she endures his embraces (yes, but embarrassed for whom?). So if I don't buy that she's infatuated with him, or swayed by him, or in love with him, how do I take her quite believably-rendered scenes of betrayal once she finds out who Clark really is? Stringfield knocks it out of the park with those sequences, showing a vulnerability and strength of character and anger that's realistic and effective. However, without the grounding of us believing in their relationship in the first place, these later scenes can't help but lose impact. And that's a shame, because what could have been a stellar made-for-TV movie, comes over at comical cross-purposes. We're watching Stringfield create a believably wronged woman...but we can't understand why she feels so wronged, since we've been laughing (unintentionally) at McCormack all along (as she seems to do in her early scenes with him, as well). You can certainly enjoy Who is Clark Rockefeller? on that level--McCormack may be off-tone, but his turn is at least amusing in its wrong-headedness. It's just a shame the more serious nature of the movie gets lost amid his goofy gorping.
The DVD:
The Video:
The anamorphically enhanced, 1.78:1 widescreen transfer for Who is Clark Rockefeller? looks pristine, with rich, deep, true colors, razor-sharp image, and no compression issues. Terrific-looking film in this excellent transfer.
The Audio:
The Dolby Digital English 5.1 English audio track is equally expansive in range, with some discreet separation effects to the rear speakers, an agreeably loud recording level, and a subtle mix. This 5.1 is also available in Portuguese, along with English and Portuguese subtitles, and English close-captions.
The Extras:
There are no extras for Who is Clark Rockefeller?.
Final Thoughts:
You're probably going to laugh at it...and that's too bad, because there's an excellent performance by Sherry Stringfield in this good-looking true-life crime melodrama from Lifetime. Who is Clark Rockefeller? sure seems like a serious piece, judging by her performance and the content of the story, but maybe someone forgot to tell Eric McCormack that channeling the most snide, bitchy aspects of Noel Coward, George Sanders, and James Mason may not have been the way to go here. A rental, I think, for the curious and lovers of true-life melodrama.
---
Paul Mavis is an internationally published film and television historian, a member of the Online Film Critics Society, and the author of The Espionage Filmography.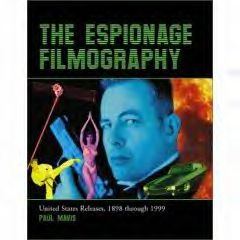 Sponsored Links
Sponsored Links