List Price: $19.95 [Buy now and save at Amazon]
---
"Hey, if it's smooth, we'll skate anywhere, man."
Sidewalk surfers rejoice-your Gone With The Wind has finally made it to DVD. Scorpion Releasing's Skateboard is a bonus-heavy edition of the 1978 cult-classic indie (the first feature film, it's claimed, to focus on the sport) starring 1970s sleazebag extraordinaire Allen Garfield, Kathleen Lloyd, teenybopper heartthrob Leif Garrett, and featuring some of the legendary icons of the sport, including Tony Alva, Jay Adams, and Ellen Oneal. A shaggy underdog sports flick with that indefinable low-budget 70s movie vibe, Skateboard will work best for those who grew up on films like it, and for skating followers who want to see the gnarly beginnings of their sport.
Small-time hustler Manny Bloom has more success keeping his frizzy comb-over in place than he does at keeping his moribund talent agency afloat. Collecting unemployment in his decrepit Datsun convertible, Manny has to dodge the skaters who cruise down his steep side street, as well as avoid bill collectors and more menacing threats, such as Solly (Antony Carbone), a well-heeled gangster who's got a nut on Manny to the tune of 10 large. Told over the phone by Solly that he better get up the cash or else, Manny, in desperation, exclaims he's got a fool-proof method of tapping into "the youth market." Skateboarding. He'll gather up a bunch of skaters, like the ones that jumped over his car that morning, put on some exhibitions, and enter them in meets, with the goal of winning 20 Gs in the Burbank Invitational Skating event. There's only one problem: Manny is a nervous, fractious mess, constantly flying off the handle and yelling at mellow skaters Brad (Leif Garrett), Jason (Richard Van der Wyk), Tony (Tony Alva), and Randi (Pam Kenneally), all just kids who want to skate, drink beer, and fool around. Enter Millicent Broderick (Kathleen Lloyd), a nurse and surrogate mother to the kids, and a calming buffer for Manny's sometimes toxic anxiety. Success for the newly-dubbed L.A. Wheels comes with a price, though: on the eve of the Wheels' greatest triumph at the Burbank Downhill Invitational, Manny is ordered to take a dive so Solly can clean up with the bookies.
SPOILERS ALERT!
I'm not going to spend a lot of time discussing and dissecting Skateboard because it's not that kind of movie (and I'm certainly no expert on the sport or its heroes). I remember quite well going to see Skateboard at my local second-run house back in '78 (the radio and TV ads were seemingly ubiquitous the week or so prior to it showing up in my small town), with its tagline, "the movie that defies gravity," a good come-on for a 12-year-old who could barely manage to navigate his own crude skateboard down our cracked and uneven sidewalk. Watching the film today, it generated nostalgia more for that particular time period of small indie pick-ups that would surface at cheap movie houses and the drive-ins, rather than for the movie itself.
An obvious combination of The Bad News Bears and Rocky, Skateboard certainly offers nothing new in terms of storyline, with its only novelty coming from the skateboarding angle and Garfield's borderline scuzzy performance (the script was co-written by co-producer Dick Wolfe, of Law and Order fame). From the film's first frame there's never any doubt that unconventional Garfield will eventually win over his youthful charges and score big at the final tourney, so all that's left is enjoying the atmosphere and small details that pin the film down solidly in a laid-back, sleepy mid-70s SoCal haze. Apparently, director George Gage now works in documentaries, and tellingly, those scenes in Skateboard that come closest to a documentary feel work the best here (the skating montages and some of the ad-libbed, quasi-cinema verite scenes with the kids and Garfield). But too often, scenes go on far too long (Gage, in his entertaining commentary track with Alva, acknowledges this), or play out as ultimately pointless, ending abruptly without a payoff (the bar scene with Manny and Milly, perhaps setting up a romance that wasn't developed?). And don't look for any Bad News Bears hijinks with the youthful cast, either; director Gage plays it safe with only one scene that suggests a more earthy feel-good approach by the teens in beer-drinking and Playboy-perusing. For the most part, he ignores the kids' lives to concentrate on Garfield and his financial woes (a mistake, frankly, considering Garfield's story is so cliched, and the skaters' world so new to viewers in '78). Along with Garfield's nervy performance, the skating montages are the film's highlights, to be sure, and fans of the sport will get a kick out of the primitive gear and low-tech stunts that are attempted here (check out that cheap foam-rubber helmet). Frustratingly, though, two of the movie's best stunts-jumping over Manny's car and Alva's flip out of a swimming pool-are muffed by poor camera placement, and that kind of sloppy construction keeps Skateboard from ever achieving lift-off.
Garfield, who cornered the market on shady, sometimes grotesque supporting characters in 70s cinema (his comedic turn in the earlier Mother, Jugs & Speed is Oscar-worthy and one of my favorites from that decade), resists the temptation to turn all soft and cuddly like Matthau in The Bad News Bears (or Lloyd's predictable-but-well done turn here as the mother figure nurse); Garfield's Manny is a creep with a heart of gold, but just because the team starts winning doesn't mean he's suddenly transformed. Even when he's apologizing to the kids in the final act, he comes across as intriguingly insincere. Add to that just the physical sight of Garfield in his too-tight polyester shirts and his wild Bozo the Clown comb-over forever frizzing off into space, and you have a performance, frankly, that deserved a better vehicle.
The DVDs:
The Video:
Quite nice. Scorpion Releasing has snagged a fairly good 1.78:1 anamorphic transfer of Skateboard, with just minor screen anomalies and solid color, helping this look far better than I remember it even in the theater. No compression issues.
The Audio:
The English mono audio track probably approximates the original release design, and as it stands here, it's fat and surprisingly healthy, with low hiss and clear dialogue. No subtitles or close-captions are available.
The Extras:
Lots of goodies for the Skateboard freak. First up is a full-length commentary track with the director and Tony Alva. Both are entertaining discussing the production of the film, with Alva coming off particularly well with his cogent observations about the characters and themes in the film. There are three interviews with Alva, Gage and the two together. Alva's runs 17:03, and he's well-spoken not only about his experiences filming Skateboard, but also about his life today and his position as skateboarding's "Godfather." Director Gage's interview lasts 13:14, adding some additional information on the film's production, while their joint interview, running 5:16, seems more like an excuse to film the two together, rather than add anything new to what they've both already covered in their commentary and separate interviews. Finally, the original theatrical trailer is included (that came immediately back to me). That's an impressive collection of extras for this small-gauge cult film.
Final Thoughts:
Skaters who are into the history of their sport, along with 40-somethings who grew up with films like this at the drive-in or the re-run houses, will no doubt enjoy Skateboard for exactly what it is: a fairly shaggy but entirely representative example of the types of films that filled those two venues way back then. Allen Garfield doesn't succumb to cuteness, and that's entirely welcome here among the predictable script, while the skating montages are gnarly. I'm recommending Skateboard.
---
Paul Mavis is an internationally published film and television historian, a member of the Online Film Critics Society, and the author of The Espionage Filmography.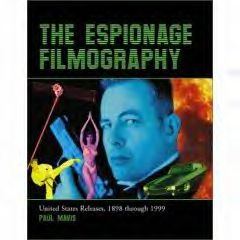 ---
C O N T E N T

---
V I D E O

---
A U D I O

---
E X T R A S

---
R E P L A Y

---
A D V I C E
Recommended
---
E - M A I L
this review to a friend
Sponsored Links
Sponsored Links