THE MOVIE:
Jennifer Lopez returns with her first film in four years in The Back-up Plan, a scattershot romantic comedy in which her character Zoe gets artificially inseminated minutes before meeting the man of her dreams. Now pregnant with twins, Zoe realizes her timing, much like the film itself, is rather poor.
After quitting a job in the corporate world to open a pet store, Zoe has failed to find Mr. Right, despite dating "hundreds of guys." She realizes that a baby is key to her happiness and turns to a sperm bank and single-mother support group to make it happen. Fresh from a successful insemination session, Zoe hops into a cab at the same time as Stan (Alex O'Loughlin of The Shield). Bickering over who hailed the cab first kick-starts a prenatal attraction, and Stan soon wins Zoe over by planning a romantic al fresco dinner and setting the table on fire.
The film does not tease viewers much over whether Zoe will get pregnant, as that happens in the first reel. Stan soon invites Zoe to his family's farm, where he confesses that in addition to selling cheese at a farmers' market he is moonlighting as an undergrad. Zoe one-ups him by revealing her pregnancy, effectively ending the romantic weekend. Strangely, the scene after Zoe drives away shows Stan joining her for an ultrasound. If he was conflicted about whether to stay with her, the film does not bother to show it. After this, the narrative bebops through Zoe's pregnancy, and viewers are treated to scenes depicting the strain impending childbirth puts on a relationship.
Director Alan Poul has worked on some of the best shows on TV, including HBO's Six Feet Under and Rome, but fails to bring much spark to his cinematic debut. The Back-up Plan is innocuous enough, but falls into the same trap as last year's The Ugly Truth by awkwardly mixing sugary sentimentality with grade-school humor and sight gags. The drama is not compelling, and shots of Lopez diving into a pot of chili are not funny. Most cringe-worthy is an at-home birth scene involving the single-mother support group in which the mom-to-be literally brays like a donkey.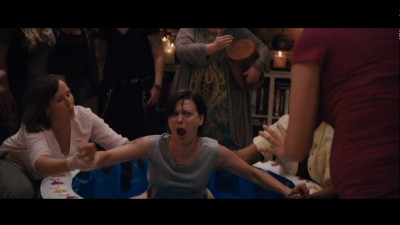 The product of newly created CBS Films, The Back-up Plan may be suited for afternoon movie-of-the-week status, but it brings nothing exciting to the romantic comedy genre. Lopez has shown she deserves better in films like The Cell and Out of Sight, and if she waits another four years to shoot a film, hopefully she can find a better script in her time off.
THE DVD:
VIDEO:
Sony Pictures Home Entertainment releases The Back-up Plan for CBS Films with an appealing 2.35:1 anamorphic widescreen transfer. Flesh tones are natural, and the transfer handles the film's abundant colors well. Detail is frequently strong, especially in close-ups. Slight DNR may have been used, as some faces appear a little too flawless.
SOUND:
The film's 5.1 Dolby Digital track is solid. Dialogue and music are well-mixed and clear, and the surrounds become active during outdoor scenes and several of the film's comedic moments. English subtitles and English subtitles for the deaf and hard of hearing are available.
EXTRAS:
The disc includes four deleted scenes (5:12), several of which are funnier than the film. Also included is Belly Laughs: Making the Back-up Plan (11:36), a standard making-of that includes a lot of back-patting.
FINAL THOUGHTS:

Lopez is likable enough, but even she cannot save The Back-up Plan. The slapstick comedy is misguided and flat, and the parenthood jokes grow old long before the film's 104 minutes are up. Should you catch it on CBS in the future it won't kill you to watch, otherwise Skip It.

William lives in Burlington, North Carolina, and looks forward to a Friday-afternoon matinee.