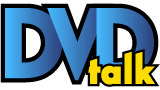 Daria - Is It College Yet?
List Price: $19.99 [Buy now and save at Amazon]
---
The Movie:



MTV has managed to come up with a series of largely influential ("Real World") and occasionally entertaining ("Beavis and Butthead") programming over the past few years. Unfortunately, these shows often suffer from the network's constant desire to stretch the "15 minutes of fame" of many of these shows out to a few days (see the network's new "Real World"-ish spin-off, "Sorority Life", which essentially consists of college girls creating drama and scolding one another).



"Daria" was one of MTV's more intelligent and amusing sitcoms, which recently came to an end with this feature-length program. Originally born as a character on "Beavis and Butthead", Daria got her own show, which was an upgrade in animation over "Beavis"'s basics. The character was admirably expanded, with the teen's sarcastic, dry remarks continuing to entertain.



"Is It College Yet?" maintains the show's ability to sharply observe the characters and have Daria make some witty observations about their situations, but most of the feature is a nicely done story about college worries that most teenagers will likely be familiar with and entertained by. Some of the show's content, while obviously well-meant to provoke discussion (a friend of Daria's younger sister, Quinn, has a drinking problem) is presented without much detail and takes away from the main storyline.



Still, weighty dramatic moments aside, "Is It College Yet?" succeeds largely because it smartly speaks to the worries of pre-college kids - the choosing of schools, the pressures of parents and those who wonder if college is the right place for them. It's a little odd that the creators choose this point to be the end of the series; while it's not flawless, it shows that the series still had some imagination and spirit left.




The DVD



VIDEO: "Is It College Yet?" is presented in the show's original 1.33:1 full-frame broadcast aspect ratio. Although the animation is fairly basic, the transfer does an expert job showing off the material. Sharpness and detail are enjoyable, as the animation seemed crisp and well-defined, with no apparent softness. Edge enhancement and pixelation were not spotted, although some minor shimmering was seen. The show's bright color palette looked nicely rendered, with well-saturated colors and no smearing.



SOUND: The stereo soundtrack clearly presents the dialogue and infrequent touches of music.



MENUS: Lively animated menus, showing clips from the show.



EXTRAS: Two additional episodes, "Boxing Daria" and "Lucky Strike", as well as character profiles.



Final Thoughts: "Is It College Yet?" is a little bit on the dramatic side at times, but there's still enough laughs and solid observations to enjoy this final episode of the series. Paramount's DVD offers a fine presentation, not to mention a couple of bonus episodes.



---
C O N T E N T

---
V I D E O

---
A U D I O

---
E X T R A S

---
R E P L A Y

---
A D V I C E
Recommended
---
E - M A I L
this review to a friend
Sponsored Links
Sponsored Links