Bing Crosby Collection-College Humor, We're Not Dressing, Here is My Heart, Mississippi, Sing You Sinners, Welcome Stranger, The
List Price: $49.99 [Buy now and save at Amazon]
---
A terrific collection of some lesser-seen--but certainly not lesser in effort--titles from Der Bingle himself. As part of their great Backlot Series, Universal has released The Bing Crosby Collection, a three-disc, six film gathering that includes 1933's College Humor, 1934's We're Not Dressing (with Carole Lombard) and Here Is My Heart, 1935's Mississippi (with W.C. Fields), 1938's Sing You Sinners (with Fred MacMurray), and 1947's reteaming with Going My Way's Barry Fitzgerald in Welcome Stranger. Extras are slim here (just trailers for some of the titles), but the transfers look quite good, and more importantly, we get to see Bing sing some terrific songs in a few titles here I rate as among his very best. Let's look very briefly at each movie.
COLLEGE HUMOR
Ukulele-sporting freshman Barney Shirrel is sure he's going to be the next BMOC at Midwest U.. Sporting de rigueur college flannels and a too-tight sweater and beanie, the fast-talking son of a creamery magnate figures to breeze through the three requirements of college life, circa 1933, in no time flat: football, drinking and women (studies are a distant fourth). But first, he's going to have to make good with his roommates: frat bros and hard-drinking football players Mondrake (Richard Arlen), the college's star player, and silent, vicious Tex (Joseph Sawyer), both of whom mercilessly haze the newcomer. Barney finds love with naïve Amber (Mary Kornman) on the "Old Ox Road," but Mondrake has a hard time losing Barney's beautiful sister, Barbara (Mary Carlisle) to drama professor Frederick Danvers (Bing Crosby), a crooning prof who makes his charges swoon. Will Barney save the day during the big football match showdown?
SPOILERS WARNING!
The first film in Bing's three-picture deal with Paramount after his noteworthy appearance in their 1932 smash hit, The Big Broadcast (which also featured College Humor guests George Burns and Gracie Allen), College Humor's success at the box office established the radio crooner as a bona fide movie star (and helped stave off Paramount's bankruptcy), beginning an association with the studio that would eventually lead to Crosby's multiple-year ranking as the world's most popular film star. Watching him here in this sometimes loopy college musical (written by future Crosby collaborators Claude Binyon and Frank Butler, and directed by inventive Wesley Ruggles), it's easy to see why movie audiences took to the smooth crooner--if only because he seems so different from other popular stars at that time. As if already parodying his later stereotype of the supremely laid-back performer who couldn't be bothered even if he was set on fire, the Bing Crosby of College Humor, in his ghostly white makeup and his body visibly altered to fit the image of a movie star (toupee, shoe lifts, corset, ears pinned back), is weirdly, preternaturally calm, moving serenely through his scenes like a white iceberg silently gliding through frigid, dark, midnight waters. Crosby's singing voice was already a hit with radio audiences, but something about his manner obviously pleased movie audiences, too; perhaps it was that odd, cool calm of his that people found, ironically, so arresting. How can he not be slightly mysterious when nothing seemingly arouses him? As well, maybe it was that unperturbed, easy-going manner that helped soothe so many souls made anxious during the Depression? If Bing wasn't worried, then why should we...at least for 70 minutes or so, in the privacy of a dark movie house?
As for the movie itself, College Humor is often bizarrely schizophrenic, moving from "serious" drama about college life (Arlen's troubles with alcohol ruining his career), to a lampoon of a view of college life that by 1934 was already a fantasy (the singing and dancing along the "Old Ox Road," the emphasis on football and sex to the exclusion of everything else), to a musical (Bing's fun numbers), to a rah-rah sports movie (the final big game). Subsequently, the tone of the piece is all over the place, with Bing's delightful Learn to Croon number (where he instructs his students, through song, about lovers' plights throughout history) bumping up against the decidedly peculiar frat house initiation scene with "World's Oldest Freshman" Oakie, in drag, no less, suffering a violent excursion into total submission (get your laptops ready, thesis writers). Dirty-minded as all get out, Arlen tells the gorgeous Lona Andre she'll get his letterman sweater "when she earns it," while Oakie whispers a vulgar suggestion to easy sexpot Mary Kornman that goggles her eyes. Even Bing makes it plain as punch what the Old Ox Road number is all about when he sings, "Why keep waiting, and debating, when it's time for mating, on the Old Ox Road?" That musical number is the highlight of the film, with couples pairing off on the lovers' lane for bunny-hopping hijinks, culminating in an utterly inexplicable trip to the Hall of Science, where Oakie and Kornman see something in a lab--a lab where amorous couples come out dancing and smiling insanely--that causes them to flee in terror (Freudians, do you stuff). The sheer oddity of the totality of College Humor makes it a remarkably interesting curio for Crosby fans.
---
WE'RE NOT DRESSING
Aspiring architect Stephen Jones (Bing Crosby) is crewing The Doris, a private yacht owned by imperious socialite Doris Worthington (Carole Lombard). Accompanying this flighty, do-nothing snob are her tipsy uncle, Hubert (Leon Errol), his loud, brassy, man-hungry fiancé Edith (Ethel Merman), and two potential marriage suitors, brothers and Princes Michael and Alexander Stofani (Ray Milland and Jay Henry). Also along for the ride is Doris' pet bear, Droopy, who's in love with Stephen's crooning. Enraged by Stephen's quiet, respectful insolence, Doris can't stop herself from being attracted to his singing, but when the boat hits a reef, it's Stephen who gives up his life preserver to save her--not the cowardly Princes, who immediately jump ship. Stranded on a seemingly deserted island, the rich layabouts expect the skilled Stephen to save their bacon, but he'd rather teach them a little Depression-era self-sufficiency instead...with the help of naturalists George and Gracie Martin (George Burns and Gracie Allen).
SPOILERS WARNING!
A delicious early screwball comedy romance, with both Bing and Carol Lombard finally showing their comedic chops in starring roles, We're Not Dressing is a rather remarkable adaptation of the 1902 J. M. Barrie play, The Admirable Crichton, agilely jumping from set-up to breezy set-up under the direction of one of my favorite jack-of-all-trades directors, Norman Taurog. Meeting the major conventions of the screwball genre (the rich are held up for ridicule before their pretensions are skewered; the "meet cute" bickering couple become antagonistic to each other before the independent woman is sufficiently tamed; violent slapstick), We're Not Dressing features lots of close-ups of Bing singing, including the lilting May I and the rich-slapping Love Thy Neighbor (the trailer included here sells the picture on the strength of so many Bing songs--obviously the studio's focus). And while he may not be much more animated than he was in College Humor, he is noticeably sparked by the presence of probably the genre's greatest female practitioner: Lombard. With a decidedly unflattering "exploded popcorn" hair style and a haughty demeanor, Lombard really works at her shifting attraction to Bing's supremely irritating coolness. Watch the scenes where he sings to her; contrary to the usual standard Hollywood practice of having the "singee" seem politely interested and no more (therefore not to upstage the singer), Lombard goes through a range of emotions, from attraction to bitter anger at the realization this lowly sailor is getting through to her. Trim and irresistibly alluring when she's wetted down and disheveled on the deserted island, when she finally does indulge in romance with Bing, Lombard seems as modern as any actress today; watch her sexy come-on, "Am I going to get to see your chest, sailor?" and show me an actress today who could do that better. It's a delightful performance, and a harbinger of her soon-to-be iconic career.
Other comedy bits come and go in the deceptively slapdash We're Not Dressing, and every one of them scores. Ethel Merman, looking impossibly young and lithe compared to our established mental picture of the great Broadway performer, gets a fun number, It's Just a New Spanish Custom, with an assist by the game Errol, while Burns and Allen have more screen time in this film as Gracie walks George through her complicated "moose trap" (the film's best joke may be when Gracie, unwittingly stepping into Lombard's wind-blown panties, pulls them up after George looks down and says, "You've lost something, Gracie."). And all the slapstick with the love-sick bear is amusingly handled by Bing, who underplays these scenes just right (the bear roller skating is laugh-out-loud funny, as are the inserts of the fake bear paw lovingly petting Crosby's face as he sings Good Night, Lovely Little Lady to calm the amorous bear down). Certainly, though, the most astounding moment in We're Not Dressing comes at the denouement, when Bing threatens rape to teach Lombard a lesson. Playing like some 1930s Hollywood version of Swept Away (has anyone else made that connection between this scene and Lina Wertmüller's notorious parable?), Bing, realizing Lombard played on a trick on him--before she admitted her love for him--that aided him in his control over the island's inhabitants (and thus emasculated him, in his mind, when he learns it was through her help), Bing loses control and drags her off to his half-built shelter, warning her what's in store for her, chaining her up to a bamboo post, threatening her again with rape, before humiliating her further by leaving her, saying she isn't worth raping. It's a remarkably rough moment in the film (many modern viewers won't cotton to it, certainly), but I'll leave it to the Wertmüller defenders to pick up this scene; it's essentially no different in context from the '74 film that critics loved, with sexual domination standing in for political class warfare: plebian Bing shows haughty heiress Lombard who's boss in the Great Depression. And naturally (according to Hollywood), this show of sexual aggression is just what the doctor ordered for Lombard, who "learns her lesson" and offers to be a good little girl for Bing, doing whatever he asks of her. How you respond to that theme, is up to you.
---
HERE IS MY HEART
Millionaire radio crooner J. Paul Jones (Bing Crosby) is scratching off one of the last items on his "to do if I become a millionaire" list he made when he was an 11-year-old boy: fishing in the exact middle of the Atlantic ocean (already completed tasks include singing Yankee Doodle to the Sphinx and digging for Captain Kidd's treasure). Another wish--to rescue a damsel in distress--was accomplished when Jones saved a group of ne'er-do-well jet setters, including beautiful Claire (Marian Mansfield), who crapped out at the Monte Carlo casinos. A return trip to Monte Carlo is immediately ordered by Jones, though, when his friend, journalist Jimmy Smith (William Frawley) radiograms him with exciting news: the matching pistol given by legendary John Paul Jones (no relation) to Catherine the Great has been located--the missing key to Jones' to-do list, since he wants to give both pistols (he owns the other) back to the U.S. Naval Academy. The owner of the pistol, however, isn't selling. Impoverished Russian princess Alexandra (Kitty Carlisle) may be hard up for rubles, but she's not going to deal with a common radio crooner...and an American, no less. Her zany family is another story; Prince Nicholas (Roland Young) has no qualms at all about dealing with young Jones--even after Jones masquerades as a waiter to get closer to Alexandra.
SPOILERS WARNING!
Honing his comedic skills to an even finer point than in We're Not Dressing, Here Is My Heart shows Crosby advancing markedly as an engaging farceur, moving through this remake of The Grand Duchess and the Waiter with an aplomb that's remarkable considering he had only been headlining in films for two years. His Jones character now aligned with Lombard's in We're Not Dressing, Bing isn't a lowly sailor but the owner of a yacht. However, this millionaire isn't haughty or imperious like Lombard--he's a regular Joe and a good egg (perhaps this switch on the rich had as much to do with stereotypical gender representations common to the romantic comedy genre than anything else: if she's rich, she has to be a witch; if he's a millionaire, he's got common man savoir faire). Nor does this all-American character want to necessarily "tear down" the rich as he did in We're Not Dressing; not only does he save the rich gamblers in Monte Carlo, but he helps the Rostovas unflinchingly with money and pretense (pretending to be their waiter, of all things), not only to get to the Princess but also because he seems to genuinely like them. Indeed, when the Rostovas finally own up to their own financial incompetence, hotel owner Jones doesn't "punish" them by forcing them to work (as in the previous picture), but invites them to, an invitation they happily accept. This spreading of Yankee optimism in capitalism certainly would have appealed to Depression-era audiences who probably enjoyed the double fantasy of seeing royalty having to act as common workers in a hotel, as well as the thought that kindly millionaires out there--American millionaires--weren't any different than we regular folks, in the end.
Beautiful Kitty Carlisle seems to play her role with a tad more emphasis on being merely snooty than on being snooty in a desirable way (i.e.: as a sexual challenge for Bing to overcome), but she looks terrific and her slightly stuck-up manner works well against Crosby's loose, confident romancing. Working from a script by Harlan Thompson (with reportedly some minor additions from an uncredited Dorothy Parker), direct Frank Tuttle (Bing's The Big Broadcast, Roman Scandals, This Gun For Hire) keeps the story moving fluidly, never forgetting to stay focused on his leads and in particular, Bing, when singing his all-important songs (including the beautifully-shot duet with Carlisle, singing With Every Breath I Take, I Think of You, with luminous cinematography from longtime Crosby collaborator, Karl Struss). Tuttle shows real inspiration during one of Bing's signature tunes, June in January, when, after it's first sung early in the picture, he restages it as a duet with Bing himself, who sings along to a recording of himself, offering musical counterpoint like little riffs, giving the scene a knowing, self-reflexive feel (it also gives Crosby a chance to move around the frame in a manner as relaxed and seemingly spontaneous as his singing). Priceless support is given in particular by Roland Young as the agreeably chummy Prince Nicki (he's adorable when cheering on his newfangled adding machine, wishing it to successfully add and subtract), and the brilliant Arthur Housman as the drunken waiter whose boozehound antics precipitate Bing's ruse. A delightful musical romantic comedy showing an increasingly skilled, confident Crosby.
---
MISSISSIPPI
Yankee crooner Tom Grayson (Bing Crosby), down amid the magnolias and Spanish moss, finds himself engaged to gracious Southern belle Elvira (Gail Patrick), the daughter of proud Confederate General Rumford (Claude Gillingwater). The General, however, isn't exactly taken with his daughter's choice, particularly when Tom reveals himself to be a cad and a scoundrel--according to the rules of Southern gentlemanly conduct, that is--when he refuses to ask for satisfaction from Major Patterson (John Miljan), a former suitor of Elvira's who wants to replace this yellow Yankee in the affections of his former love. Rejected by her and her family, Tom takes a job singing on the River Queen, a showboat owned by drunkard Commodore Jackson (W.C. Fields). Saving Jackson in a knife fight with Captain Blackie (Fred Kohler), Tom is told by Blackie to be off the boat by the end of the week...or else, nor is the vicious killer all that worried when he learns from a lying Jackson that Tom is the notorious "Singing Killer, Colonel Steele." After a vicious fight between Tom and Blackie, "Colonel Steele's" reputation grows into the stuff of legends down South, causing potential problems with Elvira's loving sister, Lucy (Joan Bennett), who loves Tom.
SPOILERS WARNING!
It's fashionable today for many newer critics to throw the baby out with the bathwater for a film such as Mississippi, because they detach its incidental racial content from the film's time period and context. What they call "viciously racist" in the depiction of the black children in the film (a group of singers called "The Inki Kids" that Fields refers to as "pickaninnies") could just as well be labeled as "condescending," particularly when other films of that time were far more negative and harmful in their portrayals of African-Americans. Of course, "condescending" isn't admirable by a long shot, but neither can one say that the innocuous Mississippi achieves the same goals as something truly reprehensible like The Eternal Jew.
What should be celebrated in Mississippi is another frankly brilliant comedic turn by one of the masters of the genre, W.C. Fields. Crosby's role doesn't allow for any chances to use the comedic range he showed in the previous films in this set; his character fights and sings, with the crooner doing better with the latter than the former (although that fight with Captain Blackie is admirably robust and sustained). It's a straight dramatic part which asks nothing of the talented actor Crosby was becoming, although he does get to sing some lovely tunes, like Old Folks at Home (retitled Swanee River here), Soon, the lovely Down By the River, and the Rodgers and Hart standard, It's Easy to Remember (But Hard to Forget). Fields, on the other hand, can't help but score in every scene because they're obviously only crafted to allow him to do or say something outrageous--they have little or nothing to do with Crosby's subplot in any important way. One of the best bits from any of his films comes during a brilliantly-staged poker game, where juggler Fields does some fancy card work (watch for the flying ace) before he slowly freaks out when he keeps getting ace after ace in the stacked deck (co-scripter Jack Cunningham penned Fields' genuine masterpiece, It's a Gift). Whether Fields is taking a spectacular fall off a step ladder (I don't care if it's a stunt man--Fields makes it funny), only to be revived immediately by an ever-present mint julep, or endlessly repeating his phony bits of derring-do ("...I unsheathed my Bowie knife...and cut a path through a wall of human flesh!"), there simply isn't another performer like him, before or since, in American cinema, and he accomplishes his usual magic here in Mississippi.
---
SING YOU SINNERS
Small-town layabout Joe Beebe (Bing Crosby) knows he's hurting his family by not pursuing...anything, but he simply can't help it: he's not genetically suited to the kind of dull, routine-minded life his brother David (Fred MacMurray) lives: a mechanic who goes to church smiling, and who's dated the same girl, Martha Randall (Ellen Drew) for years now, often attending boring lectures and civic functions together. The pool hall and singing for drinks is more Joe's style, and just a few times, Joe even managed to snag both David and his younger brother, Mike (Donald O'Connor) into a trio act that kindly widowed Mother Beebe (Elizabeth Patterson) dearly approved of...since she taught all her boys to sing. But David doesn't want anything to do with Joe's show biz aspirations; he wants to get married, but he can't (he thinks) until Joe can prove he can take care of himself and the rest of the family. Lighting out of town after disgracing himself by first making a play for Martha and then blowing a good job at the gas station, Joe heads to L.A....where he promptly turns down lucky street when he wins at the track and buys himself a swap shop. But trouble isn't far behind when he sends for the family to join him--minus the swap shop.
SPOILERS WARNING!
An absolute delight from start to finish, Sing You Sinners is one of Bing's best films, and one that shows a decided maturation of his talent for dramatic roles. An engaging mishmash of genres--musical, screwball comedy, sports (horse racing), and homespun drama--Sing You Sinners creates that unmistakable feeling of, "Hey...wait a minute...," you sometimes get with an older, not readily available title that somehow plays very fresh and almost modern when compared to other movies from its same period. The opening credits rolling against the stars as they walk down the street seems very unusual, and throughout the picture, director Wesley Ruggles creates these odd (i.e. realistic as opposed to "Hollywood") edits and fade-ups and segues that seem so much more fluid and organic than many of the Hollywood studio pictures of that day (his gliding camerawork is also virtuoso; watch the roadhouse scene where Bing sings Don't Let That Moon Get Away--the camera dances with Bing). Whether it's the beautifully-mounted race track sequence where Bing keeps fooling funny supporting actor Tom Dugan into swapping tickets (a textbook example of comedic editing from Alma Macrorie), or the cleanly-executed Small Fry musical number (with whiz kid O'Connor stealing the show while MacMurray looks uncomfortable in drag), or the tremendous fight sequence at the end of the film (quite long and brutal for its time), Ruggles can do no wrong here; why his name isn't at least as well known as some of his other big hits (Cimarron, No Man of Her Own, I'm No Angel, Bolero) is a mystery to me.
As for Crosby, it's not hard to see the biographical allusions made to Bing's real life here. And what's interesting about that realization (if you know Crosby's life story) is that the Joe Beebe character is a difficult character to like. Oh, he's charming, for sure, and he can carry a tune. But he's also disloyal to his brother (trying to steal his girl), and irresponsible (throwing away opportunities for dreams), and a burden when he should be supporting his mother (borrowing cab fare after he makes a lot of money...only to be squandered on a race horse). Of course, everything turns out okay in the end, and Mother's sensible advice to temper dreams (keeping their winning horse) with reality (the boys keep their high-paying club gig as singers) is followed. However, Joe's irresponsible behavior has serious consequences, from almost busting up David's engagement, to having little Mike physically beaten by mobsters--events that make it that much harder to like Joe after we've seen him nonchalantly laying around, reading the newspaper when the family is out of money. Apparently, the scripter, Claude Binyon, and Ruggles the director, both neighbors and friends of the crooner, fashioned Sing You Sinners to capture precisely the Bing they knew; if that's the case, one might start to give more weight to all those anecdotes about the legendary Crosby aloofness and cold, calculating self-interest. Joe Beebe, as played by Crosby (an American dreamer, yes, and confident, but also irresponsible and even dangerous to the well-being of his loving family), is a strange sort of hero for a Depression-era musical/comedy/drama--but then again, the film itself hits all kinds of intriguingly discordant notes, as well, making for an unusual perfect fit.
---
WELCOME STRANGER
Crotchety small-town physician Dr. Joseph McRory (Barry Fitzgerald) is finally going to take a vacation after thirty years as the primary doctor in quaint Fallbridge, Maine. So he's off to Boston to the Physicians and Surgeons Placement Bureau for a temporary replacement. Upon arrival, however, he's angered to find out that he won't be able to personally approve of his substitute: will o' the wisp Dr. James Pearson (Bing Crosby) has already been sent. Taking the long train ride back to Fallbridge, Dr. McRory is further flanneled by an easy-going young man whose carefree and slightly smart-assed manner irritates McRory no end (that's right--you guessed it: Bing). Back home, both men realize who the other is, and the deal is off...at least temporarily, until one thing after another conspires to keep young Dr. Pearson in Maine: beautiful schoolteacher Trudy Mason (Joan Caulfield), who's tired of her creep boyfriend, town pharmacist Roy Chesley (Robert Shayne); drunken newspaper editor Bill Waters (Frank Faylen), who won a Pulitzer until crushing headaches sent him to the bottle, and whose daughter, sweet Emily Walters (Wanda Hendrix), falls for the sympathetic Pearson; and old grouch McRory himself, who needs Dr. Pearson in moments of both physical and emotional crisis.
SPOILERS WARNING!
An attempt to cash in on the monstrously successful teaming of Crosby and Fitzgerald in 1944's smash-hit, Going My Way, Welcome Stranger may not have the name recognition of that film's "sequel," The Bells of St. Mary's, but it's a delightful variation on the same theme, and the two stars work marvelously well together. Directed by Elliott Nugent from a script by Arthur Sheekman, Welcome Stranger has a cozy, gentle feel to it that perfectly suits the star by this point in his career. Crosby doesn't expend one ounce more of energy than is called for, but that laid way back approach fits his wandering character quite nicely here, as his love interest rightly calls him to task for using a footloose lifestyle as a shield against staying connected with people who care about him. Obviously, since Bing has a love interest this time, the notion of taking his The Bells of St. Mary's priest and turning him into a doctor solves all those pesky problems that could have cropped up with the luminous Bergman, allowing Welcome Stranger to ramble in and out of the drama, comedy, and romance genres with considerable ease. Going along with this give-and-take attitude, Bing sings every now and then (his Country Style square dance call proved to be very popular with the record-buying folks), and romances pretty, stacked Caulfield when the mood strikes him, and even performs the single most popular surgery in Hollywood movie history: the emergency appendectomy.
The jokes are just as easy and mellow as the drama here (Hendrix, snuggling up to the singing Crosby on a snowy midnight sleigh ride, tells everyone, "The doctor is as good as Frank Sinatra," as Crosby, without missing a beat, replies, "Yeah, and I can take your blood pressure at the same time."). Building to a satisfying conclusion, the film doesn't stray too far into bathos, keeping Fitzgerald's dilemma (he needs gypsy-footed Bing to stay on and help him with the new town hospital) relatively light and airy--a neat trick with material that could have bogged down in too much sentimentality. The film could have gone all out for tear-jerking by setting the wintry story specifically during Christmas, but the homey tableaus of frosted picture windows and snowy pines and fireplaces roaring in chintz-covered sitting rooms gives Welcome Stranger an undeniable holiday feeling--an extra bonus at this festive time of year for the classic movie lover looking for something sweet and funny and charming to watch on a cold Saturday night.
The DVD:
The Video:
Overall, the full-screen, 1.33:1 black and white transfers for The Bing Crosby Collection look quite good. Sing You Sinners and Welcome Stranger look the best, with crystal-clear images and creamy gray scales, while the older titles suffer a bit of grain (to be expected), and some minor scratches here and there. No compression issues.
The Audio:
The Dolby Digital English 2.0 split mono tracks have been recorded at solid levels, with minimal hiss. English subtitles and close-captions are available.
The Extras:
Only original trailers for We're Not Dressing, Mississippi, Sing You Sinners, and Welcome Stranger. Slim pickings.
Final Thoughts:
There seems to be a concerted effort from the Crosby estate to get more and more vintage product out there from the Old Groaner, and that's a very welcome move. The Bing Crosby Collection offers up six little-seen titles from Der Bingle's oeuvre; all of them are highly recommended, with We're Not Dressing, Here is My Heart, Sing You Sinners, and Welcome Stranger among Crosby's best work (Mississippi is more for W.C. Fields fans). Pity there weren't more extras here. I'm highly, highly recommending The Bing Crosby Collection.
---
Paul Mavis is an internationally published film and television historian, a member of the Online Film Critics Society, and the author of The Espionage Filmography.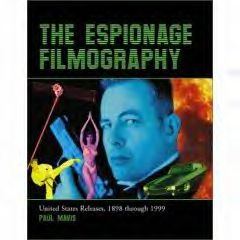 ---
C O N T E N T

---
V I D E O

---
A U D I O

---
E X T R A S

---
R E P L A Y

---
A D V I C E
Highly Recommended
---
E - M A I L
this review to a friend
Sponsored Links
Sponsored Links