Bob Hope Collection (The Lemon Drop Kid, Road to Rio, Road to Bali, My Favorite Brunette, The Seven Little Foys), The
List Price: $34.93 [Buy now and save at Amazon]
---
A fun collection of some of Bob's best...with the problematic inclusion of a dead-wrong transfer. Shout! Factory has released The Bob Hope Collection, a three-disc, five-movie collection that includes 1947's My Favorite Brunette and Road to Rio, 1951's Christmas-themed The Lemon Drop Kid, 1952's color Road to Bali, and 1955's biopic, The Seven Little Foys. Even without a single extra--not even a trailer--the content was strong enough for an unqualified recommendation...until The Seven Little Foys, originally shot in VistaVision®, rolled on my big monitor from a cropped, full-screen transfer. Big mistake in this day and age of DVD and widescreen TVs (it doesn't help that it's not a particularly good showcase for Hope, either). So, you might as well scratch that title off the playlist and make your buying decision based on the other four films. Let's look briefly at each one.
ROAD TO RIO

Hoboing musicians "Scat" Sweeney (Bing Crosby) and "Hot Lips" Barton (Bob Hope), after eluding shotgun-wielding "farmers' daughters" posses in Oklahoma and Texas, arrive in Louisiana, and promptly fall-in with a two-bit carnival. Having promised the owner that unsuspecting Hot Lips will perform a death-defying bicycle tightrope routine, Scat has to lam it quick with Hot Lips when the stunt causes the carnival to burn down. Boarding the S.S. Queen of Brazil as stowaways to Rio, the boys meet beautiful, troubled Lucia Maria de Andrade (Dorothy Lamour), who can't understand why she's having memory lapses--lapses due to her guardian, Catherine Vail (Gale Sondergaard), who is hypnotizing Lucia so she'll marry co-conspirator Sherman Mallory (George Meeker). Once married, henchmen Trigger and Tony (Frank Faylen and Joseph Vitale) will bump Lucia off, and everyone splits the dough. Not so fast, though, because both Scat and Hot Lips have it bad for the sultry Lucia, and they're willing to risk their cowardly necks to save her.

One of my favorite Road to... pictures, 1947's Road to Rio (the fifth one in the series, before a five year hiatus) grafts Hollywood's then-current craze for Latin-flavored musicals onto the Road to... framework with confident, almost blasé ease, combining entertaining musical numbers and solid gags and one-liners, for a fast-paced laugh-getter. I've written before about arguably the most popular Road to... film, Road to Morocco, as well as about the appeal of this franchise, so I won't cover a lot of the same ground here. Suffice it to say, in my mind these films are a terribly important and influential link in the evolution of American screen comedy, and it's easy to see why they're still so funny today...considering their basic patterns and conventions, not to mention their quintessentially American smart-assed tone, have been copied and transmuted into innumerable other projects over the last 60 or 70 years.

With Norman Z. McLeod, one of the best comedy directors out there in 1947 (Horse Feathers, my favorite Marx Bros. comedy, the sublime W.C. Fields masterpiece, It's a Gift, Topper, The Secret Life of Walter Mitty), and a script by longtime Hope contributors Edmund Beloin and Jack Rose, Road to Rio may not have any memorably surreal moments of inspired comedy as Road to Morocco did, but it consistently delivers a good gag or song or one-liner every couple of minutes or so, and that's not the easiest thing to pull off. Opening with an amusing animated map showing the boys' fleeing footprints all over the U.S. as they reference the classic "farmer's daughter" joke (passing themselves off as Frank Sinatra and Gene Autry), Road to Rio doesn't waste any screen time with complicated exposition or plot mechanics; it's moves from fast set-up to fast set-up, and keeps the jokes and ad-libs flying.

Trivia fans will enjoy the last film appearance of The Andrew Sisters (and their first and only on-screen stint with Crosby) for the lively You Don't Have to Know the Language, while Hope and Crosby do some of their hammiest, funniest Jolson slanging with the infectious Apalachicola, Fla. (it's always great to see this duo clowning in a dance number). Throwaway gags, always a highlight of any Road to... picture, are plentiful and invariably funny. Freed from hanging by a hook in a meat locker, Hope sees a stamp on some horsemeat...from "Crosby Stables" (Bing was famously ribbed for his losing string of ponies). The Wiere Brothers comedy act add quite a few laughs as back-up to the boys, delivering during the amusing "This is murder" bit, before segueing into the hilarious, off-the-cuff "switching hats" sequence which builds beautifully to a good pay-off. I've always wondered if Hope's, "The Warner Bros. are very jealous," line, when a scream is heard off-screen, was ad-libbed, while Hope's good-luck charm, Jerry Colonna, gets probably the biggest laughs of the film when at the end of the film he leads a totally pointless cavalry charge to save the boys...to absolute zero effect (the goggle-eyed comedian looks wildly into the camera and states, "What do you know? We never quite made it! Exciting, though, wasn't it?" Classic.). And almost all the one-liners hit their marks, too. Nobody was more laid-back funny than Crosby (I absolutely love his hep-cat, laugh-in-your-face coolness), so naturally, Hope gets more attention with his animated mugging; when Hope sneers imperiously, "Thank you, you fools," to an appreciative audience, or woos Lamour with a faux-lady killer, "Shall I kiss you now, or should I tease you awhile?" the laughs are big. The cinematic forefathers of the modern American cynical smartass, Hope and Crosby deliver the goods in one of their funniest films, Road to Rio.
---
MY FAVORITE BRUNETTE
Hapless San Francisco baby photographer and convicted killer Ronnie Jackson (Bob Hope) is ready to walk the last mile. With no last-minute reprieve from the governor, Jackson tells his story to the reporters while he awaits the gas chamber. Obsessed with becoming a private eye ("It only takes brains, courage and a gun...and I have a gun,"), the nervous, scaredy-cat Jackson idolizes his office neighbor across from his studio, Sam McCloud (Alan Ladd, in a marvelously unexpected cameo), a tough-talking, smooth-romancing private dick. Fooling around in his office when McCloud leaves town on a case, Jackson is mistaken for McCloud by sultry mystery woman, Carlotta Montay (Dorothy Lamour), who wants "McCloud" to find her missing husband. Jackson jumps at the chance to play gumshoe for this gorgeous dame, so he goes along with the deception...with dire consequences resulting, including dodging psychotic killer Kismet (Peter Lorre), walnut-crushing dimwit Willie (Lon Chaney, Jr.), and southern-fried ringleader and head spy, Major Simon Montague (Charles Dingle).
A delightful spoof of the film noir genre...while staying fairly faithful to those conventions, as well. My Favorite Brunette was a big hit for Hope in 1947, when post-war audiences were ready to embrace noir sensibilities (even if they didn't have a name yet for those themes or that stylization and aesthetics), and it plays remarkably well today because it sticks very close to the subject its parodying. Working from a script from regular Hope contributors Edmund Beloin and Jack Rose, director Elliott Nugent (The Cat and the Canary, The Male Animal) creates an entirely credible little noir mystery that would have accommodated Dick Powell or indeed, Alan Ladd, had the broad comedy scenes been snipped out. Gorgeous, stacked Lamour's first appearance on screen is a good example, with Nugent shooting her reflection distorted in a metal ball on McCloud's desk; that's mise-en-scene that would be home in any respectable noir effort (just as good is a dizzying, off-kilter pan out of McCloud's office window as Jackson tries to spy a departing license plate number). With careful, evocative chiaroscuro lighting by Lionel Lindon (the scene where Lorre koshes Hope on the noggin in McCloud's office is beautifully lit), My Favorite Brunette looks as noir as anything Bogey did.
Even better, Hope's delivery, particularly during his deadpan narration (another faithful noir touch), works amazingly well as both noir convention and hilarious spoof. Of course, many of the lines are written expressly for getting a laugh, but it's surprising how many of them work as "straight" noir signifiers. One of my favorites happens after Hope wakes up from Lorre's blow; without any ham-handed obviousness, Hope intones, "When I woke up, I was playing 'Post Office' with the floor." That's a terrific line that would have sounded good and tough coming out of Mitchum's or Montgomery's mouth, but which sounds hilarious coming from Hope. And My Favorite Brunette is filled with such moments, creating an engaging contradiction of straight noir cynicism and violence and obliqueness (the plot is suitably convoluted), and Hope-inspired comedy. Indeed, My Favorite Brunette doesn't skimp on the solid Hope one-liners and set-pieces that hit home each time. When Hope first tells Lamour to, "Spill it, sister," it's just a funny throwaway, just like his faux-tough guy lapel-flicking action he employs whenever he wants to intimidate a henchman. But My Favorite Brunette keeps those throwaways coming on a regular basis, creating a surprisingly breezy feel. The "Hello, Joe!" bit is probably my favorite, as Hope hits every call button at an apartment building in the hopes of eluding his pursuers, only to hear a sexy chorus of female voices beckoning, "Hello, Joe, come on up!" (Hope's surprised response: "I must remember this address."). There's a funny dodge-and-weave bit where Lorre tries to plant a false clue for the oblivious Hope, while Hope's "crazy man" act at the sanitarium is always good for a laugh. Hope's discussion of various nuts with walnut-loving Chaney, Jr., is hilarious (Chaney's a good foil), while Hope breaking the fourth wall to look at us as Lamour calls him an idiot, is a classic (I also love the insane audio drop of Betty Hutton's manic Murder, He Said at a crucial moment). And of course, Bing Crosby's cameo at the very end of the film is priceless. One of Hope's best efforts, My Favorite Brunette works as comedy noir...and surprisingly, just plain noir.
---
THE LEMON DROP KID
Checking out the action down Florida-way, racetrack tout Sidney Melbourne (Bob Hope), better known as the "Lemon Drop Kid" because of his penchant for always munching the sour candy, is in the process of engineering a nice little scam. Picking likely suckers out of the crowds, the Kid snows them into believing he's got the inside dope on the winner...and for a small honorarium after the race, he'll let them in on the gravy. Twelve horses, twelve marks, and he's guaranteed a payoff from someone. Unfortunately, one of the pigeons is pretty Southern belle Stella (Andrea King), who belongs to vacationing New York City gangster Moose Moran (Fred Clark). When he learns the Kid put Stella onto the wrong horse and gypped him out of a ten thousand clams payoff, the Kid is given until Christmas Eve to come up with the lettuce, or the Lemon Drop Kid becomes the Six Feet Under Kid. Hitting up his jilted girlfriend "Brainy" Baxter (Marilyn Maxwell) for a temporary loan, the Kid latches onto the idea of elbowing into the Santa/bell/bucket con--an idea that lands him ten days in the pokey. Bailed out by Brainy, the Kid comes up with a new angle: get all his wiseguy friends dressed up as Santy Clauses and collect dough for a legitimate charity with the city's blessing, the "Nellie Thursday Home For Old Dolls," named after down-on-her-luck doll Nellie (Jane Darwell), who can't get into an old folks home because of her safe-cracking ex-con husband. While everyone marvels at the Kid's selflessness at Christmas time, nobody knows he plans on keeping all the cabbage for himself...that is, everyone but shady operator Oxford Charley (Lloyd Nolan).
A fun Christmas movie that used to be a staple around the holidays when I was a kid (but which seems to have all but disappeared on cable since then), The Lemon Drop Kid is another superior Hope vehicle, achieving a nice balance between a solid plot (based on a Damon Runyon short story), some funny set-pieces (many courtesy of co-director Frank Tashlin), a classic Christmas tune (the lovely Silver Bells), and Hope's effortlessly amusing delivery of hilarious one-liners. Hope is a good fit here within the Runyon milieu, critically because he doesn't play up any of the material's inherent sentimentality. He's outwardly cynical and hard, even when he's putting up a genial front in order to con someone, and he correctly lets the audience pick out the humor and sweetness in the material, instead of delivering it to them on a plate with tears and meaningful looks. It's a turn that shows Hope could have delivered far more than he was usually asked for in films, had he stronger, better-shaped material (and perhaps directors not so willing to nail the first bored take from the wealthy Hope and quickly move on).
Frank Tashlin admirers will have fun trying to figure out which scenes he directed and wrote when he was called in to take over from Sidney Lanfield. I don't know if Tashlin had anything to do with Hope's "grooming" scene in Brainy's apartment lobby, but it's one of the funniest bits of film from Hope's career. A terrific, sustained look at Hope's technique, we get a perfect distillation of his talents for physical comedy (all the funny business of brushing his hair and teeth), killer one-liners ("Oh, you doll, you!" he exclaims to himself), and that over-the-top, narcissistic orgy of self-love that Hope would pull out anytime he was mocking his looks or his skills at seduction (admiring his sprucing-up handiwork, he lovingly coos to himself, "What a crime if you had to die."). It vies with the Silver Bells production number as the film's most memorable moment. Beautifully staged on Paramount's "New York City" set, first Maxwell alone (pretty girl, pretty voice) and then with Bob joining in, the two give the lilting little tune a lovely harmony as throwaway gags come and go (watch Hope make a sly reference to pot; he smells the pipe tobacco of a Santa, and then makes a leering face as his hands flutter like a bird--Santa is obviously "flying" on something, Hope suggests). Too bad we can't get a break from Christmas radio's every-hour-on-the-hour playing of Crosby's White Christmas to hear Hope's and Maxwell's charming version of this song. Tashlin's hand is more readily noticeable in the casino scene, where the ladies bed down on crap tables that wildly snap back and forth from their hiding places, as well as the too-short but funny bicycle chase scene that plays like one of Tashlin's Warner Bros. cartoons, with Hope running over a screaming woman and sliding headfirst into a potted palm with a Looney Tunes-appropriate, "Donnnnnnggggggg!" The stand-out gag of the film, though, has to be the surprisingly dirty, naughty set piece with the mechanical Santa seemingly undressing a mannequin via Hope's grasping hands. That's classic Tashlin if I've ever seen it: jarringly tasteless, cartoonily manic, dirty-minded, and deeply, deeply funny. One of Hope's best outings.
---
ROAD TO BALI
American vaudeville performers George Cochran (Bing Crosby) and Harold Gridley (Bob Hope) are knockin' 'em dead Down Under...but they're also keeping the ladies happy, too (Jan Kayne and in her feature film debut, Carolyn Jones). And that leads to angry fathers and marriage demands, so the commitment-phobic boys lam it out of there...right into, ironically enough, a shipment of lambs. Bearded and hungry, the boys take the only job available--deep-sea divers--for the mysterious Prince Ken Arok (Murvyn Vye). What they don't know is that four men have already died from a gigantic squid that guards the waters off Bali, a huge creature that watches over the sunken treasure of Arok's cousin Princess Lala's (Dorothy Lamour) drowned father. Taking one look at the lush Princess drives the boys mad with love, but cannibals and an erupting volcano interrupt their romantic escapades.
Not the best Road to... picture, certainly, but not the worst, either. Road to Bali came out a full five years after Road to Rio in 1947, so naturally one looks to see what kind of continuity the stars and the writers will maintain after jumping back into the franchise after such a long hiatus. While still quite amusing in their bantering and musical duets, a small but noticeable ebbing of energy is apparent with Crosby and Hope, here, and that's too bad, since the set-ups, the gags, and the jokes aren't as strong as they had been in the past. An amped-up performance level might have smoothed over the rougher spots. No one is expecting anything resembling a solid story here, but this is pretty thin stuff, even for a Road to... picture, a situation made more noticeable since the series conventions we do expect to deliver (the "patty cake" bit, the boys breaking the fourth wall, some outrageous special effects sight gags), come off rather flat-footed here. While it's initially funny to see Cecil B. DeMille's squid from Reap the Wild Wind tap deep-sea diver Bob on the helmet to get his attention, this "showcase" moment in the film is over before it starts; couldn't anyone think of any more gags for this potentially hilarious bit (the "baaing" sheep who echo the boys singing is poorly executed, as well). Ditto for the volcano climax at the end.
Several one-liners do score (how could they not with these two pros delivering them?). When Bob and Bing first land on the island, they're surrounded by a gorgeous group of girls, prompting many funny, knowing asides from the 50ish actors about age and the "kids" they're ogling--culminating in my favorite from Hope when he tells the departing, giggling girls, "We'll meet you at the drive-in, kiddies," with a very grown-up leer (just as good is a scream off-camera, followed by the unknown sufferer shouting, Oh, no!", whom Hope immediately identifies: "It's Errol Flynn; he can't stand it."). Hope's "Boy, is he lost" response to a clip of Humphrey Bogart towing The African Queen is a stitch, while probably my favorite line in the whole movie belongs not to Hope or Crosby but to an uncredited extra, playing a cannibal mother who slaps her child's hand away after he tickles Hope, scolding the child, "How many times have I told you not to play with your food?" It's a throwaway, but it's paralyzing. A cameo from Martin and Lewis (not particularly funny, but they probably didn't care, since they were the reigning box office champs at Paramount now), as well as from knee-weakening Jayne Russell add little, but happily, a few of the musical numbers score big, including the opening soft-shoe bit, Chicago Style, and the funny Scottish reel, Hoot Mon. Road to Bali would wind up near the bottom of the Top Twenty Box office hits of 1952--respectable, but certainly not barn-burning (while Martin & Lewis cleaned up at 6th and 9th)--so it's not surprising that they would drop the franchise altogether, until an ill-fated sixth attempt ten years later (The Road to Hong Kong) came and went without much notice.
---
THE SEVEN LITTLE FOYS
Middling vaudeville song-and-dance man Eddie Foy (Bob Hope) wants to keep his act--and his personal life--a solo if at all possible. That's why the sight of luscious Italian ballerina Madeleine Morando (Milly Vitale) in a corset does nothing but annoy the mean, cynical performer. Desperate to move up in the world of vaudeville, Foy even goes so far as to break in on Morando's staid act, making fun of her while he clowns, to get the attention of big-time agent, Barney Green (George Tobias), who's sitting in the audience. And it works...too well. Green wants Foy's act, which he assumes includes Madeleine and her stern, piano-playing sister, Clara (Angela). Foy balks at this proposition, but agrees to charm Madeleine to get her to sign the contract. Unexpectedly, Foy is the one who becomes charmed by the beguiling Madeleine, so much so that he runs as far away from her as he can. Ultimately unable to keep his distance, he marries her, and fathers seven children, while becoming a big Broadway star. That kind of success requires too much time for a family man, and his children grow up hardly knowing him. When illness takes Madeleine, it's up to Foy to gather his brood together, right out in front of the footlights.
No one expects the "truth" in a Hollywood biopic from this era, but The Seven Little Foys doesn't even come close. Never mind, though, that this pale approximation of Foy's fascinating life cuts out virtually everything that was interesting or provocative about the man (the notorious Iroquois Theatre fire in Chicago that claimed over six hundred lives, with Foy the hero of the moment, is ludicrously treated as a lighthearted, afterthought joke). What's worse is that what does show up on the screen resembles a particularly bad TV sitcom without bite or genuine laughs, and that's a shame. Probably best known for the table-top dance-off between Hope and James Cagney, who briefly reprises his Oscar-winning portrayal of George M. Cohan (a genuine casting coup that only puts the shabbiness of the rest of the film in sharper relief), The Seven Little Foys, written and directed by ace veteran Melville Shavelson, is a remarkably off-putting biopic that dully tries to celebrate a completely unsympathetic character before magically transforming him and his surly brood into one big happy family before the final fade-out.
And perhaps not surprisingly at this stage in his film career, Hope is the biggest problem in the film. Forget the non-existent plot, the poor staging of the musical numbers (the interestingly-designed My Chinatown number is hacked to pieces with cut-aways, and abruptly choked off before it even begins), and the film's inability to make the kids individually stand-out in any way (gorgeous Vitale is the film's only saving grace; she's bright and warm and sexy...but she's on and off all too quickly). Grumpy, snotty, and distant instead of bluffly gruff and (inwardly) loveable, with disturbingly dead eyes, Hope seems incapable of providing an underlying layer of sympathy for this deeply unattractive character. If the makers of the film thought we'd love Foy because of Hope's presence, they badly miscalculated. The Eddie Foy of The Seven Little Foys shows almost no redeeming qualities, from openly stating he married his wife to get ahead, to then ignoring her, right up to and including her death bed fade-out, to the neglect of his children and his waspish treatment of them once they become a performing troupe. If The Seven Little Foys had wanted to be a hard-hitting expose of Foy, that might be an interesting approach...with a better dramatic actor headlining it. But since it's Hope, we keep expecting somehow to laugh at his curmudgeonly ways, despite his painfully sullen attitude here. We keep expecting to be let in on the joke, if only Hope would wink at us and let us know he's having some fun in the role. But the laughs never come. Hope just can't deliver on a decidedly creepy character that needs some undertone of audience empathy for the film to work. Not helping matters, either, is the totally arbitrary ending, where the children, who have every right to hate their father (as they seem to do throughout the film), suddenly do an about-face and defend him to the judge that wants to take them away from Foy. It's a strange, nonsensical ending to the film, particularly when Hope shows no more emotion when he finally receives his children's love than when he was rejecting them outright, and it's indicative of the phoniness of the entire enterprise. Often mentioned as a bright spot in Hope's career, it's hard to see how that reputation holds up today.
The DVD:
The Video:
Putting aside The Seven Little Foys for now, the remaining four full-screen, 1.37:1 black and white (and one color) transfers for The Bob Hope Collection are quite nice, with bright, sharp images, little grain, some expected scratches and dirt (not distracting), pleasing blacks and correctly valued colors (I only noticed one brief insert that look out of register on Road to Bali, which looked better here than I've ever seen it on television). As for The Seven Little Foys, masking it off to 1.66:1 or 1.85:1 on your TV (as it would have been done in theaters, due to VistaVision®) doesn't do any good because Shout!'s 1.37:1 Academy crop already looks cramped (heads cut off, figures cut off on the sides) compared to what should be a VistaVision®'s open matte of 1.5:1. There's simply no excuse for releasing a widescreen film on DVD today unless it's either matted correctly, or the transfer provides the full open matte frame for cropping in your TV (which isn't really ideal, either, since the zoom produces more video noise and artifacting). A potential deal-breaker for touchy collectors who hate this sort of thing.
The Audio:
The Dolby Digital English 2.0 stereo track sounds like split mono, but it's recorded at a solid level, and hiss is minimal. No subtitles or close-captions, unfortunately.
The Extras:
There are no extras for The Bob Hope Collection--a pretty sad state of affairs that not even one original trailer could be scrounged up.
Final Thoughts:
A few of Bob Hope's best screen moments can be in this lazy collection from Shout! Factory. My Favorite Brunette, Road to Rio, and The Lemon Drop Kid rate alongside the best films in his canon, while Road to Bali is an okay laugh-getter. The Seven Little Foys, however, is bad biopic-making all the way, and Shout!'s sacrilegious full-screen transfer doesn't help. So it's up to you, Hope fans. I'm recommending The Bob Hope Collection, but with serious reservations for serious collectors.
---
Paul Mavis is an internationally published film and television historian, a member of the Online Film Critics Society, and the author of The Espionage Filmography.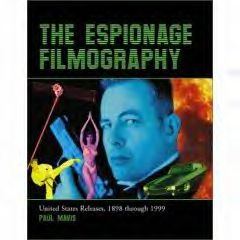 ---
C O N T E N T

---
V I D E O

---
A U D I O

---
E X T R A S

---
R E P L A Y

---
A D V I C E
Recommended
---
E - M A I L
this review to a friend
Sponsored Links
Sponsored Links