Atlantis, the Lost Continent
List Price: $19.95 [Buy now and save at Wbshop]
---
Still a lot of fun. Warner Bros.' direct mail-order Archive Collection has released a pair of George Pal films the legendary sci-fi/fantasy producer/director put out for M-G-M: 1968's The Power (watch for my upcoming review...), and 1961's low-budget mythological fantasy, Atlantis, the Lost Continent, starring Anthony Hall, Joyce Taylor, Edward Platt, Frank DeKova, William Smith (hee hee!), and quite amusingly, John Dall. I've never understood the bad rap that Atlantis, the Lost Continent always seems to get from critics and fans of Pal. It certainly isn't The Time Machine, but we loved it as kids and almost fifty years later, it still entertains. No extras, of course, for an Archive Collection title, but a decent-enough widescreen transfer should make this a solid buy for fans of the director and genre.
A drowsy, hot day on the Aegean Sea, during the times of gods and monsters. Lowly fisherman Demetrios (Sal Ponti as "Anthony Hall", looking like Tony Curtis' younger brother) smiles at his snoring father, Petros (Wolfe Barzell), before spotting a raft on the horizon...a raft holding the beautiful Princess Antillia (Joyce Taylor), daughter of the mythical island empire, Atlantis. Ignoring his startled father's warning of "trickeries of science," Demetrios hauls this "mermaid" into the boat, and brings her back to their humble abode on the Greek shoreline. Unimpressed with their "hovel" and her surroundings ("This cloth offends my skin....Your food tempts me not."), and dressed down by the democratic Petros who tells the haughty, imperious Antillia there are no kings or slaves in Greece, Antillia finally gets wise and starts playing horny Demetrios for all she's worth, turning on the sex appeal to eventually wrangle a free boat ride back to Atlantis. Frightened of going past "the Pillars of Hercules," where the world is supposed to end, Demetrios comes this close to turning the boat around and heading back home...until Antillia makes the ultimate sacrifice. No sooner than she says, "you can dock your boat right here, Demetrios," they come upon a fabulous fish-shaped submarine, piloted by smarmy Palace supplicant Zaren (John Dall), who whisks them both back to the fabled land of Atlantis.
But all is not well in this island nation of scholars, scientists and warriors. For starters, Antillia's father, King Kronas (Edgar Stehli), has weakened in his old age and now defers to war mongerer Zaren, who plots with shifty-eyed Sonoy the Astrologer (Frank DeKova) to one day rule Atlantis. Even worse, Demetrios is thanked for his courage and bravery in saving and returning Antillia by being shackled and thrown in with Atlantis' slave population--the law in Atlantis thus decreeing that all foreigners be treated this way. Forced to dig for magical crystals that provide heat and light for the Atlanteans, the slaves are now at work digging out a huge crystal that Zaren wants to utilize in a gigantic death ray, for the paranoid purpose of conquering other nations before Atlanta is toppled. And if all that isn't bad enough, the island's Surgeon (Berry Kroeger), is running a little chop-shop out back of the mines, hypnotizing slaves to become half men, half beasts of burdens, complete with tusks and swine ears and snouts...and Demetrius is next up for a body job. Oh, yeah--Atlantis is also one big volcano. Will Demetrios save himself and his friends before Atlantis' volcanic center explodes?
SPOILERS' ALERT!
Doing a little background work on Atlantis, the Lost Continent after watching it, I was surprised to see how many people disliked this George Pal production. Back when I caught Atlantis, the Lost Continent on a regular basis, during the early seventies when it was a staple of local TV stations' afternoon "Big Shows" and Saturday night "Late, Late" shows, the attitude towards these kinds of fantasy films was decidedly different than how similar films in the genre are viewed and discussed today. Everything was a bit more...casual with the casual viewer, if you will. Fantasy films, considered strictly "kiddie fare" by most adults, were given the widest possibly berth for critical reception (if indeed we kids had such a thing as a thought-out "critical reception"), and consequently these films were beloved by young viewers for providing the kind of outsized, fantastical thrills not found in standard, conventional dramas and comedies. A lot of that innocence of perception and reception is gone with that genre today, with even the most unassuming entry subjected to the most intense appraisal in terms that are as self-serious as they are frankly, vicious. A lot of the fun of watching a film like Atlantis, the Lost Continent seems to have gone out the window in favor of minute dissection (usually negative in focus), with an emphasis on hierarchies of what's "good" and "bad" along lines accepted by the minority majority. Perhaps that's most film criticism today.
Well...who cares? I had a good time watching "George Pal's worst film," as someone described it. I'm certainly not an expert on Pal, or the fantasy genre, but it proved to be entertaining, which I imagine was its prime goal from the first day of pre-production (I grew up watching over and over again all of the notable fantasy movies--and countless not-so notables, as well, but I don't "study" that particular genre; today, there seems to be a lot of "film experts" out there who study the titles, but who haven't actually watched all of them). And more importantly, a couple of my younger kids watched the film--the ones that Hollywood says must be fed a constant stream of the very latest cutting edge special effects--and they had fun with it, too. Apparently, the fact that producer/director Pal, working from a less-than-optimal budget, had to borrow stock footage from M-G-M's Quo Vadis?, as well as from his own The Naked Jungle and I think When Worlds Collide, is the number one "sin" that Atlantis, the Lost Continent commits for hard-core fantasy fans, but my kids wouldn't have known that even if I explained it to them beforehand. They just thought it was cool to see those burning buildings fall down on those strangely familiar Roman/Atlantaen crowds (and let's face it: kids were most likely the film's intended target). As for me, that lifted stock footage only added to the low-rent charm of the piece. Sure it would have been cool for Pal to get the money to shoot new stuff...but the old shots were pretty solid to begin with, so....
Screenwriter Daniel Mainwaring (Out of the Past, 1956's Invasion of the Body Snatchers) does his fair share of "lifting," too, referencing any number of then-popular gladiator films, along with Hollywood offerings such as The Robe, its sequel, Demetrius and the Gladiators, Disney's 20,000 Leagues Under the Sea, Pal's The Time Machine, of course, and Spartacus while he's at it, coming up with some amusing asides, as well--particularly for Dall, who has the film's best lines (the villains usually do). You can read what you want into his subtext on politics, government, and religion. Is it ironic that high priest Azor believes Atlantis will be punished by "the one, true God" in the heavens because the Atlantis society has become corrupt...while we can see that Demetrios' deliberate drilling into the shaky Atlantis crust causes the final volcanic eruption, or is he pulling a "DeMille," providing divine intervention to excuse the slaughter to come? Serious ideas are present in Atlantis, the Lost Continent (Zoran's belief that destiny decrees Atlantis rule the world through technological might; crystal death ray = Cold War atomic bomb), but low-budget spectacle is more the order of the day.
The pre-credit opening is particularly fun for anyone who grew up on stop-motion animation and all that 70s pseudo-science, as narrator Paul Frees (his voice brings back my childhood quicker than anyone else in the movies) stentoriously pre-dates Erich von Däniken's Chariots of the Gods? as he explains how Atlantis may have been the conduit for matching civilizations during ancient times (I love the witches that fly off the Atlantic Ocean board, leaving behind their little puppet shadows). Unlike many other fantasy films from this time period, director Pal shows a visual and audio restraint in the opening half of the film (better to feel the excitement of the last act), toning down the stirring theme by Russell Garcia, muting the underscore and allowing silences where we can pick up nature sounds like the lapping of water and the soft rustle of wind filling the boat sails. His visual schematic is clean and uncluttered, too (perhaps owing as much to his budget as to his aesthetics?), with the boat journey with Demetrios and Antillia developed quite well. Beginning on calm seas, the trip to Atlantis becomes increasingly fraught with tension, as Demetrios becomes frightened at the strange sounds in the fog (I love that shot of rain-wet Joyce Taylor, standing unafraid at the bow, as lightning and thunder crashes around her). Yes, it's silly to have Demetrios' nightmare visualized, with King Neptune popping up out of the sea, looking like a cross between a Smurf, the Jolly Green Giant, and the Skipper playing "Giant" to Gilligan's "Jack"...but then I remembered how much I loved seeing those characters as a kid, so "silly" turned into "delight" at Pal's unabashed whimsy. Even better was Pal's "racy" but discreet depiction of the sex act between Demetrios and Antillia, with Pal cutting back and forth between their upcoming-embrace and the wind filling the boat's sail, before we get a shot of the phallic prow slicing through the water as Pal cuts back to the couple clinching passionately, with Antillia grunting in sexual pleasure (I wonder if I "got" that as a seven-year-old?). Topping off this nicely designed sequence is the arrival of the cool fish submarine (paging Walt Disney), and John Dall's hysterical entrance, where he exits the sub like he's bounding onto the Broadway boards, exclaiming, "We rejoice, Princess!" Screams.
Once on the island continent of Atlantis, Pal and Mainwaring ratchet-up the action, going from the rope-crossing gorge sequence (reminiscent in dynamics of Heston interacting with H.B. Warner in the mud pits in Ben-Hur, but with a terrible matte painting of the gorge), to the "House of Fear" where the Surgeon is using crystal power to change men into beasts (Island of Lost Souls, with some truly bargain-basement animal heads), to the "Ordeal of Fire and Water," a frankly hilarious gladiator battle between Demetrios and Robert 'Big Buck' Maffei as Andex the Giant, which reminded me of that great Our Gang short, Mama's Little Pirate, where the kids pop up and down, bonking the pirate on the head (my kids were in hysterics during this fight). As for the final meltdown in downtown Atlantis, the lifts from Quo Vadis? are obvious (and inexplicable, since they occur at night, and the rest of the model work is shown during broad daylight), but they only add a bit of fun to the not-bad original model work of Atlantis on fire and crumbling, with a final rise of a lava mountain out of the sea, fairly impressive (the film's funniest line comes when Dall inexplicably sneers, "Insolent rabble!" as the citizens flee the lava!). Pal pushes the film over the top (thankfully), by having Dall, with nothing left to do in the story, start zapping people left and right with his crystal death ray. As he laughs delightedly at the sport, Pal saves a silly-but-fun effect for last when Dall dies by his own machine, reduced to a clean-as-a-bone, smoking skeleton. Atlantis, the Lost Continent may not be Pal's best film by far...but it's still entertaining as hell.
The DVD:
The Video:
It doesn't look like Atlantis, the Lost Continent has been cleaned up for this transfer, but overall, it's not bad. The anamorphically-enhanced, 1.85:1 widescreen image does show signs of damage, such as scratches and dirt during reel headers. Color, however, is acceptable (perhaps a tad muted), with a medium-sharpish image and no compression issues.
The Audio:
The Dolby Digital English mono audio track undoubtedly recreates the original theatrical presentation of Atlantis, the Lost Continent, and it's reasonably loud in its recording level...but it's also very bland (pity we can't hear that theme in re-mixed stereo). No close-captions or subtitles, as per usual with Archive titles.
The Extras:
And as usual, no extras, either, for the Archive Collection.
Final Thoughts:
I don't care what Atlantis, the Lost Continent's reputation is: I liked it as a kid, and it still works for me, regardless of its obvious drawbacks. In fact, those drawbacks make it all the more charming and fun. I highly recommend Warner Bros. Archive Collection release of Atlantis, the Lost Continent.
---
Paul Mavis is an internationally published film and television historian, a member of the Online Film Critics Society, and the author of The Espionage Filmography.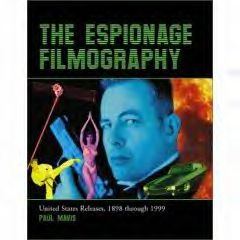 ---
C O N T E N T

---
V I D E O

---
A U D I O

---
E X T R A S

---
R E P L A Y

---
A D V I C E
Highly Recommended
---
E - M A I L
this review to a friend
Sponsored Links
Sponsored Links