List Price: $19.95 [Buy now and save at Wbshop]
---
The damnedest, all-over-the-map sci-fi thriller. Warner Bros.' direct mail-order Archive Collection service has released a pair of George Pal films the legendary sci-fi/fantasy producer/director put out for M-G-M: 1961's low-budget mythological fantasy, Atlantis: The Lost Continent (please read my review here), and 1968's techno/sci-fi/rom-com/murder mystery gumbo, The Power, featuring an incredible cast of pros, including Suzanne Pleshette, Michael Rennie, Richard Carlson, Yvonne DeCarlo, Earl Holliman, Gary Merrill, Ken Murray, Barbara Nichols, Arthur O'Connell, Nehemiah Persoff, Aldo Ray, and headlined by George Hamilton. The final collaboration between producer Pal and director Byron Haskin, The Power never fails to keep your attention, even when it plays scattershot...and sometimes scatter-brained. No extras, but a decent-enough widescreen print should make this a solid buy for this much in-demand title.
San Marino, California. Tomorrow. At the fabulous laboratory headquarters for the American space program's Committee on Human Endurance, a routine department meeting will soon plunge its members into a increasingly deadly game of cat and mouse. Tipped off that Professor of Anthropology Henry Hallson (Arthur O'Connell) may well be off his rocker due to some rather startling results from a staff questionnaire he conducted, Committee Chairman Professor Jim Tanner (George Hamilton) does his best to steer U.S. government liaison Arthur Nordlund (Michael Rennie) away from the obviously agitated Hallson. However, Nordlund insists on hearing Hallson's results, which confirm that someone on the Committee possesses an intellect, a "Power," if you will, beyond all human capacity to measure. Thus, this Nietzschean "superman," who may have evolutionarily jumped a 1,000 generations ahead of today's man, could be virtually unstoppable. Is it super-intelligent genetics professor Margery Lansing (Suzanne Pleshette), who also happens to be a knock-out brunette with the sexiest, huskiest voice in movies? Or is it old smoothie, Professor Norman E. Van Zandt (Richard Carlson)? How about earnest ass-slapper, biology Professor Talbot "Scotty" Scott (Earl Holliman)? Or maybe it's messy, preoccupied physics professor, Carl Melnicker (Nehemiah Persoff)? It has to be one of them, because someone is using their mind to spin that piece of paper stuck on a pencil--a simple little test rigged up by Melnicker to see is someone in the Committee room indeed has "the Power." Convinced that he was right all along, Hallson goes completely bananas, right before he's brutally murdered in the lab (cross one suspect off the list). Now the race is on to discover who has "the Power" in the Committee, before all witnesses are eliminated.
MAJOR SPOILERS' ALERT!
Just another reminder: it's impossible to discuss The Power in any depth without revealing the surprise ending, so if you haven't seen the film...be forewarned. I urge you not to read my review (hee hee!), and to just skip to my A/V and overall recommendations at the bottom. Otherwise--I did warn you.
I haven't seen The Power since Showtime aired it and some other hard-to-see M-G-M and Warner titles back in the 80s, but its images stayed with me even if I had forgotten the specifics of the plot. Watching it again some thirty years later, I can see why some of the story went foggy, but I can also understand why the look and the feel of the film lingered. Based on a novel by sci-fi author Frank M. Robinson (his The Glass Inferno was one of two books used for The Towering Inferno's script), The Power's biggest problem is that screenwriter John Gay's (No Way To Treat a Lady, Sometimes a Great Notion, TV's The Bunker) script is essentially hollow at its core--we never find out what the hell "Adam Hart," the man with "the Power," planned on doing with his gift. Now, you can try and sell this vacuum as a Hitchcockian "MacGuffin" device that isn't truly important to what happens in the film...but then why build up the mystery of "Adam Hart" to such an extent if you're not going to reveal what he intends on doing with his mythical, god-like power? From the backstory exposition we get out of Hamilton's trip to "Hart's" boyhood desert home, it's clear "Hart's" life was meant for some greater purpose right from the start, controlling all the local's minds, and even setting an assassin in place, Aldo Ray, to bump off anyone who comes looking for information (this desert sequence plays like a remake of Bad Day at Black Rock, right down to murderous Ray driving a Jeep, just like henchman Ernest Borgnine in the previous film).
So...what was that obviously important purpose? How did he wrangle his way onto the Committee, and to what end? Was he going to sabotage the American space program? And why did he feel the need to kill everyone, while trying to orchestrate the death of the one Committee member he was truly afraid of: Hamilton? If his intellect and "power" were so great that he could control multiple people's perceptions, then in the immortal words of Alfred E. Newman, "What, me worry?" As cool as the final confrontation between Hamilton and "Adam Hart" is, it would have had far more impact if we felt something was actually at-stake in their "power" battle (and let's face it: we need that strong motivational anchor, because the rest of the characters, with maybe the exception of Holliman's shadowy character, are fairly one-dimensional in their actions).
Taking it on faith that "Hart's" plans aren't important to the film (or just plain ignoring that misstep for the sake of enjoying the film), the script is fun when, after discovering in the final minutes that Hamilton also had "the Power" all along but didn't know it, you can then go back and mull over the fact that all the events in the film are now suspect: did situations and characters' motivations play out naturally, or was everything a figment of not only "Adam Hart's" willfulness, but also Hamilton's unconscious "Power"-driven defenses against "Hart's" murderous assaults? Certainly the film's best illustration of the reality-bending aspects of "the Power" comes early on in Arthur O'Connell's death scene. Returning to his office to gather his papers, the camera follows him as he turns around and his office door is suddenly missing. The camera pans back with him as he goes to the other side of his office, only to pan back again when he intends to break the windows...which are now mysteriously gone, replaced by a solid paneled wall, followed by his strangulation and subsequent trip in the centrifuge. That scene, simply and effectively filmed by Haskin, is a neat marriage of camera movement, art direction and the script to convey what could have been a film filled with such reality-altering moments that would have sufficiently freaked-out 1968 audiences ready for such experimenting. Ultimately, though, The Power is far too literal-minded for such extended playfulness, falling back instead on traditional misdirection, jump-cuts, some shock make-up effects (William Tuttle's death mask for O'Connell is deliciously grotesque), and old Pal techniques like stop-motion animation, to suggest "the Power" (after Hamilton is fired from the Committee, through the willpower of "Adam Hart," he experiences several "unreal" moments, including flipping out on a carousel, toy soldiers that fire real guns and one of those "dipping water bird" sculptures that winks at him--none of which improve on the previous O'Connell sequence)
That's not to say, though, that those more conventional scenes aren't enjoyable in and of themselves. Playing like a screwy Mannix/film noir hybrid as unwilling detective Hamilton goes from one set-up to the next, trying to figure out just what the hell is going on, The Power never fails to keep us entertained...even if consistency of tone suffers from the hodgepodge. Beginning with the marvelously over-the-top, melodramatic Miklós Rózsa score over the Hemo the Magnificent-like credit sequence (Carlson's prescence in the film only further cements that connection), you know you're going to see something outsized and fun. And you're not disappointed in expecting this, as the film segues to the perfectly composed, comic book-framed Fantastic Voyage-like opening, with the laboratory headquarters for "the Sadomasochists of the Space Program," as Hamilton describes the Committee, offering weirdo experiments that apparently anyone passing in the halls can watch for free (I love the "Retardation in Weightless Conditions" experiment, which consists of a scuba guy on display like a goldfish in a bowl, as well as the guy suffering torturously from heat exposure, positioned in a chair in a display case bathed in red light, like some hooker in an Amsterdam window). From Yvonne DeCarlo playing drunk and creepy sexy (she gets to show off her still-fantastic pins), to Barbara Nichols (one of my all-time favorites), getting all steamed up and turned on when describing her forced perceptions of "Adam Hart" (she almost gets to show us her famed rear end in a naughty little nude scene), to a viciously realistic fight between Hamilton and that most unlikely of assassins, Persoff, to the awkwardly motivated and staged "hotel party scene," straight out of a 60s sex comedy, where genial Ken Murray gets some laughs and "Miss Beverly Hills" (the luscious Beverly Powers) plays it delightfully slutty and daffy, The Power is all over the place in terms of pitch.
But since the interesting individual scenes and reliable supporting players come on and off in quick succession, we don't mind that the whole appears misshapen. Some stuff doesn't work, like the anticlimactic elevator action scene, or that bust of a car chase, or being told through dialogue-only of Carlson's death-by-arson (a scene that was either cut from the film or never shot). And I still can't figure out what the hell Haskin was doing, including those shots of the hammered cymbalum throughout the film. It's interesting but rather pointless when he cuts to it during the opening credits (who stops suddenly to helpfully show the audience the instrument that's playing on the soundtrack?), and it's funny when he uses it for a scene where Hamilton breaks the fourth wall, thinking a murder is coming when he hears the ominous theme music swell up...only to discover a gypsy band in the hotel lobby, using the cymbalum. But when he cuts again to a shot of some anonymous musician's hands playing the instrument during the final confrontation between Hamilton and "Adam Hart," it's at first perplexing and then downright silly. Strangely, though...all those missteps and miscues and misdirections ultimately don't affect our take on the movie; The Power is just too goofy not to enjoy.
The DVD:
The Video:
The Power's colors don't "pop" like I would imagine they did in the theaters back in 1968, but this anamorphically enhanced, 2.35:1 video transfer is adequate, with a reasonably sharp image, minimal grain...but noticeable, nasty green print scratches from time to time, and some gate shudder now and again. Obviously not restored, but it sure looks better than the pan-and-scan version I saw on cable thirty years ago.
The Audio:
The Dolby Digital English mono audio track for The Power is recorded at a decent level, but it's a shame we can't hear Miklós Rózsa's final score for M-G-M in full stereo. No close-captions or subtitles, as usual with Archive titles.
The Extras:
And as usual, no extras, either, for the Archive Collection.
Final Thoughts:
Goofy as all get out, but fun and entertaining, too. The Power can't find a consistent tone (and I'm not sure it even wants to), but most of the scenes work within the mystery/sci-fi framework, and the cast is excellent. Weird and certainly miscalculated at times, but that only helps the film, strangely. I'm highly recommending The Power.
---
Paul Mavis is an internationally published film and television historian, a member of the Online Film Critics Society, and the author of The Espionage Filmography.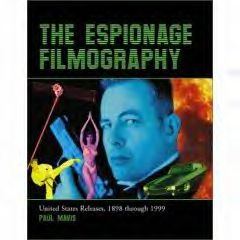 ---
C O N T E N T

---
V I D E O

---
A U D I O

---
E X T R A S

---
R E P L A Y

---
A D V I C E
Highly Recommended
---
E - M A I L
this review to a friend
Sponsored Links
Sponsored Links