Last of the Summer Wine: Vintage 1987
List Price: $34.98 [Buy now and save at Amazon]
---
"What sort of place is that to hold onto a headmaster?"
A major shakeup in the cast, with delightful results. BBC and 2 | Entertain have released Last of the Summer Wine: Vintage 1987, a three-disc, 12-episode collection that represents the show's ninth "series" (season) from 1986. Gone is towering, beloved fussbudget Foggy, to be replaced by thoroughly mad inventor Seymour Utterthwaite, played to sweet perfection by Michael Aldridge. With an inventor on the prowl with arrested-development "adults" Compo and Norman, the opportunity for slapstick increases―as do the laughs. As a bonus, the 1986 made-for-TV film, Uncle of the Bride, where Seymour is first introduced (along with soon-to-be-regular castmate, Thora Hird), has been included.
The basic premise of Last of the Summer Wine couldn't be simpler, nor more rich in comedic possibilities. Set in the small town of Holmfirth, West Yorkshire, three middle-aged-to-old men roam around town, discussing arcane subjects, contemplating the beauty of their surroundings, arguing with each other, and pulling childish pranks to keep themselves amused. And that's...it. Norman Clegg (Peter Sallis) is the philosopher of the bunch, a mild-mannered widower and redundant linoleum salesman who often goes off on obscure, frequently amusing reveries during his conversations, and who acts as a buffer between his two combative friends. Newcomer Seymour Utterthwaite (Michael Aldridge), the former headmaster of his own school for boys, and now the sole faculty member of the correspondence "Utterthwaite Postal University," is a full-time dreamer and inventor. Constantly thinking up new labor-saving devices that he hopes will bring him the long-lost accolades that used to flow freely to Industrial Revolution-era Britain, Seymour's only problem is that his inventions rarely work. As for wildman Compo Simmonite (Bill Owen), well...he's Compo (British slang for "compensation"). Wearing his beloved Wellies, along with a disgusting, beat-up tweed jacket and a green wool cap (regardless of the weather), Compo often looks like's he's been living out in the woods―which matches his barnyard enthusiasm for sex, as well. In lust with married neighbor Nora Batty (Kathy Staff), who can't stand the sight of Compo, Compo also keeps an eye out for even the slightest suggestion of skin from Ivy (Jane Freeman), the large, shrewish owner of the local café. Oblivious to the niceties of society, Compo is the perfect proletariat "crash test dummy" for Seymour's various hair-brained schemes. Both are prone to picking fights with each other (often at the sly instigation of jester Norman), while meek Norman snickers off to the side, enjoying the absurdities of life.
SPOILERS ALERT!
I've written twice before about one of my favorite British sitcoms, Last of the Summer Wine, so I'm not going to tread over a lot of the same ground with this review. Obviously, any time a series experiences a major switch in casting, the potential for losing viewers (who love for things to stay the same in their fantasy TV worlds) is always there. However, we are talking about Last of the Summer Wine, which experienced multiple, significant changes in on-screen personnel during its incredible 31-year run, so the ordinary rules of TV series' shelf lives don't seem to apply. While I enjoyed Brian Wilde's turn as "Foggy" Dewhurst, I'm not worried about "losing" him, because he comes back to the show in four years' time (in creator/writer Roy Clarke's typically absurdist manner, Foggy's disappearance is explained away thusly: Foggy inherits a decorative egg factory, sending Compo and Norman samples with his compliments and a wish for them to visit him...along, of course, with a bill for the eggs). I did find his replacement, though, Michael Aldridge's Seymour Utterthwaite, an utter delight, with his character fitting in perfectly with the carefree, musing spirit of the series. Physically, the tall, imposing Aldridge works well against the smaller Sallis and Owen, maintaining the classic comedy convention of teams that used disparities in physical appearance for humorous effect. With his wild, shaggy hair (especially in the introductory made-for-TV movie), and his rolling eyes, and his garbled, plumy diction (as if his mouth was full of nuts), Aldridge doesn't have to say much to be funny right off the bat.
As for the Seymour character itself, it's a delight. I've always loved the crazed inventor/scientist stereotype in comedies, and here, Clarke and Aldridge play homage to that cliché, making Seymour a gentle dreamer who longs for a time of industrious British innovation that has long-since sadly moved on. That sense of wistful yearning for that which can't be, fits in perfectly with the other mournful characters populating Last of the Summer Wine. Of course, the humor found in these characters comes first (the sadness of the show only comes as an aftertaste, in line with the show's apropos title), and Aldridge walks a fine line in keeping this marvelously mad inventor inherently snobby...yet genial and almost childlike in his enthusiasm to explore the world (again, this fits right in with the central theme of the series: old men, with no responsibilities, roaming around town and returning to their boyhood reveries and actions). Seymour can play off his former headmaster role with the "laborer class" Compo to hilarious results (Compo is always Seymour's first choice whenever anything dangerous is required of his experiments; Seymour's ejector seat is the best this series, with Compo flying about on a moment's notice), but then he can turn around and wonder like a child at the most insignificant bit of business in the natural order, an enthusiasm that Compo views with first incomprehension and then derision ("He does spin me some crap, that man.").
Seymour's backstory as the headmaster of his own disastrous private boys prep school is wonderfully absurd, as well, giving Seymour the necessary strife in his previous life (along with a wife who skipped out on him, like Norman) to add sad wisdom and hilarity to his outlook today (Seymour laments the fact that his 11-year-olds and younger didn't want to engage in punishing manual labor like puttying windows or filling in WWI trenches, but rather "that all the little swine wanted to do was play rugby."). And having Seymour be a failed inventor gives Clarke endless opportunities to build stories around big, outsized physical gags (something Clarke never seems to tire of). While the running joke of having Seymour check his empty mailbox for any applicants to his correspondence school is good, all Clarke has to do is plug in one of Seymour's inventions into whatever plot he's working out for these episodes, and the two flow together most comfortably. Representing a mixture of the best elements of Last of the Summer Wine―dreamy humor/sadness over the absurdities of life, and big, funny slapstick gags―Seymour's addition to the cast keeps the machine running smoothly.
The DVD:
The Video:
As with the previous sets of Last of the Summer Wine, the transfers here are fairly typical for this kind of show, from this country, from this time period. The 16mm elements (location shooting) are muddy and damaged for these full-screen, 1.33:1 transfers, while the video segments (for the set interiors) actually fare a little better, with brighter images and a bit more picture detail. Video noise is inevitable. If you've seen one British TV show from this time period, you won't be surprised by these transfers. They're not horrible, but they're not HD digital perfection, either.
The Audio:
The English mono audio tracks do fluctuate (likely do to the original recording elements), but dialogue is clear enough (hiss is noticeable), and English subtitles will help anyone who's having trouble with those Northern dialects.
The Extras:
No extras here for Last of the Summer Wine: Vintage 1987, unless you count the included made-for-TV movie (a judgment call, because how else are you going to know who Seymour is, unless they included this movie?).
Final Thoughts:
Michael Aldridge's mad inventor Seymour is a terrific addition to the cast here in this ninth series of Last of the Summer Wine. The big, physical gags are now properly grounded in character (Seymour invents things that don't work...or that work too well), while another dreamer gets to lark about with Norman and Compo as they look for meaning in the Yorkshire wilds. I'm highly, highly recommending Last of the Summer Wine: Vintage 1987.
---
Paul Mavis is an internationally published film and television historian, a member of the Online Film Critics Society, and the author of The Espionage Filmography.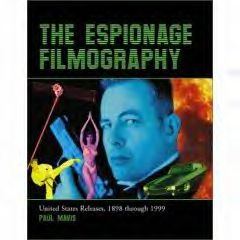 ---
C O N T E N T

---
V I D E O

---
A U D I O

---
E X T R A S

---
R E P L A Y

---
A D V I C E
Highly Recommended
---
E - M A I L
this review to a friend
Sponsored Links
Sponsored Links