Vega$: The Second Season, Volume 1 (Vegas)
List Price: $39.99 [Buy now and save at Amazon]
---
"Tonight!...on Vega$..."
"Harlan Two-Leaf is accused of the rape and murder of a teenaged prostitute!"
"A top-secret CIA tape chases Philip Roth out of Vegas and marks Dan Tanna for death!"
"A runaway pregnant teenager is a target for killers!"
"Tanna has 24-hours to live!"
"A beauty pageant turns into a nightmare!"
"Tanna gets involved with radical feminists when men who exploit women begin to turn up dead!"
"A beautiful singing star is raped by a picture-taking psycho!"

As promising as that ad copy sounds from the original episode promos included here on this set, the three-disc, 11-episode Vega$: The Second Season, Volume 1 is a strangely enervated outing from the Aaron Spelling fantasy factory. The big, showy stunts, action scenes, and former faded stars from the first season are largely gone in this first half of the series' sophomore session, while star Robert Urich looks like he knows he's got another Tabitha on his hands. No extras to speak of, and that doesn't help.
Welcome to Las Vegas, Nevada, circa 1979, where breakfast will set you back .99 cents, gas is .65 cents a gallon, and the desert still comes right up to the Strip. Life is good there for Vegas' best-known private dick, Dan Tanna (Robert Urich). Still on retainer with Desert Inn Resort and Country Club owner Philip "Slick" Roth (Tony Curtis, seen briefly in all of one episode this first half-season) to smooth over any problems that might arise at the Inn from assorted chiselers, sharpies, conmen, boosters, shake-down artists and more hard-core criminals, Dan is free to pursue other interests and cases as he tools around town in his vintage cherry-red '57 Ford T-Bird. When it's time to go home after a busy day of being handsome, Dan pulls right into his apartment, which just so happens to be a converted theatrical storage warehouse for the Desert Inn. His T-Bird safely tucked away, Dan hops out of his ride and strolls into his groovily-appointed bachelor pad where his staff awaits. This being Vegas, Dan's professional staff naturally consists of a former hustler and a chorus girl: hangdog goofball Binzer (Bart Braverman), and gorgeous, top-heavy secretary, Beatrice Travis, played by now-brunette Phyllis Davis (even more top-heavy fill-in receptionist and all around dingbat from last season, Angie Turner, played by Judy Landers, is nowhere to be found). Since good Jewish mother Sergeant Bella Archer (Naomie Stevens) is also AWOL this season, flinty Metro cop Lieutenant David Nelson (Greg Morris) steps up his presence, dropping last season's threatening demeanor to become more simpatico with Dan's methods of investigation: wait for a phone call, drive around the Strip, check his look in the rearview mirror, smash a goon in the face, and make love to a beautiful woman, before he pulls his piece (his other piece, naughty) to blow up the bad guy.
I wrote a fairly detailed look at the first season of Vega$ earlier this year, so I'm not going to rehash the same points here, not the least reason being that this second go-around of Vega$ covers almost exactly the same ground as season one...just without the energy. I'm an unabashed fan of producer Aaron Spelling's work, so I don't look down my nose at disposable entertainment like Vega$. I take it for what it was (and is): good-looking trash that wasn't intended to do anything other than entertain an audience at 10:00pm on Wednesday nights, after Charlie's Angels. And I'm not going to dump on handsome, competent Robert Urich, either, just because he's not De Niro, or because he didn't star in something more substantial or respected in his career like Law and Order (trust me: deep down, De Niro would have killed to be 6 foot 3 and charming as hell in 1979).
No, what bothers me about Vega$ this 1979-1980 season isn't that it's entirely the same as the first season--that would be fine. Rather, I was disappointed that what was familiar, seemed so...flaccid in execution. Maybe things pick up in the second half of the season (I hate writing reviews on just half a year's worth of work), but at least in these first 11 episodes, everyone and everything seems to be on auto-pilot. First and foremost, with a series like Vega$, the lead performer sets the tone for the whole shebang. Urich is in almost every shot, and since these scenes are invariably lightweight or overly-familiar to the point of cliché (this is Spelling, after all), a lot of the burden rests on his shoulders. So if Robert Urich looks glum and acts less playful and moves along a little more slowly this time out, then Vega$ looks glum and acts less playful and moves along a little more slowly this time out. Who knows what's going on with an actor in show, but it couldn't have escaped Urich's attention that the premiere season of his first-starring series didn't exactly burn down the Nielsen's...and that as production wore on, the numbers only got worse. That info had to make it tough for Urich to come in every day and play cocky and cute, when viewers weren't exactly buying the act. Instead, he seems mostly distracted or anxious or even a tad pissed-off. And that takes away any campy fun we might have had with the series when our lead actor isn't winking to us, letting us know he's having a good time, too.
It's not just Urich, though. I'm only guessing and theorizing, but did someone ease off on the budgets here for this second season? Did someone say, "Hey, the ratings didn't pan out the way we were hoping, and they're trending in the wrong direction...let's economize on the dough," as they cut-back on the action scenes and brought in less-stellar has-beens? I suppose it's possible. There's no mistaking, though, that regardless of budget numbers, Dan Tanna sees less explosions and less elaborate action sequences, while his guest-star wattage, with the exception of old Dino himself (for all of two minutes in one episode) and an obviously bored Shelley Winters, has precipitously dimmed. I didn't get as much of a feel for the Vegas locations this time around, either, with a whole lot of exposition taking place with Dan on his car phone in some of the worst rear-projection mock-ups I've seen in quite some time (most of the remaining stuff is Hollywood-shot set work). Whereas the first season felt fairly "open" in its mix of location and studio shooting, these episodes have a distinctly "canned" atmosphere. Nor does it help that the producers and writers fail to provide more scenes for Bart Braverman, a talented, funny actor who could have helped inject a lot more life into these episodes, or Will Sampson's all-but-abandoned Two-Leaf character ...instead of grouchy, same-old same old Greg Morris.
Of course, this being a Spelling production, there's bound to be some happy coincidences of pop culture train wrecks that provide temporary, diversionary fun. Melanie Griffith gets to play a whore again (fancy that) in the season opener, Red Handed, that also finds a bizarre cast so typical of Spelling's tacky magic, including Lola Falana, JoAnn Pflug, Andrew Duggan, and Denny Miller (hee hee!). Robert Reed plays Tony Curtis' brother (!) in The Usurper, displaying his seeming genetic unpleasantness on a truly overwrought scale (his character's name is Rodmore--make your own joke). This episode also features a game-but-fleeting Dino, along with Minnesota Fats and Scatman Crothers. Cassie Yates plays a nun in Mixed Blessings (mixed blessings, indeed), while Barbie Benton turns out to be the love of Dan Tanna's life in Design for Death (the director was smart enough to have Barbie's entrance involve her running to the pool, her arms above her head adjusting her bikini strap, as she bounces at the absolute peak of her desirability...pity about the acting, though). Lot of also-rans in this one, too, including Paul Mantee, Cliff Osmond (do you think he kept calling and bugging Billy Wilder?), and god help me, Gary Crosby. Lisa Hartman initiates an unasked for and unwelcome Tabitha reunion with Urich (when she sings, I reach for a dose of salts), while Shelley Winters pulls off the unthinkable: she's dull in what should have been a classic: the feminist nightmare episode, Macho Murders (I adore Winters, but she seems so removed from the material). And those looking for a Victor Newman/Wayne Newton pairing will enjoy Night of a Thousand Eyes, where the moustachioed, hank-haired Danke Schön singer tries to keep apace with the bored evil of Eric Braeden's usual shtick. These ridiculous incongruities of casting help during this first half of the second season of Vega$...but they're not enough to tip the scales in the series' favor.
Here are the 11 episodes of the three-disc set, Vega$: The Second Season, Volume 1, as described on the inside slipcover:
DISC ONE
Red Handed
Two-Leaf, Dan's friend from the Vietnam War, is set up in the murder of a friend from out of town. Dan is set to clear Two-Leaf's name by tracking down a doctor with a questionable past who has connections to the victim. But Dan needs to hurry before Two-Leaf gets into more trouble--he has already broken out of jail.
The Usurper
Dan goes to visit Roth at his casino only to learn Roth has left town and a man named J.T. Rodmore is in charge. Dan begins digging into Roth's disappearance by tracking his last 24 hours in Vegas. Rodmore is very suspicious of Dan so he has people follow him. Dan is able to contact Roth and acquire a tape Rodmore used as blackmail against Roth.
Mixed Blessings
A church is left in a panic when a thief steals a precious jewel-encrusted cross. They turn to Dan to recover the stolen item. A young nun assists Dan in the investigation as they track down the stolen item from the most unlikely of suspects.
DISC TWO
Runaway
Caleb Tucker, a wealthy Kentucky rancher, hires Dan to solve a missing persons case. Tucker tells Dan that his pregnant teenage daughter, Amy, has run away. Dan sets out to find her, but soon discovers someone is following him.
Design for Death
Dan is hired to investigate the terrorizing of a runway model at the hotel. When another model--an old flame of Dan's--is also murdered, the case becomes personal for Dan. He soon unearths the truth-the dilemma at the fashion show is a diversion to draw security away from a planned diamond heist and fraudulent insurance claim.
Shadow on a Star
When a singer is assaulted at the hotel, Dan is hired to find the attacker's identity. The singer desperately wants to keep the matter secret to protect her career. Dan soon learns that the suspect will very likely strike again, so he must act quickly to thwart another attack--or worse.
Dan Tanna is Dead
Someone infects Dan with a poison toxin and unless a cure is found, Dan will die. Dan consults the doctor in charge of the facility where the toxin was stolen, and learns the only way to manufacture a cure is by obtaining a sample of the original toxin. Meanwhile, Dan is being harassed and taunted by his assailant--a criminal Dan had once put away, and who now wants deadly revenge!
DISC THREE
Macho Murders
Author Virginia Marshall has long been suspected of committing a number of murders. Dan investigates Marshall, which leads him to believe that these suspicions are in fact true. Dan must obtain enough facts to tie Marshall to the murders and send her to jail.
The Day the Gambling Stopped
When a casino takes in more chips than it has dispersed, Dan is called in to find out why. His investigation turns up a "dead" man who is actually alive--and who subsequently frames Dan for murder in order to keep his illegal activities a secret.
The Classic Connection
Wells Tate, a mechanic and Dan's friend, is murdered. Meanwhile, Justin marsh, another friend of Dan's and former race car driver, is in town attending a car show. When Dan confronts a woman who's been following Marsh, she informs Dan that Marsh has gotten mixed up in illegal drug smuggling for a man named Rollins. Dan also learns that Tate had been working for Rollins, as well.
Night of a Thousand Eyes
A friend of Dan's who is also a P.I. is murdered at a P.I. convention being held at the hotel. Suspicions arise when more P.I.s begin to turn up dead. Dan soon uncovers the truth--the convention was a hoax and the P.I.s had been hired to investigate a case that has been unsolved for many years.
The DVD:
The Video:
The full-screen, 1.33:1 video transfers for Vega$: The Second Season, Volume 1 are acceptable, with reasonable color (a tad faded at times), a medium-sharp image, and the expect screen anomalies. Artifacting is minimal. Please note: as usual with Paramount vintage TV releases, there is a tiny disclaimer stating: "Some episodes may be edited from their original network versions." All of the episodes time out around 50 minutes and change, so Vega$ experts can email if they know of any changes.
The Audio:
The Dolby Digital English mono audio tracks are acceptable, as well, with audible but minimal hiss, and relatively stable recording levels. English subtitles are available.
The Extras:
You can watch the episode promos as one bunch on the individual discs, or you can incorporate them into each individual episode. Fun...but not much of an extra.
Final Thoughts:
Crapped out. Hey, I love Aaron Spelling, and I had a lot of fun watching the first season of Vega$ when it came out last year. However, the first-half of season two finds star Robert Urich looking grumpy and distracted, while funnyman Bart Braverman has less and less to do (a big mistake). With these kinds of overly-familiar plots, you need a lightness of touch--which is missing here, big time. Too bad. I think a rental is appropriate for Vega$: The Second Season, Volume 1; let's hope the second half of season two draws to an inside straight (...but I doubt it).
---
Paul Mavis is an internationally published film and television historian, a member of the Online Film Critics Society, and the author of The Espionage Filmography.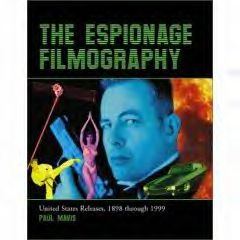 Sponsored Links
Sponsored Links