List Price: $39.99 [Buy now and save at Amazon]
---
Entertaining-enough mysteries, whipped to soft peaks in Pie's usual laid-back manner. Acorn Media has released Pie in the Sky: Series 4, a two-disc, six-episode collection of the penultimate season of this food-flavored mystery/copper series. Anyone who has managed to arrive at series 4 of this Richard Griffiths charmer isn't going to make a mad dash out to Wal-Mart© to pick this up (because they probably don't carry it, anyway). But they'll certainly put it on their list for the next time they stroll through Barnes & Noble©; I would suspect die-hard Pie in the Sky fans aren't exactly a bumptious group. No extras, per se, but solid transfers for this genial mystery series.
Horizontally-challenged 25-year veteran Detective Inspector Henry Crabbe (Richard Griffiths) is the best investigator on the Middleton police force. And that' s a pity, because he doesn't want to be a copper anymore; he'd much rather spend his early retirement as head chef of Pie in the Sky, the quaint little restaurant purchased by his wife, Margaret (Maggie Steed), who's not only a savvy accountant but also oblivious to Henry's culinary wizardry (she'd as soon eat a packet of crisps as one of his delicacies). But an unusual "arrangement" with his superior, Assistant Chief Constable Freddy Fisher (Malcolm Sinclair) keeps Henry, unofficially, on the call sheets: it's called 'blackmail.' Apparently, Henry botched an earlier investigation, and Fisher has used this rare screw-up on Henry's part to keep him from taking early retirement. With Henry on suspension, he can't quit (because he'll forfeit his pension) and he can't retire on disability (because when push comes to shove, he's still on the streets, nabbing criminals). So now Henry is at the mercy of Fisher's whims when it comes to tough investigations―or sticky political situations Fisher would rather not deal with personally―investigations, mind you, that Fisher likes to take credit for when Henry solves them. Working with Henry during his police duties is Detective Sergeant Sophia Cambridge (Bella Enahoro), and working with Henry at Pie in the Sky are his wife, Margaret, ex-con and recovering alcoholic chef Gary Palmer (Nicholas Lamont), looker waitress Nicola (Samantha Janus), and squirrelly vegetable supplier and sometimes washer-up, Leon Henderson (Leon Raggett).
PLOT SPOILERS ALERT!
Having just reviewed series 3 of Pie in the Sky, it's remarkable how similar the two seasons are. Nothing changes from that group of episodes to this season, which aired from September to October of 1996: no cast changes, no major developments in any of the backstories of the characters, no change in tone for this quietly amusing series. The economic turmoil of the previous season has vanished here, and Henry still spends more time pounding the pavement rather than stirring the sauce at Pie. Apparently, the producers and writers felt the series had hit its stride, and they weren't going to mess with the formula. As I've written in my two previous reviews of the series, Pie in the Sky is an acquired taste. It certainly doesn't come on like gangbusters, either in the mystery, police procedural, or comedic departments. It kind of just...slides in, like a regular customer sitting at his usual table at a local restaurant like Pie: no fanfare, no awkwardness, no drama. Everyone knows what to expect, and whatever comes along, it arrives surely and quietly. I'll admit I have a problem with that diffident tone from time to time; there are moments when I'm watching the series and I wonder why it seems so lacking in drive and energy. However, it's a losing battle; Pie in the Sky is resolutely pokey, and its creators and producers obviously see this as a desirable method, so one might as well go with it and enjoy it for what it's worth.
Opening with an ambitious (for Pie in the Sky) two-parter, Devils on Horseback, some real dramatic sparks begin to fly in the marriage of Henry and Margaret, as her flirting ways with a new client cause Henry to doubt the stability of their marriage. That's an interesting angle―referenced and alluded to before in early seasons― that hopefully the writers won't abandon in the series' final go-around. With Henry so easy-going (he's grumpy, of course...but in a teddy bear way), and Margaret a bit snappish and brittle, it's good to see their incongruous marriage questioned and put to the test. As for the mystery itself here, it's a good, horsey Dick Francis-flavored outing that has plenty of time to play out over the span of two episodes. Chinese Whispers has a refreshingly non-P.C. take on it story racial violence towards immigrant classes in England, when it is discovered that the owner of a Chinese restaurant is staging his own attacks to cover his gambling losses (while also emotionally blackmailing his college-and-U.S.A.-bound daughter to stay with him). Admirably, no happy ending is given to this character, who learns nothing from Henry about the tragic consequences of his obsessive gambling, and who appears to be lost both financially and emotionally at the end of the episode. Unfortunately, the writer, perhaps second-guessing the impact of this twist on conventional race-based dramatics, makes sure to put in a clichéd, obvious, obnoxious white bigot who is in charge of the pub cooking competition Henry finds himself in, to reassure nervous viewers that the real racists are still comfortably white (tellingly, no one ever calls out the Chinese restaurant owner over his inexcusable actions that contribute to the dialogue that racism only comes from one side; he's only held to account for his gambling...and even gentle Henry more or less gives him a pass on that).
New Leaf is about as energetic as they come with Pie in the Sky, using a clever script about Henderson's shady past as a pot grower to tie in an attempt to discredit Henry's professional reputation, as well as set in motion a siege finale that finds Henry defending a witness from some invading thugs. An exciting and entertaining entry, New Leaf moves along, unusually, at a healthy clip. Breaking Bread is an amusing outing for Henry and Fisher, particularly after Fisher makes the penurious mistake of taking out the police canteen (complete with a chef and hot meals), for a more efficient, more cost-effective―and utterly soulless―automated machine-and-microwave break room that none of the coppers want to use. This episode feels very much like a minor Midsomer Murders romp, particularly in the episode's humorous juxtaposition of modernization screwing up the "old ways." And finally, Gary's Cake tries to switch things up a bit by having Nicola and Gary become a couple after he celebrates a year being sober, but unfortunately, since we never really spend all that much time with either underdeveloped supporting character, this subplot is fairly disposable...as is the central mystery plot of who robbed Pie. An obnoxious bully of a police investigator, well-played by Rupert Holliday-Evans, is about the only highlight here; it's too bad Pie in the Sky doesn't get down and dirty like his character more often.
The DVD:
The Video:
Like the two previous seasons I reviewed, Pie in the Sky: Series 4 doesn't sport a crystalline digital picture...but loyal U.K. television lovers wouldn't want that anyway. The full-screen, 1.33:1 transfers are a bit on the faded, muddy side, with somewhat washed-out color and a medium-sharp picture.
The Audio:
The Dolby Digital English 2.0 stereo audio track is serviceable, but not impressive. Recording levels are consistent, with hiss barely noticeable. English subtitles are included.
The Extras:
Other than text bios and filmographies on the stars, there are no extras for Pie in the Sky: Series 4.
Final Thoughts:
Absolutely no different from Series 3...which is cool with me. Pie in the Sky's diffident, slo-mo tone takes some getting used to, but it is watchable, and entertaining in a sneaky sort of way. I'm recommending Pie in the Sky: Series 4.
---
Paul Mavis is an internationally published film and television historian, a member of the Online Film Critics Society, and the author of The Espionage Filmography.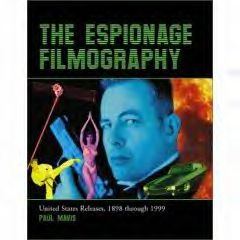 ---
C O N T E N T

---
V I D E O

---
A U D I O

---
E X T R A S

---
R E P L A Y

---
A D V I C E
Recommended
---
E - M A I L
this review to a friend
Sponsored Links
Sponsored Links