Diana Rigg at the BBC (Three Piece Suite, Unexplained Laughter, Genghis Cohn, Mrs. Bradley Mysteries, Little Eyolf)
List Price: $49.98 [Buy now and save at Amazon]
---
A delightful, welcome surprise for fans who may only know the glorious Dame Diana from Bond or The Avengers. The BBC and 2 Entertain have released Diana Rigg at the BBC, a marvelous collection spanning three decades of U.K. television appearances by the celebrated actress. Selections included here are 1977's weekly comedic sketch show, Three Piece Suite, 1989's drama, Unexplained Laughter, 1982's Ibsen adaptation, Little Eyolf, the brilliant Holocaust black comedy from 1994, Genghis Cohn, and the Mrs. Bradley Mysteries from 1998-2000. As a bonus, there's a compact little program booklet and a new interview with Riggs where she discusses these works, along with an absolutely priceless clip of her celebrated appearance on The Morecambe and Wise Show. As much as I'd love to write a book about the incomparable Riggs and her career...I'll resist the temptation to obsess and just stick with very brief looks at these solid offerings.
DISC ONE

THREE PIECE SUITE

"In 1977, the BBC aired a series called Three Piece Suite, where Diana Rigg played a different character in each half-hour episode's three sketches. Encompassing all genres from comedy to tragedy, Three Piece Suite was a tour de force with diverse sketches penned by top British writers such as Roy Clarke, Dick Clement, Terrence Brady and Charlotte Bingham." (program booklet notes)

Episode 1

Hearts & Flowers, Screen Night, Briefer Encounter
Starring: Diana Rigg, Peter Barkworth, Paul Daniels, Don Henderson, Barry Norman.
Based on the works by Richard Waring, Roy Clarke, Keith Waterhouse, Willis Hall.

Episode 2

After You've Come, Little Things...Parking, Wonderful Woman
Starring: Diana Rigg, Gawn Grainger, Bob Hoskins, Dinsdale Landen.
Based on the works by Charlotte Bingham, Terence Brady, Dick Clement, Ian La Frenais, Michael Sadler.

Episode 3

Bitter Suite, Entrance Fee, Public Lives
Starring: Diana Rigg, Keith Ashley, Richard Austin, Tony Britton, Peter Copley, Nancy Gabrielle, Dominic Guard, Willis Hall, Colin Higgins, John Humphrys, Richard Reeves, David Sibley.
Based on the works by Hugh Leonard, Keith Waterhouse, Alexander Woolcott.

Episode 4

Miss, Celluloid Dreams, Mea Culpa
Starring: Diana Rigg, George Baker, Norman Chappell, Karen David, Richard Pescud, David Quilter, David Ryall.
Based on the works by John Esmonde, Bob Larbey, Michael Sadler, Neil Shand.

Episode 5

Come in No. 1, This Situation, All in the Mind
Starring: Diana Rigg, George Baker, Joan Benham Margaret Boyd, Jenny Cox, Neil Daglish, Derek Deadman, Freddie Jones, Lala Loyd, Richard McNeff, Judi Maynard, Patsy Rowlands, Belinda Sinclair, Toyah Wilcox.
Based on the works by Charlotte Bingham, Terence Brady, Tina Brown, Carla Lane.

Episode 6

Little Things...That Go Bump in the Night, Walking the Dog, Every Day in Every Way
Starring: Diana Rigg, Hazel Bainbridge, John Cleese, Deddie Davies, Dorothy Frere, Michael Gover, Gawn Grainger, Doris Hare, Miriam Raymond, John Rutland.
Based on the works by Jilly Cooper, Alan Coren, Michael Sadler.
A delight. In her 2011 interview included as a bonus on this disc, Diana Rigg remembers that the critics weren't kind to Three Piece Suite when it premiered, with her citing the prejudice critics held back then concerning women in sketch comedy. Of course I've seen the ultra-cool, ultra-smooth Rigg half-smirk her way through every one of her spoofy Avengers episodes, but I don't think I had ever seen her "go broad" as she does so often here. Well, simply put: she pulls it off. Comedy may be hard, as the saying goes, but the results are easily determined―it's funny, or it's not. And Rigg is quite funny as she swings from Benny Hill-type slapstick to her more familiar sly spoofing, to some rather funny/sad offerings in Three Piece Suite. Obviously trying to stretch her imposing, glam image by appearing in a variety of guises, from frump to nearly nude (John Simon had no idea what he was talking about there...but then again, he never did), Rigg clearly seems to enjoy going off the wall, and her energy is infectious (I love how at the end of each episode, she reads all the credits for us, giving us that much more time to drink her all in).
The first episode in particular illustrates her considerable range, from the frumpy lonely hearts in Hearts & Flowers, looking through the newspaper personals (she's still too beautiful to completely pull off such a nudge), to a brassy American "starlet" in Screen Night (her accent is good and her nude body is even better, and there's an amusing cinema verite take-off that's quite good), to a paralyzingly funny spoof of Lean's Brief Encounter, shot in black and white with a masterful Peter Barkworth lending support (catching up on old times, the once-successful Barkworth states, "I'm more like a window cleaner," to which Rigg deadpans, "How horrible for you."). Gawn Grainger is a funny little snot in Little Things...Parking, providing an amusing, bickering couple premise that might have expanded nicely into a regular series with Rigg (these characters show up again in Little Things...That Go Bump in the Night, which is just as funny). Wonder Woman take-off Wonderful Woman is painfully unfunny (what is Bob Hoskins doing there?), but Public Lives, a double spoof on Coward's Private Lives and the on-going romantic saga of Liz Taylor and Dick Burton, is an absolute scream, with Tony Britton doing a very funny take-off on Burton (I love it when, possessed by his own ridiculous love and his far too many riches, he desperately offers to buy her a zoo or a submarine). Miss is a beautifully snarky, sad take on a Miss Jean Brodie type, disillusioned by having to return to teaching after a failed love affair (Rigg is truly skilled here in a difficult role), while This Situation features one of my favorite British supporting players, Freddie Jones, in a hysterical performance as a German shrink ("If I was mad at you...I'd break your arm."). And of course, the mythic pairing of two TV icons―Rigg and Monty Python's John Cleese―in Every Day in Every Way is inspired, with Cleese stealing the show as a obsessed, phobic neurotic. All in all, an entertaining romp for the multi-talented Rigg (too bad this didn't go for another "series/season").
DISC TWO

UNEXPLAINED LAUGHTER

"Based on the Alice Thomas Ellis novel, this 1989 adaptation stars Diana Rigg as Lydia, the lovelorn protagonist who seeks refuge from the casualties of the heart, only to be surrounded by the relationships of others. Lydia, a London reporter newly emerged from the latest of one too many broken romances, decides to escape to the Welsh countryside with her friend Betty in an attempt to lose the depressing memories. However, fate would not allow Lydia any relief, as normally steadfast Betty soon finds herself in an unrequited relationship with a religious neighbor who is solely devoted to God. As more people are introduced, it is discovered that everyone is in the throes of love, whether it's a woman having an affair with the local doctor, a narcissist obsessed with himself, or a bleeding heart devoted to Nature. Having the advantage of being the only person not entangled by passion, Lydia is able to recover her wits and provide sharp and sardonic observations about the beauty and misfortunes of love." (program booklet notes)

All odd rhythms and glacially cool, sardonic humor, Unexplained Laughter feels like a sad drama―and of course it is, in part, like all good comedy―but once you get into Ellis' observational frame of mind, it's quite fun to just sit back and see her characters' vanities picked apart. Adapted by Alun Owen, and directed with the appropriate reserve by Gareth Davies, Unexplained Laughter (which originally aired on The Play on One series in 1989), curiously mixes that Northern mysticism that so intrigues the rest of England (Cindy Holden's Angharad character), with the snappish, waspish put-downs of sophisticated, brittle English drawing room comedy (Rigg's and the marvelous Elaine Paige could have taken their act on the road), creating an effect that's both amusing and quite strange. As for Rigg, drawing her full height above all the obvious romantic wheeling and dealing, she stands both imperious and wounded, believably threatening to seduce two brothers just for the fun and torment of it all, or organizing a sunny little picnic right by some pornography-painted rocks just to stir things up with the complacent locals, before gaining back her strength and focus after seeing ex-lover Jon Finch (excellent, as always), for what he really is: a self-involved opportunist unwilling to commit. One curious note, though, about this version: the included episode guide lists the run time as 135 minutes...but the version here only ran 83 minutes. Does this DVD utilize some edited U.S. version of the teleplay, or is it a typo in the program booklet?
DISC THREE

LITTLE EYOLF

"Alfred Allmers has spent his whole life writing a book on 'responsibility,' a luxury he can afford as a result of his marriage to the wealthy and beautiful Rita. However, much to Rita's annoyance, his attention isn't always undivided toward her, as Alfred shifts his focus between his book, their son, Eyolf, and his half-sister Asta. As Allmers slowly feels trapped in an unfulfilling marriage, emotions and a painful past threaten to boil over into a terrible finale." (program booklet notes)

A BBC Play of the Month offering from 1982, Little Eyolf, adapted here by Michael Meyer, is a stagey, somewhat stilted Henrik Ibsen excursion, not particularly successful in exploring its suggested themes, but interesting nonetheless for the performances. The perception is always out there, with serious critics and his enthusiasts, at least, that Ibsen's plays are unassailable, and that if you don't worship them, you simply don't understand him or the power of his work. I'm certainly no expert on Ibsen, but he's never been among my favorite playwrights. I also don't see how someone couldn't understand his work...since he spells everything out endlessly. Little Eyolf, unfortunately, comes over as a fair representation of that quality: a persistent obviousness to the themes explored (interesting though they are, in particular the notion that a mother would openly wish her child dead out of jealousy for her repressed husband's love), driven home by sludgy repetition. Rigg isn't at her best here, shoehorned into a role that emphasizes her sometimes too-stately, slightly starchy disposition (in the bonus interview included here, she talks of dreading delivering the line about little Eyolf's crutch found floating in the water. She was right to worry...). As for Hopkins, the more and more I see an accumulation of his various filmed turns...the more I feel I'm seeing the same turn. Of course, it's Hopkins, so it's deliberately stagey and showy and enjoyable, but god, it's without variation. Certainly the least successful entry here in the Diana Rigg at the BBC collection.

GENGHIS COHN

"Based on the novel 'The Dance of Genghis Cohn' by Romain Gary, Genghis Cohn is a cutting black comedy and one of the more brilliantly executed Holocaust films on par with Schindler's List and Life is Beautiful. It stars Anthony Sher as the title character who returns to haunt the man that killed him. Diana Rigg dominates a supporting role as a witty widow pursuing the antagonist as he is put through a psychological trial, a consequence of his past crimes. In the midst of World War II, Nazi officer Otto Schatz (Robert Lindsay) declares the execution of Jewish music-hall comedian Genghis Cohn. Many years later, Otto is comfortably retired into the life of a highly respected police commissioner, and is investigating a series of murders when he encounters the ghost of Genghis Cohn. The haunting turns into a taunting, and before he knows it, Schatz is slowly driven mad as he is lured into a trap." (program booklet notes)

Simply brilliant. An episode of Screen Two from 1993, Genghis Cohn, Stanley Price's adaptation of Romain Gary's novel, is a deliciously uncomfortable Holocaust black comedy. Since this is included in the Diana Rigg at the BBC collection, it's fair to say right up front that although Rigg makes quite an impression here in her brief role (still gorgeous and erotic almost thirty years after The Avengers), her role is relatively minor. Still, she's quite funny as the imperious widow of a SS officer who needs to have sex with Police Commissioner Robert Lindsay while he's wearing her husband's uniform...but I'm not sure this is representative enough of her talents to be included in this collection (no matter how good it is). The majority of Genghis Cohn is focused on Antony Sher's haunting of Lindsay, and the peripatetic Lindsay's efforts to first deny, then avoid, said haunting. And Lindsay, as usual, is nothing short of masterful (see his turn in GBH, too). I would imagine there are those who would say that nothing from this story framework could be found amusing; that such an effort is in grievous bad taste. That may have been true for Genghis Cohn, as well, if it didn't know exactly where it was going from the start: the sublimation of superior, confident, racist murderer Otto Schatz, into a disgraced, haunted, "shadow Jew" who loses his job and his standing in his community, only to wind up running a delicatessen. Black comedy is turned effortlessly into quiet, sad, comtemplation of an unthinkable period in history. Antony Sher is equally good as standup comedian Genghis, always keeping the viewer aware that beneath the one-liners and slapstick laughs, lies horrific tragedy. As meaningful as anything you'll see in Schindler's List...but way more funny.
DISCS FOUR & FIVE

MRS. BRADLEY MYSTERIES

"Based on the works of prolific mystery writer Gladys Mitchell, Mrs. Bradley Mysteries had a successful run on WGBH's Mystery!, and featured Diana Rigg's introduction to each episodes:
'Adela Bradley doesn't mince words. And why should she? They are her greatest weapon against fools, cads, criminals...and ex-lovers. Words also came easily to Adela's creator, Gladys Mitchell, who published nearly eighty novels in her long lifetime. Gladys introduced Mrs. Bradley in 1929 in the book, Speedy Death. She endowed her breezy heroine with attributes she herself possessed including an interest in Freud and a passion for all things British: Morris dancing, mayday rituals, and the Loch Ness Monster. Over the course of some sixty-six mysteries, Adela Bradley married and divorced three husbands, was made a Dame of the British Empire, and a consultant to the British Home Office. She also developed prodigious abilities at pub darts, snooker, billiards, and knife throwing. One thing she cannot do, is knit.'" (program booklet notes)

Episode 1

Speedy Death
Starring: Diana Rigg, Neil Dudgeon, John Alderton, Lucy Allen, Simeon Andrews, Linda Baron, Tom Butcher, Tyler Butterworth, John Conroy, Emma Davies, Sue Devaney, Emma Fielding, Tristan Gemmill, Roger Grainger, Andrew Hallett, Alex Linstead, Carmela Marner, Errol Mehment, William Oxborrow, Russell Tovey, Elenaor Tremain, Michale Troughton.
Directed by Audrey Cooke.
Written by Simon Booker.

Episode 2

Death at the Opera
Starring: Diana Rigg, Neil Dudgeon, Annabelle Apsion, Roy Barraclough, Elaine Claxton, Peter Davison, Monique De Villiers, James Hurn, Amy Marston, Carlie Norris, Ken Oxtoby, David Tennant, Susan Wooldridge.
Directed by James Hawes.
Written by Simon Booker.

Episode 3

The Rising of the Moon
Starring: Diana Rigg, Neil Dudgeon, James Baglow, Richard Baglow, Kenneth Colley, Peter Davison, Janine Duvitski, Peter Gallagher, Nicky McInnes, Francis Magee, Felicity Montagu, Sheila Steafel, Meera Syal, Nicholas Woodeson.
Directed by Martin Hutchings.
Written by Julie Rutterford.

Episode 4

Laurels Are Poison
Starring: Diana Rigg, Neil Dudgeon, Stuart Bunce, Michele Dotrice, Neil Dudgeon, Michael Fox, Valerie Gogan, Phyllida Law, Kenneth MacDonald, Joanna Roth, Ronan Vibert.
Directed by Martin Hutchings.
Written by Gwyneth Hughes.

Episode 5

The Worsted Viper
Starring: Diana Rigg, Neil Dudgeon, Isla Blair, John Bowe, Matthew Burgess, Rebecca Callard, Peter Davison, Charlotte Francis, Katie Lown, Eddie Marsan, Jason O'Mara, Alex Palmer, Pooky Quesnel.
Directed by James Hawes.
Written by Simon Booker.

Apparently, this particular series didn't go over well with critics and audiences in England when it first appeared, and that may explain why it only ran one "series" ("season" in Brit-TV talk). I have to confess I've never read any of the Mrs. Bradley mysteries, so I can't speak to the fidelity of these adaptations; however, from what I've read, these handsome pieces played fast and loose with the plotlines and with the central character itself, ticking off the novels' devoted fans. Having never read them, I'm not beholden to any preconceived notions, so I took these five little movies as they came. That being said, I enjoyed them well enough. Certainly they're not the equal of a good Suchet Poirot or a Hickson Marple, but Rigg certainly is the equal to those performers, and she's a stitch as the waspish Mrs. Bradley. The mysteries by and large were forgettable, with one or two twists that I didn't see coming. But again, nothing remarkably original or new. And curiously, there was a faintly lugubrious tone to the movies that I found inexplicable. These are, after all, supposed to be taking place during the jazz era―why the curiously leaden approach? The lines are funny enough (I love Mrs. Bradley dismissively noting, "it was a country sort of place, where birds and animals wander around uncooked.") and Neil Dudgeon, now of Midsomer Murders fame, has an amused, cocky air to him that I liked. If all the pieces were in place, then...why the murky, muted tone? Still, it's great to see Rigg glancing sideways off to us and letting off a snarky comment or two (her son says, "There are worse crimes than being dull," to which Rigg dismissively replies, "Really?"); she's the whole show here, and that's enough, in the end.
The DVD:
The Video:
The video transfers for the Diana Rigg at the BBC collection vary in fidelity according to their original materials. All are 1.33:1 full-screen, except for the Mrs. Bradley Mysteries movies, which are 1.78:1 anamorphically-enhanced widescreen. Not surprisingly, the older the title, the less dishy the image quality. Importantly, though: all of the entries here look quite good, even 1975's Three Piece Suite. Yes, it has that curiously British combination of video-shot interiors and 16mm-shot location work, and the video is a tad hot in spots, or muddy of color. But anyone familiar with offerings from U.K. television from that time period would be disappointed if it didn't look that way―it's part of their charm (the Bradley movies are on the other end of the scale, with super-sharp picture and excellent color). Important note: in tiny print at the bottom edge of the DVD box, there's a note made that "certain edits" have been made due to music clearance rights. Whether that means music has been cut out altogether, or replaced, is anyone's guess.
The Audio:
Again, except for the Bradley Mysteries, which are in a solid Dolby stereo mix, the older titles are Dolby Digital split mono, and they're perfectly acceptable, with a decent re-recording level and English subtitles.
The Extras:
Rigg, looking terrific, contributes a nice new interview, A Look Back with Diana Rigg, where she candidly discusses all the entries here―very nice. As well, there's a smashing clip from her appearance on The Morecambe and Wise Show, where she sings an absolutely knock-out, hilarious version of How Could You Believe Me When I Said I Loved You When You Know I've Been a Liar All My Life. I'm chagrined to admit that even though I know Morecambe and Wise by reputation as the U.K.'s most beloved TV comedians, I've never seen them before this clip. They're terrific (I ordered all their stuff on Amazon.U.K.), and Rigg more than holds her own, towering over the two comedians as she gamely hoofs it with them, apparently having a blast. It's a pity she didn't comment on this appearance in her interview.
Final Thoughts:
As a television addict greedy for vintage U.K. material, a collection like the Diana Rigg at the BBC discs is priceless stuff, particularly in the case of the glorious Rigg, who, at least here in the States, is primarily (and unfairly) known for one signature role. A delightful collection, with more hits than misses, and an unprecedented chance to see Rigg's range as a performer. I'm highly, highly recommending the Diana Rigg at the BBC collection.
---
Paul Mavis is an internationally published film and television historian, a member of the Online Film Critics Society, and the author of The Espionage Filmography.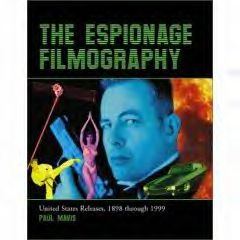 ---
C O N T E N T

---
V I D E O

---
A U D I O

---
E X T R A S

---
R E P L A Y

---
A D V I C E
Highly Recommended
---
E - M A I L
this review to a friend
Sponsored Links
Sponsored Links