Fugitive: The Fourth and Final Season, Volume Two, The
List Price: $39.98 [Buy now and save at Amazon]
---
Author's note: In considering this split-season DVD release, and since these remaining 15 episodes of the fourth and final season of The Fugitive differ not at all either thematically or aesthetically from the first volume of episodes, I'm going to port over parts of my review from that volume one release (along with some revisions), adding episode-specific new material at the end, along with a discussion of the series' final (and famous) wrap-up.
"I'm tired. I'm tired."
"Tuesday, September 5: The day the running stopped." (I know...they didn't use the original "August 29th" narration for this DVD release). CBS DVD and Paramount have released The Fugitive: The Fourth and Final Season, Volume Two, a four-disc, 15-episode release that brings to a close one of television's most iconic drama anthologies. As far as I know, there are no controversies surrounding this release (I'm sure all the "Fugitive fanatics" will let me know if there any). As with all their vintage TV releases, Paramount has included their standard warning about content and music possibly being changed for this vintage release, and no, I'm no Fugitive music expert, so I can't tell you what four bars are missing from a stanza in Episode 20, 37:22 into the show. What I can tell you is that, like the first half of the season, this last half of one of television's finest anthology dramas gains almost nothing from its switch to color (if anything, it loses a great deal of its atmosphere), while the new emphasis on Dr. Richard Kimble running and jumping and smashing all about the country (due to a new producer) does indeed make for exciting television...albeit fairly conventional television. Paramount, as always, delivers the goods as far as the video presentation, and another featurette on composer Dominic Frontiere is included here...but there's nothing really specific to one of the most famous events in television history: the spectacular ratings success of the series' wrap-up, The Judgment. Fans will of course pick this set up.
I written extensively on the mythos, the sociological impact, and the aesthetic structure of The Fugitive in my previous seven reviews of the show, so I won't retread too deeply into the show's powerful construction (you can access those past reviews―for better or worse― here). For the uninitiated, The Fugitive, loosely based on a combination of the Victor Hugo novel, Les Miserables, and the infamous Dr. Sam Sheppard murder case, follows the harrowing plight of convicted wife-murderer Dr. Richard Kimble (David Janssen) of Stafford, Indiana. Falsely accused, tried, and found guilty of a crime he didn't commit, Dr. Kimble narrowly cheats death when the train carrying him and Lieutenant Detective Gerard (Barry Morse) to the death house derails. Kimble escapes, and has been on the run for four years, with the grim, relentless, brilliant Gerard breathing down his neck at every turn in the road. Gerard vows to bring in Kimble no matter what his own personal feelings are concerning Kimble's innocence or guilt, while Kimble vows to keep running at all costs until he can find the one-armed man, "Fred Johnson" (Bill Raisch), he saw leaving the vicinity of his home on the night of his wife's murder. Finding temporary help―and hindrance―from people he encounters all over the country, Kimble has changed his appearance and toils in menial jobs, following the slimmest of clues concerning his prey, while trying to eke out a pathetic existence of loneliness and despair, sure that at every turn he's going to be captured and returned to the death house before finding the infamous one-armed man―the only chance he has of clearing his name.
MAJOR SERIES-RUINING PLOT SPOILERS AHEAD!
As I wrote in my volume one review for The Fugitive's fourth season, new producer Wilton Schiller's emphasis favors action and speed, and in the process, the almost dreamlike (or more correctly, nightmarish), elegiac quality of the show's black-and-white first season has been all but eliminated. It's not that The Fugitive doesn't "think" anymore; it does. There are numerous good episodes here that try and plumb some depth with the complex characters that inhabit Kimble's world of moral ambiguity. But it's obvious to anyone who has followed the show from the beginning that action now trumps psychology. It's not that The Fugitive hadn't always "moved," though. The second season saw a noticeable uptick in Kimble getting on with the search for the one-armed man (and that was a terrific season); action for action's sake isn't an inherently "lesser" goal compared to supposedly higher-minded drama, either. But the balance that The Fugitive so gracefully maintained between thoughtful drama and high-gear excitement is now decidedly tipping in favor of colorful action and suspenseful moments of Kimble trying to elude the police, rather than long passages of Kimble and his various acquaintances discussing the moral implications of their actions in a world of dark shadows and blind alleyways.
And that's cool, I suppose...but it doesn't make for nearly as memorable television. If I had to make a guess, I would imagine the switch to more action (and a new producer) might have been motivated by the catastrophic drop in ratings The Fugitive experienced in its third season, going from the 5th most-watched show in the country during its second season, to out of the Nielsen Top Thirty altogether for its third. Certainly the move to color, a deciding factor with all the networks concerning their product in 1966, was also motivated by the numbers, so what better way to grab viewers' attentions than with fast, bright action, punctuated by a color-soaked palette (talking heads in color are still talking heads, when you get down to it). The only problem with the addition of color to The Fugitive is that it does nothing to aid the series, while it eliminates the gray-scaled, ambiguous twilight world of shadows and voids and abysses―both physical and emotional―that the series created with its evocative, chiaroscuro black and white lensing. In a sentence: it's difficult to create a tense, sickening nightmare world in Day-Glo® color. Don't get me wrong: The Fugitive certainly looks beautiful in its big-screen quality 35mm color cinematography (most of the vintage TV shows back then could pass muster on the giant screens). It's just that color doesn't make "sense" for the show's zeitgeist, particularly since nothing is really done with it to suggest ideas or moods or to define characters. It's bright and attractive, sure...but hardly aesthetically expressive. And worse, it works against the central core of the show: in this otherworldly black and white American universe, where there is no pity, just absolutes, the shades-of-gray plight of Richard Kimble finds no succor.
As for the quality of the episodes in this second half-season, they're decidedly hit-or-miss (just as they were in the first half), with the worst by-product of all of them being you just don't seem to care too much what happens to Kimble at this point. In my third season review, I hinted that maybe audiences had already "got" The Fugitive, and that's why they started to peel off from the show. Certainly the abrupt switch to dazzling, eye-hurting color here, and the right-turn to make the show more action-oriented, only helps, ironically, to point out the series' conventions, and how they're mostly played out by this point. Without the ambiance of an unforgiving black and white and gray world, and without the benefit of enough screen time to really flesh out and get to know the supporting characters that come to interact with Kimble, the skeleton of the show becomes more obvious: Kimble comes to town; an attractive woman in trouble is immediately drawn to him; against his better judgment he overstays his welcome to help someone out; and then here come the cops, with Kimble nimbly slipping away. I just didn't feel any sense of urgency over Kimble's plight by this point, nor, critically, did the producers do much to create an arc threading through these last remaining episodes to prime the viewer for the climatic showdown between Kimble, Johnson and Gerard (one minute he's in the Washington mountains, being chased by a crazy hermit...the next, he's in Stafford, battling Johnson for the final time on an amusement park tower). It's admirable, after the sometimes tentative third season, for the series to get back to the chase, as it were, but without the level of scripting we've come to expect from the series, hampered further by more action scenes and less character motivation, we find Kimble's plight more a matter of mechanics, rather than of the mind (it doesn't help, either, that Janssen seems even more detached here than he was in season three; if he doesn't look like a TV star with the big screen on his mind, I don't know who does).
A good example of this comes in the second episode offered up here, The One That Got Away. What should have been a powerhouse offering, what with big-namers like Anne Francis and Charles Bronson on board, boils down to a thoroughly routine adventure south of the border. Bronson is an undercover cop, but we never learn anything about his motivations (or the interesting kinks) that go into being a paid "lover boy," as he's referred to by his boss. As well, we never discover anything of substance about Francis' character, either; the episode never evolves past a simple "wronged woman" storyline―a real shame when you consider how The Fugitive in particular was noted in the past for its strong female characterizations. Even worse (and a sure sign of grasping at straws) is The Breaking of the Habit, where Eileen Heckart reprises her role from the previous, vastly superior Fugitive episode, Angels Travel on Lonely Roads. Saddled with a totally illogical set-up―not only does a wounded Kimble travel a long way to old pal Heckart for doctoring, he then wants her to check out the whereabouts of Johnson―The Breaking of the Habit can only add a fatal brain tumor to the Heckart character for further "development," while fobbing off a half-assed subplot about "bad girls" misbehaving at the convent (oh boy would I have written that story differently with the handsome Kimble stranded at an all-bad girls convent...). There Goes the Ball Game is no better, putting Kimble in a ridiculous, arbitrary position (he's a by-now famous fugitive on the run, so...he goes to a major league ball game, in jacket and tie, where 50,000 people can get a good look at him acting squirrelly), only to use him as a prop for a shallow, familiar tale of kidnapping and power-politics with Martin Balsam as a pushy, rich publisher and Lynda Day as his daughter―both of whom are totally unexplored in any depth (Day in particular).
Other efforts here are marginally more successful at delineating believable characters and situations...but they're still not up the unusually high standards the series set for itself during its first two seasons. The Other Side of the Coin may be quite familiar with its father/son troubled dynamic, but it's always interesting on The Fugitive when police officers morph into criminals (sheriff John Larch blackmails fugitive Kimble to doctor wanted bank robber Beau Bridges―his son), while having police officer Joe Campanella suspicious of fellow officer Larch is a nice, if underdeveloped, twist. Goodbye, My Love is as well, thoroughly familiar in its plotting (playboy Jack Lord plots the murder of his invalid wife Patricia Smith, with Kimball merely a pawn in his game), but it moves swiftly enough, and Lord is quite good as an out-of-character bad guy. Passage to Helena doesn't do much of anything with the hinted-at racism of its charismatic villain, James Farentino, but there are some interesting asides about the duties and responsibilities of being a law enforcement officer―filtered through the repercussions of race-relations for officer Percy Rodriguez―aided by the strong performances by the leads. And The Savage Street, although familiar again in construction (hasn't Kimble been hidden by a troubled kid in at least a couple of other episodes?), does manage to hint at the complexities of the social unrest then gripping America, as Gilbert Roland creates an intriguing character that laments the laziness of the American youth...but refuses to encourage his violin-playing son to fight for his independence and dignity against neighborhood punks.
Stand-out episodes this volume (and I really wish I could have included The Judgment here...more about that below) include Concrete Evidence, a clever, fully thought-out episode where Kimble becomes involved in a complex relationship between estranged husband and wife Jack Warden and Celeste Holm. Warden is building a highway near a town that hates him (he escaped true justice years before when he was pronounced innocent of building a faulty theater that collapsed, killing three children), but he has plans to build a children's hospital, disguised at first as a hotel―a move his put-upon wife, Holm, knows nothing about. Here we see the kind of layered characterizations that used to be the norm for early seasons of The Fugitive (Jeri Emmett and Jack Turley scripted), with Kimble genuinely caught in a quandary as to how to help these flawed, complex characters (Warden also suffers from guilt over the mental illness of his daughter, who witnessed the death of her friends at the theater, as well as his fatal heart condition), while looking for the escape hatch before the cops move in. The Ivy Maze stars one of my favorite actors from the 1960s, William Windom, who has a good role here as a college friend of Kimble's, now a professor of sleep therapy at a small ivy-league college, who thinks he can dream-deprive the one-armed Johnson (who's working as a handyman at the college) into a confession for the murder of Kimble's wife. Not only is it an exciting episode, and extremely well-directed, but it gives some more background on Kimble's past life, allowing for Kimble to reminisce a little bit about better, past times.
Dossier On a Diplomat has a genuinely novel approach to the frequent "Kimble holded up in an inescapable trap" set-up; here, he's a guest of a sympathetic African ambassador (Ivan Dixon, in a good turn), who's dying from a brain tumor. Solid dramatic tension comes from no less than four well-integrated subplots: the diplomat's wife, who wants Kimble out before he ruins their nation's relationship with the U.S.; a lawyer/author who needs for Kimble to stay off U.S. soil (and hence, in a foreign embassy) so he, as an officer of the court, can actively work to get fugitive Kimble a new trial; a potential love affair with an embassy worker (Diana Hyland working well here), and of course, Barry Morse's Gerard, waiting patiently outside the embassy gates, waiting for Kimble to get booted out. The Walls of Night has a terrific "doubling" of Kimble's fugitive dilemma, with the always-terrific Janice Rule (one of the most underrated actresses of the 1960s) falling in love with truck-driver Kimble...before telling him that she's actually a prison inmate who's on a daily work release. Rule is sensational as the conflicted prisoner who lams it with Kimble, while the forever-running Kimble, in the height of irony, has to advise her to stop running for her own good. Good performances and writing highlight The Shattered Silence, where Kimball not only encounters what could be his plight should he never stop running (well-educated Laurence Naismith dropped out of society...only to go slowly mad from the isolation), but also a pretty, free-thinking ceramist (the returning Antoinette Bower) who makes no bones about wanting to sleep with Kimble on his first night staying at her place (is it me...or is Kimble getting laid like crazy this season?). Even better is a three-minute throw-away cameo by one of my favorite character actors, the great Dabbs Greer, who gives a master class in reaction as a gently befuddled fill-in store clerk who has no idea what to charge Kimble for some toiletries and dry goods (I watched this interchange at least a half-dozen times; Greer was an absolute master at this sort of thing).
As for that former milestone in television history, the series' two-part wrap-up The Judgment―a milestone because it held the record for years as one of the most-watched hours in dramatic television (it's long since been surpassed by other episodes, but capturing 45.9 percent of American households with a television set and a 72 percent share is still astounding numbers)―it's so...ordinary, not only for such a famous example of "event TV," but also for The Fugitive series in general. An awkwardly constructed and thoroughly convention, predictable mystery, spread out unnecessarily over two episodes, The Judgment finds plenty of time for obvious false clues and unconvincing side-trips for romance (the sublime Diane Baker, put to absolutely no use here), but damn precious few for Kimble and his existential plight. Where is that feeling that Kimble is plunging into the abyss, before he's rescued and finally set free from his nightmare? Is all of that running, all of that fear, and paranoia, and suspicion, and heartache, four years of it all, really going to culminate in a poorly-staged, totally illogical fight on a Stafford, Indiana amusement park tower (I live in the great Midwest...couldn't someone on the production staff have kept the California mountains, the Pacific ocean, or at the very least the palm trees, out of the shots???)? Why in the world does Kimble climb up after Johnson? Why not just...sit down, have another Camel®, and wait until he starves to death? He's gonna come down sometime, ferchrissakes; it's not like he can fly away. I know I'm sounding picky, but it's such a ludicrous finale that it's insulting to the loyal Fugitive fan to see such generic (and frankly, poor) action substituting for what should be a finale of some significance. It's not a matter of wishing the Kimble/Johnson showdown wasn't staged as an action finale; it's wishing it had been well thought-out, well executed, and genuinely exciting. Once the battle is over, we don't even get to see what Kimble has been praying for four years: his day in court. We don't get to see him seated in a chair, with a hesitant jury waiting to read its verdict, as Kimble heaves an existential sigh of relief in the courtroom (wouldn't the courtroom have been a better series' finale, where perhaps Kimble's exoneration is almost bungled again, before he's let go?). At least the producers remember something about what made the show great in the beginning, giving Janssen an all-too-brief reminder of his former life, where he looks like he might run again when a police car rolls up to the now-freed Kimble. But that too-slight moment is gone in a flash as Janssen smiles his soon-to-be-failed-movie-star-wattage smile, as he swings on out of the courthouse with his new girlfriend Baker. That's how this nightmare ends? This subterranean exploration of the dark side of the American experience? A lame shoot-out and fight at a carnival, no courtroom exoneration, and Janssen looking relievedly west towards Grauman's Chinese Theatre? All in saturated, sunny color? Better to have had no resolution to the series (as indeed Roy Huggins would later come to regret, when he lost millions as the self-contained, "completed" series failed to become a syndicated presence), than this pale, tame outing that resembles not the final go-around for one of the sixties' best dramas...but a particularly weak Mod Squad episode.
Here are the 15 episodes of the four-disc set, The Fugitive: The Fourth and Final Season, Volume Two, as described on the inside DVD cover:
DISC ONE
The Other Side of the Coin (1/10/1967)
While working in a grocery store, Kimball gets involved in a conflict between a father and son: the father is a sheriff, while his son plans to rob the store.
The One That Got Away (1/17/1967)
A detective boards the boat Kimble is working on that is bound for Mexico. He is there to catch an embezzler and his wife, but then learns Kimble's real identity.
Concrete Evidence (1/24/1967)
A building contactor who is responsible for the accidental deaths of three children blackmails Richard Kimble into helping him clear his name.
The Breaking of the Habit (1/31/1967)
An injured Kimble is reunited with Sister Veronica, who offers to help him find the one-armed man―until a delinquent student disrupts their plan.
DISC TWO
There Goes the Ball Game (2/7/1967)
While at a baseball game, Kimble unknowingly witnesses a kidnapping. Now the kidnappers plan to have him deliver the ransom money―and then kill him.
The Ivy Maze (2/21/1967)
As the subject of a sleep deprivation experiment, the one-armed Fred Johnson has been talking in his sleep. It's now recorded on tape that he killed a woman.
Goodbye My Love (2/28/1967)
Dr. Kimble gets involved with an attractive nightclub singer, unaware that she plans to frame him for the murder of her married lover's rich, invalid wife.
Passage to Helena (3/7/1967)
A sheriff transports Kimble and a racist murderer to the state capitol for arraignment, but they escape and are forced to travel across rugged terrain.
DISC THREE
The Savage Street (3/14/1967)
After Kimble is shot, he is hidden in a tenement by a cigar maker's young son, who is targeted by three street punks who are out to settle an old score.
Death of a Very Small Killer (3/21/1967)
After Kimble recovers from pneumonia in Mexico, a doctor blackmails him into helping with his experimental research in exchange for protection from the law.
Dossier on a Diplomat (3/28/1967)
While in Washington, D.C. to meet with a lawyer, Kimble finds himself tending to an African ambassador whose wife wants the fugitive doctor handed over to the authorties.
The Walls of Night (4/4/1967)
Driving a truck, Kimble becomes involved with his radio dispatcher, unaware that she is a convicted embezzler who is on loan through a work-release program.
DISC FOUR
The Shattered Silence (4/11/1967)
While fleeing a deputy, Kimble retreats into the mountains and finds refuge in the home of a former scholar, a hermit who has cut himself off from civilization.
The Judgment (Part I) (8/22/1967)
After Fred Johnson is arrested for a minor crime, Lt. Gerard uses this opportunity to lure Kimble out into the open so he can finally capture his elusive prey.
The Judgment (Part I) (1/10/1967)
As Lt. Gerard and a captured Kimble head back to Illinois [author's note: this should read "Indiana" - a misprint in the guide]. Kimble is given 24 hours to clear his name. As the clock ticks down, Kimble's efforts lead him into a deadly showdown at an amusement park.
The DVD:
The Video:
The full-screen, 1.33:1 video transfers for The Fugitive: The Fourth and Final Season, Volume Two, are as impressive as they were from the previous volumes. Color is eye-popping, and blacks are solid and velvety. Except for the expected grain and some very small, minor scratches here and there, this is one of the sharpest looking transfers I've seen for a vintage television series. Beautiful job again, from Paramount.
The Audio:
The restored Dolby Digital English mono mix accurately represents the original broadcast presentation, and is clear as a bell. As for any possible music substitutions, I'll let the Fugitive experts thrash that out. English subtitles are available.
The Extras:
Composer Dominic Frontiere returns for more of his interview seen in this season's firt volume. Entitled The Color of Music, it's an informative, but too short (7 minutes and change) examination of his work on the series. Nothing on the final episode, which would seem a natural if Paramount was going to do a bonus here.
Final Thoughts:
The Fugitive: The Fourth and Final Season, Volume Two brings one of the best TV shows of the 60s to an end. It's a mixed bag, at best, and the famous two-part finale hasn't aged well at all...but enough good episodes and moments remain to highly recommend this season...for loyal fans.
---
Paul Mavis is an internationally published film and television historian, a member of the Online Film Critics Society, and the author of The Espionage Filmography.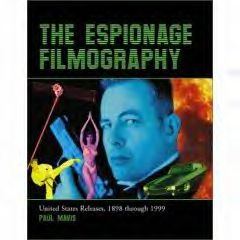 ---
C O N T E N T

---
V I D E O

---
A U D I O

---
E X T R A S

---
R E P L A Y

---
A D V I C E
Highly Recommended
---
E - M A I L
this review to a friend
Sponsored Links
Sponsored Links