More charming spy shenanigans―'80s style. Warner Bros. has released Scarecrow and Mrs. King: The Complete Second Season, a 5-disc, 23-episode collection representing the well-remembered spy/comedy/actioner/romance series' 1984-1985 season. A particular favorite with women―they think Kate Jackson's cute, and Bruce Boxleitner cuter―Scarecrow and Mrs. King achieves exactly what it sets out to do: entertain you through some well-crafted, well-acted escapism. And what's wrong with that? No extras here (too bad someone couldn't Jackson and Boxleitner together just one more time for a commentary track), but the transfers look quite good in this bare-bones presentation.
Divorced suburban mom Amanda King (Kate Jackson) has her hands full caring for her two young sons, Phillip and Jamie (Paul Stout and Greg Morton), while bantering with her spunky live-in mother, Dotty West (Beverly Garland), in their cozy little colonial in the Washington, D.C. suburb of Georgetown. Happily harried by the demands of an involved suburban mom, Amanda still finds time to lead a double life...as a civilian secret agent. Thrown together last year with handsome, slightly arrogant government operative "Scarecrow," Lee Stetson (Bruce Boxleitner), when she helped the desperate agent out of a deadly jam, Amanda has continued her adventures in global espionage for the "International Federal Film Company," the business front for the covert organization, "The Agency"―a situation to which her family is totally oblivious. Patriotic and looking for a job to support her family, she welcomes the chance to work with the reluctant Lee (who likes Mrs. King, but who doesn't want to work with a civilian), pushing for more assignments from Lee's boss, Billy Melrose (Mel Stewart)―a move that initially is looked down upon by Lee's sniffy fellow agent, Francine Desmond (Martha Smith). Will Amanda's family find out about her covert activities...and will both Amanda and Lee finally admit their attraction to each other?
SPOILERS WARNING!
Looking over my review for season one of Scarecrow and Mrs. King, I can tell I was a tad disappointed in the show's mid-season switch of producers and writers, with the resulting tone of the series going from a sometimes quite nimble farce about spying and the suburbs in Reagan's America, to an enjoyable but more conventional romantic comedy adventure. Without that contradiction evident here for season two, I was much more open to experiencing the show as a whole, and I must say that I was quite entertained by it. Having scored reasonably well in the Nielsen's for its premiere season, it looks like the suits at CBS upped the budget for Scarecrow and Mrs. King this go-around, including several travelogue spy caper jaunts to England and Germany, giving the show some noticeable sweep and big-screen appeal, while breaking the audience out of the show's familiar "Amanda's house" and "Agency" sets (an added bonus to these attention-grabbing European episodes are the appearance of some top-flight foreign actors, such as Simon Callow, Sky Dumont, Ralph Michael, Joris Stuyck, Stuart Wilson, Michael Gothard, Meg Wynn Owen, Patrick Drury, James Warwick, and big-screen star John Rhys-Davies, getting in on the espionage game). Packing up a series' stars and going off to Europe to shoot some ratings' "sweeps"-worthy episodes was an expensive but not uncommon occurrence in 1980s television, and these efforts work particularly well here, with Scarecrow and Mrs. King's notable big-screen cinematography bumped up by the scenic locales.
Still, "stunts" like that don't make or break a season; they get viewers talking by giving them a nice surprise, but they don't sustain a successful season run. Scarecrow and Mrs. King succeeds this sophomore session because its stays on target: the purpose of the show is to provide a light, entertaining, romantic romp―with some action and suspense thrown in for leavening―through obvious-but-well-crafted espionage plots, playfully-written banter, and easy chemistry from the accomplished leads. And Scarecrow and Mrs. King pulls that formula off in a consistent fashion, episode after episode. The series is adept at walking two fine lines: keeping the audience guessing about Amanda's level of involvement with the "Agency," and her level of emotional involvement with Lee―both key themes that bolster up the show. Still content to leave Amanda a civilian, the producers and writers make the wise choice of keeping her an outsider who happens to become involved in covert operations out of convenience or happenstance. She still functions as a minor office worker, doing expense reports for her nominal boss, Billy Melrose, but whenever a decoy or escort is needed for Lee, Amanda volunteers (she's even tricked into a few assignments by the "Agency," such as The Times They Are a Changin'...but she still willingly sticks with the plot). She's given a chance to finally begin official agent training in A Class Act, but her unpredictable performance convinces everyone that she should stay an amateur―a funny joke in itself, since amateur Amanda's "unprofessionalism" somehow seems to solve the "Agency's" cases, week after week.
As for Amanda's relationship with Lee, the writers again wisely hold off on "sealing the deal" in any way between the two, creating a remarkably chaste relationship of unspoken expectations and desires that seems like something out of the '30s rather than the '80s...and all the better for that reserve, too. Clearly, Amanda has feelings for Lee, and Jackson is adorable in that pert, low voice of hers, offering repeated encouragements of, "Yes, Lee," and "You were saying, Lee?", and "You were going to ask me something, Lee?" in the hopes that he'll break down and say he loves her. Cleverly, though, the writers never let Boxleitner "wink" metaphorically at the audience, letting them in on his feelings for Amanda; we're as in the dark as she is to his feelings for her. And that creates a constant romantic tension that works quite well in Scarecrow and Mrs. King (while maintaining the essential mystery of the Scarecrow character). Yes, the couple do get "married" in Ship of Spies, but it's all part of the front for Lee's assignment...even if Amanda hopes they truly are married (Scarecrow breezily tells her he used fake info on the marriage forms...which noticeably deflates her). And yes, in Burn Out, one can see, through Boxleitner's excellent performance, that he truly cares about Amanda when, pretending he's a burnt-out spy on the bottle, he painfully slaps Amanda, to his immediate regret. But just as easily, he's okay with Amanda leaving the "Agency" in the next episode, Murder Between Friends. He's sad a friend is leaving...but not sad enough to go out of his way to stop it.
Even though the overt satire from the first half-season is largely missing here, I still find the Amanda character wonderfully nostalgic within the context of the constant murders, double-crosses, and high-stakes terrorist operations that plague here from episode to episode. Pitched by Jackson on the outskirts of a typical '50s TV mom, Amanda's plucky, sunny optimism and well-bred reserve is beautifully out-of-whack with how moms are portrayed on television today. Devoted to her family, Amanda is the kind of TV mom who goes to the Ukrainian Embassy to get information for her son's school project without ever realizing it could cause the "Agency" to doubt her loyalty to the government. Forever telling her boys to be careful outside, or hugging them and kissing them, and making sure they're happy, Amanda is the type of mom that I think (or at least I hope) still rules the roost out in today's America (most of today's TV is far too cynical and self-reflexive to ever admit such a thing as a "norm"). Maybe that's why so many women still find Scarecrow and Mrs. King so appealing. They can see themselves in Amanda―or at least an idealized vision of their own wholesomeness and good cheer―while having a glamorous adventure for an hour each week with a handsome, and maddeningly distant, stranger. And true to her well-bred '50s reserve, Amanda never pushes her own feelings on Lee; she's hopeful...but delightfully, femininely demure.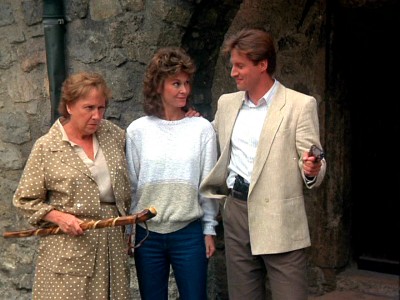 Standout episode for this second season of Scarecrow and Mrs. King include A Class Act, where Amanda finally begins (and quickly ends) her formal training as an agent (lots of fun stuff on the training field for Jackson here). Playing Possum has several amusing sequences, including Amanda's total recall under hypnotism, and her last-minute advice to Scarecrow on which wire to cut for the nuke about to go off in D.C. ("When my dishwasher doesn't work, I just jiggle the blue wire...it's always the blue wire."). Jean Stapleton comes back as spy Lady Emily Farnsworth in The Three Faces of Emily to good effect (she has a ball playing a mean, nasty Russian agent, care of Lotte Lenya). Ship of Spies is an amusing Love Boat farce, with the foreshadowing spectacle of Lee and Amanda getting married. Producer/writer Juanita Bartlett's and Stephen Hattman's Spider Web is a solid espionage outing with a clever plotline: Amanda is set-up to look like a traitor. Odds on a Dead Pigeon takes the "evil twin" standard for a ride, with a funny wrap-up where Lee has to pick the real Amanda as she and her traitorous double hang off a high-rise girder (he immediately picks out the real Amanda when he hears what could have been her final words: "Oh my gosh!"). Car Wars approaches Seinfeld territory when Amanda keeps demolishing an antique car with funny repetition, while D.O.A.: Delirious on Arrival has a comical series of dream sequences as poisoned Amanda struggles for her life (Jackson is particularly good when, covered in white powder, a hallucinating Amanda draws down on the villain with a hairdryer, calling him "dogmeat."). You Only Die Twice is another solid effort from series' regulars Stephen Hattman, Mark Lisson and Bill Froehlich, with a terrific supporting cast of familiar faces (Richard Lynch, Alan Fudge―the single most recognizable name in the annuals of supporting players, and Gregory Itzin). And Burn Out plays well off The Spy Who Came In From the Cold, with a particularly good turn by Boxleitner, while supporting player Ernie Lively is just hilarious as a patriotic trucker who's seen Apocalypse Now one too many times ("I love the smell of diesel in the morning!" he cries, to Jackson's obvious delight).
Still holding steady on a relatively "even-steven" night, CBS' Scarecrow and Mrs. King only dropped two slots in the Nielsen's this 1984-1985 season, going from 20th to 22nd (admittedly, not a direction a sophomore show wants to go in), hanging tough at its regular 8:00pm Monday night slot against steady competition on NBC with their awful Dick Clark-produced TV's Bloopers & Practical Jokes (tied with Scarecrow for 22nd this year) and perennially strong lead-out, The NBC Monday Night Movie (hiking up to 18th this year). Although it was heavily hyped by the critics who thought it was "more important" than shows like Bloopers and Scarecrow and Mrs. King, ABC's Call to Glory quickly tanked against these two "mere" entertainment shows. It's too bad Scarecrow and Mrs. King couldn't have gotten more leverage out of lead-out Kate & Allie's ratings (a drop to a still-strong 17th this year), and the yo-yo success of Newhart at 9:00pm (back up to 16th for the year, after falling to 23rd the previous season), but apparently, Scarecrow and Mrs. King had already enticed all the viewers it was going to pick up. It would remain in the Nielsen Top Thirty just one more season, before falling out of it entirely during its fourth and last go-around.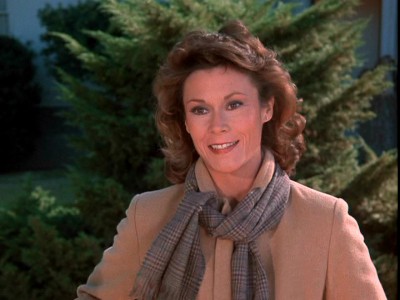 Here are the 23 episodes of the 5-disc set, Scarecrow and Mrs. King: The Complete Second Season, as described on their fold-out episode guide:
DISC ONE
To Catch a Mongoose
Is Amanda's old school friend an international terrorist? Lee and Amanda jet to London to find out.
The Times They Are a Changin'
Amanda wins the family a trip to Munich, which of course propels everyone deep into foreign intrigue.
Double Agent
An ex-agent writes a book that names names, including the one that belongs to a certain suburban D.C. housewife.
The Legend of Das Geisterschloss
The lady vanishes. A frumpy middle-aged spy goes missing in Salzburg, leaving sketches as clues to her whereabouts.
Charity Begins at Home
A charity event is the cover for a multimillion-dollar conspiracy. Guess what amateur spy is refreshments director?
DISC TWO
Brunettes Are In
A vicious white-slavery ring nabs Amanda's pretty blonde friend. Next on their list: Amanda.
Our Man in Tegernsee
"I'm in jail. In Germany. I've never been in jail before." Amanda does time for passing counterfeit money.
Affair at Bromfield Hall
Amanda discovers jolly old England isn't when she's identified as the other woman in a sizzling sex scandal.
A Class Act
Amanda's classmates at an Agency training session include a ringer (Lee) and a covert Soviet assassin.
Playing Possum
No furniture, no files, no people. The Agency is deserted. But Lee knows exactly what to do: take Amanda bowling.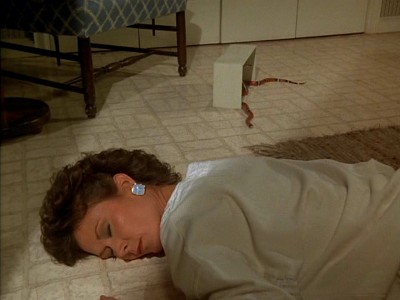 DISC THREE
The Three Faces of Emily
British agent Lady Emily Farnsworth is back, leading the team in a bid to recover stolen plans for a high-tech plane.
Ship of Spies
A mission sends "sweethearts" Lee and Amanda on a wedding cruise, where they end up tying the knot.
Spiderweb
A security leak compromises a top-secret operation, and an Agency honcho is sure he can name the source: Amanda.
A Little Sex, a Little Scandal
Bang! Amanda witnesses a hit on a senatorial aide who dug up dirt on a politician with a yen for call girls.
A Relative Situation
Spying is a family affair when Lee's uncle, a steely Air Force colonel, helps bust up a conspiracy within the military.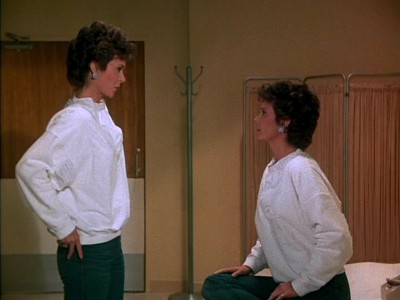 DISC FOUR
Life of the Party
Amanda and Francine go undercover as maids to clean up a crime syndicate.
Odds on a Dead Pigeon
An ex-con wants Lee dead. So he hires a ruthless Amanda look-alike to get close enough to pull the trigger.
Car Wars
With her station wagon on the fritz, Amanda borrows an Agency car...and drives into danger.
D.O.A.: Delirious on Arrival
Dr. Jekyll and Mrs. King. Amanda accidentally downs a mystery drug and takes a trip to Bonkersville.
You Only Die Twice
"Amanda King, Age 34, Died of apparent suicide." Dotty and Amanda find today's obituary section a must-read.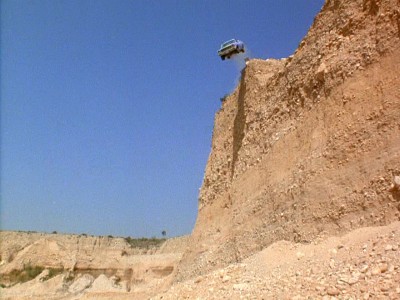 DISC FIVE
Burn Out
A stressed-out Lee is demoted to desk duty. Then a mystery man offers him a very stressful job: kill Amanda.
Murder Between Friends
Movin' up. Amanda leaves the Agency for a big-money security firm. Too bad it's a front for a hit squad.
Vigilante Mothers
A terrorist has a foolproof way to recruit accomplices: find lonely women, romance them, use them, kill them.
The DVD:
The Video:
The full-screen, 1.33:1 video transfers for Scarecrow and Mrs. King: The Complete Second Season look quite dishy, with strong, solid color values, relatively blemish-free prints, and a sharpish image. Nice.
The Audio:
The Dolby Digital English 2.0 stereo audio track is solid, too, with little hiss and all dialogue heard cleanly. English subtitles are included.
The Extras:
Other than a fold-out episode guide (you see those less and less now...), no extras for Scarecrow and Mrs. King: The Complete Second Season. Too bad.
Final Thoughts:
Escapist '80s television at its glossiest...and most charming. The second season of Scarecrow and Mrs. King stays right on target, maintaining an admirable sense of tension over the romantic intentions of amateur spy Amanda and emotionally distant pro, Lee, while the light, cleverly-written banter keeps you amused inbetween the explosions. Perfect Monday night TV fare, after you faced the worst the week has to offer you: Monday mornings. I recommend Scarecrow and Mrs. King: The Complete Second Season.
---
Paul Mavis is an internationally published film and television historian, a member of the Online Film Critics Society, and the author of The Espionage Filmography.