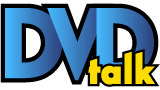 Fox // PG-13 // February 15, 2011
List Price: $39.99 [Buy now and save at Amazon]
---
THE FILM


It's the 1990s all over again with "Unstoppable," a high concept thrill ride featuring all the trimmings that made director Tony Scott such a hot action commodity over a decade ago. It's completely brain dead, but one heck of a whirl, blasting through the screen with a dedication to blistering pace that immediately scrapes away the troubling dead spots of the script. Big, dumb, and loud, "Unstoppable" is a marvelous popcorn thriller, crafted in an almost passé style that recalls Scott's more electrifying, white-knuckle efforts from the past.


As a young train conductor, Will Colson (Chris Pine, "Star Trek") has entered a workplace of disgruntled veterans, paired with engineer Frank Barnes (Denzel Washington) for orientation. On this peaceful day, the two opposites slowly get to know each other, riding along Pennsylvania rails trading sob stories from their personal life. The party is soon cut short when word of a runaway freight train arrives, blazing through the state at 74mph, carrying a toxic load that will detonate upon impact. Finding themselves with a shot to slow down the speeding bomb, Will and Frank endeavor to figure out a plan of attack, facing an icy corporate front that cares more about preserving stock prices and a harried dispatcher (a wonderfully authoritative Rosario Dawson) who doesn't have a clue how to bring the train down peacefully.


"Unstoppable" is, of course, reminiscent of the 1994 smash, "Speed." Instead of a careening bus and thumbless terrorist, we now have a brakeless train that nobody dares take credit for. Opening with a train yard accident set off by human error, the film doesn't waste any time striking the danger zone, with Scott showing atypical enthusiasm to set the metal beast off on its course, developing our heroes and their constant stream of setbacks along the way.


It's a Crayola script from Mark Bomback ("Deception"), who dreams up only a smattering of backstory, as Will and Frank share unique female trouble in their lives, making their bond one of confession rather than mutual respect. There's some blue-collar unease highlighting the malleability of youthful hires versus the experience of age in the workplace, but that's only a fringe bit of tension, unable to find much traction in a film spotlighting a runaway train on its speedy way to blowing up a good chunk of Pennsylvania.


The stabs at characterization are obvious, yet Washington and Pine make the rough edges feel earned. Their chemistry is strong, with both actors taking a heroic part of the struggle, making the experience come alive through fierce verbal interplay and a great read of controlled chaos, as Frank navigates the situation using his well-honed instincts and powers of deduction. Scott, who made another dangerous train movie with Washington in 2009's "The Taking of Pelham 1 2 3," wisely keeps on his actors to communicate the urgency of the moment, gathering a substantial cast of anguished faces able to cleanly express the frightening danger of the rails when his penchant for whiplash camerawork spirals out of control.


Unstoppable" works up a visual tornado at times, but it's wonderful to see Scott dial down his big screen hysterics a few clicks, despite a zoom-happy opening act that promises the worst. It's still a hyper-edited feature film with 100 angles for every blink, but the ferocity of the filmmaker's choices fits the speedball tone of the feature. Scott's barely hanging on to the film's ludicrous nature (allegedly rooted in fact), with little time to overthink the obvious -- his modus operandi since 1996. Surely another director might've made "Unstoppable" more approachable and nutritious, but Scott's oversaturated grit feels apt for this type of armrest-gripping experience, tackling viewers with a whirlwind of media coverage, bickering, and impressive stunt work that extends the tension splendidly.


THE BLU-RAY


Visual:


The AVC encoded image (2.35:1) beautifully captures the saturated, gritty look of the feature, providing extraordinary clarity that balances the lush outdoor locations with the steely interiors of the train and command centers. Detail is excellent, best when exploring the metallic age of the train yards and minutiae of the conductor booths, while faces are generously portrayed, showing off the subtle and not-so-subtle expressions of anxiety. Colors push right on through, with lush greens and menacing reds making quite a visual impression, with all hues skillfully separated and pronounced. Skintones are natural, while shadow detail is crisp and useful, contributing to the cinematographic mood.


Audio:


A film of barreling trains, crashes, and screaming confrontations, "Unstoppable" comes to Blu-ray with a 5.1 DTS-HD sound mix, and it is outstanding. An inherently boisterous film, the track manages the chaos splendidly, issuing a cacophony of panic with pristine separation and force. Low-end is assigned a heavy workload of collisions and train weight, provide a consistent and engaging rhythmic rumble to feel the enormity of the event. Directionals are furious and loud, keeping the listener dodging at home while the characters attempt to control the situation. Exposition is cleanly laid out, with a circular feel to communicate the swirl of voices employed in various environments. Scoring is heavy without intruding on the fun. Spanish, French, and Portuguese tracks are also included.


Subtitles:


English SDH, Spanish, Portuguese, Cantonese, and Traditional Chinese subtitles are offered.


Extras:


The feature-length audio commentary with director Tony Scott cuts right to the technical and scripted challenges of the film, with the conversation highlighting the effort made to create rounded characters in the face of an adrenaline-pumping thrill ride. Scott is a dry speaker, but his expertise is welcome, discussing the digital and practical tricks used to create some of the more extreme train wrecks, his luck with locations, and his time with Washington, who initially brought up Pine's name as a potential co-star. Scott isn't always riveting ("A 'coaster' is a train that's coasting"), but he's able to manage the chat, delivering crucial information while sliding in his own personal reflection.


"Tracking the Story" is a second audio track, assembled from taped recordings between Scott and screenwriter Mark Bomback. Here, the two men plot out the path of the film, causally bouncing ideas off one another to form the feature as we know it today. It's not an exciting listen, but fans of the picture might find a peek into the creative process rewarding.


"The Fastest Track: Unleashing 'Unstoppable'" (29:41) is a marvelous look not only at the making of the film, but the effort to pull off such a difficult arrangements of stunts and locations. Cast and crew interviews supply the backstage illumination, but the real power of the featurette is found in the BTS footage, which provides an eye-opening snapshot of the filmmaking scale, with trains, helicopters, and numerous cameras slammed together to create supreme tension.


"Derailed: Anatomy of a Scene" (10:01) breaks down the astonishing effort employed to bring a critical train derailment scene to life. Following around scores of professionals, studying remarkable craftsmanship, and chasing Scott in cigar-sucking conductor mode, a brief bit of moviemaking mayhem is born.


"Hanging off the Train: Stunt Work" (14:25) again isolates incredible moments of danger, displaying the stunt team planning and executing several moments of train disaster, one involving industrial fans blowing tons of Sugar Smacks all over Chris Pine.


"On the Rails with the Director and Cast" (13:25) sits down with Scott, Washington, Pine, and Dawson to discuss their experiences on the set and how the script's dedication to character helped to secure their participation. The interplay is smooth, with Pine and Dawson dominating the conversation.


And a Theatrical Trailer has been included.


FINAL THOUGHTS


"Unstoppable" lives up to the promise of its title, supplying a breakneck ride that's near-perfect escapism. It's a simple recipe for thrills, but blended superbly by Tony Scott, redeeming his tarnished directorial name for a brief shining moment.
---
For further online adventure, please visit brianorndorf.com
---
---
C O N T E N T

---
V I D E O

---
A U D I O

---
E X T R A S

---
R E P L A Y

---
A D V I C E
Highly Recommended
---
E - M A I L
this review to a friend
Sponsored Links
Sponsored Links