Dallas: The Complete Final Season (Season 14)
List Price: $39.98 [Buy now and save at Amazon]
---
"Revenge is never stupid―it's the single-most satisfying feeling in the world."
Seriously? This is it? No more seasons of Dallas to review? It ends here (and don't email about TNT's upcoming re-boot―we all know how that cow flap is gonna turn out)? My god I'm bereft. Okay, I can do this. I can let this all go. Warner Bros. has released (courage, Paul...) Dallas: The Complete Final Season, the 22 episode, 5-disc collection that constitutes the final 1990-1991 season of CBS's once-mighty ratings' juggernaut (get a grip, Paul; stop your sniffling...). It's no secret to die-hard Dallas fans that these last final seasons were...terrible, and I wish I could report that this fourteenth and final go-around reversed that trend...but I can't. There are pleasures to be had here as J.R. and Bobby haul their tired asses around one last time through plots and sub-plots and romances and sub-romances that we've all seen countless times before. However, those "pleasures" are few and far, far between, and most come from laughing at the show now―a depressing state because Dallas used to have balls the size of coconuts; it was the best damned drama on television in the early 80s. This last, exhausted spasm of a season, though, shows how shriveled and impotent the series had become by this point; someone should have put it down years before. No extras, which doesn't surprise me in the least considering Warner's relatively shoddy treatment of this seminal series.
Texas. J.R. Ewing (Larry Hagman), having committed himself to an insane asylum in order to secure voting rights from his step-daddy's crazy sister, finds himself locked away without hope of release when his wronged, hurt son James Richard Beaumont (Sasha Mitchell), teams up with J.R.'s wronged, hurt wife, Cally Harper Ewing (Cathy Podewell), to keep J.R. where, according to his all his enemies and "friends," he belongs: the nut house. Paris. Bobby Ewing, having committed himself to a life of endless boredom by agreeing to marry perpetually crying, whining April Stevens (Sheree J. Wilson), suddenly finds himself gloriously free when April becomes entangled in a nefarious kidnapping/terrorist plot with wronged Texas oilman widow, "Sheila Foley" (Susan Lucci). Dallas. Perpetual loser Cliff Barnes (Ken Kercheval), having committed himself to a life of endlessly bending over to grab his ankles as he contemplates taking a job as a politician (jesus...), suddenly loses it all when his girlfriend, the beautiful, stiff-as-a-board Liz Adams (Barbara Stock), mysteriously dumps him for the greasy charms of thug Johnny Dancer. Just east of Southfork. Gargantuan-sized oil magnate, Carter McKay (George Kennedy), having committed himself to a lifetime of fun, being married to kicky little whore Rose (Jeri Gaile), finds himself at odds with Mr. Dancer, too, resulting in a little trouble with the law called...suspicion of murder. Oh...and Jeannie shows up for a little while to take away Major Nelson's oil company.
MAJOR SPOILERS ALERT!
Normally, I have a lot of fun writing these Dallas season reviews because for the most part―for good and even not-so-good seasons―one can find something of interest to discuss, even if it's detailing the decline of one of the best dramas ever to hit network prime time. Unfortunately, by this last-gasp point in the show, a real sense of futility and sad ennui infects the loyal viewer, because so much is wrong with Dallas by now. In its heyday, Dallas was a machine that relentlessly hammered the viewer with one dizzying, carefully-crafted melodramatic haymaker after another. It tapped into a primal, coarse line of revenge-and-sex-soaked storytelling, filtered through a powerful familial framework, that found universal appeal; in its prime, nothing could touch it on television for visceral, giddy fun.
However...fourteen years is a long time to sustain such a sense of crude immediacy, and after seemingly endless recyclings of the same four or five plotlines (Bobby versus J.R. for Ewing Oil; J.R. and his sexual blackmails; Bobby with his romantic disasters; Cliff Barnes' perpetual failures in business and in love), and numerous "tricks" on the audience that wore increasingly thin (obviously, the whole "it was a dream" season), Dallas by season 14 is a dead horse being whipped to satisfy contractual obligations, and nothing more. One doesn't know what to make of the opening episodes here, where the producers' and screenwriters' focus is even more scattershot than normal from the previous few seasons. Bobby and April's pathetic little Charade-like intrigue in Paris is laughably inept (those shots of separated Bobby and April mooning for each other as that execrable sax solo plays in the background, are about as sappy as they come), and is made all the more daytime soap opera low-rent by the ineffectual presence of Susan Lucci (even worse is Bobby's extended involvement with another anonymous love, Lucci's kid, Jory, before the producers finally throw up their hands and jettison the whole Lucci plot for naught, when Bobby gives up in Zen futility and flashes the peace sign at the woman who helped kill his wife). Meanwhile, J.R. is playing at an inverse Cuckoo's Nest parody, to sad effect, as we get the spectacle of J.R. tearing up as his looney friends help him escape. James, a fun character the previous season, is twisted this way and that as he's ruined in a card game, losing all his money, before he inexplicably marries Michelle. Cally's around for awhile...and then disappears with J.R.'s baby (J.R. matures and let's her get away with that??? We're supposed to believe that about ol' J.R.???). Cliff becomes involved with Liz, who's a government agent, we're told, but honestly: what does any of that have to do with Dallas and Ewing Oil and Texas and sex and money and power―the hallmarks of the show? Even the arrival of Barbara Eden as Hagman's new nemesis is ludicrously out of place: who could believe sweet, sexy, featherweight Eden as a cold, calculating bitch?
There are flashes of the old Dallas here and there, such as the expectation of gleeful carnage we viewers experience when J.R. is finally released from the booby hatch and starts to exact his revenge. Unfortunately, just when we're anticipating some devilish hijinks, the writers pull their punches, and the river of misery we expect to flow from J.R.'s wrath, trickles and dries up before anything fun really happens (a good example is J.R. firing Sly, instead of blackmailing her for sex or money as the old J.R. would have done, before he immediately rehabilitates her, eventually becoming, for one night, her "friend with benefits"). There's an enjoyably "retro-Dallas" subplot towards the end of the season, where James and Michelle move to Southfork, sparking some amusing scenes with J.R. and the boys, Christopher and John Ross. Frequently, the directors include shots of the young boys looking at each other in amazement or outright laughing at these frenzied cats clawing at each other, creating a surprisingly humorous little mini-parody of past Dallas delights. When Michelle throws a girlfriend of James' into the Southfork pool, and James throws Michelle in after her, Christopher seriously intones, "Things are finally getting fun around here," (an ironic line that's unfortunately all too true at this point in the season). The producers chicken out having J.R. sleep with Michelle (why? It would have been a perfectly rotten J.R. move to nail his son's wife), but solid comedy lines continue at Southfork as James' other wife, Debra Lynn (Deborah Tucker) shows up with J.R.'s adorable little grandson, prompting a classic exchange between Christopher, John Ross and J.R.: "James can't be the daddy of that lady's baby and be married to Michelle at the same time," Christopher wonders, before John Ross answers, "Of course he can, butthead―he's a Ewing? Right, Dad?" to which J.R. wearily replies, "Well...at least part of him is, yes." It's too bad the producers didn't stay at Southfork for the whole season, returning this mythical homestead and its horny, rutting, backstabbing occupants to the center of the show, as it did so brilliantly in the earliest seasons.
Unfortunately, the fun doesn't last long, and we're back to anonymous boardrooms and offices as Ewing Oil is completely destroyed (a serious mistake early on in the season, removing yet another mythical foothold for the audience), with J.R. half-heartedly trying to get back into the oil business, as Bobby quietly slips away, settling on ranching for a living. Little bits of news of cast members long gone pop up here and there, most distressingly with Barbara Bel Geddes' Miss Ellie, who doesn't show at all this season, as Howard Keel is unceremoniously brought on and off the stage like a show pony, for absolutely no purpose (and with the effect of further saddening the nostalgic viewers). Obviously, with the final episode, Conundrum, the producers and cast knew the show wouldn't continue (despite the final cliffhanger ending, languishing in the lower 60s for the end of the year Nielsen's, there was never any doubt of cancellation after this season), but regardless of how enjoyable it is or isn't as a "stand-alone" episode (since it's just a dream sequence parodying It's a Wonderful Life), it's just another indication that the producers and writers had no idea what to do with Dallas at this point. Certainly, there were aspects to Conundrum that I found entertaining ("ghost" J.R., rooting for Bobby to nail a mistress as he sits on the bed, is admittedly quite funny), but deep down, I resented this "fantasy" end to Dallas because, even though the series excelled at melodrama hyped to almost operatic levels, a core reality of motivations―greed, lust, family, power―always grounded the series in recognizable terms. This dream-sequence homage to a classic fantasy film, while clever at times, has absolutely nothing to do with the overripe, rotten, powerful Dallas of old.
But then again...neither did the last six of seven seasons of the series, either.
Here are the 22 episodes of the 5-disc collection, Dallas: The Complete Final Season, as described on the enclosed episode guide:
DISC ONE
April in Paris (11/2/90)
Crazy―like a fox. J.R. schemes to escape from the mental institution while Bobby and April honeymoon in the City of Light.
Charade (11/9/90)
Bobby loses his bride to a kidnapper with a complicated agenda. James loses his shirt in a big-stakes poker game.
One Last Kiss (11/16/90)
Do you trust your wife? Cally offers to get J.R. out of the cuckoo's nest...if he'll do a little something for her.
Terminus (11/23/90)
J.R.'s back in town! While J.R. plots revenge against a whole passel of about-to-be unlucky folks, Bobby faces tragedy in Paris.
Tunnel of Love (11/30/90)
"To hell with the oil business!" Embittered by his recent loss, Bobby lashes out at big oil, big money―and his big brother.
DISC TWO
Heart and Soul (12/7/90)
Vanessa rekindles the flame with J.R. unaware their polecat son is peddling incriminating documents in an attempt to ruin Daddy.
The Fabulous Ewing Boys (12/14/90)
Cliff, Liz and Carter are suspects in Johnny Dancer's murder. Bobby stops a J.R.-Clayton fistfight with a threat that sends J.R. reeling.
The Odessa File (12/21/90)
Seems like Dallas just can't have too many beautiful blondes. LeeAnn De La Vega shows up with a big bankroll and a hankering to buy Ewing Oil.
Sail On (1/4/91)
Busy as a hound in flea season, J.R. juggles three women: Vanessa, LeeAnn and Cally, who has stunning new for her ex.
Lock, Stock and Jock (1/11/91)
LeeAnn reveals a secret from her―and J.R.'s―past. The cops find Carter's fingerprints at the scene of Johnny Dancer's murder.
DISC THREE
S is for Seduction (1/18/91)
At his trial, Carter's trophy wife fingers him as the murderer. Then Cliff mans up about what happened the night Dancer died.
Designing Women (2/1/91)
Hell hath no fury: LeeAnn busts up J.R. and Vanessa, and finally clues him in on why. Ewing Oil gets a new owner to go with its new name.
90265 (2/8/91)
"Is it alright if I called you Daddy, too?" Michelle fires J.R., marries his no-account son and moves into Southfork.
Smooth Operation (2/15/91)
Malibu Bobby. In SoCal, Bobby gets closer to the truth about Sheila. Back in Dallas, J.R. vows to get even with LeeAnn.
Win Some, Lose Some (3/1/91)
Michelle's marriage crashes, Cliff takes a high-powered D.C. job and Bobby is point man in the rescue of another kidnap victim.
DISC FOUR
Fathers and Sons and Fathers and Sons (3/8/91)
While the Ewing men bond on a cattle drive, two wives―Michelle and a darlin' redhead with a little boy―wait at home for James.
When the Wind Blows (3/29/91)
J.R. plays malevolent marriage counselor to his son and both his daughters-in-law. Forced to resign from his new job, Cliff stews in self-pity.
Those Darned Ewings (4/5/91)
Debra Lynn moves to Southfork, Jory moves to Dallas and J.R. is moved to action when he discovers who fathered Cally's baby.
Farewell, My Lovely (4/12/91)
J.R.'s already lost his share of Ewing Oil. Now it looks like he's going to lose his son and Southfork, too.
Some Leave, Some Get Carried Out (4/19/91)
One by one, the people J.R. cares about leave him. But one person comes to visit. And she's brought a gun.
DISC FIVE
The Decline and Fall of the Ewing Empire (4/26/91)
Poetic justice: circumstances make Cliff and J.R. partners at Ewing Oil―and things slide downhill from there.
Conundrum [Feature-Length Finale] (11/2/90)
In a twist on It's a Wonderful Life, a visitor from the hereafter shows a suicidal J.R. what would have happened if he'd never been born. And ol' J.R. has a final surprise for all.
The DVD:
The Video:
As usual with these full-screen, 1.33:1 video transfers for Dallas, the image quality is sub-standard compared to other vintage television releases, with a noisy picture, plenty of drop-out, muddy colors, and at times, blown-out contrast.
The Audio:
The Dolby Digital English 2.0 stereo audio track is entirely adequate for the job; all dialogue is cleanly heard. Close-captions are available.
The Extras:
There are no extras for this final go-around―too bad.
Final Thoughts:
I can't even summon up angry disappointment; all I'm left with at this point is weary resignation and a guilty feeling of suppressed joy that it's all over with...until the reunion movies show up, that is. Dallas: The Complete Final Season shows the combined desperation and absolute cluelessness of the producers and scriptwriters to fashion either a viable last season that might have―against all logic, admittedly―kept the series around for another year, or a fitting coda to what was once the crown jewel of the CBS network and a seminal piece of pop culture history. One or two things work here, in fits and starts, but they're like faint echoes from a distant, unseen party, coming across a dark, lonely pond: unreal and unattainable. Dallas is dead. Rent it if you enjoy seeing a once-mighty thoroughbred, now feeble and lame, being put down.
---
Paul Mavis is an internationally published film and television historian, a member of the Online Film Critics Society, and the author of The Espionage Filmography.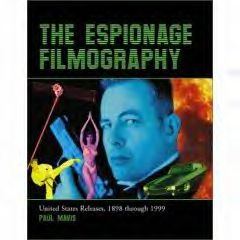 Sponsored Links
Sponsored Links