Sinister Eyes Of Dr. Orloff, The
Other // Unrated // February 8, 2011
List Price: $19.95 [Buy now and save at Amazon]
---
If we learn anything from Jess Franco, it's that atmosphere is everything, right? Intervision Picture Corp. has released The Sinister Eyes of Dr. Orloff, a frequently sought-after title of the cult director's from 1973, starring Mona Proust, Loretta Tovar, Kali Hansa, Edmund Purdom, and William Berger as Dr. Orloff. A psychological thriller minus the latter Franco emphasis on nudity and gore, The Sinister Eyes of Dr. Orloff probably works best as an exercise in nostalgia first, and as a suspenser second, since the context of its production (how it looks and plays within that time period) is at least as interesting as anything that's actually going on in the film. The DVD transfer is problematic, to say the least, but the obscurity of the title helps counterbalance that, and there's an interesting interview with Franco included as a bonus.
Amid the craggy, dusty hills of southern France (or is it northern Spain?), a woman screams in the night. Gorgeous screwball Melissa Comfort (Mona Proust), a wealthy heiress confined to a wheelchair since birth, cries out in her nightmares, terrified of a dream that comes night after night after night. In this night terror, she's 10-years-old. Running from a man who may or may not be her father (Jess Franco), the frightened Melissa scampers to a hiding place, where the stranger/father corners her, dripping blood on her nightgown and legs (calling Dr. Freud...). Melissa's stacked blonde half-sister, Martha (Loretta Tovar), is used to these early morning screaming fits, and she blithely tells Melissa she either needs a man to erase her anxieties, or the services of head shrinker Dr. Orloff (William Berger), called in by Melissa's kindly uncle, Sir Henry Robert Comfort (Jaime Picas). Faithful butler and manservant Albert Mathews (Jose Manuel Martin), however, doesn't trust the scheming Martha or the "new" Lady Comfort, ex-showgirl Flora (Kali Hansa), and he vows to protect Melissa with his life. When Dr. Orloff arrives to examine Melissa, he immediately takes her into his confidence, telling her that he once loved her mother, and that he also had a daughter named Melissa, who died. Now even more screwed up, if possible, by Orloff's revelations, Melissa is completely incapable of handling even the simplest social interactions, such as neighbor/singer Sweet Davey Brown's (Robert Woods) invitation to come next door for a swim. Bigger worries than Sweet Davey's paralytic singing voice await Melissa, though, when she dreams that she kills her kindly Uncle Henry...and he turns up missing the next day.
MAJOR SPOILERS ALERT!
Atmosphere is everything with movies, isn't it? Not just within the movies themselves, but the atmosphere "without" the movies, too. I'm by no means a Jess Franco expert (I've seen Vampyros Lesbos and a few other lesser titles), so I don't claim any special knowledge of his style or reoccurring themes in this works. But I do know that a title like The Sinister Eyes of Dr. Orloff probably shouldn't be viewed at 10:00 o'clock in the morning on a bright, sunny, winter day―which is exactly the mistake I made when this disc first came in the mail. With its low, low-key thrills and dreamy, somnambulant pacing―as well as that iffy, blown-out transfer―I should have guessed that The Sinister Eyes of Dr. Orloff was not the kind of movie that could survive a chipper Monday morning viewing. Yanking the disc after about 20 minutes, I tossed out my notes, waited until Friday night (around 1:00am), turned out all the lights in my screening room, and tried again.
Had I went ahead taking notes on The Sinister Eyes of Dr. Orloff that Monday morning, I'm sure I would have noted the same drawbacks the film (and importantly, the transfer) suffers from, but critically, I probably wouldn't have been in the mood to forgive them―or actively enjoy them―as I did later on that Friday night. How you see a movie can sometimes be just as important as what you're seeing, and The Sinister Eyes of Dr. Orloff was a good refresher on that theory. Viewed in the cold light of day, there really isn't much to The Sinister Eyes of Dr. Orloff. Its plot about a beautiful, disabled heiress being menaced for her inheritance is thoroughly conventional and routine, made only marginally more interesting by the hypnosis angle provided by Dr. Orloff, who apparently not only willed Melissa's mother to give birth to a paralyzed child, but also controls Melissa today, making her walk and commit murders to satisfy his revenge (more about that sticky point below). Anyone expecting Franco's usual sex-and/or-violence-soaked mise-en-scene will no doubt be disappointed by The Sinister Eyes of Dr. Orloff's PG-at-best-rated thrills, with maybe a one-or-two-second (inadvertent) shot of Tovar's breasts in the tub, and her violent-but-not-too-terribly explicit bludgeoning, being the only elements in the film that could possibly be labeled "exploitative." Franco's typically inventive (within a severely restrictive budget) camerawork isn't exactly flashy here, but he does know how to hold his shots long enough to make us uncomfortable, while letting people come in and out of the frame with a weirdly rhythmic, dreamy regularity (the sub-par transfer actually helps the strange quality of Franco's mise-en-scene, with its slightly fisheye look further pushing the film into dream-like territory).
Of course, it's difficult to pass any kind of real judgment on The Sinister Eyes of Dr. Orloff if we have to go by the dubbed version we're seeing here. Clearly, there are problems with translation as well as the dubbing performances, as unintentionally funny moments continually pop up. When we first see Melissa in her bed, she asks the visiting Martha how she knew she was awake, to which the chipper looping actor brightly replies, "I heard you scream!" delivered as if Doris Day was coming to call. Later, Dr. Orloff shows compassion for Melissa by apparently hitting on her and threatening her at the same time―if we're to believe the subtitling: "You are very appealing, Ma'am, and it would be a shame to lock you up." And when the subtitling isn't obviously "off" in its accuracy, it literally goes off for about four minutes at the 29:07 mark, where absolutely critical information about Orloff's plan of revenge is apparently discussed. To be honest, when that happened (and I was whacking the side of my player, thinking the problem was on my end), I wrote down "deal-breaker" in my notes, because this inexplicable lapse happens at such a critical moment in the plot. Does Orloff link up his recollections of his daughter to Melissa and her family? Is that why he wants revenge? Is Melissa actually his daughter? If not, why then is he killing off her family? Without the subtitles (and after flunking out of Spanish in high school), I can't tell you. And that blankness drove me mad when I first watched The Sinister Eyes of Dr. Orloff.
However...I eventually let it slide, because too many other elements of the film were working on me in ways they probably shouldn't have. I won't deny that I got the giggles every time I heard that "all skate" organ music come up for its rolling-up-and-down cues. And when Edmund Purdom showed up as a cop who answers Sweet Davey Brown's concerns for Melissa with a weary, "Leave me alone," I knew the film was only getting better (too bad there wasn't more of him in the film from the start). I had enjoyed Franco's persistence in leaving in a few voyeuristic moments for his more puerile-minded viewers (like me), such as Martha's first visit to Melissa's bedroom, where he lets Tovar cross and uncross her long, long legs as she poses pretty for the camera (it's maddening trying to see if she's wearing panties or not. I think "not."). However, when Franco has his two hot, ying/yang villainesses haul around an unconscious Melissa, wearing a black pantsuit (Hansa) and a baby-doll nightie with knee-high boots (Tovar), he hit paydirt with me. Best of all, and frankly the salvation for this disc, let's not forget Sweet Davey Brown's song, where his strange, reedy voice, sounding like a cross between Charles Manson and Wayne Newton, twangs, "Oh, child, open your arms again, open your eyes again, and tell me...how nice, how nice the trees can be. How high the blossoms grow, and flowers and fields. Oh, child, open your window panes, let the fresh wind come in, and tell me how nice...life can be." Jee-zus that asinine song is like crack; I haven't A-B looped a song so many times since I watched Patty Duke singing Funny Little Butterflies about a hundred times. Sweet Davey's stupid little tune sounds like every dumb-ass song you heard in one of those hippie-era drive-in opuses, and it immediately set the tone for the rest of the film, erasing away any remaining ill-feelings I had toward the transfer here. "How nice the trees can be?" you ask, Sweet Davey? Very nice, you dimwit.
The DVD:
The Video:
The full-screen, 1.33:1 transfer has been side-matted onto a 16:9 enhancement, with what looks like information cut off on the top as well as the sides. Comparable to a mid-to-poor VHS dub, who knows where Intervision found this video master...so unless I hear otherwise that they interfered with the imaging (which I doubt), I'll give them the benefit of the doubt for this impossible-to-find title. Image is soft; colors are muted; contrast is blown-out. Watchable...but poor.
The Audio:
The Spanish mono audio track fluctuates (knowing Franco's budgets, that could have been present in the original source material), with hiss noticeable. English subtitles...but beware the missing four minutes at 29:07.
The Extras:
There's an interview with Franco, running 18:24, where the elderly director shakily talks about his career and this Orloff series. I've never seen Franco interviewed, so I'm guessing this is a fairly rare extra for DVD. He's an interesting guy; good bonus.
Final Thoughts:
"How nice, how nice the trees can be." Exactly, Sweet Davey Brown. Jess Franco's The Sinister Eyes of Dr. Orloff will probably make anyone but die-hard cultists of the director yawn...but it does have a dreamy little pull to it that I liked, even if everything in it is thoroughly familiar and clichéd. That transfer, and the disappearing subtitles (regardless of whose fault it is) will be a deal breaker for many, though. The movie itself is recommended, but that compromised transfer drops The Sinister Eyes of Dr. Orloff down to a rental for the curious.
---
Paul Mavis is an internationally published film and television historian, a member of the Online Film Critics Society, and the author of The Espionage Filmography.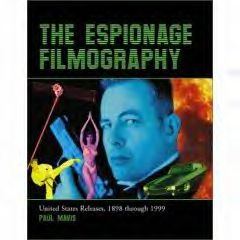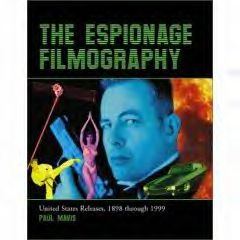 Sponsored Links
Sponsored Links