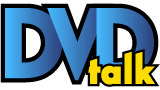 List Price: $39.95 [Buy now and save at Amazon]
---
It isn't terribly obvious at first glance that these two teenaged girls are sisters. Elena

(Roxane Mesquida)

is a devastatingly gorgeous fifteen year old -- impishly manipulative
[click on the thumbnail to enlarge]

of the boys that fawn over her and very much taken with a romantic, blissfully naïve concept of love. Her twelve year old sister Anaïs

(Anaïs Reboux)

, on the other hand, is...well, fat. Anaïs' face is awfully plain besides, so even if she were as svelte as her older sister, she'd still be on the outside looking in. It's rare for any sign of emotion to creep across her face. Anaïs hardly ever seems to speak, and when she does, it's either to herself or to her sister. There's a certain disconnect between Anaïs and the world around her, and despite her youth, she's already cynical about love. While Elena is swept up in her idyllic romantic fantasies, Anaïs groans about how she hopes she loses her virginity to a man she doesn't love. She looks at her first sexual encounter not as a milestone on her way to becoming a woman but something to just get out of the way.



Fat Girl opens as the two sisters are on a family vacation at some faceless European seaside town. Elena is only allowed to venture out if she drags her sister along, and even though Anaïs would just as soon wolf down an armful of candy or bob around again in the pool, she always seems to relent. To really spell out the differences between these two girls, Anaïs is so blindedly enthralled with a dish of ice cream that it takes her several minutes to notice that, across the table, Elena is furiously making out with a twentysomething Italian law student named Fernando

(Libero de Rienzo)

. Anaïs may only be twelve, but even she seems to clue in that her ice cream and Elena's new romance have about the same shelf life. That one is an adult and the other a child, the hundreds of miles and national borders that will separate them once this vacation is over, the fact that they've only known each other for hours...none of that matters. Elena is desperate to give into her impulses, so she's convinced herself that she's in love. Fernando
[click on the thumbnail to enlarge]

rolls right along with it, and when he sneaks into her room late one night, he cooes all the right words in her ear. Don't you want your first time to be with someone you love? Of course I love you...I'll come visit you in Paris, and we can be together...on and on he goes. Fernando eventually wears her down, and the way in which he takes Elena's virginity is hardly the romantic fantasy that had consumed her thoughts for however many years. Anaïs looks through half-covered eyes as her sister is degraded. Once that initial barrier is shattered, Elena deludes herself into thinking this is some kind of gesture of love, and she gives herself to Fernando more freely. Anaïs looks on as her sister spirals down further and further, all too aware that things can't possibly end well. They don't.



As often as budding sexuality has been explored on-screen, I've never seen it approached quite like this. In most of the films I've seen touching on similar subject matter, losing one's virginity is a transformative act; the emphasis is placed most heavily on how its central characters are changed afterwards. Fat Girl is more interested in sex as a concept: the greatly varying perceptions of lust and love from these different characters rather than the act itself. It follows, then, that although Fat Girl may have some degree of notoriety for its brazen sexual imagery -- Fernando placing a condom on his erect penis, a grown man laying on top of a fully nude fifteen year old girl, a twelve year old repeatedly baring her breasts -- it's really only glimpsed briefly. The first sexual encounter between Elena and Fernando lasts nearly a half hour -- close to a third of the overall length of the film! -- but the act itself lasts only a fraction of that time, and even then, the camera is closed in on Anaïs' face, peering between tears and closed fingers as her sister is debased. The rest of the scene revolves around the prelude...the two young lovers talking to one another. Elena is caught in the middle of lust and reluctance. She wants to lose her virginity but seems to know this isn't what she'd dreamt of. Fernando tries to swat away that uneasiness, alternating between seduction and acting like a spurned, petulant child. Neither of them walk away fully satisfied.



Fat Girl really doesn't judge either of the sisters. One isn't portrayed as right and the other wrong. Both
[click on the thumbnail to enlarge]

sisters are deeply flawed, and although the film does side with Anaïs' more cynical perception of teenaged sex, it's also sympathetic to Elena's more romantic view...how unfortunate it is that reality so rarely approaches the overidealized fantasy. I'm also intrigued by how much emphasis Fat Girl places on the relationship between these two girls and how much closer they become throughout this ordeal. I'm so used to seeing films where I'm told that characters are sisters, but I've rarely felt that bond the way I have throughout Fat Girl. Veering away from a manipulative score or heavy-handed direction and instead emphasizing characterization and remarkably natural dialogue, I was able to better escape into their world...into their thoughts and emotions. As unrecognizably different as Elena and Anaïs are, I never once questioned that they're sisters, and that's very much a testament to the strength of Catherine Breillat's direction as well as the phenomenal performances by Roxane Mesquida and Anaïs Reboux. These are both exceptionally challenging roles, and they're executed flawlessly. The prolonged aftermath is every bit as fascinating as well, despite the fact that throughout its final twenty minutes, its characters largely stew in silence. What had up to that point been an intensely dialogue-driven film stops talking, yet this only serves to heighten the emotions. Actual sexual frustration and aggression make way for visuals metaphors of the same, as the girls' harried mother weaves their sedan around long, phallic tractor trailers. The role that food plays in Anaïs' life becomes increasingly clear. Breillat does a marvelous job building tension and dread without even hinting at what's to come.



The frustrating thing about writing a review like this is that I'm unable to discuss the final moments of Fat Girl. Suffice it to say that the finalé is a jarring shift in tone and mindset, seemingly spliced in from a completely different movie altogether. Despite furthering some of the key messages explored earlier in the film, these final couple of minutes betray the engrossingly natural hour and a half that had preceded them. I appreciate how cinematically daring this is, but this is the sort of ending that taints the perception of the movie as a whole, and Fat Girl is very much the worse for it. Otherwise, though, I was entirely floored by Fat Girl: an intelligent, resonant, artfully crafted, and wonderfully natural film exploring female sexuality from several very different perspectives. Recommended.






Video



---

Fat Girl generally looks quite lovely on Blu-ray. Its palette is nicely saturated when appropriate, most notably throughout the costume design. Detail and definition are particularly dazzling whenever the camera is closed in tightly, so much so that many of the close-ups in this decade-old film look as if they could've been lensed last week. The further back the camera pulls, the less crisp and clear the image seems. There's such a gulf between them that Fat Girl almost looks like an entirely different film depending on where the camera's placed. The variation is so consistent that there's no question that this dates back to the original photography, but it's somewhat jarring just the same. Although film grain is prominent in the screen captures scattered throughout this review, that texture is mostly indistinct from a more traditional viewing distance. Throughout Fat Girl's grainiest sequences, the image just seems to pulse. There aren't any artifacts from excessive noise reduction that I could spot, nor are there are any issues with the compression or any wear in the source material. I wouldn't point to Fat Girl as one of Criterion's most immediately arresting releases, but this is still a very nice presentation, and I'm left with the sense that it's completely faithful to the intended look of the film.



Fat Girl arrives on a dual-layer Blu-ray disc. The video has been encoded with AVC and is lightly letterboxed to an aspect ratio of 1.85:1.






Audio



---

Presented in its original French and bolstered by six channel, 24-bit DTS-HD Master Audio, Fat Girl sounds better on Blu-ray than I ever could've hoped to hear. There's a wonderful distinctness and clarity to the audio, as if I can clearly discern each individual element in the mix. The surrounds are teeming with atmospheric color, and some of the cars driving by in the background seamlessly pan from one channel to the next. The low-end in the score is thick and substantial, and Fat Girl's dialogue is consistently reproduced cleanly and clearly. This is a terrific presentation, and I'm not left with any complaints or concerns whatsoever.



Optional English subtitles are enabled by default. There are no other audio options on this Blu-ray disc.






Extras



---

All of the extras on Fat Girl have been upscaled from standard definition sources to 1080i. All told, right at half an hour of additional material is offered here, and the selection is the same as it was on Criterion's DVD from 2004.



The Making of Fat Girl (6 min.;

SD

): This very

[click on the thumbnail to enlarge]

short featurette bounds back and forth between behind the scenes footage and brief comments from the cast and crew. Among the highlights are notes from director Catherine Breillat about coaxing natural performances from her young actresses as well as the danger and difficulty of the material proving to be its greatest allure to her as a filmmaker.




Interviews (22 min.;

SD

): Director Catherine Breillat is the focal point of two separate interviews. In the first, she speaks largely about the appeal of working with less experienced performers, likening the relationship between director and actor to a rider kicking a horse with her spurs...to a bullfighter squaring off against a raging bull. Breillat also explains why she doesn't feel as if she's making a film, exactly. A coda for Fat Girl that ultimately went unused is also seen here. The second interview dates back to the 2001 Berlin International Film Festival. After speaking briefly about the place that cruelty holds in comedy, Breillat devotes the remainder of the interview to the two sisters. She discusses each of her young actresses -- Anaïs Reboux and Roxane Mesquida -- as well as what their relationship on-screen represents.




Trailers (2 min.;

SD

): Rounding out the disc's extras are a pair of trailers.


The disc's liner notes include an essay by film scholar Ginette Vincendeau, a conversation with director Catherine Breillat, and a brief note from Breillat about the film's title.






The Final Word



---

Although Fat Girl is derailed somewhat by its dementedly insane final moments, the remainder of the film is a thoughtful, emotionally resonant, and artfully crafted exploration of female sexuality and sisterhood. It feels natural and real in a way coming-of-age films so rarely do. Director Catherine Breillat seems to prefer to let Fat Girl speak for itself, so there's very little in the way of extras on this Blu-ray disc. The film looks nice enough and sounds wonderful, and I suspect this is a very worthy upgrade over Criterion's 2004 DVD release. I have my misgivings about Fat Girl, and I don't believe this is a film that lends itself to being watched repeatedly. Between all of that and the not-inconsiderable price, a rental would likely be the most sensible option, but I'd say that Fat Girl still comes Recommended.



---
C O N T E N T

---
V I D E O

---
A U D I O

---
E X T R A S

---
R E P L A Y

---
A D V I C E
Recommended
---
E - M A I L
this review to a friend
Sponsored Links
Sponsored Links