Pretty Little Liars: The Complete First Season
List Price: $59.98 [Buy now and save at Amazon]
---
"I'm still here, bitches. And I know everything."
I need to know who "A" is! Warner Bros. has released Pretty Little Liars: The Complete First Season, a five-disc, 22-episode collection of the hit ABC Family series. Based on the book series by author Sara Shephard (or is it the other way around?), Pretty Little Liars is I Know What You Did Last Summer in Peyton and Twin Peaks, Starring the Cast of The Facts of Life, with Special Guest Stars Neely O'Hara, Betty, Veronica, Archie, Jughead and the Rest of the Riverdale Gang...directed by Douglas Sirk. In other words: it's facsimile pop art made endlessly addicting through pretty little performers (some of whom are quite talented) and a canny (and immoral) sense of marketing to that pre-teen/teen girl audience out there, hungry for illicit but "safe" thrills.
Rosewood, a rich, exclusive little town right out of Vancouver Central Casting, where everything and everyone, on the surface, appears to be perfect. Shattering that illusion of calm, quite entitlement is the sudden disappearance of Alison DiLaurentis (Sasha Pieterse), the self-described "Queen Bee" of Rosewood's most exclusive high school clique. A perverse, cruel manipulator and tormentor, Alison had her dirty little fingers in everyone's pie, keeping her four girls on a leash while lashing out at anyone that struck her fancy, getting away with it because she was rich, and beautiful, and most importantly, cunning as hell. Cue one year later, and the fearsome foursome are reunited with the return of Aria Montgomery (Lucy Hale), the sweet, artistic little heartbreaker of the group, who has come back to Rosewood after her father, Byron (the literary illusions here are hilariously overdone), played by Chad Lowe, ends his teaching sabbatical in Iceland. Emily Fields (Shay Mitchell), the jock of the group, faces pressure from her strict military family to conform, particularly from her mother, Pam (Nia Peeples), who has a vision for her daughter's maturation that Emily...curious about her sexuality...doesn't share. The brainiac of the group, Spencer Hastings (Troian Bellisario), gets her fair share of high-pressure expectations from her overachieving family, as well, while dodging the hateful barbs from her shallow, bitchy sister, Melissa (Torrey DeVitto). And finally, rich, pampered, troubled Hanna Marin (Ashley Benson) seems to have it all...except her parents have split up and her mother, Ashley (the gorgeous Laura Leighton) is facing a financial meltdown. All of these girls face problems at school, at home, and in their personal lives, problems not outside the scope of most people's experiences. However...when the four girls receive a threatening, taunting text message from the long-dead Alison, "normal" problems go right out the window.
SPOILERS WARNING!
You can take Pretty Little Liars a couple of different ways, depending on how you're coming at it as a viewer. As a father, I wouldn't let my younger girls anywhere near it considering its awful insinuations and glamorizations (particularly in the pilot) of serious issues like teen sex, drug use, and conspicuous consumption (and believe me: it's marketed right at them). As a movie reviewer, I find Pretty Little Liars almost wholly derivative of countless other works, crassly designed, produced and marketed in a faux-relevant "socially conscious" framework that's completely bogus on even a cursory inspection. However, as a movie lover...I can't help but get drawn into Pretty Little Liars' addictive storyline, spurred on by its relentless, even outrageous manufacturing of red herring audience hooks. It's also pretty to look at, both in casting and production design. And I love pretty-looking trash. Taking the basic framework of a typical teen girl's life―worrying about school, worrying about boys (or other girls), worrying about a social life, homework, sports, parental commitments, family pressures, hanging out with friends, shopping, texting―Pretty Little Liars inflates and glamorizes that reality into a "product" that's just as artificial as a music video. Everyone here is pretty, and thin, and articulate. Everyone knows where their next meal is coming from (if you have money problems in Pretty Little Liars, Mommy just steals the money and sleeps with the cops to keep them quiet), and any real work, either at school or around the house, is kept strictly off camera. Teen life in Pretty Little Liars consists of gossiping on a cosmic level (they're always on their phones), with the common school rumors of minor indiscretions at parties most kids know about, blown up into a huge conspiracy with life and death ramifications here. And all of it, of course, is accompanied by a constant, unending string of pop songs as these tortured teens move through an overpowering soundscape that lends artificial drama and impact to their melodramatic plight. It looks like "real" life, kinda...but it's "real" life on speed.
I'm sure the makers of Pretty Little Liars think they're being socially conscious by tackling real-life issues that real teens face out in the real world (the producers and writers seem to save most of their agenda for Emily's struggle with her sexuality), but it's a joke to consider those themes as anything more than surface spackling to make the flirting, the almost-sex, the backstabbing, and the soap opera elements more palatable, more artistically "meaningful." In actuality, the makers of Pretty Little Liars are irresponsible as hell if you look closely at what they're glamorizing. In the pilot episode, underage drinking and drug taking are not only accepted but encouraged by the absence of any consequences (Emily says flat out to Maya, her soon-to-be lover, "I want to be corrupted"), while sweet little Aria meets her soon-to-be teacher in a bar for the first time and proceeds to make out with him in the toilet (classy). The producers dial back this edginess a little bit once the series proper begins (and trust me: they wanted that pilot that way to get the kids hooked out there), but many of the messages are still problematic at best, and sometimes wholly irresponsible at least (when bitchy little Mona has her "glamp" birthday―"glamour camp"― she has a "blow me" tent...for hairdrying).
Chief among them is the relationship between Aria and her teacher, Mr. Ezra Fitz (Ian Harding). At no point do the writers or producers indicate they think this relationship is morally wrong. They celebrate it. Characters worry what the parents will think, or if the cops might become involved, but no one says, "Maybe―on about 20 levels― it's not a good idea for a 16-year-old girl to be sleeping with her 20-something teacher." (age isn't mentioned too often in the show, but in one episode, Emily's mother says she's 16, and if all the girls hang out together, that makes Aria 16, too). Aria's friends love that she's with Ezra, while the filmmakers go out of their way to (covertly) have her parents approve of Mr. Fitz, as well. It's all stealth messaging to the young viewers out there, and it's morally bankrupt. Now, the filmmakers may skate out of this dilemma by protesting, "We never show them actually having sex," but that would be a ludicrous defense because...what the hell else are they doing every time she shows up at his apartment every night, staying there for hours? If anything, that's what's so dishonest about Pretty Little Liars: it claims to be "about something" more than just a junky soap for teens, but it doesn't show anything remotely resembling the reality of its situations.
Even worse, it seems to excuse this central story line because everyone involved is so cute and handsome. If we go by Pretty Little Liars' central aesthetic―everything and anything is cool as long as it's shot with good lighting and the bags match the shoes―it's okay that this older authority figure is seducing this little 16-year-old girl (and vice versa) because he's so square and sensitive and Mattel®-handsome, and she's so spunky and independent and shown to be an emotional and intellectual equal to him. Well, as a parent I can tell you that is not reality for a 16-year-old girl (any parent will tell you that), and I can't conceive of anyone being okay with this situation in real life. Obviously, Pretty Little Liars isn't real life; it's a TV show. It doesn't have be "real." It doesn't owe us that. But you can't have it both ways. You can't pat yourself on the back and say you're being socially responsible filmmakers, showing the problems kids have today (Emily's sexuality), using that as justification for your show's existence or its artistic importance...and then turn around and glamorize a teen affair with a teacher that would sicken most parents and delight the lawyers who would soon be involved. Looking closely at Pretty Little Liars, a lot of its messages are totally screwed, including the central notion that the girls actually miss a creature like Alison because she made them feel "special," that they were a part of something bigger than their lives...even though they understand that she―and they―did awful things to other people to feel that special, superior feeling. And yet when the girls express this (and it doesn't happen just once or twice), it's never with regret for their actions, but only with longing for that missing element in their lives. That's a nice, healthy message out there for the kids, and make no mistake about it: this series is aimed at pre-teens, too, no matter what the producers may say. After all...it's on ABC Family, for god's sake. It's Disney! I wouldn't let my 9-year-old daughter watch it, but she knew all about it when she saw the disc set arrive; it was like waving a bunch of shiny keys in a baby's face. The filmmakers can say anything they want about intended audiences, but the marketing of Pretty Little Liars on cable and the net is wide and pervasive. They know exactly who they're aiming for here.
So after all that, I should hate Pretty Little Liars, right? Wrong. I can hate Pretty Little Liars as a father, because its messages and marketing are harmful to my kids...but as an adult, I can enjoy it for what it is: entertaining crap, dressed up all pretty-like. Sure it's annoying to hear that "Greek chorus" Muzak garbage ladled over every single scene, hammering home the obvious (when a character determines she's not gonna stop feelin'...you can be sure you'll hear on the soundtrack someone caterwauling, "I'm not gonna stop feelin'!"). You can even make a game out of it, trying to guess what will telegraph our intended emotion first: the actors in the scene or the soundtrack. And yes, all the movie and book allusions and homages and out-and-out rip-offs are silly and obvious (gee, is Toby like Boo Radley, in the appropriately named episode, To Kill a Mocking Girl?). Creepy Ian "dies" just like Orson Welles in The Stranger, while Jenna spits out venom about careless people who break things and don't pay for them...which sounds awfully similar to something I read in a book called The Great Gatsby. And show me the 16-year-old who isn't the school brain throwing out literary references to The Bell Jar with the casual aplomb of Truman Capote on The Dick Cavett Show? It's all utterly ridiculous.
But that's what makes it fun: it's seriously stupid, but it has the balls to be aggressively stupid...and tasteless to boot. And I dig tastelessness. I like Pretty Little Liars's outrageousness. When rich, bitchy Hanna steals some expensive sunglasses, Mommy (brilliant casting of Melrose Place's premiere tramp, Laura Leighton) just nails the cop in charge of the case. And she goes on nailing him, to keep him sweet on the deal, while he walks around in front of her daughter in a towel. That's tasteless. When underage Aria goes to Alison's funeral (after they find her body stuffed in a wall, hee hee!), she starts making out with her teacher, in the church. Sweet. And when the mysterious "A" wants to humiliate Hanna in exchange for returning Mommy's stolen loot, she makes the former fatty eat a box of cupcakes...shaped like little piggies...while some boys sitting at the next table make oinking noises. Classic. That's the kind of stuff that makes Pretty Little Liars a total hoot; indeed, it's too bad that too often, the filmmakers and writers recede back to their "socially conscious" crap about teens and their various sufferings, instead of plowing full steam ahead into baseness like the above mentioned.
Pretty Little Liars is fun when it goes deliriously off-center, playing up its mystery elements with outrageous red herrings and improbabilities ("A" can even anticipate Chinese food being delivered, apparently...because she managed to slip in her own warning in the girls' fortune cookies). I love the darkness of the video voyeurism they discover, where everyone is being watched and taped by someone for years and years without anyone knowing (crossing over into Lynch territory). And I adore the blind gothic nightmare Jenna (Tammin Sursok), who pops up with hilarious regularity like some malevolent soothsayer, throwing off a snarky, suggestive dig at the girls before retreating off to a dark corner (it's Valley of the Dolls all over again when Hanna bitch-slaps her in the high school restroom―SAAAA-MACK!). Some of the young performers here are quite good (Ashley Benson seems to get the joke, and she moves well through her character's arc), but frankly, who cares, as long as the ridiculousness continues to pile up. Too bad Pretty Little Liars isn't on HBO; then it could be more honest about its intentions...and much more nasty in its execution.
The DVD:
The Video:
The anamorphically enhanced, 1.78:1 widescreen transfer for Pretty Little Liars: The Complete First Season looks perfect: gorgeous color and crystal-clear image.
The Audio:
The Dolby Digital English Surround 5.1 audio track for Pretty Little Liars: The Complete First Season is expansive, with impressive separation effects, a solid bass line, and crystal digital clarity. English subtitles are available.
The Extras:
Each disc has one or two extremely brief scenes that were deleted. They add nothing to the shows. On disc five, several short featurettes are included. Pretty Little Liars: Two Truths and a Lie has the four main leads playing a "game" where they tell three things about themselves and you have to guess what's a lie. It runs 6:03. It All Started with a Little Lie looks at how the series got off the ground. It runs 16:45. And Little Secrets from the Set shows the girls in action, having fun during the shooting. It runs 7:50.
Final Thoughts:
Imitative, manipulative, and hypocritical as all get out...but trashy fun, all the same. I wouldn't let my young daughters anywhere near Pretty Little Liars: The Complete First Season because it glamorizes and excuses bad behavior in a tasteless, crass manner. As an adult, however, I particularly enjoyed those parts of Pretty Little Liars: The Complete First Season that glamorized and excused bad behavior in a tasteless, crass manner. Junk TV from suspect filmmakers, but addictive. I'm recommending Pretty Little Liars: The Complete First Season.
---
Paul Mavis is an internationally published film and television historian, a member of the Online Film Critics Society, and the author of The Espionage Filmography.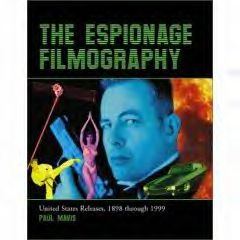 ---
C O N T E N T

---
V I D E O

---
A U D I O

---
E X T R A S

---
R E P L A Y

---
A D V I C E
Recommended
---
E - M A I L
this review to a friend
Sponsored Links
Sponsored Links