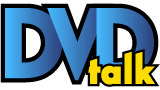 Alec Guinness Collection, The
List Price: $69.98 [Buy now and save at Dvdempire]
---
Reviewed by Glenn Erickson

The Alec Guinness Collection is 5 similar but completely different comedies, each with its
own merits, made in the days when a talent like Guinness could go for a dozen pictures without repeating
himself. Called 'droll', 'dry' and 'reserved', the only common denominator between the films is
that they aren't stupid. There's plenty of slapstick (even though Guinness is on record saying he's
not a particularly physical actor) and Guinness and his great directors saw no problem getting laughs
by gags as basic as giving him a ridiculous set of teeth. But each film has a definite point to make,
and all are tightly organized, self-contained near-perfect little masterpieces.


The Ealing style clearly wanted to make audience-pleasing, finely-crafted
pictures everyone involved could be proud of. I'm surprised that even loftier talents than Guinness
weren't attracted to the studio - maybe the likes of Olivier and Gielgud didn't think they were
appropriate for such roles, or perhaps they were just too big to play in such a little playground.
The Ealing directors - Crichton, and particularly Alexander Mackendrick, were brilliant men of
good humor who made serious pictures too, and very good ones.


But this collection is Alec Guinness'es show - and viewers who only know his big roles in David
Lean films, or his retirement nest-egg stint in Star Wars are in for a surprise. Guinness's
characters vary greatly, even skipping his multiple role stunt in Kind Hearts and Coronets. He
can conjure up more interesting self-satisfied smiles than a Cheshire Cat, and he expresses the
petty pride and panic of his mischievous characters with more range than one would think possible.
By the way, to those who wonder if it's better to just buy a couple of the titles and skip the
boxed set, I can say I've rediscovered all the films in this collection and they're all very good. The
boxed-set exclusive, The Captain's Paradise, is no less desirable than any of the others.











The Man in the White Suit

Anchor Bay

1951 / b&w / 1:37 flat / 85 min. / Street Date September 10, 2002 / $69.98

Starring Alec Guinness, Joan Greenwood, Cecil Parker, Michael Gough,
Ernest Thesiger, Howard Marion-Crawford, Henry Mollison, Vida Hope

Cinematography Douglas Slocombe

Art Direction Jim Morahan

Edited by Bernard Gribble

Original Music Benjamin Frankel

Written by John Dighton, Alexander Mackendrick and Roger MacDougall

Produced by Michael Balcon, Sidney Cole

Directed by Alexander Mackendrick




Synopsis:
Sidney Stratton (Guinness) is a research chemist who steals equipment and facilities
in various labs while trying to perfect his fantastic 'long molecule' synthetic fiber. He's tossed
out of the textile mill of Michael Corland (Michael Gough) but sets up shop in the nearby facilities of
Alan Birnley (Cecil Parker) where he manages a breakthrough. Caught in the act, he nevertheless is given a
lab of his own and carte blanche to make good on his theories, thanks to the intervention of
Birnley's daughter, Daphne (Joan Greenwood). She sees something in this crusader for progress
that others don't. Sidney succeeds in creating a cloth that doesn't wear out and never gets dirty,
but what should be a miracle for him turns into a nightmare ...

The Man in the White Suit is a practically perfect movie. It's a droll comedy equally as
funny as the rest of the Ealing films, yet it effortlessly carries some profound themes about
progress versus commerce
and labor - subjects rarely covered in films, and almost never covered well. Science fiction fans
claim the movie, because it's about nothing less than a world-altering, potentially menacing
invention. Its portrait of the progressive scientist as an inspired force, whose ambitions might
not be for the general good, was certainly a strong theme around this time: critics immediately
seized upon the film as really being about the threat of atomic power.


Stratton's indestructable cloth is a concept that probably would upset the economic
balance of the world. Textiles is a labor-intensive industry, and perishable clothing needs to be
repaired, cleaned and replaced. The labor spokesmen whine about hanging onto
their hard-won concessions, but they're right when they see that Stanley's cloth
will put them all out of business. The Man in the White Suit is the rare picture that
acknowledges that man relates to the basics of his life (food, work, etc) not directly, but through
social and economic conventions that may be obsolete, but are needed just the same. It's all
extremely sophisticated, especially when compared to the usual emotional movie treatment of the
labor-maagement-technology triangle, starting way back with Metropolis.


Sidney Stratton is Ibsen's Enemy of the People, and a White Knight of truth at the same
time. The film is a great lesson-teacher for kids, or anyone used to the 6:00 News idea that all
social problems are soluble in yes-no, right-wrong terms. Sidney's avowed crusade is to
save the world, but he's really a fallable human like the rest of us, with an ego that seeks
recognition, wealth and love. He's a little like the character K from The Trial, who sees
himself as society's victim, yet has an ego that elevates his personal crusade over the general welfare of
society at large.


You wouldn't know by watching it that The Man in the White Suit is this deep - the film is
a constant flow of verbal and slapstick humor. The farcical misunderstandings lead to chases that
resemble Chaplin and Keaton films (the attempt to enter the Birnley manse), and Sidney's takeover
of the Birnley labs is a wonderful pre-Brazil view of social power interpreted as office
space. Hoskins, the lab manager (Henry Mollinson) is shoved into a jammed closet, where
he has to climb over his desk, and wear a blitz helmet against Sidney's explosive experiments.


I'm told that the funny semi-musical noises made by Sidney's synthetic fiber apparatus were made
into a novelty song that was popular on the (British?) radio.


Just by staying starry-eyed and dreamy, Guinness makes Sidney a loveable and determined Quixote
character. Joan Greenwood's voice is a very sexy, velvety croak; as Sidney's Dulcinea she becomes
rightfully inspired by his impossible dream. Stuffy Cecil Parker and crassly thick Michael Gough
are terrific foils as the imbecilic captains of industry, and a mortiferous Ernest Thesiger, fifteen
years after The Bride of Frankenstein, is grandly anemic as the Machavellian textile kingpin. The
movie has great fun making the bosses' line of limos appear like a funeral cortege.


There's a bit of the same setup as A Place in the Sun working here too. Sidney first captures
the eye of Bertha, the union-obsessed working girl (Vida Hope), but can't see her adoration for the
charms of textile princess Daphne. It adds a bit of tension that's not all that flattering to the
Sidney Stratton character. When he wanders off, contemplating the 'fix' for his failed invention, and
blinded by its possible social effects, he could easily be some scientist enraptured by an idea for a
new kind of super-weapon.

---










The Ladykillers

Anchor Bay

1955 / b&w / 1:37 flat / 97 min. /
Street Date September 10, 2002 / $69.98

Starring Alec Guinness, Cecil Parker, Herbert Lom, Peter Sellers,
Danny Green, Jack Warner, Katie Johnson, Philip Stainton, Frankie Howerd

Cinematography Otto Heller

Art direction Jim Morahan

Editor Jack Harris

Original Music Tristram Cary

Written by William Rose

Produced by Michael Balcon

Directed by Alexander Mackendrick




Synopsis:
Warped genius Professor Marcus (Alec Guinness) convenes his gang of crooks
at the house of sweet little old Mrs. Wilberforce (Katie Johnson). Under assumed names,
Claude (Cecil Parker), Louis (Herbert Lom), Harry (Peter Sellers) and One-Round (Danny Green)
pretend to be a string quartet doing their daily rehearsals, but their real plan is to hijack a
shipment of cash - and to use the innocent Mrs. Wilberforce to smuggle the loot under the noses
of the cops.

In beautiful Technicolor, The Ladykillers gets bonus points for having a young (and rather fat)
Peter Sellers high in the cast. Kind of a gloss on the O'Henry story The Ransom of Red Chief,
this amusingly silly story sets four supposedly hardened
criminals against an enemy for whom they're totally unprepared - a little old lady who totters
around, talks in a high voice, and has to be humored by everyone.


Guinness here is said to be doing an Alastair Sim imitation, with a set of false teeth that are
hilarious on their own. As he becomes desperate and bedraggled, he looks more like a ghoulish
television horror host, with a sallow face and glaring eyes. At times, the deadpan menace about
Guinness and his cronies resembles a Charles Addams cartoon. The Ladykillers is a comedy
with a concept that somehow makes us smile even when nobody's trying to be funny. It
just is.


It's often been assumed that little Mrs. Wilberforce was the inspiration for the little old lady in
the tweety-pie cartoons. She walks and talks similarly, uses her umbrella as a weapon, keeps birds
as pets, and tends
to be oblivious to things happening around her. This might not be true, because the Tweety Pie
cartoons started around 1949, and I'm not sure when exactly the little old lady character entered
the cartoon series. The graphic setup, with the house at the end of a street overlooking a
railroad switchyard (?) is something out of a cartoon, especially the way little Mrs. Wilberforce
totters on her way down the street, with the big buildings looming about her.


The humor in William Rose's screenplay comes from the way the crooks constantly underestimate Mrs.
Wilberforce, and especially how they misread her relationship with the police. They spend the second
half of the film dealing with the necessity of disposing of her because she knows too much. In reality,
she's such a petty nuisance, the cops wouldn't believe anything she says. The cleverness
of the script is in its idea that Mrs. Wilberforce's feeble virtue is stronger than all the crooks
put together - they defeat themselves with their own suspicion, cynicism and cowardice.


Peter Sellers' part isn't that fleshed out. Herbert Lom is excellent as the most sinister of the
bunch, and Cecil Parker and Danny Green make nice softies who fall under the old lady's kindly spell.
Jack Warner (The Quatermass Xperiment) and his bobbies are wonderful (fantasy?) cops who
treat Mrs. Wilberforce with limitless patience and gentleness. Frankie Howerd of the Carry On comedies
has a nice bit, too.

---










The Lavender Hill Mob

Anchor Bay

1951 / b&w / 1:37 flat / 81 min. / Street Date September 10, 2002 / $69.98

Starring Alec Guinness, Stanley Holloway, Sid James, Alfie Bass, Audrey Hepburn

Cinematography Douglas Slocombe

Art Direction William Kellner

Editor Seth Holt

Original Music Georges Auric

Written by T.E.B. Clarke

Produced by Michael Balcon

Directed by Charles Crichton




Synopsis:
Meek bank clerk Henry Holland (Alec Guinness) dreams of robbing his firm's bullion
shipment van, an ambition that comes to fruition when he meets souvenir manufacturer Alfred
Pendlebury (Stanley Holloway) whose facilities will help in smuggling the loot out of the country.
Together they enlist the aid of street crooks Lackery (Sidney James) and Shorty (Alfie Bass), and
embark on the crime of the century.

The most famous comedy of the bunch, The Lavender Hill Mob is a fairly basic caper film
that in its time (right at the beginning of the 'serious' side of the subgenre, The Asphalt
Jungle) was the height of clever comedy. The Ealing comedies in particular liked to contrast
their anarchic stories with the ultra-civilized English landscape; the basic gag has
the hero (usually Guinness) getting away with some crime or another with a big grin on his face,
amused by the fact that no matter what crazy thing he's doing, the society around him is too
complacent to notice.


Here Guinness plays the Walter Mitty-like Henry Holland, a Bartleby who makes good on his dreams
of crime and glory. He and accomplice Stanley Holloway are like two boys discovering how much fun
it is to be bad, and there's another rich vein of humor to be mined from their joy in pretending
to be hardened criminals ("call me Dutch!").


The gold bullion robbery is deceptively simple (not a lot of security for such a fortune in ingots)
but the rest of their plan is top-notch - the actual smuggling idea must have been inspired by
the writer's daydreams of how to defeat Britain's stiff monetary and tax controls. As in
The Ladykillers, it's the 'human element' that lets them down. The caper genre can't be
said to have developed much over the years, when its very first films so perfectly exploit its
potential.


It's hard to grasp how tiny the Ealing productions unit was, when a film like
The Lavender Hill Mob has such fluid camera work, and locations in Paris. I understand that in
reality, the films were
very inexpensive, and even when they were successful, the economics of the British film industry
didn't bring the company great riches.


Guinness and Holloway are greatly aided by Sidney James (the Carry Ons, A Kid for Two
Farthings, Trapeze, Quatermass 2) and Alfie Bass (The Fearless Vampire Killers,
Alfie), comics who mostly play straight men for Guinness's star performance. The
clever flashback structure must have been copied from Kind Hearts and Coronets. And for the completists,
you can indeed see Audrey Hepburn in an early bit in the very first scene. She already looks as if
she's been a star for years.

---










Kind Hearts and Coronets

Anchor Bay

1949 / b&w / 1:37 flat / 106 min. / Street Date September 10, 2002 / $69.98

Starring Dennis Price, Valerie Hobson, Joan Greenwood, Alec Guinness,
Audrey Fildes, Miles Malleson

Cinematography Douglas Slocombe

Art Direction William Kellner

Editor Peter Tanner

Original Music Ernest Irving

Written by Robert Hamer, John Dighton from a novel by Roy Horniman

Produced by Michael Balcon

Directed by Robert Hamer




Synopsis:
Louis Mazzini (Dennis Price) learns from his mother that because she married for love,
her noble family, the D'Ascoynes, disinherited both of them. When she dies without acknowedgement, with her
request to be buried in the family vault refused, Louis privately vows to murder his way to the
title of Duke. Starting as a humble draper, he slowly works his homicidal path through the D'Ascoyne
family tree, weathering the humiliations of life, like the wedding of his heart's desire, Sibella (Joan
Greenwood) to another more promising spouse. As he nears the fruition of his revenge, Louis has
some juggling to do - he's promised himself in marriage to Edith D'Ascoyne, the widow of one of his
victims (Valerie Hobson), but Sibella, now realizing he might become Duke, has nefarious plans of
her own.

This Alec Guinness collection is really five different kinds of comedies, and Kind Hearts and
Coronets is considered the classiest of them all, one of the best black comedies yet done. Since
cynical and morbid humor is now so ordinary, the impact of a solid black
comedy like this, back in 1949, must have been considerable. Louis D'Ascoyne is a knave from his
black heart (blackened with some justification) to his sharp tongue, and his caddish involvements
with those who cross his path are satirical social criticism so venemous, you'd think the author had
a personal grudge against English nobility.


The landed gentry, secure in their positions and wealth, with laws to say that they're better than
their common neighbors, are an easy target. But Kind Hearts and Coronets goes further than
the usual ribbing to suggest that in such a decadent society, a Borgia-like ruthlessness is too
good for them. Death and murder are approached with a calm optimism, and without emotions - for
Louis, revenge is a dish best served cold. Nothing is gratuitous; Louis dispatches his enemies with
the steady hand of an insect exterminator. What he doesn't acknowledge is that he is himself one of the
hated family he works so hard to rub out: we wonder what kind of Duke he'll be, when he promises
to keep 'his people' as best he can, while receiving them so coldly.


Kind Hearts and Coronets manages to make all this mayhem screamingly funny, without resorting
to cheap gags or really sick humor ... almost. Louis narrates the story, and peppers his killings with nasty
little quips that show his aloof, snobbish detachment, even as he poisons a parson or blasts a victim
with a shotgun. One killing is visually very similar to one in Chaplin's Monsieur Verdoux,
with a couple having tea on the lawn interrupted by a blast in the background.


Reviewers always make a big deal about Alec Guinness'es stunt casting as all eight members of the
D'Ascoyne family. He's commands the screen in the brief parts, but this picture really belongs to Dennis Price,
who conjures up a chillingly credible picture of class snobbishness. He personifies the blue-blood
ethic of privilege even as he condemns the attitude in his ill-fated
relatives. Strangely enough, when things don't go his way at the end of the story, he also demonstrates
incredibly graceful manners. He's no phony or usurper, but a determined revenger getting his rights.


At first Louis seems to be taking terrible advantage of his adulterous mistress Sibella, until she
shows just as much talent for devious calculation as he. Louis' rule seems to be, 'fairness until
crossed.' Sibella snubbed him for not being interested in marriage when he was poor, so he has no
problem bedding her and cuckolding her husband Lionel. Since the noble game is to always choose
self-interest, his caddish behavior is totally consistent. It's the widow Edith who he feels is the
right choice for a Duchess; her maddening idea of what a 'responsible' upperclass person should be
and do fits right in with his idea of virtue.


Dennis Price is just great, finding 5 ways to look down his nose at people while worming his way
into the good graces of his victims. This is Joan Greenwood's best role that I have seen, and she
makes great use of her wonderful voice. She has the film's one priceless dialog line, spoken in
the perfect way at precisely the right moment: "Pigs might fly."


Valerie Hobson is also right up there, as sincere as a basically clueless noble can be as she
proclaims that an inn owner should not serve liquor on moral grounds - protecting the commoners from
their own vices, as it were. There's Miles Malleson again, serving the same function he does in
the similarly structured The Captain's Paradise. Arthur Lowe, Laurence Naismith, and Savant
favorite Richard Wattis each have very small bits.











The Captain's Paradise

Anchor Bay

1953 / b&w / 1:37 flat / 93 min. / Street Date September 10, 2002 / $69.98

Starring Alec Guinness, Yvonne De Carlo, Celia Johnson, Charles Goldner,
Miles Malleson

Cinematography Ted Scaife

Art direction Paul Sheriff

Edited By G. Turney-Smith

Original Music Malcolm Arnold

Written by Alec Coppel and Nicholas Phipps

Produced and Directed by Anthony Kimmins




Synopsis:
Captain Henry St. James (Guinness) thinks he has the perfect life. He shuttles a
passenger ship between Gibraltar and Spanish Morocco, keeping totally separate lives in both
ports of call - housewife Maud (Celia Johnson) is installed in a bungalow on English soil, and
firebrand paramour Nita (Yvonne De Carlo) in an apartment in Ceuta. With Maud he eats at home and
goes to bed early, and with Nita it's dancing and dining out. Henry thinks he has it made, but
of course there's a hitch.

The extra disc in the boxed set, The Captain's Paradise is said to technically not be an
Ealing film, but it's certainly in the spirit, and made by some of the same talent. It's a farce about
a bigamist with wives in two ports, a genteel heel living a double life. Apparently
the film was changed afterwards to make Nita a girlfriend instead of a second wife, to avoid
censor problems in the U.S. Sheesh - someone should have lightened up.


Captain St. James has quite a selfish racket going, one that suits his personal desires to a 'T',
while restricting his two wives to very limited lives. One comedy throughline makes him the envy of
his own first mate, (Charles Goldner), who yearns to follow in his footsteps. Even the Sheikh (Ferdy Mayne)
seems to envy St. James, and he might have a harem.


This kind of farce rarely got beyond the 'running between bedrooms' comedy pitch, even though most of
the Doris Day movies had clever themes of their own. Unlike most of the later films, Guinness is
really getting away with it - there's no frustrated sex or nervous virginity here. When Billy Wilder
tried to get down and basic with an equation of wife and whore in Kiss Me, Stupid, the
critics had some ammunition (a fairly smutty context) with which to object. The mature The Captain's Paradise
is at least the equal of the Wilder, and far more sophisticated than the Doris Days.


Instead of being dopes to be fooled, the women here are allowed their essential humanity. St. James
has them pigeonholed into roles that cater to his desires. He wants prim and bright Celia Johnson to
be the nanny-mommy housewife, and cynically encourages her to bear a child to keep her nailed
into the life he's planned for her. Bombshell Yvonne De Carlo (a great dancer
who cajoled Guinness into learning for the film) has nabbed her man with her looks, but
doesn't want to spend the rest of her life dancing and dining. St. James' paradise is a selfish
setup for him, based on his infantile wants and prejudices. Mommy Celia keeps him comfy and is probably
kept at a platonic distance most of the time, but the hot Latina (is Spanish Moroccan Latin?) Yvonne
is the forbidden playground where he gets to be a bad boy. For intellectual stimulation, he ignores
both of them and instead talks to his male passengers, professors and diplomats.


Usually films like this end in a chase of musical beds and bellboys, where all is sorted out. Or
Guinness would be revealed to be twins sharing one identity, and so appease the wives in the audience
while letting the randy men have their fantasy. Like
Into the Woods, The Captain's Paradise
gets all that over with a little beyond the midpoint, and then plunges into unexplored thematic
territory. St. James' smug plans are overturned in a surprisingly modern way. The mommy/playgirl
oppposites in the two wives are fully demonstrated to be aspects of both women, that both need
to express. The chagrin on Guinness' face is pure male shock over the revelation that male-female
relations weren't created just for his personal benefit. St. James is let down easy, and proves that
he's got a chivalric streak in him, through his gesture to save Nita at the end. As the picture fades,
he no longer has a boat or a paradise to enjoy, but maybe he'll be a little
more fair to the next lover he encounters.


Never breaking control, Guinness again gives us a fully-rounded cad of a character who's a lot of
fun to watch. Celia Johnson (Brief Encounter, The Prime of Miss Jean Brodie) gets to
prevail as the English wife who finds her wings (literally, as the other man is a pilot) and Yvonne De
Carlo is better than okay as the 'dark, sensual' type who really wants to learn to cook. Charles
Goldner does great work in a role that makes the film's premise function; favorites Ferdy Mayne,
Sebastian Cabot, Miles Malleson and Peter Bull have standouts as well.


One caveat - there's a lot of Spanish language in the film and although the lines are well written and
learned by the non-Spanish actors, their accents are mostly dreadful, God-awful, as only the English
seem to do them. (Strange, for English actors always seem better than anyone when doing foreign
accents in English.) American Yvonne De Carlo, unfortunately, comes off as an idiot to Spanish-speaking
audiences, as her bad accent is very distracting.

---

Anchor Bay's The Alec Guinness Collection is blessed with five near-perfect transfers of
movies we previously were used to seeing in a range of good to poor quality. The b&w films are
clean and snappy, and the color in The Ladykillers is rich and atmospheric. I don't think
anyone is transferring old pictures for standard DVD releases as consistently well as Anchor Bay.
With just a couple of exceptions, I haven't seen a bad-looking older film from them in years. The
soundtracks are equally strong. There are no subtitle tracks, but all the clipped English dialogue
was easy to understand.


Each disc has an attractive cover, and comes with an original trailer, and a lengthy text essay on
Guinness'es career by the very capable Avie Hern. Several have alternate French audio tracks.

---

TheAlec Guiness Collection

Packaging: five keep cases in card box

Reviewed: October 22, 2002

---
DVD Savant Text © Copyright 2002 Glenn Erickson
Go BACK to the Savant Main Page.
---
C O N T E N T

---
V I D E O

---
A U D I O

---
E X T R A S

---
R E P L A Y

---
A D V I C E
Highly Recommended
---
E - M A I L
this review to a friend
Sponsored Links
Sponsored Links