List Price: $24.95 [Buy now and save at Amazon]
---
"It's great to be,
A real M.P..
He can stop a soldier with a, 'No! No! No!'
A rugged man!
A ready man!
The only man in the world,
Who can tell the U.S. Army where to go!
Genial, funny minor outing for supremely relaxed Hope. Olive Films, who gets to handle all those cool Paramount library titles, has released Off Limits, the 1953 boxing/service comedy that featured the only big-screen co-star pairing of Hope with equally legendary Mickey Rooney (importantly: the film's title card actually reads Military Policeman, Off Limits' U.K. title, so I'm assuming this is a British print of the film). With a laid-back script by frequent Hope collaborators Hal Kanter and Jack Sher, and deft direction by one of my favorites, George Marshall, Off Limits may not slay you, but it will make you laugh...especially if you keep your eyes peeled on Hope's supremely snotty mugging. No extras of any kind here for this bare-bones presentation.
Boxing manager, trainer and baby-sitter Wally Hogan (Bob Hope) has it made. His hopped-up, punchy protégé, "Bullets" Bradley (Stanley Clements), has just won the featherweight championship, and it's time for the long-sacrificing ladies' man Hogan, to clean up. Unfortunately, wiseguy brothers Vic and Babe Breck (Marvin Miller and Richard Weil) own the other half of Bullets, and they don't feel like sharing any of the new-found dough. Enter the United States Army. When Bullets gets drafted, the Brecks convince Hogan to join up, as well, to keep an eye on the squirrelly fighter, a prospect that Hogan only agrees to when the mob of women he's promised to marry come to collect. Once inducted, though, Hogan discovers to his horror that he's in, and Bullets is out, having been labeled a fruitcake by the Army head shrinkers―something the Brecks knew would happen all along. Aced out of the top spot, Hogan prepares for life in Army, which seems like a rather hopeless proposition, what with Napoleon-idolizing Captain Karl Danzig of the Military Police (Eddie Mayehoff) constantly riding his tail, and pint-sized earnest puppy Herbert Tuttle (Mickey Rooney) yapping at him to train him as the next featherweight cham-peen. It's only when Hogan spies luscious blonde Connie Curtis (Marilyn Maxwell) that he sets a plan in motion that will eventually take him back into the championship ring.
MAJOR PLOT SPOILERS!!
Off Limits falls somewhere in the middle of typical Hope efforts from this period of his career: it's not knocking it out of the park like My Favorite Spy or The Lemon Drop Kid, but it's also not putting the audience to sleep, either, as in Here Come the Girls or The Iron Petticoat. I've written many times before about Hope and his comedic skills, so I won't delve too deeply into his appeal; however, for anyone from my generation and before, he remains an iconic figure from that time period―the supreme American smartass who mixed hilariously imperious confidence with cowardly ineptitude to fashion a film persona that survived countless fair-to-middling efforts for several decades. Off Limits itself offers absolutely nothing new to the service comedy genre, an always-reliable money-maker for the big studios back then; it's a reasonably typical example, with any actual fighting not mentioned (nobody's going to say, "Korea," here), while elaborate scams, sports, betting, comically hard-assed (and incompetent) brass, and of course good-looking dames, providing the fodder for the jokes.
No, the real laughs, as always, come from Hope, and his character here features a pretty fair amalgamation of his various screen personas: the killer ladies' man, the coward, the lippy smartass, the schemer, and the insensitive bully. Even with a paucity of solid one-liners (or perhaps...because of that lack?), Hope's real magic comes with his physicality; specifically: his reaction shots and mugging, and here in Off Limits he has a field day with them. With his strange, ever-fascinating ability to go from distant and distracted to suddenly, beautifully snotty or manic in the span of a few seconds, Hope can salvage any drab scene with a sideways glance or a roll of the eyes or of course, his patented sneer. When Hope is making time with sexy Marilyn Maxwell at the Pink Owl nightclub, he runs his hands along her shoulders―a move she disdainfully marks, before he surreptitiously licks his hand (it sounds broad, but Hope pulls it off with such innocent dirtiness). The "imperious" Hope is always a favorite of mine, and he pulls that persona out numerous times here, with my favorite being his Roman emperor-worthy response to the dogface asking M.P. Hope if he can catch a bus on the next corner: "You may this time...but don't ever ask me again." Hilarious.
The real shame of Off Limits, though, is the almost total disregard for Mickey Rooney's talents. Playing a mousey, hesitant, largely silent second banana to Hope's brash schemer, Rooney serves as little more than prop to bounce off Hope's one-liners. Why is he so glum and "small" here (not in stature, obviously, but in presence)? This is one of the greats in movie history, arguably the single most multi-talented individual to ever grace the big screen (and that assessment came from numerous contemporaries, including no less than Laurence Olivier). Why isn't he bouncing off the walls here? Unfortunately, the way the script is constructed, the Bowery Boys's Stanley Clements gets the punchy, neurotic prize-fighter role, so there's nowhere for Rooney to go with his slight character. By 1953, the Mick's film career was in a steep decline, as well (that might explain his disposition here, too), and perhaps Hope―who only took a backseat to Crosby on the screen―took advantage of this. It's hard to say; however, with Rooney essentially reduced to the level of background player, it creates a lop-sided comedy team that greatly reduces the film's potential (unfortunately, the absolutely brilliant Eddie Mayehoff is underutilized here, as well, although he does get in some priceless jaw-jutting, eye-bulging reaction shots).
Fortunately, director George Marshall is in bouncy form here in what would be one of four major motions pictures he had in release in 1953 (two Martin and Lewis films: Money From Home and the superior Scared Stiff, the equally fun Houdini with Tony Curtis, and Off Limits). Marshall, who could direct any kind of picture and make it entertaining (In Old Kentucky, The Goldwyn Follies, You Can't Cheat an Honest Man, Destry Rides Again, The Ghost Breakers, Murder, He Says, The Blue Dahlia, The Savage, The Sheepman, How the West Was Won, and many more), keeps his set-ups scrupulously clean and simple, but he still manages to insert little bits of unexpected business here and there to amuse us. When we see Maxwell (who is, as always, sexy as hell) performing for the first time in her nightclub, Marshall starts on her rhythmically singing the slinky, I Learned All About Love (From You), before he dollies the camera back a bit to show two sailors, leaning on the piano, swaying their rears in perfect time with the song's beat―a totally unnecessary, and therefore delightful, little gag. Marshall kicks the sexual innuendo up a notch when Maxwell makes her way around the piano to those swabjockeys, driving them to the point of manifest sexual excitement where Marshall actually has them jerk their bodies stiffly erect while crying out, "Booooooiiiiiinnnnngg!"―a moment that couldn't have been lost on all those um...frustrated servicemen watching this at their base PXs (Marshall even tries for Frank Tashlin territory with a bit about a buxom service girl whose buttons fly off when Hope orders her to stick out her chest...but he spoils it by not getting a gorgeous pin-up for the role, as Tashlin most certainly would have done). Off Limits's best remembered gag is probably Hope's destruction of his commander's expensive new car, and Marshall takes his time building the scene, letting Hope get deeper and deeper into his sarcastic mayhem before Marshall engineers a pre-Bullitt car chase that may not be exactly thrilling today, but which ends on an hilarious note as Hope delivers the coup de gras, slamming his car head-on into his commanders' already totaled car. Off Limits may get a little thick and clunky towards its end, trying to wrap up the Rooney boxing subplot that we already quit caring about a half hour ago; however, there are plenty of scenes such as the funny ones above to keep you laughing right on through.
The DVD:
The Video:
The full-screen, 1.37:1 black and white transfer of Off Limits (or more precisely: of this British print of Military Policeman) looks fairly good. Scratches and dirt are noticeable from time to time, but contrast is good; blacks are solid, and the image is sharpish.
The Audio:
The English audio track is big, fat mono, and it's acceptable, with hiss present, but not distracting. No subtitles or close-captions, though.
The Extras:
No extras.
Final Thoughts:
Not a laugh riot by any stretch...but consistently amusing. Mickey Rooney is criminally wasted here, but there's enough of Bob Hope's sneering, imperious mugging, and George Marshall's sprightly direction, to put Off Limits solidly in the plus column. I'm recommending Off Limits.
---
Paul Mavis is an internationally published film and television historian, a member of the Online Film Critics Society, and the author of The Espionage Filmography.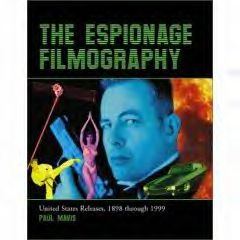 ---
C O N T E N T

---
V I D E O

---
A U D I O

---
E X T R A S

---
R E P L A Y

---
A D V I C E
Recommended
---
E - M A I L
this review to a friend
Sponsored Links
Sponsored Links