Rawhide: The Fourth Season, Volume 1
List Price: $39.99 [Buy now and save at Amazon]
---
"Rollin', rollin' rollin',
Rollin', rollin' rollin',
Keep movin', movin', movin',
Though they're disapprovin',
Keep them dogies movin',
Rawhide!
Don't try to understand 'em,
Just rope, throw and brand 'em,
Soon we'll be livin' high and wide!
My heart's calculatin',
My true love will be waitin',
Be waiting at the end of my ride!
Move 'em on, head 'em up, head 'em up, move 'em on,
Move 'em on, head 'em up, Rawhide!
Let 'em out, ride 'em in, ride 'em in, let' em out, cut 'em out,
Ride 'em in, Rawhide!"
Again, it's almost impossible to tell the direction a season is going when you can only view one-half of it, but things seem to be jake on the old Rawhide trail. CBS DVD and Paramount have released Rawhide: The Fourth Season, Volume 1, a four-disc, 15-episode collection from the first half of the popular CBS Western's 1961-1962 season. All the regulars are back for the ride, including Eric Fleming, Clint Eastwood, Sheb Wooley (who'll soon depart in Volume 2), and Paul Brinegar, and an impressive slew of guest stars―including bona fide screen legend Barbara Stanwyck, in one of the series' best episodes―help keep things interesting as they drive those willful, stupid beeves to market. Some vintage preview and sponsor spots are included as extras in this problematically-transferred set.
North Texas, a few years after the War Between the States. Sometimes patient, sometimes understanding, but always driving, driving, tough-as-nails trail boss Gil Favor (Eric Fleming), has 3,000 head of cattle to get to Sedalia, Kansas, and he hasn't got time to screw around with drovers who can't cut it out on the trail. High-spirited, handsome "ramrod," Rowdy Yates (Clint Eastwood), is second-in-command; steady veteran cowpoke Pete Nolan (Sheb Wooley), is the drive's scout; always grumbling, comical G.W. Wishbone (Paul Brinegar), is the chuck wagon cook; stalwart rough riders Jim Quince, Joe Scarlett and Hey Soos Patines (Steve Raines, Rocky Shahan, and Robert Cabal) are drovers for the run; and poor, dim-witted "Mushy" Mushgrove (James Murdock), the young, not too bright kid of the group, helps out Wishbone with the cooking and cleaning. Fighting the elements every step of their journey, including bad grassland, storms, mountainous passages and killing heat and drought, Gil's team encounter obstacles not just from nature, but from the human landscape, as well, as they deal with the problems of the people they encounter out on the trail.
SPOILERS WARNING
I never know what the hell is happening with the Rawhide releases. Way back in '07, I was dropped down into the series running when I was given volumes 1 and 2 of Season Two (not having seen Season One)...and then I waited a year before I was given the second volume of Season Three (we never did get Volume 1 in)...and here it is almost three years later, and Season Four, Volume 1 finally comes out after I forgot all about it. Looking back over my reviews (you can read those here, for background), I noticed that the third season was the final one with creator Charles Marquis Warren (who also shepherded the classic Gunsmoke) actively involved with the series. It can be difficult sometimes to pin down why a particular series may move off into another direction (...or move off-track), but I wonder if the scaled-back feeling these first 15 episodes from Rawhide's fourth season have, is due to Warren's absence.
Now don't get me wrong: these episodes are still entertaining and well-written, with a couple standing among the series' best (so far, at least―there's still four-and-a-half seasons to go). However, unmistakably, there's a seriousness of intent, an intensity to those beginning seasons of Rawhide, that I felt slipped away a bit here. Those earlier episodes were always centered on the drive, on getting the realism and the detail of the hardships of a cattle run down for the viewer. As well, the stories often had an almost eerie intensity to their dramatic conflict that I found quite atypical compared to many other contemporary Westerns out at that time (almost a mystical quality, if you will). That seems to be on the wane here, as the mechanics of the drive are largely ignored or glossed over (perhaps because the writers had already exploited them for three seasons), while the stories, dramatically sound though they are, come across in a more conventional manner. Perhaps it's the direction of the individual episodes (I don't remember seeing too many unusual, visually arresting shots here), or the scripting, but at least in television during this period, the cohesion of a series' aesthetic was marked by the stamp of the producer. So a change in personnel in that area was bound to affect the series.
Hopefully that doesn't come off as a too-harsh assessment of these episodes; they're still quite good...just a tad more "safe" than the hard-driving, sometimes strange, sometimes quite eerie shows from earlier seasons (and again...I could be off the mark in this judgment because I haven't seen the other half of the season yet―the curse of split-season releases for TV reviewers). Perhaps another result of Warren leaving, the opening narration from Gil Favor is now gone; the stories just start without the voice-over preamble. I miss that little detail, though; it set the stories closer to their source material (apparently, Warren took part of his inspiration for Rawhide from Western diaries of trail bosses and explorers). A voice-over intro puts the viewer in the mode of listener to a storyteller; it's an anticipatory bracketing device that added a little something extra to Rawhide's overall aesthetic. A change I did like was the central story arc, carried through the episodes here, of having Gil and the men become "owners" of their own herd within the cattle drive. Picking up scrub cattle for free, Gil and the men now have a bigger part of their own livelihood at stake instead of just working for grub money, and that enterprising capitalism adds a bit of urgency to the stories that involve possibly losing the herd to drought or low beef prices. And is it me, or is more and more screen time now devoted to the visiting guest players, rather than the writers centering the stories and scenes around the cast of regular performers? If so, that's a big switch from a Western focused on a more or less regular ensemble cast, and a drama anthology increasingly turning to guest stars for screen time.
Good episodes this time out include Rio Salado, where we get to meet Rowdy's no-account father, played by the always-good Tom Tully. Over the years, Eastwood has often complained about the simplistic character he had to play in Rawhide (at least he wasn't Mushy), but he comes off very well here in this dense little drama about a son finding out his father truly is no good (the "shock" ending where Tully is killed by Mexican bandits, reminded me of The Treasure of Sierra Madre). It's always fun to see veteran TV performers like Darren McGavin and Claude Akins pop up in shows like Rawhide, so The Sendoff, a fairly standard look at cowardice and forgiveness, is given a boost by these familiar favorites. The Long Shakedown reminded me of the more intense episodes from Season Two and Three, with Gil looking to cut out the veteran drovers if they can't hack the trail anymore (was this one of those episodes I read about where the producers, to put a scare into too-demanding contract players, provided a potential exit for them in case they didn't get the message?). Judgment at Hondo Seco would seem to be exactly that kind of episode; what should have featured headliners Eastwood or Wooley instead stars little-seen supporting player Steve Raines, in a standard "hanging judge out of control" episode (Wooley is used so little this first half season, I wonder if that contributed to his leaving the series at the half-way mark?). The Lost Tribe is a beautifully-written little fable about a "lost tribe" of Cheyenne who reconnect with Pete, whom we discover was once married into the tribe. A solid story with a good subtext about the plight of Indians at the time, the script doesn't stray too far into one-sided sentimentality, showing Mexican Hey Soos' prejudice for Native Americans as a counterweight.
The Inside Man introduces us to smoothie Clay Forrester (Charles H. Gray), a bent cow thief who will replace Pete in the next volume (he's just as interesting in his quiet manner as Wooley is). Richard Basehart is wonderful (as usual) in The Black Sheep as a sheepman who takes an unwilling Rowdy under his wing. The Prairie Elephant doesn't break any new ground with its story of adultery in a small-time circus; however, Lawrence Dobkin gets a nice, showy, tragic ending as a mortally-wounded clown, dying onstage while getting laughs (marvelous Billy Barty gets to cap this beautifully tragic ending: "The sound of laughter and applause was in his ears when he died...what more could a clown want?"). The Little Fishes is an unusual departure for the series, concerning itself with sad little Burgess Meredith's desperate struggle to keep his samples of shad fish alive so he can populate the rivers around San Francisco. In one of my favorite Rawhide episodes, Brian Aherne stars as Woolsey, a gentleman's gentleman who is "passed" onto a reluctant Gil when his Lord is murdered. Aherne, always funny and charming, is perfectly cast here (he gives his character just the right amount of whimsy and feeling when he admits to the townsfolk he's been pretending to be his dead employer), and the story is simply and beautifully balanced.
I've never been a fan of Ed Wynn's comedy, but he's quite good as a con man in Twenty-Five Santa Clauses, while comedian Shelley Berman (whom I adore) is excellent as a Jewish merchant in The Peddler. An unusual episode for the series, The Peddler focuses strictly on Berman, giving the viewer (and the respectful drovers), a look into Jewish customs and traditions that was probably quite unusual for its day...particularly on a network Western. Too bad someone didn't think of spinning this potentially fascinating, funny idea into a series of its own. The Captain's Wife is probably this (half) season's best entry, starring the legend, Barbara Stanwyck, in a role tailor-made for her strengths (she's essaying a character here that comes straight out of all her iconic "women's pictures" from the 1940s and 1950s). Playing the ruthless, socially-grasping wife of a cautious, by-the-book Army captain, Stanwyck literally usurps her husband's command (when he's away on a scouting mission), to elevate a minor fracas into a full-scale war, all so she can help her husband gain a promotion and transfer out of their end-of-the-line frontier posting. It's a terrific role for Stanwyck, who goes out spitting venom even when she's defeated and shot in the back: "Why should I [love a man]? I'm better than any of you: stronger, smarter, more capable. I detest this world that makes women's lives dependent on you men! With your weakness, your codes of honor! I'll get mine―that's my code of honor! And I'll get it any way I can!" Can you imagine the faces on all those husbands back in 1961, sneaking an uncomfortable peek at their wives when they heard this...only to see the stony glares coming back at them? A stand-out episode, and Stanwyck is effortlessly commanding.
No doubt enough housewives and husbands agreed that Friday nights at 8:00pm still belonged to Rawhide, since it handily beat its competition...but even though it finished up an impressive 13th for the 1961-1962 year, ratings were down from the series' previous all-time high of 6th in the Nielsen's the year before. Being CBS' only big hit of the night, Rawhide didn't face any stiff competition from NBC's surprisingly resilient International Showtime with host Don Ameche, or from ABC's losers, Straightaway, with Brian Kelly and John Ashley, and the chimp comedy The Hathaways. But the writing was already on the wall for this (and many more) Western, with ratings taking a bigger dip for its upcoming fifth season.
The DVD:
The Video:
Trouble. I was surprised at the relatively poor quality of the full-frame, 1.37:1 black and white transfers for this vintage Paramount television release. Moiré effects and lots of video noise ruined too-many-to-count scenes, while the image was soft and contrast hot and white at times. Many, if not most, of the episodes look like second or third generation VHS dubs, which is a shock, coming from Paramount.
The Audio:
The Dolby Digital English mono audio track is also a mess, with a too-low re-recording that often necessitates the use of the English subtitles or close-captions options. In a word: terrible.
The Extras:
Network promos for The Long Shakedown, The Inside Man, The Black Sheep, Twenty-Five Santa Clauses, and The Peddler, are included here, along with some sponsor spots that lovers of vintage television will enjoy.
Final Thoughts:
Not bad at all...but it's not quite on the same level as earlier seasons. Don't get me wrong: I thoroughly enjoyed these 15 episodes from the fourth season of Rawhide. But the intensity of the previous outings seems to be waning, and the scripting and direction, while still effective, isn't as striking. I'm still recommending Rawhide: The Fourth Season, Volume 1 (despite the poor, poor transfers)...but I'm hoping it comes back up a bit for Volume 2.
"Keep rollin', rollin', rollin,
Though the streams are swollen,
Keep them dogies rollin',
Rawhide!
Through rain and wind and weather,
Hell-bent for leather,
Wishin' my gal was by my side.
Oh, the things I'm missin',
Good vittles, love and kissin',
Are waitin' at the end of my ride.
Move 'em on, head 'em up, head 'em up, move 'em on,
Move 'em on, head 'em up,
Rawhide!
Count 'em out, ride 'em in, ride 'em in, let 'em out, cut 'em out,
Ride' em in,
Rawhide!

---
Paul Mavis is an internationally published film and television historian, a member of the Online Film Critics Society, and the author of The Espionage Filmography.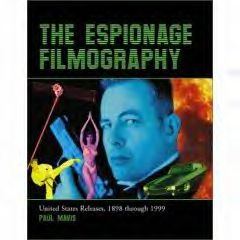 ---
C O N T E N T

---
V I D E O

---
A U D I O

---
E X T R A S

---
R E P L A Y

---
A D V I C E
Recommended
---
E - M A I L
this review to a friend
Sponsored Links
Sponsored Links