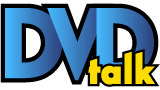 ShinChan: Season Three, Part One
List Price: $39.98 [Buy now and save at Amazon]
---
In 10 Words or Less

The ass dance returns



Reviewer's Bias*

Loves: Animation, good sitcoms

Likes: Anime, Shin Chan

Dislikes: gross-out comedy

Hates: Volume DVD sets




The Story So Far...

The star of the show is the titular Shin Chan, an odd little 6-year-old with an obsession with his own backside, an aggressive personality, a love for superhero Action Bastard and some weird thoughts about how the world works. His traditional family, with mom Mitzy, dad Hiro and little sister Hima, is a boiling cauldron of resentment, frustration and oddness, though they still love each other (sorta.) His school life brings more friends and freaks into his life, including uptight conservative Georgie, dopey Boo and Penny, whose home life is far from storybook. The first two sets of Funimation's reconstructed adaptation of the series were released in four DVD sets, and DVDTalk has reviews of them all.



The Show

My review of the second volume of season two of Shin Chan was pretty final in summing up the series, as the show seemed dead and buried. Well, I underrated the power of Shin and his dancing ass, as Funimation has brought the show back for a third season, "airing" first on Hulu, and now getting a DVD release with the first 13 episodes (episodes 53-65.) There's nothing dramatically different about the show in its latest incarnation. In fact, it would be tempting to say it's simply more of the same, as Shin is still making life miserable for his parents and anyone else whose path he crosses on his hedonistic quest for good times.



The focus is mainly on the one-offs this time around,with no overarching or multi-episode arcs floating around (though "Georgie is now poor" and vampire bits make repeated appearances, including a two-segment True Blood parody and tons of Twilight references.) More than in previous seasons, the show embraces silly sitcom plots, especially when involving Mitzi, like her getting a toothache, her wanting to make new young friends or her taking Shin and his friends to a movie. Mitzi's not the only one having sitcom adventures, as Hiro gets himself locked in the bathroom and Georgie's mom gets to enjoy the embarrassment of taking Shin to her country club,.



The show's trademark dark jokes return, including Penny's overwhelmingly creepy family background (and the welcome return of the much-abused Happiness Bunny) and the disturbing personal lives of Shin's teachers. "Bringing Up Man-Baby," in which Shin's neighbor Yoshiren role-plays as a baby, is possibly the creepiest thing in the entire set, to the point where it edges into the unfunny. This ink-black humor ties into the best part of the show, which remains the throwaway lines throughout, which are sometimes so quick and underplayed that you don't get the joke until a moment later. These quick-hit gags far outshine the plot-driven comedy, which can be a bit forced, especially when it comes to Shin, who is just overexposed at this point. It's all too clear when you watch a Boo-focused episode like "All the Boo That's Fit to Print." As simple and quiet as it is, thanks to Boo the last scene is as funny as anything in this entire series.



It seems that the creators understood this unbalance, using characters outside of the Noharo family in key roles in these short stories. The teachers at Shin's school get quite a bit of focus, including several stories about their dating lives, though the hilarious Principal Ench doesn't get nearly enough spotlight. Hottie Nanako and Shin's rich schoolmate Ai are back for a few appearances, while some one-shot characters make strong impressions, like the porn stars Hiro meets on the beach; the "Meghan McCain Republicans" looking to hook up with Shin and his boys; and the Crimson Scorpions, a schoolgirl gang that is brilliantly fun.



One character doesn't get much attention though, and that's Shin's superhero idol Action Bastard, who is barely in this set, which is a shame, as he tends to be fun when used correctly. It'd be unfortunate if his absence is due to the introduction of The Flamer, a super-powered lunatic who becomes a part of Shin's life after gaining powers from environmental pollution caused by Ench. A fire-powered fan of genocide prone to fits of emotion, he is abrasive and annoying, and mostly unfunny, and thankfully he only makes two appearances, but that's two too many.



The DVDs

Like the previous sets, the first 13 episodes of Season Three are spread over two DVDs, with seven episodes on the first disc and six on the other. The discs are packed in a three-panel, two-tray digipak, which is held in a solid slipcase, this time sporting a psychedelic design. The discs feature static full-frame menus with options to play all episodes, select shows, and check out the extras (where applicable.) There are no audio options, no subtitles and no closed captioning.



The Quality

Like volume two of the second season, these episodes look cleaner and brighter than previous sets, with an increased level of detail (a point easily observed by comparing the episodes with the earlier-made opening titles and closing credits.) There's no obvious dirt or damage in the transfers.



The Dolby Digital 2.0 audio tracks remain the same balanced, center-focused mix as in the previous sets, with clear, distortion-free dialogue and good, solid music. Nothing to complain about here.



The Extras

The extras have taken a steep drop from the previous releases, offering just trailers for the previous DVDs. An explanation of what the original show's plots were like would have been nice.



The Bottom Line

Despite the layoff between seasons, Shin Chan hasn't lost a step, remaining the bizarre, mildly offensive blast of comedy oddity it was in its first two seasons, though this set lacks those signature episodes the other collections offered. Remove any real extras (while thankfully maintaining quality audio and video) and there's not much to earn this set a recommendation over the previous releases, though fans will want to check out these additional episodes.
---
Francis Rizzo III is a native Long Islander, where he works in academia. In his spare time, he enjoys watching hockey, writing and spending time with his wife, daughter and puppy.Follow him on Twitter
---
*The Reviewer's Bias section is an attempt to help readers use the review to its best effect. By knowing where the reviewer's biases lie on the film's subject matter, one can read the review with the right mindset.
Sponsored Links
Sponsored Links