List Price: $19.95 [Buy now and save at Wbshop]
---
Not great latter-day noir...but slick and entertaining, nonetheless. Warner Bros.' absolutely essential on-line M.O.D. service ("manufacture on demand"), the Archive Collection, has released Marlowe, the 1969 detective film based on Raymond Chandler's The Little Sister, starring James Garner as the author's iconic private dick, Philip Marlowe. Directed with snappy assuredness by Paul Bogart, from a screenplay by Stirling Silliphant, and co-starring some familiar faces like Gayle Hunnicutt, Carroll O'Connor, William Daniels, Kenneth Tobey, Jackie Coogan, Bruce Lee (already showing his star appeal), and Rita Moreno (in a jaw-droppingly sexy strip number, thank you), Marlowe won't top any lists of "best of" Chandler adaptations, but it's colorful and glossy, and it has an easy, conventional smoothness that's perfect for late-night TV viewing. A well-produced original trailer―a relatively rare extra for an Archive release―is included here.
The City of Angels, 1969. Down-on-his-heels private heat Philip Marlowe (James Garner) is on a $50 charity case for Kansas mouse Orfamay Quest (Sharon Farrell), who's frantically looking for her brother, Orrin (Roger Newman). Tracking Orrin to a seedy beachfront flop house, Marlowe's investigation turns up not only a dead clerk but also a cheap hustler acquaintance of Orrin's, Grant Hicks (Jackie Coogan)―both of whom wind up chilled with an ice pick to the spinal cord. With the help of house dick Oliver Hady (George Tyne), Marlowe tracks down the mystery woman who pulled a gun on him in dead Hicks' room: TV sitcom superstar Mavis Wald (Gayle Hunnicutt). How Wald connects up with not only Hicks but also shady Dr. Vincent Lagardie (Paul Stevens), gangster Sonny Steelgrave (H.M. Wynant), and high-class stripper Dolores Gonzales (Rita Moreno) is up to Marlowe to determine, before slightly befuddled fuzz Lt. Christy French (Carroll O'Connor) and Sgt. Fred Beifus (Kenneth Tobey) clamp down and pull his paper...and before someone lulls Marlowe into that long, deep sleep into midnight.
PLOT SPOILERS WARNING!
Not a success with audiences or critics when it premiered back in 1969, Marlowe plays better today as a nostalgic exercise in 60s big-screen glossiness guided by a small-screen comfort level sensibility. More in line visually and aesthetically with Paul Newman's big 1966 hit, Harper, and Sinatra's two Tony Rome films, rather than the grittier, more realistic Bullitt the year before, Marlowe's reception was already hampered, I would venture, by its very source material. Critics have been consistently flinty whenever Chandler's works are updated and modernized because so many hold the writer in such vaulted esteem that any attempts to improve on the classic versions are seen as either ill-advised hubris or outright incompetence (an attitude that frequently takes on the clubby atmosphere of elitist snootiness when a writer of Chandler's ability is involved). Of course Garner as Marlowe is no match for Bogey or Powell, and Marlowe isn't in the same league as The Big Sleep or Murder, My Sweet by a long shot. But it's important to remember that many critics and audiences who disliked Marlowe were either puzzled or outright hostile towards the next big-screen incarnation of Chandler's hero in Robert Altman's topsy-turvy The Long Goodbye in 1973―a simply brilliant re-imagining that had to wait years and years before a cult following resurrected it from oblivion (it's my personal favorite incarnation of Marlowe). So, I may wish that Marlowe had transposed Chandler in better ways here and there...but I'm not knocking it right out of the gate just for trying.
Certainly the movie has it drawbacks, if you're judging it strictly in terms of fidelity to either Chandler or the classic movies based on his works. Released the same year as Easy Rider, Marlowe tries once or twice to disguise its big studio conventionality with then-trendy counterculture window dressing. The theme song wah-wahs about "If I could reach your mind," and "gonna groove with me," (while the singers sound about as dangerous as the New Christy Minstrels), while completely un-hip actors like Jackie Coogan and Kenneth Tobey say words like, "freak out" and "baby." Had the movie gone completely underground, it might have been more interesting (as indeed Altman would do four years later with The Long Goodbye), but M-G-M wasn't thinking along those lines yet, at least not for standard filler product like Marlowe, and so it remains resolutely "square." This unconvincing hybrid quality, along with the 1.85:1 color-soaked visuals, probably annoyed critics looking for a more traditional view of their morally circumspect, white knight Marlowe, trudging through the wicked streets of Hell-A...rather than a too-perfectly coiffed Garner moving affably through pretty-looking widescreen frames as he encounters his TV detective series-worthy obstacles.
I'm certainly no expert on Chandler, so I can't say how much scripter Silliphant lifted or reworked here, but Marlowe does attempt to root the title character in the familiar Chandleresque world where Marlowe figuratively walks clean through dirty streets (a theme that Altman would notoriously upturn when he had his Marlowe kill his best friend out of revenge). Marlowe continues his investigation here without financial reward (he repeatedly turns down Orfamay's chintzy 50 bucks) to get at the truth of what has happened. He doesn't want the money off dead Hicks' body, nor does he take an easy thousand dollars from Steelgrave's associate, Winslow Wong, to back off and lay low. He actually wants to help Mavis, whom he fears is in trouble (he's pissed at how this "quaint" notion is spurned by the suspicious TV star), and he won't take sexual advantage of Orfamay, even though she offers it twice (Marlowe laughs about how "glamorous" his life is, like the cinematic James Bonds and TV detectives). As Marlowe tells Wong after refusing the pay-off money (in words I'm assuming are coming straight from Chandler): "Tell [Steelgrave] you met the last of a dying dynasty. King of the Fools. Unassailably virtuous. Invariably broke."
Unfortunately...director Paul Bogart and script Silliphant fail to provide a suitably believable context for Marlowe's virtuousness to stand out from; the Los Angeles of Marlowe, and its inhabitants, are decidedly tame for such corrupt creatures. Visually, the L.A. of Marlowe frustratingly comes close now and again at creating a world that looks like something Chandler could get into, but those moments only work on the studio sets, which dominate the film's production. Location shooting is sparse, with Marlowe feeling quite studio-bound. Unlike the later The Long Goodbye, which feels caught on the fly in gauzy, breezy, chemically-high Los Angeles, the visual world of Marlowe feels about as real as the typical 60s sitcom living room: artificial and locked down tight. As for the characters Marlowe encounters here, they're quite unremarkable in either their menace, or their perversity, or their moral degradation. Beautiful-but-stiff Gayle Hunnicutt just can't cut it as an interesting Chandler femme fatale (we never buy she's hot for a killer gangster), nor does Sharon Farrell rise above annoying with her constant crying and pleading (critically, we sense no perversity of familial betrayal when her role in the plot is revealed; it's a weak performance that deflates the entire movie). I didn't feel any particular danger for Marlowe from bland H.M. Wynant, either (so much for a gangster who kills with an ice pick), but then again, why should I, when big, handsome, well-fed, well-coiffed, well-suited Garner walks around looking exactly like what he is: a big, handsome, well-fed, well-coiffed, well-suited Hollywood movie star. Too many fun-but-superficial movies like Marlowe deep-sixed Garner's promising first movie career; within a couple of years, he'd be starring in Disney films before going back to television in the brilliant The Rockford Files to resurrect his big-screen livelihood.
So...with all that seeming negativity, why is Marlowe worthwhile? Well...precisely because of its drawbacks (or perhaps, "in spite of them"). Marlowe may not be perfect, but it's entertaining in that sure-footed way glossy, big-screen 60s vehicles were back then―even if their scripts or performances weren't "right" for the project. Director Bogart knows how to keep the storyline moving along, so who cares if we don't believe Garner is Philip Marlowe; we're more interested in that most basic requirement for a detective film: seeing what happens next, and to whom. Never boring, Marlowe maintains a decent whodunit pace while keeping our interest with clever lines and moments sprinkled throughout the more conventional scenes. Certainly, Marlowe's small notoriety in these last few decades has been sustained in no small part by the presence of Bruce Lee, who has a mere two scenes here―his initial hilarious scene where he single-handedly destroys Marlowe's office (the energy here is night and day compared to the rest of the film), and a later rooftop sequence where he tries to kill Marlow. This latter scene is disappointing only in that it's almost directly lifted from Harper (right down to our detective baiting his tormentor to his death by questioning his sexuality), and that it's over too quickly (Lee's Wong seems far too self-possessed to flip out immediately as soon as Garner calls him "gay"). Certainly when I first saw Marlowe (back on Showtime, I think, in the late 70s), the presence of Rita Moreno made the film stick in my head...particularly when she's nude, save for pasties and a G-string, in a sensational strip tease number (Bogart directs this well, ratcheting-up the denouement suspense as he cuts back and forth between Marlowe tying up loose ends, and the white-hot Moreno, stripping and realizing the jig is up). As for our lead, relaxed Garner is never really believable as a downtrodden private dick...let alone the iconic Philip Marlowe. However, a relaxed Garner is always fun to watch, and fans of The Rockford Files will see a lot of that later incarnation in Garner's flippant, easy-going character here. Marlowe works not because it's a particularly "good" movie, but because it's an exceedingly familiar one that reinforces all our expectations and conventionalities we've come to associate with this particular kind of studio film, from this particular time period, and with these particular kinds of stars. Marlowe doesn't have to stick to Chandler to be entertaining, and it doesn't necessarily have to jell as a statement or comment on the genre itself. It's enjoyably "watchable," for lack of a better word (nor is that meant dismissively here)...and that's enough.
The DVD:
The Video:
Labeled as a "remastered edition," Marlowe looks better than I've ever seen it, with it's anamorphically-enhanced, 1.85:1 widescreen image fairly sharp and clean (dirt and scratches do appear, but not to distraction). Colors are generally quite strong, while blacks are reasonable.
The Audio:
The Dolby Digital English mono audio track is serviceable, with minimal hiss and a decent re-recording level. No subtitles or close-captions, though.
The Extras:
A terrific original trailer is included...one that makes you wish you had seen that Marlowe.
Final Thoughts:
No, it's not top-flight Chandler, nor is as good as similar detective films from that era, such as Harper or Bullitt (it's definitely more Tony Rome than Shaft). But Marlowe is entertaining in an easy-going, thoroughly conventional way, and it's pretty to look at, at times, too. Perfect TV viewing when you just want to flake out and kinda not follow along with the story. I'm recommending Marlowe.
---
Paul Mavis is an internationally published film and television historian, a member of the Online Film Critics Society, and the author of The Espionage Filmography.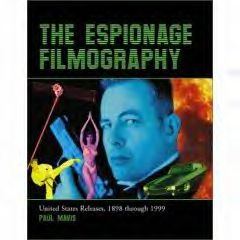 ---
C O N T E N T

---
V I D E O

---
A U D I O

---
E X T R A S

---
R E P L A Y

---
A D V I C E
Recommended
---
E - M A I L
this review to a friend
Sponsored Links
Sponsored Links