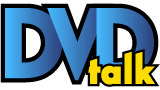 Jackass 3.5 the unrated movie
Other // Unrated // June 14, 2011
List Price: $26.98 [Buy now and save at Amazon]
---
The Movie:
Following hot on the heels of Jackass 3-D comes the straight to video release Jackass 3.5, which is, not surprisingly, basically more of the same. If you're not a fan of the series at this point in the game, odds are stacked that you never will be and in that case, you can stop reading now and safely skip this release as it will do absolutely nothing to change your mind or sway your opinion. This latest offering from Johnny Knoxville and company is just as crass, dirty, lewd, homoerotic and cringe inducing as what has come before and detractors will need to know more than that to stay away - fans of the series, however, will no doubt lap it all up and have a good laugh at the expense of the guys who put all of this together in the first place.
After an intro where the Jackass crew arrive in Europe, we hit the ground running as Steve-O allows an alligator snapping turtle to bite down on his left ass cheek to the point where, once it's removed after some screaming on Mr. O's part, it's left a pretty serious chomp on his posterior. From there, it's business as usual as Knoxville (who has been taking a noticeably more hands off approach and letting the other guys perform many of the stunts these last few outings) effectively acts as our ringmaster for this circus of insanity.
You want some highlights? A few tidbits as to what sort of nuttiness is on display? Sure. Bam Margera stands atop a riser with his ass cheeks spread bare while Chris Pontius lights a dildo rocket towards his obvious target. A slow motion 'Phantom Camera' is used to capture highly detailed slow motion shots of various Jackass alumni being punched in the face and kicked in the head, the most impressive being the large and in charge Preston Lacy, whose entire body seems to convulse and jiggle when he gets hit. Spike Jonze once again dresses up as an old woman to show off her camel toe to various people in the street. A half dozen or so of the guys give themselves enemas and then compete in a long jump competition to see how can jump the farthest and poop the most. Pontius sheaths his dick in a wooden housing and lets a woodpecker attack it, and then later puts his dick in a mouse outfit laced with catnip and lets a cat go to town on it (Pontius seems to enjoy dressing up his dong, an odd phenomena that director Jeff Tremaine addresses in the feature). Bam and Ryan Dunn dress up in fat suits and jump into things in the snow, with some help from members of The Dudesons, while Wee Man is painted to blend into a wall in the Margera Family's basement, which of course allows him to jump out and scare people who don't expect him to be there (why would they?). Knoxville runs around with a miniature canon and shoots people in the ass and spends a lot of time hitting people in the crotch with balls of various sizes. Steve-O crosses a balance beam while the other guys throw flaming balls at him, only to know him off into a fire pit below.
Not much has changed, really, though there's a lot less vomiting this time around and maybe a bit more urine.
Like the material than came before it, Jackass 3.5 reaches out to the twelve year old kid in all of us, that part of our psyche that laughs at fart jokes and giggles when people get hit in the balls and fall down in pain. There's a primal side to the humor here and we really are laughing at the expense of others, but all involved seem to be having such a good time beating the crap out of each other and peeing on one another that you can't help but laugh along with them and as they're such willing (and by now, very rich) participants in all of this, well, there's no need to feel guilty, right? It's all completely stupid, intentionally offensive and remarkably crass but who cares - so long as it continues to be funny and so long as these guys have as much fun as they appear to be having, they should keep doing what they do. The stunts and gags are often times very creative and tend to raise the bar with each subsequent outing. Not every bit works as well as the next but so many of them do that it's easy to forgive the ones that fall a little flatter.
But yeah, it's Jackass. You either like it or you don't and if you do, you already know you want to see this.
The Blu-ray

Video:


Jackass 3.5 looks great on Blu-ray in an AVC encoded 1.78.1 widescreen 1080p high definition transfer. There are some gags that look better than others and the quality does vary from one bit to the next depending on what kind of camera was used and what the shooting conditions were like, but overall the picture is clean, clear and very colorful. At times more detailed than you might want it to be (the close up shot of Steve-O's ass cheeks post snapping turtle encounter comes to mind) the picture shows good depth and strong contrast. Black levels are generally strong as well and there are no compression artifacts or noise reduction problems to report. Not so surprisingly, the material shot outside in the sunlight looks better than the bits shot inside a dirty looking warehouse or a bland office building but overall, the picture quality is strong here and Paramount have done a fine job handling the visuals.
Sound:
Also quite good is the disc's DTS-HD 5.1 Master Audio track, in English, which makes good use of the surrounds and has plenty of channel separation to take in. Levels are well balanced and the film's soundtrack, a good mix of hard rock, punk and power pop tunes, sounds very good here as well (Pulp's Common People sounds exceptionally cool in lossless format!). Bass response is good, not overpowering but definitely strong enough so that when Bam and Danger Ehren punch one another in the face there's a good bit of lower end thump in the mix. Optional subtitles are offered in English, English SDH, Spanish, French and Portuguese.
The Extras:
There's a pretty great selection of extra features included on this disc, all of which are presented in high definition starting with Jackass: The Beginning, which is a forty-seven minute documentary that does a great job of compiling some cast interviews and archival clips to explain how Jackass came to be, its rise to insane popularity, and how it has evolved over the years without actually losing sight of what made it funny in the first place. There are some great clips here and this thorough retrospective piece is definitely worth watching, particularly if you've been a fan for a while and maybe want to revisit some of the earlier years.
From there, check out the eleven Deleted Scenes: Magnifying Glass, The Swan, Snapping Turtle On A Stick, Bad Dad, Fat Fuck Cupcake, Party Boy, The Rocky, Defibrillator Wake-Up, Walk The Plank, Rocket Ass, and last but not least, The Donkey Ride. There's just under seventeen minutes worth of material here and some of it is pretty funny. Also worth watching are the twenty minutes of outtakes and flubs, a lot of which are from the interview clips used between the stunts and gags seen in the feature.
Rounding out the extras is a seven minute featurette that shows what happened at a few different European premieres for Jackass 3-D that's called Jackass European Tour, some animated menus and chapter stops.
Overall:
If you're a fan, you know you need this, and if you're not, this won't change your mind. Jackass 3.5 isn't quite as over the top as Jackass 3-D was but it's still plenty raunchy and plenty painful to watch, so those who appreciate the series' humor will find lots to love here. Paramount's Blu-ray release is a very good one, offering up a great transfer, strong audio and a nice collection of extra features as well. Recommended.
Note: For now this release seesm to be a Best Buy exclusive.
Ian lives in NYC with his wife where he writes for DVD Talk, runs Rock! Shock! Pop!. He likes NYC a lot, even if it is expensive and loud.
---
C O N T E N T

---
V I D E O

---
A U D I O

---
E X T R A S

---
R E P L A Y

---
A D V I C E
Recommended
---
E - M A I L
this review to a friend
Sponsored Links
Sponsored Links