List Price: $19.98 [Buy now and save at Amazon]
---
Naughty, sexy little kitties. M-G-M's new Limited Edition Collection of M.O.D. (manufactured on demand) titles, available on-line via Warner Bros.' similar Archive Collection site, has released High School Hellcats, a trim, amusing little American International Pictures teen exploiter from 1958. Starring Yvonne Lime, Bret Halsey, Jana Lund, and Suzanne Sydney, High School Hellcats hits all of the marks of the celebrated "Arkoff formula," making for a zippy, fun trip down the path of teenaged dissolution and damnation...before their parents get wise and start listening. You dig? No extras this time around.
Anytown, U.S.A., 1958. Transfer student Joyce Martin (Yvonne Lime) looks like Gidget, Barbie®, and Dolores Hart all rolled into one. Sweeter than candy, this little high school honey in her pony tail, cashmere sweater and pleated skirt (I'm feeling faint...) has no idea what's in store for her when she walks into her new home room, but here's a hint for all you squares: juvenile delinquency. You see, bottle-blonde chippie Connie Harris (Jana Lund) runs the show around there, see? She's the leader of the Hellcats "club," see? And everybody better tow the line, see? Or there's gonna be trouble, see? When she says don't do your homework...you don't do your homework. When she says take a drink of some whiskey and get busy with the making out...you do it. Or else. Gentle, naïve Joyce just wants to get along, so of course she ditches her skirt for some slacks the next day, because that's what Connie told her to do; Joyce knew it was against the rules for sluts, I mean girls, to wear slacks to school in 1958, but Connie seemed on the level, so why not? Joyce's, um...uptight Dad, Roger Martin (Don Shelton), may not know exactly why he's so angry every time he sees his pert daughter bouncing around the house in slacks and too much make-up (calling Dr. Howard, Dr. Freud, Dr. Howard!), but he's definitely sure that it's her fault he's so...frustrated all the time. Joyce's bridge-playing mother, Linda (Viola Harris), tries awfully hard to understand her daughter―when she's not too busy cringing from her husband's verbal assaults―and poised, blank teacher Trudy Davis (Rhoda Williams), offers completely ineffectual, bland support in case Joyce has a death wish and wants to squeal on her new-found friends. So what's the new girl in school to do when her teen gang orders her to become a punk, while her new boyfriend, dreamy, prettyboy-soda jerk Mike Landers (Bret Halsey), frowns at such hijinks? I'll tell you what she does: she gets wise real fast, see? Or she might wind up a lifeless heap at the bottom of the stairs...just like X'ed-out Connie.
SPOILERS ALERT!
I don't know about you, but when I was a kid, the sight of AIP's logo coming up on the TV screen or at the drive-in meant a guaranteed good time. Whether it was their teen delinquency epics (like High School Hellcats), or their "beach party" movies, or their Poe/Price horrors, or their Godzilla sci-fis, or their biker flicks, AIP pictures never disappointed...even if they stunk. In fact, the worse they were, perversely, the more enjoyable they could be, if you were in the right mood for appreciating their exploitation of B-movie conventions―many of which AIP could lay claim to inventing in the first place. Now, I enjoy a good Bergman film now and then, or something by Welles, or Ford, or Hitchcock, or blah blah blah [insert here all the other directors that everyone mentions ad nauseum when they talk about "the cinema"]. I appreciate "art" in movies...if anyone can truly identify what that is. But if my choice on a Saturday night is between a new Criterion Collection disc of some deservedly important work of "film," and a fun, bouncy, inadvertently amusing AIP relic from the past, I'm going with Arkoff. Nothing gets me back faster to the joy I had as a kid discovering how much fun movies could be, than an AIP programmer.
As for High School Hellcats, under the speedy, efficient direction of expert journeyman Edward Bernds (Spy Chasers, Reform School Girl, the delicious Queen from Outer Space with the immortal Zsa Zsa, Return of the Fly, probably his best-known title, The Three Stooges in Orbit), it knows just what it wants to do from the very first opening shot, where a squealing hot rodder cuts off a sedan at the high school. No doubt the punk kids in the audience for High School Hellcats sneered their appreciation for this move, while the "good" kids sat there and secretly thrilled to something they wouldn't have the nerve to do themselves. Indeed, High School Hellcats is quite good at setting up a framework of wish-fulfillment that must have found particular favor with the young women in the stalls; after all, High School Hellcats is almost entirely geared towards satisfying them: the female viewer (an early deviation in the Arkoff formula where young male viewers were usually the target demographic).
Given the choice of two characters in which to identify with―impossibly good, sweet, pretty-yet-conflicted Joyce, or hard, sexual, criminal Connie―girls sitting in the dark balconies watching High School Hellcats could have been excused from warding off their boyfriends' straying hands as they alternated from positive idealization of Joyce ("What would I do in that same situation?") to naughty, pleasurable fantasizing about confident Connie ("Boy, would I like to tell the world where to get off, too!"). Working from writers Jan and Mark Lowell's busy script, teen girls watching High School Hellcats may have shrugged their mild approval of bland dreamboat Bret Halsey when he made all the right noises about being alone in the world while looking for love, but I'll bet those same girls really perked up when Joyce―perhaps after a little Connie rubbed off on her―told him off for being a controlling, judgmental creep...just like her father (they probably swooned, too, at Miss Davis' assertion that it was nonsense to believe women were somehow genetically inclined to be monogamous. Hey boy, there!).
You don't have to get heavy with High School Hellcats, though, to thoroughly enjoy it. On the surface, it's fast and breezy at only 69 minutes, and the scripters make sure that something is always happening in every scene, including dangerous teen peer pressure, hazing, thievery, wild make-out parties (or at least...kids dancing together in what we think might develop into a wild make-out party if it wasn't 1958), vicious beatings, substitute teacher-rousting, police third degrees (actually, police Lieutenant Manners, played by Robert Anderson, is rather nice when he's interviewing the suspects), a murder (did they borrow this from the notorious real-life death of David Niven's wife in Hollywood?) and of course, lots of teen soul searching from our young lovers. You can make fun of High School Hellcats...if you want. It's easy to do with all its dated reference points, like its hilarious depiction of an all-girl gang that looks like something out of Caged Heat (I don't know how old the actors were here, but they look like hardened ex-cons, not Senior teenyboppers...held back seven years), or its frequently inadvertently funny dialogue ("You going with a boy?" "No―a man!" "I don't think she has all her marbles."). But all trendy, hip movies get laughed at in time...even the ones made today. That doesn't make them any less fun―or interesting―to watch.
The DVD:
The Video:
You can matte out this full-screen 1.33:1 black and white transfer to 1.66:1, and it looks...okay for framing. But grain and image clarity obviously becomes an issue. So...it's up to you how you watch it. Overall, though, the image is fairly clear, and the contrast level is relatively consistent. Blacks are just okay.
The Audio:
The Dolby Digital English mono audio track is acceptable, with a decent re-recording level. No subtitles or close-captions.
The Extras:
No trailer for this M-G-M M.O.D..
Final Thoughts:
Sure it plays goofy today, and maybe High School Hellcats got laughed at by the 1950s kids who saw it at the bottom of a drive-in double bill, too...if they bothered to look up from their make-out sessions. However, it's fast and funny, with an interesting P.O.V. skewed directly at female viewers. High School Hellcats gives you your tame AIP thrills in a nice, neat little black and white package. As expected. I'm recommending High School Hellcats.
---
Paul Mavis is an internationally published film and television historian, a member of the Online Film Critics Society, and the author of The Espionage Filmography.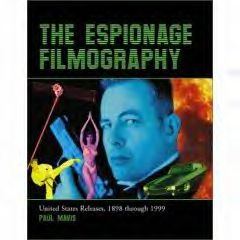 ---
C O N T E N T

---
V I D E O

---
A U D I O

---
E X T R A S

---
R E P L A Y

---
A D V I C E
Recommended
---
E - M A I L
this review to a friend
Sponsored Links
Sponsored Links