List Price: $20.95 [Buy now and save at Amazon]
---
The final final twist ending is a wowzer...but it makes absolutely no sense. Still...this is one creepy little shocker. Sony's own M.O.D. (manufactured on demand) line of Columbia Pictures vault titles has released A Reflection of Fear, the 1973 horror drama starring Robert Shaw, Sally Kellerman, Mary Ure, Sondra Locke, Mitchell Ryan, and Signe Hasso. Directed by celebrated cinematographer William A. Fraker, A Reflection of Fear apparently went through post-production hell, including extensive cuts and a delayed release before it was dumped onto a double bill (with The Creeping Flesh!), and it certainly shows, with a choppy storyline that's heavy on atmosphere and light on brains. Still...it's scary. An original trailer is included as a bonus.
An Eastern Canadian coastal hamlet. In a large, secluded mansion, 15-year-old ethereal head case Marguerite (Sondra Locke, in one of her best performances), when she's not playing with her dolls or painting disturbing pictures, talks to her "friends" the amoeba in the pond water she studies under a microscope. Kept far away from people, brainy screwball Marguerite pines for her long-lost father, Michael (Robert Shaw, stiff as a board), a writer whom she hasn't seen in ten years. Separated from his cold, controlling wife Katherine (Mary Ure, nothing to do here), Michael comes back to the hamlet with his sexy, braless new girlfriend, Anne (Sally Kellerman, sensitive and sexy), seeking a divorce and some quality time with his daughter. Katherine and her calculating mother, Julia (Signe Hasso), despise Michael and resent Marguerite's idolization of him, but that's not going to be a problem anymore because once they agree to a divorce―and agree that Michael won't see Marguerite ever again―both ladies wind up dead. Who killed them? Who's stalking Anne? And who is Aaron, who talks to Marguerite from his little chair, in his little room, behind the wall of her closet?
MAJOR, MOVIE-RUINING PLOT SPOILERS AHEAD!
Just a note: it's impossible to discuss A Reflection of Fear without revealing its surprises, so if you don't want the ending ruined for you, stop reading, and just buy the disc. Otherwise...I told you so....
You really have to take A Reflection of Fear for what it is with the knowledge that whatever sense it originally made to the actors and director and the screenwriters and the studio, was long ago lost in the various cuts and rearranged editing forms that followed. There's no getting around the fact that much of A Reflection of Fear flat-out doesn't make sense. And that's okay up to a certain point, because the main story arc still comes through fairly clearly, and the scares and atmosphere help make up for the film's other shortcomings. However, that "shocker" ending simply doesn't wash because it's dropped in without any context whatsoever. We can kind of wrangle it back and forth with the clues we picked up throughout the film and say to ourselves, "Well, yeah...I guess that would explain this or that," but its revelation lacks any power whatsoever because its ham-fisted delivery has been so obviously botched. And that's too bad, because much of A Reflection of Fear is quite good.
Working from a screenplay by Edward Hume (Two-Minute Warning, Sweet Hostage, 21 Hours in Munich) and Lewis John Carlino (the brilliant Seconds, The Fox, The Mechanic, The Great Santini), based on the novel Go To Thy Deathbed by Stanton Forbes, master cinematographer and sometime director William A. Fraker (Monte Walsh, The Legend of the Lone Ranger) has his own celebrated cinematographer, László Kovács, shoot A Reflection of Fear ironically just like a William A. Fraker film, complete with gauzy, diffused lighting and soft, open frames, creating a hazy, dreamlike world (sometimes it's so heavy you think there's a brush fire outside). Once we enter Marguerite's bedroom lair, however, the frames darken considerably, and the shadows close in, with Kovacs and Fraker achieving some remarkably scary effects, such as "Aaron" the doll rising from the dead after he's been torn apart by Marguerite, and various unnerving shots of Marguerite watching the other inhabitants through peepholes in-between the walls. And there's a sense of real, disturbing violence to the assault on Katherine, where "Aaron" sexually assaults her with a large wooden pole before smashing her skull in―it's a disconcerting scene that's frightening in its ferocity.
Fraker has no trouble creating this sullen, menacing shadow world within the confines of the mansion, even though we guess almost immediately that "Aaron" is of course just a manifestation of Marguerite's suppressed, violent personality. We've all seen too many movies where dolls either represent or play host to psychotic or schizophrenic personalities, so we know instantly that when Marguerite has a conversation with "Aaron," she's talking to herself. That knowledge doesn't ruin our experience or enjoyment of the movie; it only means that the screenwriters and the director have to make such familiar frameworking compelling again, and Fraker certainly does, with his disturbing images and weird, dreamy juxtapositions. After all, it's pretty hard to screw up the inherent creepiness of possessed or surrogate dolls hosting murderous psyches.
As for the film's second half that veers towards a perverted black twist of an Oedipal sex comedy, again, Fraker is quite good at getting across more than he's showing, particularly in a well-staged scene at the beach. With her hateful controllers now dead, and Daddy now all to herself, Marguerite goes on a picnic with him...and his fiancé, Anne. Using no dialogue, Fraker works out the dynamics of the relationships here visually, with Anne leading the way, isolated from the new "lovers" Michael and Marguerite. Fully aware of what Marguerite is up to, Anne tries to lure Michael into the surf (not hard to do with sexy Kellerman in her black bikini), but he's only willing to go so far with her...before he turns back to Marguerite, leaving Anne alone in the water as he goes to nuzzle and kiss Marguerite. Rejected, Anne leaves the scene where she spots Hector (Gordon Devol), the boy from the hamlet's inn, silently watching her (more about this puzzler below). As with the "Aaron" subplot, we don't have to really guess about all this disturbing sexuality; Fraker and the screenwriters are right up front about it: after the picnic, Anne accuses Michael of enjoying this increasingly aggressive flirtation, while later, Marguerite is shown masturbating in her bed, calling out, "Father! Father!" at completion as Michael and Anne attempt to make love in the bedroom right next door. You don't need to call Dr. Freud for analysis on any of that.
Where you do need a shrink or more probably a slide rule and a computer is trying to figure out where all the loose ends tie up in A Reflection of Fear. If the movie has a dreamlike/nightmarish quality to its visual schematic, it's important to remember that dreams and nightmares rarely makes sense in the cold light of day. A good example here is the Hector character. Introduced when Michael and Anne arrive at the Inn, Hector gives a knowing glance to Anne...and then disappears. Later, he gives a knowing glance to Anne on the beach, when Michael rejected her...and then he disappears. Later, he shows up on a, um...date with Marguerite, where he puts the moves on her and winds up shaked and baked when his boat crashes (of course, Marguerite survives both assaults). Now wait a minute: who the hell let isolated, cosseted Marguerite on a date? And why was Hector giving Anne the eye? And why does Anne call out, "Hector!" when she passes a figure on the road, after she's left Michael after a fight? She knows Hector? How? None of this makes any sense...but I'm sure it did in the first cut of the movie.
Lots of other little loose ends float about in A Reflection of Fear, such as who actually rescued Anne from "Aaron's" assault (I think it was Michael, but the film never really says), but of course, the biggest one comes at the very end of the film, when we learn that Marguerite was born a boy. In a violent, scary finale, Michael pursues "Aaron" through the walls of the house as he repeatedly attacks and tries to kill Michael. As Michael fends off the attacks and closes in, a sound clip is dropped in on the audio track (either taken from a deleted scene or dubbed specifically for post-production) where we hear Michael calling the hospital where Marguerite was born. He inquires about the little girl born to Katherine and instead is told by a nurse that a baby boy was born that night. Freeze frame on Marguerite's panties/briefs/thong, and end of movie.
Excuse me? Wait...what? She's a he? Okay, well that explains why her eyes got so wide when Hector put his hand down her pants, but what about Michael and Katherine? Did Michael know she was really a boy at birth? He never looked in a diaper? So if he did know he was a boy...what's he doing practically making out with her? Why is he playing along with the deception? Is that why he left the family ten years ago? If he didn't know Marguerite was a boy...who "made" her a girl? Katherine? And why? Is that why Marguerite takes daily shots? Are they hormone shots, perhaps? And even if Michael didn't know she was a boy, why is he kissing and flirting with his daughter that way? If Michael is "rehabilitating" Marguerite from having missed out on a father for ten years, as he tells Anne, what kind of rehabilitation does he have in mind? Clearly, the answers to at least some of these questions are in the lost footage cut out of A Reflection of Fear, so who knows if we'll ever find out what the hell is actually going on here (boy, would a commentary track with Locke or Kellerman or the screenwriters be helpful at this point―or an email to yours truly). What is clear, though, is that the big "shocker" reveal of Marguerite's sexuality is jarring at first...and then totally without meaning, due to its too-abrupt introduction here. It doesn't hurt our appreciation of what was good in A Reflection of Fear, but it doesn't exactly help, either.
The DVD:
The Video:
The anamorphically-enhanced, 1.85:1 widescreen transfer for A Reflection of Fear is supposed to look slightly blown out and gauzy. Print damage is minimal, and colors, necessarily, are diffused.
The Audio:
The Dolby Digital English mono audio track is serviceable, with all dialogue heard clearly. Hiss is minimal. No subtitles or close-captions.
The Extras:
An original trailer is included as an extra.
Final Thoughts:
Effective shocker with some creepy, violent scenes...but that final twist is meaningless without context. Maybe someday someone will locate the extra footage hacked out of A Reflection of Fear...but I wouldn't count on it. Too bad. What remains, though, still scares. I'm recommending A Reflection of Fear.
---
Paul Mavis is an internationally published film and television historian, a member of the Online Film Critics Society, and the author of The Espionage Filmography.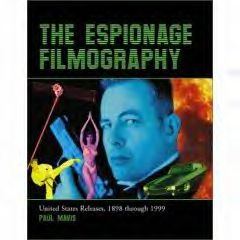 ---
C O N T E N T

---
V I D E O

---
A U D I O

---
E X T R A S

---
R E P L A Y

---
A D V I C E
Recommended
---
E - M A I L
this review to a friend
Sponsored Links
Sponsored Links