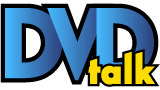 List Price: $14.99 [Buy now and save at Amazon]
---
THE FILM:
When Guido Orefice (Roberto Benigni) and his son are sent to a concentration camp, Guido creates an elaborate game to shield the boy from the horrors of internment. The fairytale whimsy is anesthesia to an oppression Guido never wants his son to recognize. Life is Beautiful, directed and co-written by its Italian star Benigni, begins as a slapstick comedy, but manages to keep its high spirit during a darker second act. The film's tone is uneven at times, but solid storytelling makes it a moving success.
Guido, a young Jewish man from Italy, moves to Tuscany with plans to open a bookstore and wait tables at his uncle's hotel. Guido hits a red-tape roadblock on the path to opening his store, but a young teacher literally falls into his arms one afternoon. The woman, Dora (Nicoletta Braschi), is engaged to a snooty civil servant, but Guido proceeds to woo her anyway by posing as an inspector at her school and taking her out for ice cream. Guido and Dora eventually marry, and their son, Giosué, is born soon after. The film then jumps forward to the middle of World War II. Guido and Giosué are taken from their home to a concentration camp. When Dora finds out where they are going, she insists on boarding the train, too, despite her non-Jewish heritage.
The early scenes of Life is Beautiful are innocent and fanciful, and Guido's antics recall those Federico Fellini might have directed in the 1950s. Benigni's lens lingers on Guido's goofy grin, and his constant pursuit of Dora's affection is both endearing and maddening. There's also a subplot about Dora's aristocratic family disapproving of her marriage to a common man. The first half of the film, while entertaining, starts to drag near the end of the first hour, but the second half picks up the pace. From the moment Guido and Giosué enter the boxcar that takes them to the concentration camp, Guido begins concocting a tall tale to explain their circumstances. Guido tells Giosué that everything is part of an elaborate game. The winner gets a giant tank, and points are given for discipline, hard work and a having positive attitude.
Life is Beautiful racked up a bunch of accolades back in 1999, and, considering its subject matter, it not surprisingly received the distinction of best foreign film at that year's Academy Awards. Although I prefer the film's second half, the build up and exploration of Guido's character is pertinent to the story. The film's detachment from the horrors of Nazi Germany is occasionally off-putting, but the distance it keeps allows the viewer to remain in the same blissful daze as Giosué. While Guido is pictured working hard and searching for food scraps, Life is Beautiful features little bloodshed or obvious death outside of one unexpected image in the fog. Viewers are part of Guido's game, which is an effective storytelling trick.
Benigni displays a noble affection for Italian comedies, even if he allows Guido to pick at the viewer's patience with his unending shenanigans in the first half. The sacrifice Guido makes for Giosué is astounding, and Life is Beautiful is successful because it humanizes an inhumane process. The film's narrow focus allows Guido to pay full attention to Giosué, and it is this father-son relationship that anchors the proceedings and makes them special.
THE BLU-RAY:
PICTURE:
The film's 1.85:1/1080p/AVC-encoded transfer is unassuming but proficient. Lionsgate continues to churn out Miramax titles on Blu-ray, and the high-definition upgrade for Life is Beautiful definitely bests its old non-anamorphic DVD. The image is generally crisp and clear, with decent detail and texture. The picture is somewhat soft and never screams "high definition," but some of this softness is inherent to the film's intended look. Colors are understated but well saturated, and skin tones run only slightly pale. On the down side, I noticed some digital noise in several scenes, particularly during two scenes draped in fog. I also noticed some image wobble, but this was not a persistent problem. I suspect some slight grain removal was done, as some faces appear overly smooth.
SOUND:
The Italian 5.1 DTS-HD Master Audio track is never particularly aggressive, but it adequately supports this comedic drama. Dialogue is consistently clear, as are ambient effects and the score. Directional and big action effects are sparse, but the surround speakers do fire up on occasion. As this is a dialogue-driven film, the track is mostly front-loaded. Italian, French and English 5.1 Dolby Digital tracks are available, as are English and French subtitles.
EXTRAS:
Making Life is Beautiful (23:27/SD) is an EPK-style featurette presented in English that provides interviews with the cast and crew, as well as a host of other celebrities who enjoyed the film. This is not a proper making-of, but some of the interviews are worthwhile. Also included are several Academy Awards TV Commercials (5:20/SD) and the film's theatrical trailer (2:04/SD).
FINAL THOUGHTS:
A father creates an elaborate game for his son to hide the truth of their imprisonment in a Nazi concentration camp. Life is Beautiful shifts from slapstick comedy to weighty drama without ever sacrificing its whimsical tone. The film remains somewhat detached from the horrors of war, but it allows viewers to be swept up in the central father-son relationship. Fans of the film will appreciate the Blu-ray, which is a nice upgrade from the DVD. Recommended.
William lives in Burlington, North Carolina, and looks forward to a Friday-afternoon matinee.
---
C O N T E N T

---
V I D E O

---
A U D I O

---
E X T R A S

---
R E P L A Y

---
A D V I C E
Recommended
---
E - M A I L
this review to a friend
Sponsored Links
Sponsored Links