List Price: $19.99 [Buy now and save at Amazon]
---
Fast-moving, hard-edged little B-noir. Warner Bros.' fun, fun Archive Collection of M.O.D. (manufactured on demand) discs has gone back to the RKO vaults for The Threat, a 1949 thriller starring Michael O'Shea, Virginia Grey, Charles McGraw, Frank Conroy, and Robert Shayne. With a speedy run time of only 65 minutes, The Threat tells its revenge story quickly and neatly, with a beautifully psychotic central performance by gravel-voiced McGraw to distinguish it. No extras for this good-looking Archive release...but those are the wrong black and white stills on the back of the DVD cover, W.B..
Folsom Prison. Nighttime. A crashout, and mad-dog killer Arnold "Red" Kluger (Charles McGraw) is on the loose again, seeking vengeance against those who put him behind bars. Inspector "Murph" Murphy (Robert Shayne) warns both District Attorney Barker MacDonald (Frank Conroy) and copper Detective Ray Williams (Michael O'Shea), that Kluger is coming after them, but Red and his two sidekicks, Nick (Anthony Caruso) and Lefty (Frank Richards), are too smart for the suits, and they kidnap them...along with chorine Carol (Virginia Grey), Red's former lover and his top suspect for Head Stoolie when it comes to who ratted him out to Johnny Law. Kidnapping unsuspecting moving van owner Joe Turner (Don McGuire) as a driver, Red and the boys use their hide-out's furniture as cover in Joe's van to transport their car and hostages, and they're all off to the desert, where Red expects his partner (and Carol's current lover) to pick him up and ferry him off to Mexico. But Ray and Barker aren't about to let themselves get ventilated so easily, as the kidnappers and the hostages start to stew in the hellish desert....
MAJOR, MOVIE-RUINING PLOT SPOILERS WARNING
A solid RKO thriller that has a better-than-expected reputation with critics today, The Threat delivers the noir convention goods, despite some missteps along the way that keep it out of the same class as the brilliant Follow Me Quietly (I just reviewed it here), or another Charles McGraw classic, The Narrow Margin. Certainly The Threat's two biggest draws are its speedy sureness of execution, and Charles McGraw's central performance. Director Felix E. Feist (who helmed the even better noir, The Devil Thumbs a Ride), working from a script by producer Hugh King (Dial 1119) and Dick Irving Hyland, keeps his frames tight and simple, shooting often from a lower angle (for maximum threat and unease), while maintaining a brisk pace with the busy story. Visual flourishes are kept to a minimum, except for one bravura shot way up in the rafters of the decrepit cabin, as the camera slowly pans, revealing the occupants like sweating rats in a fetid maze. A few times Feist brings in a semi-documentary feel to the proceedings, such as the sequence at the beginning of the movie where a real police dispatch is created for the camera, but for the most part, The Threat stays on its small, cramped sets, to good effect, as the clean but effective mise-en-scene puts the squeeze on the movie's trapped inhabitants. Running only 65 minutes, The Threat doesn't have time to waste (we don't even get to see Red's crashout "clean," it plays out under the opening credits), and director Feist has a sure grip on the production.
And while The Threat's storyline isn't exactly novel, Feist and his cast give the familiar plot elements a straight-faced, grim urgency that's most welcome. Individual set pieces, like the gang's kidnapping of the D.A., via painters' costumes, or the off-screen torture of Barker via pliers (his soft moans aren't what we'd hear today in a movie, but I'll bet it unnerved audiences back in '49), or the beautifully-designed sequence at the gas station, as the motorcycle cop comes back twice to search the van, keep the suspense tight as the movie builds to the finale in the desert. There are times in the script, though, when the logic of the characters' actions doesn't match up with the smartness of direction. O'Shea deliberately leaving his house, after Murph specifically told him to stay in, is a telegraphed plot machination that's obvious and shopworn. Indeed, most of Ray's actions in The Threat are predictable (in direct contrast to McGraw's unhinged criminal), when they're not bordering on the ridiculous, such as when he and Barker stand in front of their cabin door as Red starts shooting (nobody thought to hide for cover?).
Even dumber is the Joe Turner character entirely, who's built up to be some kind of coward who may or may not prove pivotal in turning events at the cabin, but who in the end idiotically gives up his gun to Red when asked for it (this plot point is rather ludicrous, indicating lazy scripting rather than noir fatalism). And don't get me started on the gimmick of Ray sending a clue to his wife, Ann (Julie Bishop), using the rejected name of his soon-to-be-born son, over the radio to alert Murph. I'm not against the gimmick itself; it's a good one. But it's silly attempt at phony suspense when Ann not only doesn't remember that Ray hated that name given in the clue (because O'Shea hammed it up something awful in that earlier sequence), but she remembers it the opposite way―an obvious cheat that the viewer (the married viewer, especially), doesn't buy for a second
It also doesn't help that top-billed O'Shea is such a limp noodle here. Granted, his part isn't much against the more showy Red, but O'Shea's contempt (or boredom) is palpable here, throwing off the movie's tension and suspense because we never believe there's any counterweight threat to Red's bullying terrorism (O'Shea's brothers may have all been cops in real life, but O'Shea doesn't look like he could write a traffic ticket, let alone square off convincingly against blockhouse McGraw). No wonder McGraw got the lion's share of the critical reaction when The Threat came out. It's not that McGraw wasn't deserving of that praise...but it's not exactly difficult to shine against the glum O'Shea here, either. Virginia Grey, so thin she almost looks ill, is quite good as the moll who didn't squeal on Red, and who tries to use her sexuality to get out of that cabin, before Red puts the squeeze on her head. But again, there's not much to her part outside of expected noir convention, and even though she's the deliverer of death to McGraw, you can't really classify her as the movie's femme fatale; she's only a sideline to the Red character.
As for McGraw, he's the movie's main attraction in one of his most powerful performances. McGraw may never have qualified as "leading man" material according to studio dictates at the time (too short, too ugly), but he has that inescapable "star" quality here because anytime he's on the screen, you can't look anywhere else. Watching McGraw seethe and roil here, you may be tempted to add him to the list of "Method firsts," since his silent emoting seems so raw and untempered by actorly tricks. Watching him quietly flipping out as he gnaws his knuckle, or seeing his eyes glaze over like a snake's as he goes from impassive to smashing a chair over someone's face (the film's best brutal moment, with an optical re-framing that looks like a modern zoom), McGraw may as well be in another movie altogether, considering how total his immersion into the character seems. It's one of the most memorable noir villains I've seen, and it goes a long way towards giving The Threat what cache it has.
The DVD:
The Video:
The full-frame, 1.33:1 black and white transfer for The Threat looks just okay, with a medium-sharp image, and variable, contrasty tone that looks overprinted. Scratches and dirt are apparent from time to time, sometimes quite apparent.
The Audio:
The Dolby Digital English mono audio track is decent, too, with hiss on the low side and not much warbling.
The Extras:
No extras.
Final Thoughts:
Perhaps a bit inflated as to its rep today, The Threat is still a crackerjack RKO noir, with Charles McGraw giving one of his best turns in a rare lead role. Speedy and persuasive, I'm recommending The Threat.
---
Paul Mavis is an internationally published film and television historian, a member of the Online Film Critics Society, and the author of The Espionage Filmography.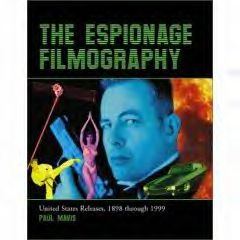 ---
C O N T E N T

---
V I D E O

---
A U D I O

---
E X T R A S

---
R E P L A Y

---
A D V I C E
Recommended
---
E - M A I L
this review to a friend
Sponsored Links
Sponsored Links