Tinker Tailor Soldier Spy (1979)
List Price: $49.99 [Buy now and save at Amazon]
---
No...apparently it's not the original U.K. cut. Just in time to soak up some of that cross-promotional gravy for the new big-screen adaptation of this story, Acorn Media has released Tinker Tailor Soldier Spy, the original 1979 U.K. miniseries adaptation of the John le Carré best-seller, starring Alec Guinness as owlish spymaster, George Smiley. This particular edition is a three-disc set, with two episodes per disc―which sounds like the edited, U.S. syndicated version that played over here on PBS' Great Performances. An interesting interview with le Carré is included as a bonus for this classic bit of U.K. programming.
British MI6 operative, Jim Prideaux (Ian Bannen), has a new assignment from "Control" (Alexander Knox), the head of the "Circus," the nickname for SIS (Secret Intelligence Service): go behind the Iron Curtain in Czechoslovakia and get the name of the Russian mole, code named "Gerald," who has infiltrated the Circus at its highest level. The suspects are Percy Alleline (Michael Aldridge), Director of Operations, Bill Haydon (Ian Richardson), Head of Personnel, Roy Bland (Terence Rigby), Head of Iron Curtain networks, Toby Esterhase (Bernard Hepton), the Circus' top "lamplighter" (surveillance), and George Smiley (Alec Guinness), Control's deputy. However, Prideaux's mission is blown from the start, and he gets two bullets in his back for his trouble. Control and Smiley are "retired" from their positions due to this embarrassing, public setback, and Alleline assumes control of the Circus. Smiley's retirement, however, is short-lived. Sir Oliver Lacon (Anthony Bate), the Cabinet overseer of the SIS, has dispatched Smiley's former protégé, Peter Guillam (Michael Jayston), to bring Smiley to Lacon's rural retreat, where rogue agent Ricki Tarr (Hywel Bennett) has an interesting story to tell: apparently, there's a Russian mole at the highest level of the Circus....
I haven't seen the original Tinker Tailor Soldier Spy since it first played on Great Performances, but I remember the experience well, along with the hype (well...PBS hype, which is rather a reserved hype compared to most others) and the critical reaction to the miniseries. To say the mainstream critics were ebullient in their praise is a bit of British understatement; the overall tone seemed to suggest the Second Coming, and while Tinker Tailor Soldier Spy is excellent...I wouldn't go so far as to say it's the greatest spy film ever made (that would be Bill Cosby's Leonard Part 6...just seeing if you're paying attention). Part of that has to do with my own natural resistance to American film and television critics (particularly back then) who would soil themselves over anything foreign and "serious" in content. Since most foreign TV product that made it to American televisions back then was limited to those shows produced in England, if it showed up on PBS, and everyone in it was dour and depressed and lethargic, well, then it automatically had to be "better" than the garbage Hollywood turned out, or so the conventional critical wisdom dictated at the time. What's amusing about that mindset is that often those same critics would use the then-silly Bond films of the 60s and 70s as counterpoint to something like Tinker Tailor Soldier Spy...as if Bond wasn't "foreign," too. Tinker Tailor Soldier Spy is dour and depressing and serious-minded (and excellent in some ways), but I don't find it inherently "better" than say, Moonraker (which premiered the same year)―just "different." I don't see one form as more inherently worthy than the other: well-executed Bond is just as valuable and entertaining as well-executed le Carré.
I also remember the (patronizing) warnings that viewers had to really pay attention to Tinker Tailor Soldier Spy if they wanted to follow it, as if American TV viewers were dolts who had to have their hands held through a sticky wicket of a plot (I still hear that scorn directed at American viewers whenever a quirky television show fails to catch fire in the ratings). Watching Tinker Tailor Soldier Spy today, however, what's remarkable about it is how uncomplicated it comes across. Perhaps le Carré's espionage universe―existential ambiguity and triple-crosses amid the unending battle between personal responsibility to one's own moral code, and responsibility to a state with little or no code―has been copied and imitated and bastardized in so many other subsequent productions that this miniseries doesn't quite have the impact it had back in '79. To be fair, though...other le Carré adaptations, particularly the brilliant The Spy Who Came In From the Cold, had already pulled back the curtains on that world by the time this adaptation rolled around. It's hard to say. Certainly Arthur Hopwell's script and John Irvin's direction go out of their way to present this labyrinth world in a as viewer-friendly fashion as possible. I watched Tinker Tailor Soldier Spy with someone who knew nothing about le Carré or the story specifically, and they sussed out the mole long before he was revealed. Obviously, Tinker Tailor Soldier Spy's success isn't predicated on how good of a "whodunit" it is, but rather on how the modern spy game is drawn for the viewer, and how the moral, political, and emotional sensibilities of its participants are corroded by how that game is played. Unfortunately, those very conventions of the genre that are so closely aligned with le Carré have lost some of their impact, at least here in this version of Tinker Tailor Soldier Spy...ironically because they were so resonant and successful in the first place.
That being said, Tinker Tailor Soldier Spy is carefully mounted and deliberately paced, giving it a solidity and weight that's fitting for its extended tale of duplicity and subterfuge. Director John Irvin, a technically accomplished director who could fill an energetic frame when he wanted to (he directed some marvelously kinetic Hollywood action films in the 80s, including The Dogs of War, Raw Deal, Hamburger Hill, and Next of Kin), keeps his frames dark and cluttered and obsessively tight, reflecting perfectly the crabbed, stilted, unglamorous nature of not only the modern bureaucratic spy game, but also its emotionally stunted, wounded participants. Irvin is equally adept at drawing out subtle performances from his actors here...although he's already half-way home in that department, considering the high-caliber talent he's assembled. Indeed, if Tinker Tailor Soldier Spy's "espionage-is-a-dirty-little-game" plotting and its general air of discontented, dying Empire isn't exactly fresh by this point in history, the performances fairly crackle with controlled intensity. Ian Bannen, Michael Jayston, and Hywel Bennett get to act out the more readily recognizable "secret agent" types, with Bennett sly and seductive, Jayston almost superciliously steely and grave, and Bannen all tortured passions and wronged loyalties. Anthony Bate, Bernard Hepton, Ian Richardson, Michael Aldridge, Terence Rigby and Alexander Knox embody the "suits" in Intelligence, and they're equally adept at making their characters distinct (watch the very first scene of the mini carefully, where the heads of the Circus come in for a morning meeting, and see how all of the performers have a certain bit of business that clearly defines their character, all filtered through a chilly, funny prism of English class-consciousness).
As for Guinness, he's inspired casting―brilliant, in fact, because I can't think of another actor more weirdly suited for this largely anonymous role. In Tinker Tailor Soldier Spy, George Smiley is first thought of as a potential suspect, then demoted as an incompetent, and then brought back as an unwelcome sleuth, all the while getting constantly reminded (and insulted) concerning the infidelity of his gorgeous wife, Anne (Siân Phillips in the final, quietly devastating scene), by all and sundry he encounters. He's basically a cipher to the viewer, but through infinitesimally small, incremental reveals from Guinness, we are gradually able to see a picture of a fiercely intelligent, bitterly wounded man almost completely withdrawn from the human race when it doesn't involve his mission. Guinness had to be the strangest A-list star to ever come down the pike, with an almost supernatural ability to suggest some very dark, squirrelly thoughts in that undistinguished face...and those terrifyingly complex eyes. His Smiley is a masterstroke of weary sublimation and suggestion, with a hint of cruel glee, too, at times, as he gets closer to his quarry, and the performance towers over Tinker Tailor Soldier Spy...even if the miniseries itself, while still valuable and entertaining, shrinks just a bit from elevated memory.
The DVD:
The Video:
The full-frame, 1.33:1 transfer for Tinker Tailor Soldier Spy is unimpressive, with a muddy, grainy, noisy, soft picture, and low image detail. Clearly not remastered.
The Audio:
The Dolby Digital English split mono audio track is serviceable, with a decent-enough level and mild fluctuation (owing to the source materials, I would assume). Close-captions are available.
The Extras:
There's an interview with author John le Carré (not dated), which runs 28 minutes, where he discusses his career and specifically, Tinker Tailor Soldier Spy and the spy business. It's fascinating. Text bonuses―a glossary of spy terms and the characters, filmographies, and a le Carré biography―are included.
Final Thoughts:
Still impressive for the performances...even if le Carré's duplicitous, morally ambiguous spy world is more than a little familiar today. Deliberate pacing and a sure handling of the performances by director John Irvin help give Tinker Tailor Soldier Spy a heft that's suitable for the miniseries format, allowing the audience plenty of time to sink into his atmosphere of morally bankrupt bureaucratic espionage. Guinness gives one of his most memorable (and disturbing) performances. Too bad we couldn't see the longer U.K. version of this iconic TV mini here. I'm highly recommending Tinker Tailor Soldier Spy.
---
Paul Mavis is an internationally published film and television historian, a member of the Online Film Critics Society, and the author of The Espionage Filmography.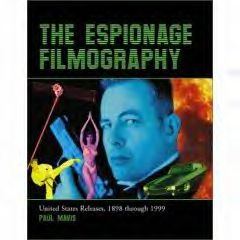 ---
C O N T E N T

---
V I D E O

---
A U D I O

---
E X T R A S

---
R E P L A Y

---
A D V I C E
Highly Recommended
---
E - M A I L
this review to a friend
Sponsored Links
Sponsored Links