Mister Ed: The Complete Fifth Season
---
A solid season of laughs for this beloved sitcom, with a handful of classic moments. Shout! Factory has released Mister Ed: The Complete Fifth Season, a four-disc, 26-episode collection that gathers together the sitcom's last full schedule of shows for the 1964-1965 season. Fans of this series (and there are millions out there, still) will no doubt order this on the spot. No extras this time around.
As I wrote in my extensive first through fourth season reviews of Mister Ed, a synopsis of Mister Ed's central story line seems absurd by this point―who hasn't at least heard about this show's premise? But here goes. Young Southern Californian architect Wilbur Post (Alan Young) has moved out of the city and into the hills overlooking the San Fernando Valley. Living in his beautifully appointed country house (at 17230 Valley Spring Drive) with his sweet, charming wife Carol (Connie Hines) by his side, Wilbur has converted the ramshackle barn out back into his drafting room and office. However, way back on moving day, both he and Carol discovered something in the barn that wasn't there when they first bought the house: an equally ramshackle palomino horse. Wilbur, remembering his childhood days growing up in a similar house―but without the pony he always wanted―was all for recapturing his youth and keeping the horse, something his wife Carol was against...and with good reason, as the years wore on and Mr. Ed (himself) took up more and more of Wilbur's time and attention.
Mr. Ed, convinced of Wilbur's kindness, shocked Wilbur into wild-eyed incredulity by talking to him. Wilbur wasn't hearing things―Mr. Ed the horse―could really talk. And to top off that miraculous feat, Mr. Ed was also a bit of a smart-ass and very probably more intelligent than the kind-but-fumbling Wilbur. Soon, new neighbors Gordon Kirkwood (Leon Ames), Wilbur's former Colonel in the Air Force, and his slightly daffy wife, Winnie (Florence MacMichael), get in on the act, too...the act of thinking there's something seriously wrong with Wilbur. And that context sets up the myriad number of gags and misunderstandings that will follow in Mister Ed, because Mr. Ed, out of a combination of stubbornness and laconic, needling perversity, will only speak to Wilbur―no one else.
SPOILERS WARNING
As I wrote in my previous Mister Ed reviews (you can access those here, for more in-depth context on the show's aesthetics), an inevitable "sameness" was bound to creep into Mister Ed as the charming novelty of the concept wore off and the seasons wore on. Now, just like any sitcom that runs at least five years, you're going to have good seasons (1, 2 and 4 here) and indifferent ones (Season 3)...but I've yet to see a bad one for Mister Ed, and Season Five falls right in the middle: solid laughs for each entry, with some classic moments for loyal repeat viewers. And considering the more probable burn-out factor for such a high-concept series, its continued success (and by that I mean: it's still funny, episode after episode) is a testament to the skills of script writers Lou Derman and Larry Rhine, and the talented cast. Having written about Mister Ed extensively in the previous four reviews, there's not much more to say about the internal structure of the series at this point, particularly since this season varies little from the previous fourth: Wilbur is still made to look like a fool by Ed; Ed still whines and cajoles and schemes to get his own childish way; largely-neglected Carol is still jealous of Mr. Ed; and neighbors Colonel Kirkwood and his wife Winnie are still trying to figure out just how much Wilbur is off his rocker. Those dynamics worked the previous four seasons, and they work again here. Major departures from this formula and framework won't happen again until the aborted sixth half-season, where the Colonel and Winnie disappear (a mistake, I think). I love the chemistry between gruff, grumbling Ames and daffy, funny MacMichael. Opposite in every way from the Posts' previous neighbors, the acerbic, sophisticated wickeds, the Addisons, the Colonel and Winnie are the epitome of the stereotypical suburban '60s TV sitcom neighbors (always "game" for anything, with a wisecracking, bemused outlook for all the outrageousness happening around them). They add a lot of laughs here, and they'll be missed in the series' final go-around.
Hi-Fi Horse is a fairly standard "battle of the sexes" episode, with the familiar mix-up over an anniversary gift in the background. I had high hopes for Ed the Pool Player, but then I remembered how the producers "fudged" the necessary special effects shots of how Ed could possibly shoot pool (there's just a lame insert of Ed holding a cue in his mouth), and I chalked it up to a miss. And neither Mr. Ed Writes Dear Abby nor Jon Provost Meets Mister Ed came anywhere close to the brilliant Mae West episode from Season Four. Ed's Tunnel to Freedom has the large-scale gag of Ed popping up in the Colonel's front room (the writers didn't think of exploiting some WWII tunnel movie clichés for gags?). Ed the Pilot, though, delivers big laughs when Ed commanders a surplus Air Force plane, while Animal Jury has a classic Ed statement, "I think a talking parrot is a freak!" (I love Aunt Martha's parrot, who's obsessed with TV doctor shows: "Awk! Ben Casey is wanted in surgery! Take the gall bladder out! Awk!").
What Kind Of Foal Am I? sees the promising arrival of flustered, ticked-off Barry Kelly as Carol's father, Mr. Hergesheimer, who burns slowly and beautifully against Alan Young's equally skilled slapstick mayhem (a classic moment also comes when Ed and Wilbur harmonize on Oh, My Papa). Ed's Juice Stand has a good slapstick bit with a loose bowling ball knocking out the Colonel, while the sight of Ed leering at his monthly pin-up Playhorse Calendar is a gem. Ed the Stowaway, the second part of a two-episode trip to Hawaii, as the iconic image of Ed on a surfboard...along with the disturbing image of Young in hula dancer drag, performing a very funny dance routine (and sexy, pneumatic Connie Hines in her striped one-piece is a sight to behold). Never Ride Horses has another terrific bit with Young and Kelly as Wilbur tries to retrieve some salad shoved up his father-in-law's sleeve, along with the classic line from the pamphlet written by Ed, the founder of The Society for Prevention of Horseback Riding: "Remember, horses have parents. Would you like somebody sitting on your mother? No."
You could read a lot into the one or two veiled references to "the jungle" in Ed the Sentry, when Ed wants to volunteer for military service overseas (could it be that even Mister Ed was aware of the growing Vietnam conflict???). For my money, Ed's Diction Teacher has one of the single funniest moments in the entire series when Wilbur goes to the carnival and plays a game of "pop the balloon" with some errant darts. The image of Young, flailing away, throwing darts with both hands in an increasingly frantic, futile effort to hit one lousy balloon, while causing all that damage to the prizes, is absolutely priceless (I replayed it five times). Forget all that silly backmasking controversy over the theme song; in Ed the Godfather listen very carefully to Ed's mumbling behind the window―the audio has been muffled and reversed...and it sounds like Ed says, "F*&% you" to Wilbur. Play it. You'll hear it (even better is Wilbur and Ed harmonizing often on My Mother's Eyes). Alan Young gets to do a funny bit of refrigerator "stacking" slapstick in Ed's Cold Tail, while visiting guest villain Marc Lawrence (a welcome familiar face to vintage TV lovers) as a bank robber, gets the best marriage joke of the season: "I don't like working with married guys―they don't care if they live or die."
My Horse, The Mailman has Young doing a funny drunk test for a weary cop, while Robin Hood Ed has the repeated inside joke of Wilbur and Carol mentioning real-life Hollywood producer Martin Ransohoff (he was the founder of Filmways, the producing company of Mister Ed and so many other TV classics). Ed The Artist has Ed seductively suggesting a model of his slip off her saddle for his painting, while My Horse, The Ranger, a funny episode with Wilbur taking some street kids out camping, has one of the single-most memorable, surreal images from the series: Ed's "little devil," complete with horns and black mustache, giving Ed bad advice ("I'm the fun-loving part of you!"). The producers top the gag with Wilbur getting his own over-the-shoulder devil.
For this final full-order season, CBS decided to give Mister Ed one last shot at prime-time glory by moving it from its Sunday 6:30pm slot (where it led off a night of popular but importantly, declining CBS ratings winners: Lassie, My Favorite Martian, The Ed Sullivan Show, newcomer loser My Living Doll, the last season of once-popular The Joey Bishop Show, Candid Camera and What's My Line), to Wednesdays at 7:30pm, in December, 1964. Replacing the moved CBS Reports (which was getting creamed in the ratings), Mister Ed now faced stiff competition from the double whammy of still-potent The Adventures of Ozzie and Harriet and The Patty Duke Show over on ABC, and the first half of Top Twenty-Five favorite, The Virginian, over on NBC. Now, one could argue that maybe, just maybe, Mister Ed had a small part in these big winners losing audience share this 1964-1965 season. But if that had truly been the case, CBS would have kept it right where it was...instead of moving it to the twilight zone of network programming in 1965: Sundays at 5:00pm. It didn't take long for Mister Ed to pull up lame in that no-man's land of sparse viewership and low, low ad rates.
The DVD:
The Video:
As with previous Shout! Mister Ed releases, Mister Ed: The Complete Fifth Season's full-screen, 1.37:1 black and white transfers look quite good for the most part, with creamy blacks, decent gray scales and little damage. A few episodes may look a little contrasty, or have some scratches, but overall, these look great.
The Audio:
The Dolby Digital English mono audio tracks are serviceable, with a decent-enough re-recording level, and little fluctuation. No subtitles or close-captions, though.
The Extras:
No extras this time.
Final Thoughts:
Solid laughs throughout most of the episodes here...and that's saying something for a high-concept fantasy/sitcom that should have burnt out long before this point. I'm highly recommending Mister Ed: The Complete Fifth Season.
---
Paul Mavis is an internationally published film and television historian, a member of the Online Film Critics Society, and the author of The Espionage Filmography.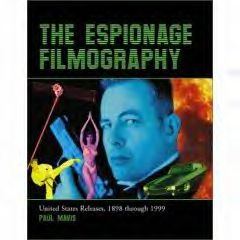 ---
C O N T E N T

---
V I D E O

---
A U D I O

---
E X T R A S

---
R E P L A Y

---
A D V I C E
Highly Recommended
---
E - M A I L
this review to a friend
Sponsored Links
Sponsored Links