List Price: $39.99 [Buy now and save at Amazon]
---
I know I'm supposed to kick this review off by saying something about how Cars 2 scored Pixar's first-ever "rotten" rating on Rotten Tomatoes. I guess I'm obligated to follow that up with a bunch of box office analysis...how Cars 2 is the studio's lowest grossing movie domestically since A Bug's Life all the way back in 1998, or, if you adjust for inflation, their worst box office tally
[click on the thumbnail to enlarge]

since the inception of the studio. C'mon, though, you and me...? We're better than that. A composite score of reviewers is just a number, and a box office tally doesn't say anything meaningful about whether or not a movie's worth seeing. I'm not one of those guys who's been camped out in a deck chair waiting to see the mighty Pixar stumble and fall, and I'm not going to start moaning about how Cars 2 is "the end of an era!!!!!!" or anything 'cause...well, it's not. John Lasseter had a blast making the original Cars, and he wanted to pull out those toys and play with 'em again. I don't think there's anything more to it than that. No matter how much venom you've seen spewed its way, Cars 2 really isn't a bad movie. Promise. 'Course, it's not a great movie either, but...well, I'll get into that part later.

So, the cynical explanation goes that since Cars sold something like eighteen hojillion dollars' worth of merchandising, this sequel is just Pixar's way of keeping the cash registers ringing. I'm sure that doesn't hurt, but if Cars 2 were some kind of coldly calculated marketing ploy, why take so many chances? This is a sequel that's definitely not interested in dishing out more of the same. Just about everyone your tykes came to know and love in Radiator Springs gets shoved to the sidelines. That sleepy little town off Route 66 only pops up for a few minutes, and...heck, even Lightning McQueen is barely in the movie. No, the star this time around is Mater -- y'know, that rusty, bucktoothed tow truck! -- as he's whisked around the world after being mistaken for a master spy. British Intelligence has stumbled upon a sinister plot from some shadowy oil bigwigs, putting a picture-perfect alternative fuel and...gasp!...Mater's bestest friend in the whole world in front of the badniks' crosshairs. Outfitted with rocket boosters, a hologram-generating computer rig, and all sorts of other James Bond-ish gizmos and gadgets, it's up to Mater to -- wait for it! wait for it! -- git'r'dun.

What really sets Cars 2 apart from everything else with Pixar's name stamped on it is that this isn't a family film. No, no...don't take that the wrong way; I'm just saying there's a difference between a movie that's made for families and a movie that's made for kids. I mean, boys like fast cars and things that go boom. Cars 2 has high-speed chases, a couple of breakneck motor races, a kung-fu fighting sportscar, and a tow truck with a couple of Gatling guns strapped onto him. If you're a seven year old boy, then Cars 2 probably seems like one of the best movies evar!!!!, and...okay, I'm in my thirties, and I'll freely admit that the spy-fueled action sequences here are all pretty spectacular. John Lasseter mentions in his audio commentary that he didn't want this to
"I vant to siphon your gas!"
[click on the thumbnail to enlarge]

just be some kind of goofy riff on James Bond -- that he wanted to make an actual spy movie -- and he nails it. The bursts of action are hyperkinetic, infectiously fun, and more than a little bit of an adrenaline rush. Cars 2 kind of reminds me of The Incredibles in that sense, only without all that family stuff and the interesting characters and the pitch-perfect sense of humor and...oh, wait. That's what I mean when I say that Cars 2 is a kids' movie. It's kind of a hollow spectacle, meant to make little boys shout "that's cool!" and giggle at the goofy stuff and pout when Mater feels sad, and the movie's content to not really aim any higher than that. I'm not saying that's a bad thing, but that does deprive Cars 2 of the wit and emotional spark I see in everything else with Pixar's logo on the front.

Yeah, yeah, I'm right there with you about Larry the Cable Guy, but I liked Mater quite a bit in the original Cars. He's a great supporting character, but shouldering an entire 100 minute movie himself...there's just not a lot of there there. It's not that Mater ever gets annoying, but he's just not that compelling a lead. The characterization this time around is even thinner than the original Cars. The first movie had guys like Luigi and Doc Hudson that popped off the screen, but most of the characters that return from Cars barely register, and the new models are cardboard cutouts just about straight across the board. The one exception is Michael Caine who's clearly having an unbelievably great time as Finn McMissile, a sleek, seasoned spy from across the pond. Pretty much everyone else is a plot device, one step up from a catch phrase, or a standard issue archetype. Because so few of the characters -- up to and including Mater -- grab me, it's kind of tough to feel invested in anything that happens to 'em. This is also Pixar's most laughless movie yet, again aiming its sense of humor pretty squarely at the Disney XD demographic. It's weird because there are a lot of things that seem like they're meant to play more for adults than the junior set -- Cars 2 has a body count, for crying out loud, and I'd imagine a lot of the stuff about the plot and various setpieces will soar clear over most kids' heads -- but just about all of that didn't really do much for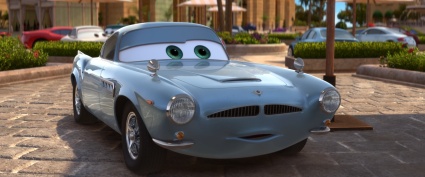 [click on the thumbnail to enlarge]

me either. I get it and all...just doesn't resonate.

There are definitely plenty of things to love about Cars 2, though. C'mon, the voice cast includes John Turturro, Bruce Campbell, Franco Nero, and Michael Caine...tell me that's not some kind of movie geek fantasy come true! The high-octane action sequences are pretty incredible straight across the board. As random a thing as this might be to praise, the construction of the story is just about perfect, at least until the very, very end. It's not as if John Lasseter and some of the other folks at Pixar dreamed up a few standout setpieces and then slopped together some skeleton of a plot to stitch 'em together. A lot of thought and care clearly went into making sure the story worked, although I'll admit that the way some of it's wrapped up is kind of unsatisfying. This also might be Pixar's single greatest looking movie ever too. What looks like hundreds of thousands of individually rendered blades of grass blowing in the wind, some sweepingly panoramic shots of car-ified cities that often look photorealistic, the spectacular water effects in the spy sequence that opens the movie...Cars 2 as a movie may be lightweight and completely disposable entertainment, but...oooooh, it sure is pretty.

So, yeah: the worst crime Cars 2 commits is that it's merely okay. I wasn't groaning at the gags that didn't work. I didn't started squirming on my couch out of boredom. Didn't love it. Didn't hate it. Didn't really get much of a reaction out of me one way or the other, but then again, I haven't been part of its target demographic in a couple decades and change. Cars 2 is a trifle, but it's also not trying to be much of anything else. If you're a Pixar completist, you're going to buy Cars 2 no matter what I say, and if you're a parent...well, your kids are gonna make you buy it no matter what you say, so it's kind of review-proof. If I had to pick a rating anyway, though, I think I'd hafta say Rent It.



---
C'mon, it's Pixar; of course Cars 2 is a knockout on Blu-ray. Every last frame of the movie is dazzlingly crisp and clean, and the glossy finishes and exotic locales sure do make for some eyepopping colors. There aren't any hiccups in the compression, and the direct digital-to-digital transfer obviously sidesteps any of the imperfections that sometimes creep in when there's film in the middle. No matter what you think about the movie itself, this high-def release of Cars 2 brilliantly showcases Pixar's world-class artistry and unparalleled technical prowess, making for a presentation that's absolutely flawless.

Cars 2 gobbles up just about every spare byte on this dual-layer Blu-ray disc. The movie's letterboxed to its theatrical aspect ratio of 2.39:1 and has been encoded with AVC. The two-disc set reviewed here also includes an anamorphic widescreen DVD of Cars 2.



---
Serving up two different lossless soundtracks, Cars 2 sounds just about as great as it looks too. There's a DTS-HD Master Audio 5.1 ES track along with another Master Audio mix with eight discrete channels of sound. The voice acting is reproduced with crystal clarity and is balanced every bit as perfectly in the mix as you'd hope to hear. The surround channels are kept constantly chattering throughout, fleshing out a convincing sense of atmosphere, and...well, don't forget that Cars 2 is an action flick at heart too. Bullets whiz around from every direction, cars careen around from one end of the soundscape to another in all those dizzyingly high-speed car chases and races...this definitely isn't one of those movies where the rears feel like kind of an afterthought. Between the revving engines and the heavy emphasis on action, the low-end in Cars 2 is deep and throaty too. No gripes or complaints or misgivings or...well, anything, really. Yet another in a long, long line of spectacular aural presentations on Blu-ray courtesy of Pixar.

Cars 2 piles on two more English soundtracks too: a Descriptive Video Service track as well as plain-jane Dolby Digital 2.0 audio. Served up in Spanish are a DTS-HD High-Res 7.1 track, a traditional Dolby Digital 5.1 track, and a Mexican-based dub in Dolby Digital 5.1 EX. Nothing in French...guess the crowd in Quebec scored a release of their very own.



---
The version of Cars 2 reviewed here is one of the least special special editions that Pixar has ever churned out. The five-disc 3D combo pack has another full disc of bells and whistles, but that wasn't what
[click on the thumbnail to enlarge]

I was sent to review, so I can't really say much about that.
Shorts (11 min.;

HD

): Cars 2 dishes out a pair of animated shorts. First to bat is "Hawaiian Vacation" with -- hey! -- the cast of Toy Story 3. Bonnie's on her way to sunny Hawaii, and her toys back home prep for a week of rest and relaxation themselves. It turns out that Barbie and Ken really, really wanted to make that flight for their own romantic getaway, though. Those two lovebirds can't get to Hawaii, no, but...well, maybe Bonnie's toys can bring Hawaii to them...

Also included is "Air Mater", a Mater's Tall Tales-flavored short about Mater taking a flight school up on their guarantee that they can teach anyone how to fly. A wink at the end makes it that much clearer that the whole thing is a shameless plug for the direct-to-video spinoff Planes in 2013.


Audio Commentary: The only other extra on here is a commentary track with John Lasseter and co-director Brad Lewis, who were recorded separately and spliced together. Lasseter does most of the heavy lifting here, describing in detail how this sequel came about while producing and promoting the original Cars, how he wanted to make a real spy movie here and not just a spoof, and even some technical stuff like which shot in the film had the longest per-frame render time. A big part of the appeal of this commentary is Lasseter pointing out the inspirations behind many of the more memorable visuals and how the beats in the story gradually took shape: everything from Porto Corso being a composite of three different exotic European locales all the way to what's going on with the Queen of England's luggage rack crown. There's a very steady stream of discussion too, steering clear of any gaps or dead air. Even though I'm not a charter member of the local chapter of the Cars 2 Fan Club or anything, I still really enjoyed this track and would say it's very much worth taking the time to give a listen.

This two-disc set comes packaged in a shiny, embossed cardboard slipcover. There's also a barrage of sneak peeks at other Disney/Pixar titles, including a high-def teaser of next summer's Brave.



---
Cars 2 is kind of like one of those marshmellow Peeps that start showing up in stores around Easter time: it's fluffy and sugary and thin and insubstantial and...well, yeah, it's supposed to be. A bunch of critics and reviewers out there have been kind of brutal towards Cars 2, but I don't think the movie aims high and misses; John Lasseter is just kicking back and having fun making a high-octane spy flick for kids. I'll be the first to admit that Cars 2 is the slightest and my least favorite of Pixar's films to date, but I think it's also pretty much the movie it sets out to be. It's for little boys who are into fast cars and big explosions. If that's you, then...wow, you made it this far in the review? I'm sorry. It's a safe bet that kids will want to watch Cars 2 over and over and over, but I really don't think there's a lot of replay value here for anyone whose age is in the double-digits. I just mean this isn't a movie I see myself going back and rewatching again anytime soon. Add in the lack of extras on the two-disc set I'm reviewing here, and...well, my vote would be to Rent It.
Sponsored Links
Sponsored Links