List Price: $19.98 [Buy now and save at Amazon]
---
"Duty means a lot of things...usually means looking things square in the face and forgettin' the rules and regulations."
Tough, layered, underrated Western...marred only by a too-abrupt wrap-up...or is it a compromised print used for the transfer? M-G-M's own M.O.D. (manufactured on demand) service, the Limited Edition Collection, has released Trooper Hook, the 1957 U.A. release starring Joel McCrea, Barbara Stanwyck, Earl Holliman, and Edward Andrews. Directed and co-written by Gunsmoke's Charles Marquis Warren (from a story by Shane's Jack Schaeffer), Trooper Hook achieves moments worthy of the best of Ford, with a central performance by McCrea that's one of his finest. But some abrupt, obvious cuts, and a run time that differs from other sources, adds some suspicion to this fair, no-extras transfer.
The Western territories, after the War Between the States. Calvary officer Sergeant Clovis Hook (Joel McCrea), having captured Apache Chief Nanchez (Rudolfo Acosta) after the brutal killer massacred a contingent of U.S. troopers, finds among his captives Cora Sutliff (Barbara Stanwyck), a White woman captured by Nanchez during an Indian attack on a stagecoach nine years ago. While Hook's men are at first sympathetic to Cora, their opinion of her curdles when they see she's borne a child, Quito (Terry Lawrence), by Nanchez...and that she has no intention of giving him up. Hook is sympathetic to Cora's plight, but he knows the prejudice she'll face back at the fort, coming even from his commanding officer, Colonel Adam Weaver (Patrick O'Moore). Weaver's intention is to send Nanchez back to the reservation, along with his son, and send Cora back to her husband, Fred Sutliff (John Dehner). Cora and Hook convince Weaver the boy needs to stay with his mother―helped by the fact that the chained Nanchez refuses to go―so Weaver orders Hook to escort Cora and the boy back home to Arizona, via stagecoach mastered by wildman Rebel, Mr. Trude (Royal Dano). But Nanchez isn't going to let the boy go that easily....
MAJOR PLOT SPOILERS WARNING!
In all the reference books and histories and articles I've read on the Western, I've never come across Trooper Hook listed, let alone discussed, in conjunction with the best examples of the genre, and that's a shame because it's such an assured, thematically rich effort. Not at all unlike Ford's Stagecoach and The Searchers, where psychological (and importantly, sociological) concerns drive the action of the story, Trooper Hook deals with several intriguing themes―how society views a rape victim, how those views are affected by race, how differing races and their cultures clash, what people are willing to do to survive, the continuing evolution of the "American Western hero"―and showcases them in an exciting narrative that despite its budget, has an epic, poetic sweep to it.
I also don't see Trooper Hook on any Top Twenty or even Top Thirty box-office hits list for 1957, so I'm assuming it got lost in the stampede of bigger budgeted, "newer starred" efforts. After all, by 1957, audiences could get all the low-budget Western thrills they wanted for free on TV, with intelligently-scripted shows like director Warren's Gunsmoke comparing favorably with Hollywood's still-new "adult" oaters on the big screen. As for Trooper Hook's fabled stars, there's no denying that by 1957, both McCrea and Stanwyck were a good ten to fifteen years past their once-mighty box office peaks. Older fans remained loyal, for sure, but I doubt the billing of Stanwyck and McCrea on a movie poster created much demand outside of that dwindling contingent. Critically, Trooper Hook received mixed reviews (I wonder if Tex Ritter singing the reoccurring "storybook" title song made critics draw unfavorable comparisons to High Noon right off the bat), a result, perhaps, from the fact that many critics back then automatically viewed lower-budgeted efforts (with downwardly mobile stars) with a different set of criteria.
Viewed today, Trooper Hook plays as a tough, case-hardened Western (when dealing with the cultural fight between Indian and White), strengthened by a surprisingly gentle, compassionate take when exploring rape victim Stanwyck's predicament. As I've written countless times in my reviews for older Westerns, both on the small and big screen, Hollywood's treatment of Native Americans has been anything but "black and white" (as some P.C. historians would have you believe), and Trooper Hook is a good case-in-point. Here, trooper and brave are portrayed as deadly combatants, with their differences put down more to cultural concerns rather than considerations of some overriding "right or wrong" code. The key line in the script, written by director Warren, David Victor (The Man From U.N.C.L.E., Marcus Welby, M.D.), Martin Berkeley (Tarantula, TV's Tales of Wells Fargo), and Herbert Little, Jr. (The Rifleman, Rawhide) is the one referenced at the top of the review: seeing things "square in the face" and being adaptable enough to sidestep society's rigid (or plain wrong) rules for dealing with those situations. While Hook has no sympathy for Nanchez, calling him without reservation a "vicious killer," he's honest enough with the situation to see the whole score: "He fights his way, I fight mine. We're just a couple of dogs haggling over the same bone...only it happens to be his bone." That recognition of Nanchez's reasons for fighting doesn't excuse his behavior in Hook's eyes, it's just a cold, hard acknowledgement of the facts as they stand (Hook also "gets" that Nanchez isn't going back to the reservation because it's a "pest hole").
Later, when Nanchez is ready to strike when Hook's stagecoach breaks down in the desert, Hook knows exactly what he has to do to stop the impending attack: he tells good-natured hotshot Jeff Bennett (Earl Holliman), a young man who has struck paternal feelings in Hook, to shoot little Quito, Cora's little boy whom Hook has basically taken under his wing as a surrogate son. This desperate gambit from the cold-as-ice Hook doesn't enrage the equally deadly Nanchez; it inspires his admiration: "My people have long called you 'Face of Stone.' They were wrong. Your name should be 'Heart of Stone,'" to which Hook honestly replies, "I do what must be done." This response makes Nanchez smile, "You are more Indian than you know," to which Hook flatly replies, "I taught myself to think like my enemy." Nanchez's statement may be true...but it doesn't flatter Hook; doing what must be done is the only way to survive against the Apache. Yet again at this point, though, Trooper Hook doesn't take the clichéd route. Cold, ruthless killer (and rapist) Nanchez isn't left strictly one-dimensional; Hook sees that Nanchez is "more White than he knows," according to Hook, because he loves his son enough to back down from Hook's threat.
Trooper Hook's treatment of Cora's ordeal as Nanchez' "wife" is equally clear-eyed and unsentimental...if problematic once or twice. Cora isn't spared the looks from the fort's wondering, disapproving women, but even the ones who are at least sympathetic to her plight, such as Colonel Weaver's daughter, Ann (Jeanne Bates), are shut down by others who follow society's narrow viewpoint; Weaver recites the commonly-held belief that his daughter, like any self-respecting White woman, would have killed herself before letting Nanchez rape her...to which she replies thoughtfully, "I wonder...." Later, Cora confronts Hook on society's double-standard when it comes to a White woman raped by an Indian when she accuses him of "wondering" himself about what exactly happened. Plainly and simply, she states she got "used" to living as his wife because she wanted to survive. Nothing more. End of story. It's troubling when the script has her state she was beaten once by Nanchez, an act that "maybe was right" because she wouldn't work, or when the script has Cora say Whites hate the Indian for doing (i.e. raping) what they might do (a generalization unfair to both parties). However, the movie is consistent throughout its run time that what she endured was wrong, and that in no way should she either be blamed for it (she slept with him to survive), nor should she be ashamed of the result of that forced union: little Quito (she won't even settle for her husband's qualified "forgiveness," unleashing her fury on his condescension). To drive the point home, understanding Hook recounts his stay in the notorious Andersonville prison, where he humiliatingly imitated a dog―even to the point of getting on all fours and barking―to get a share of rations from a delusional, dying prisoner (creating quite a troubling mental image for viewers, imagining the strong, upstanding McCrea degrading himself in such a manner). As he simply states to the equally understanding Cora, "I lived."
Far from being just a low-budget, intellectual chamber-piece Western, though, Trooper Hook is quite exciting, too, showcasing clean, efficient direction from TV-trained Warren, with a Fordian sense of scale and scope to the action sequences thanks to cinematographer Ellsworth Fredericks, of Invasion of the Body Snatchers, Friendly Persuasion, and Wild River fame (watch for the great shot of the stagecoach tearing through the desert, the camera panning with it until it catches the back of Nanchez, standing in front of the camera on a bluff, watching, his broken chains hanging at his sides). Gerald Fried's incidental music is equally epic in its martial enthusiasm, while the performances by the two leads are as you would expect: expert. As the victim of rape and the resulting unfair social stigma, Stanwyck never goes for cheap theatrics, keeping her anguish low-key (and her belief in her own dignity front-and-center), while McCrea creates a memorably strong, understanding Western hero (I can't think of a more underrated A-list actor than McCrea from that time period). Only at the end of Trooper Hook does the movie falter, resulting in a too-quick Indian attack and resolution that somehow leaves the viewer feeling cheated after investing so heavily in these believably dimensional characters. Was this the way the film really ended...or has it been truncated (see below)?
The DVD:
The Video:
Several times throughout the print used here for this full-screen, 1.33:1 transfer of Trooper Hook, there are abrupt edits where music stops, or a line of dialogue awkwardly drops or begins. There's even a moment were a scene fades out to another that looks completely "TV" rather than "big screen." The back of the DVD case puts the run time at 83 minutes, but other sources give longer run times (the U.K. version ran 92 minutes), so something is missing out of Trooper Hook―it's just a matter of "what," and "how much" (as well, what's that weird opening title sequence, where a hand opens a big book that starts with, "A Chronicle of the West," before the credits proper roll? It looks suspiciously like a TV anthology opening, for some reason: could this print have been some edited TV version of Trooper Hook used for another Western showcase? You Western experts out there email me and let me know). Otherwise, Trooper Hook looks just okay here, with a sometimes contrasty, medium sharp image, and noticeable print damage from time to time. I matted off the image to 1.78, which is probably closer than it was projected at with an open matte (maybe 1.66:1?), and it looked too tight, so you may have to stick with the full-screen ratio. Still...who knows how many extant prints of this film there are out there? This transfer may be your only chance to see this title, so you go with it.
The Audio:
The Dolby Digital English mono audio track is just okay, with sometimes scratchy sound, and a fluctuating level. No subtitles or close-captions are available.
The Extras:
No extras for Trooper Hook.
Final Thoughts:
A new favorite '50s Western. Trooper Hook takes a hard, cold look at the culture clash between Whites and Indians, while drawing a sympathetic portrayal of rape victim Barbara Stanwyck's nine-year ordeal as the "wife" of an Apache chief. Joel McCrea gives one of his finest late-career portrayals, and Gunsmoke director Charles Marquis Warren delivers a thinking man's Western in a cleanly-designed, exciting package. If only the print used for this transfer wasn't so problematic.... Still, I'm highly, highly recommending Trooper Hook―one of the best Westerns of the 1950s you've never seen.
---
Paul Mavis is an internationally published film and television historian, a member of the Online Film Critics Society, and the author of The Espionage Filmography.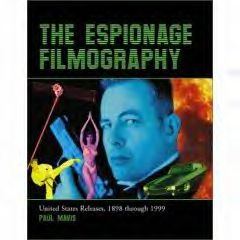 ---
C O N T E N T

---
V I D E O

---
A U D I O

---
E X T R A S

---
R E P L A Y

---
A D V I C E
Highly Recommended
---
E - M A I L
this review to a friend
Sponsored Links
Sponsored Links