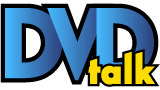 Princess Jellyfish: The Complete Series
List Price: $69.98 [Buy now and save at Amazon]
---
Don't read this review of Princess Jellyfish. I mean it! Watch a couple of

(completely legal and legitimate!)

episodes on YouTube, then run out and buy this DVD/Blu-ray combo pack. It's not a series that leans really heavily on shocking twists or anything, but I think there's a sense of discovery here that's really rewarding, and the less you know going in, the better a time you'll ultimately have. All you really need to know about Princess Jellyfish is that it's very, very good.



So, with that out of the way...!



Lots of little girls think that being a grown-up means frilly dresses and tiaras and way, way too much makeup. They dream of being a princess, and for some of them, at least, that's exactly how things
[click on the thumbnail to enlarge]

pan out, growing up to be Stylish with a capital 'S'. As for the women who've piled into an aging apartment building called Amamizukan...well, if they ever had daydreams of lace and rainbows, they kinda fell by the wayside a long time ago. They're otaku and don't care all that much what you think about that. This Sisterhood doesn't get distracted by stuff like jobs or boyfriends; they have each other, and they have their geeky, all-consuming obsessions: trains, vintage kimonos, Three Kingdoms lore, overpriced snacks, middle-aged actors...take your pick. Everything else just gets in the way. Eighteen-year-old Tsukimi is the latest to sign onto their nunnery of nerd-dom, moving to Tokyo to follow her dream of being an illustrator. It's just the only things she draws -- or talks about or thinks about, even -- are jellyfish. Tsukimi is a walking encyclopedia of all things Cnidaria, and she makes regular visits to the pet shop down the street to see what her pal Clara -- a spotted jellyfish! -- is up to. Only...audible gasp! Clara is now stuck sharing the tank with a moon jellyfish, and that's a death sentence for a spotted jelly. Tsukimi pleads and pleads for the Stylish cashier to move Clara to a different tank, but he's not having it. Looks like the cool kids win again. Bye bye, Clara.



Wait, that'd be a pretty bleak way to kick off an anime series. No, out from the shadows marches Kuranosuke. Statuesque, willowy, impossibly gorgeous...Tsukimi and that prickly cashier are both completely dumbfounded at the sight of her. Kuranosuke charms the guy into giving Tsukimi a new pet jellyfish, and in return, she gets a place to crash for the night. Everybody wins! Kind of. Not really. See, Amamizukan is sort of a "no boys allowed" sort of thing, and Kuranosuke has something that she...I mean, he...forgot to fill Tsukimi in on last night. Catch him at the right time of day, and Kuranosuke is a
[click on the thumbnail to enlarge]

good-lookin', unmistakeably male college student who came up in a family with heavy political connections and an eleven-figure bank balance. When he feels like letting his hair down -- or putting his wig on, I mean -- Kuranosuke puts on a dress and waves his freak flag high. For some reason, heshe feels right at home at Amamizukan too, even though she's tall, busty, stylish, rich, and a girly-girl, while all the otaku women around him shun makeup and dress like tomboys. Oh, but soon they'll have something to bring them together, and I don't mean the gold card that Kuranosuke has that lets him bribe his newfound friends with super-expensive cuts of beef. Amamizukan is under attack! A bunch of greedy real estate developer types want to level the building to help make room for a ritzy high-rise hotel, and they'll do whatever it takes to score a win -- even it means that cleavage-y shark of an executive sinking her teeth into Kuranosuke's clean-cut, kinda inexperienced, crush-worthy politician brother.



All I knew about Princess Jellyfish before plopping the first disc into my Blu-ray player is that everyone, everywhere says it's really, really good, and...well, they're right. This series is pretty incredible. Princess Jellyfish is a rare example of a josei anime to find its way over to these shores. Characterization is given the absolute highest priority, towering above all else. The central characters in Princess Jellyfish aren't archetypes grabbed straight off the shelf; they're people. Exaggerated, yeah, but people just the same. I love that it treats its otaku characters with such an even hand. They're friends, each with their own geeky
[click on the thumbnail to enlarge]

fixations. They're not portrayed as ugly. They're not self-loathing sadsacks. They don't define themselves through their relationships -- or, uh, lack thereof -- with the opposite sex. They don't pose around for a bunch of cheesecake shots, and they don't all have the same interchangeably perfect figure either. They're not gallant, unappreciated heroines. The members of the Sisterhood have a lot of depth and dimensionality to them, each with their own charms and each with their own distinct flaws. They're completely happy with who and what they are, and Princess Jellyfish skillfully portrays what it's like to be a geek as well as that close camaraderie of having an equally geeky circle of friends. This is a series where a crossdressing college-age kid is a central character, and yet whenever Kuranosuke would pop up on the screen, I didn't see a drag queen. I just saw Kuranosuke. It's really difficult to create a series that's a slice-of-life story yet also be so heightened and exaggerated without one stomping all over the other. I found myself more comfortably and immediately immersed in Princess Jellyfish than I have for just about any other show I've come cross, anime or otherwise.



There's definitely an element of romance, but one character winding up with someone else is never the end game in Princess Jellyfish. Transformation is a strong element of its story without telling its characters they need to be something they're not. When the Sisterhood doll themselves up, their makeup is warpaint, and their dresses are suits of armor; it's not about conformity but dressing for battle. I'm pretty sure I've never watched an anime series about this many characters in their thirties. It seems as if 80% of the animation out there has "be proud of who you are!" as a quadruple-underlined message, but Princess Jellyfish feels far more sincere about that than your average Disney movie or afterschool special. Its characters are endearingly strange, not the offputting, untouchable dweebs that you'd normally expect to suffer through on TV. It's feminist without being preachy. Its characters are...well, characters: well-realized, distinctive, unique, and very relatable. Princess Jellyfish is fueled by an unrelentingly spastic energy and has a brilliant sense of humor. The series has something to say -- identity, social anxiety, dealing with loss, sexual double-standards -- and yet it manages to score a lot of laughs along the way. The character designs are unilaterally pretty incredible. It's cute without being cloying. I just...I love Princess Jellyfish. Love it, love it, love it, love it, love it. I haven't come across another series that's even a little bit close to this, and I'm not just limiting myself to anime here. Something this smart, well-crafted, and unique really is cause for celebration. ...but hey! You don't have to take my word for it. FUNimation has the entire eleven episode season up for free on YouTube, so you can sample as much as you want. I can already tell you that you'll want to have this boxed set on that shelf in your living room, though. Very, very Highly Recommended.






Video



---

Princess Jellyfish aims for a softer visual aesthetic. Its flashbacks and fantasies are usually cast in a warm, diffused glow. Its colors draw deeply from gentle pastels. The linework in general isn't as startlingly crisp as what you're probably used to seeing with anime in 1080p. The series looks wonderful on Blu-ray, but it's not what I'd call the usual sort of high definition eye candy. The differences between these Blu-ray discs and the DVDs elsewhere in this combo pack aren't night and day, exactly, but it's still a marked improvement. Pop open these DVD-to-Blu-ray comparison shots if you want to see what I mean:





A fair number of the colors in Princess Jellyfish don't translate to NTSC all that well, and some of them do wind up lost in translation on DVD, particularly the solid pink backdrop in the opening titles. The DVDs also struggle with heavy aliasing and hiccups in the compression, and none of that ever gets in the way on Blu-ray. The clarity of the linework and the texture to the backgrounds are also noticeably improved in high definition. The larger your display, the better you'll appreciate what these Blu-ray discs have to offer beyond DVD, and...well, no matter which format you choose, Princess Jellyfish looks pretty great.



Both of the DVDs in this combo pack are dual-layer discs. The high definition end of things span one BD-50 disc and one BD-25. Princess Jellyfish has been encoded with AVC on Blu-ray, and you're looking at an aspect ratio of 1.78:1.






Audio



---

Princess Jellyfish serves up two lossless soundtracks for each episode, each presented in 16-bit Dolby TrueHD. The original Japanese audio is served up in stereo, while the English dub has been remixed to 5.1. I
[click on the thumbnail to enlarge]

have nothing but the very nicest things to say about the Japanese track. Every last element in the mix is spectacularly clean and clear. I can't put into words how much I love the music featured throughout Princess Jellyfish, and it's reproduced with such distinctness and clarity that it sounds as if the instruments are being played live just a few feet away.



The score sounds even better in the English remix too, with the instrumentation spread out to fill the surrounds and seizing hold of the subwoofer while it's at it. The technical end of things on the English track is also flawless, and I'm particularly impressed by how much of a low-frequency assault Princess Jellyfish manages to deliver. I watched the entire series with the Japanese stereo track first, and I went into the six-channel remix expecting something sort of subdued, and instead the LFE was frequently snarling. The rear channels are predominantly used for reinforcing the music but dish out some nice effects at times, such as reverb, fake-gunfire, and skittering footsteps. The voice acting, as expected, continues to come through perfectly as well.



I'm really not the right guy to rate an English dub, no matter how well done it is; Japanese always just sounds right to me as far as anime goes, and sampling the dub after watching the series in its original language for four and a half hours straight probably skewed my reaction even further. The English voice work is cute and charming, though, striking that right balance where it's a bit exaggerated without veering deliriously far over-the-top. The sunny chirp to Clara's cutaways is a personal favorite. I also appreciate how the writing is faithful while still finding its own voice at times, especially when it comes to Tsukimi's dialogue. The voice acting for Kuranosuke in English sounds a bit too affected, and although that kind of makes sense for the character, now that I think about it, that also gives away the surprise a few minutes early. The English dub has a lot of personality to it, which is essential for a series like this, but I still find myself gravitating heavily towards the Japanese track. As ever, it's great to have the option to choose whatever you want, so feel free to ignore me.



The 'Audio' and 'Subtitle' options are disabled as Princess Jellyfish plays, so you'll want to check your settings before clicking on the 'Play All' button. These discs default to English, and English subtitles are automatically enabled if you choose the Japanese audio instead.






Extras



---


Audio Commentaries: The episodes that bookend the series -- "Sex and the Sisterhood" and "Jellyfish of Dreams" -- are accompanied by commentary tracks with the folks behind Princess Jellyfish's

[click on the thumbnail to enlarge]

English dub. The premiere features voice director Christopher Bevins as well as voice actors Maxey Whitehead and Josh Grelle. They delve into what makes Princess Jellyfish so unique in the world of anime, how it's a series that was originally created to lure in viewers who ordinarily wouldn't be anime fans, some pretty significant challenges that popped up while casting and recording the dub's voices, and...hey! A shoutout to the National Jellyfish Association. Bevins returns for "Jellyfish of Dreams", this time joined by the rest of the Sisterhood: Cynthia Cranz, Monica Rial, Leah Clark, and Mariela Ortiz. This commentary is also really upbeat and overflowing with personality, although having so many people in the recording booth at once can get a little chaotic and unfocused. The five of 'em point out some of the flourishes in the performances, how densely packed the humor is throughout Princess Jellyfish, and fashion! I wouldn't say that either track is an essential listen, exactly, but they're both a lot of fun, and their passion and enthusiasm for the series is absolutely infectious.




Princess Jellyfish Heroes (23 min.;

HD

): These four shorts pal around even more with Princess Jellyfish's supporting cast: Mayaya, Banba, Jiji, Chieko, Shu-Shu, and Mr. Hanamori. All of those characters are fleshed out even more in these stories that swirl around their obsessions. Think of it as an Advanced Otaku Studies course. The shorts are propelled by all-new animation with the same style and same quality as the rest of the series too, so you're basically getting a twelfth episode for free.




Go, Sisterhood Explorers! (3 min.;

HD

): The Sisterhood -- animated here in a stripped-down, storybook style -- plow their way through a punishing jungle. Locusts! Birdhouses! Headhunters! Monkeys! Trains! Mud! Jellyfish! An oversized pachinko ball! It's kind of enthrallingly surreal and, the same as "Princess Jellyfish Heroes", plays off of the girls' obsessions really well.




Tsukimi and Jiji's Jellyfish Tour (22 min.;

SD

): Voice actresses Kana Hanazawa and Mamiko Noto score a guided tour through the Jellyfish Fantasy Hall at the Enoshima Aquarium, getting up close and kinda personal with many of the jellyfish featured throughout the series. Hanazawa and Noto are ridiculously excited to be there and are off-the-charts adorable, so...yeah! You'll laugh. You'll learn. You'll love. The results of the Jellyfish Drawing Corner are kind of my favorite things ever too.




The Princess Jellyfish Field Guide (

HD

): In case you happen to bump into any real jellyfish, fake jellies, Stylish, or members of The Sisterhood in the wild, this field guide offers up plenty of pictures and descriptive text to let you know what you're up against.




Textless Songs (3 min.;

HD

): You can give the opening and closing title sequences of Princess Jellyfish a whirl with nothing but music and imagery: no text

[click on the thumbnail to enlarge]

plastered overhead.




Promotional Stuff (2 min.;

HD

): Rounding out the extras are two short Japanese promotional videos along with a domestic trailer. Disc two also dishes out a bunch of previews for other FUNi Blu-ray releases.




The packaging and design straight across the board are pretty much perfect. Princess Jellyfish comes packaged in a thick, sturdy cardboard slipcase, and I really love that watercolor look to its artwork. There are two standard-size Blu-ray cases tucked inside, each containing a pair of discs. The DVDs are in one case while the Blu-ray discs are in the other. The lists of technical specs and extras are on an insert that can be pulled off to reveal more artwork.






The Final Word



---

Princess Jellyfish latches onto a group of unrepentently geeky women in Tokyo and slathers on a gleefully surreal streak. The end result is a series that's really sweet, extremely funny, teeming with personality, and is rightly more fascinated with its small army of really strong characters than it is in overly familiar anime tropes. It's one of the only anime series I've come across that passes the Bechdel Test, revolving around strong female characters who aren't tossed in there to fall in love, aren't ever exploited for shameless cheesecake, and aren't told that they have to act a certain way or look like a cover girl to be women. Princess Jellyfish manages to be both cute and feminist, two great tastes that seem like they'd be pretty tough to get to taste great together, and that head-on collision somehow works beautifully here. I fell pretty hard for Princess Jellyfish from its very first episode, and it's without a doubt one of the most distinctive and unique anime series I've ever come across. Very, very Highly Recommended.






---
C O N T E N T

---
V I D E O

---
A U D I O

---
E X T R A S

---
R E P L A Y

---
A D V I C E
Highly Recommended
---
E - M A I L
this review to a friend
Sponsored Links
Sponsored Links