List Price: $26.99 [Buy now and save at Amazon]
---
Light, fun Christmas-themed screwball comedy, and a nice change of pace for suave Errol Flynn. Warner Bros.' line of M.O.D. (manufactured on demand) library and hard-to-find titles, the Archive Collection, has released Never Say Goodbye, the 1946 romantic comedy from Warner Bros. starring Errol Flynn, Eleanor Parker, and Forrrest Tucker. With a script by I.A.L. Diamond (Some Like it Hot, The Apartment and James V. Kern (who also directed), Never Say Goodbye is completely implausible in that delightful screwball tradition, with the skilled performers putting this one over firmly into the plus column.
New York City artist/illustrator Phil Gayley (Errol Flynn) has been divorced from his lovely socialiete wife, Ellen, for one year, a divorce instigated by Ellen's disapproving, meddling mother, Mrs. Hamilton (Lucile Watson), who unfairly accussed the handsome Phil of dabbling after-hours with his gorgeous models. With Christmas only two months away, it's time for Phil to turn over custody of his daughter, seven-year-old Phillippa "Flip" Gayley (Patti Brady), to Ellen for the next six months―a legal compromise that Flip hates. Phil and Ellen still love each other, although they wouldn't say that directly to each other, but Ellen is willing to give Phil another chance with a night out on the town...until she discovers he's two-timing her at the same restaurant with a date he forgot all about: hard-as-nails model Nancy Graham (Peggy Knudsen). Now it's time to make Phil jealous, a plan aided by the unexpected Christmas arrival of Flip's Marine pen-pal, Corporal Fenwick Lonkowski (Forrest Tucker), who thinks the romantic letters written to him are from Ellen, whose picture Phil included as a gag. Phil is bound and determined to see Flip on Christmas Eve―something denied by Ellen's lawyer and wimpy would-be suitor, Rex (Donald Woods)―even if he has to disguise himself as Santa Claus and break into Ellen's townhouse.
No need for a spoilers warning here...since the couple always gets back together again in these Hollywood screwballs. Though it received good notices from the critics when it came out in 1946, I don't know how well Never Say Goodbye did at the box office (some sources say it was popular, others say it was a relative dud). Never Say Goodbye certainly isn't in the higher echeleon of classic screwball farces, but it's pleasant, diverting holiday fare made more interesting by the casting of swashbuckler Flynn in an uncharacteristic romantic comedy role. Based on a story by Norma and Ben Barzman, the screenplay by I.A.L. Diamond and director Kern (Stallion Road, I Love Lucy), with an assist by Lewis R. Foster (The More the Merrier, The Eagle and the Hawk), is a little lumpy when it comes to implementing its screwball conventions. To say the coincidences in Never Say Goodbye are implausible is of course to miss the point of screwball romance (it's supposed to be silly and illogical―that's where the fun is for the disbelieving audience), but as with any good screwball, those implausibilities have to be orchestrated with almost surgical precision and timing to create a "build" that pays off for the audience. Most of the individuals scenes and sequences in Never Say Goodbye work on their own, but the screenplay and direction fail to coalesce them into a truly cohesive experience, giving us a screwball that's often funny, but not completely successful on the whole.
Still...those funny scenes do score, and there are enough of them to smooth over Never Say Goodbye's bumps. Flynn, loose and charming here, gets a chance to camp things up a bit right off the bat, when he models his little girl's coat and hat in a department store mirror. Later, there are three well-designed farce sequences that make up the movie's spine and keep the ball rolling. First up is the restaurant scene where that inveterate scene-stealer, S. Z. "Cuddles" Sakall, tries to help Flynn get rid of unwanted date Knudsen (Sakall was made for this kind of shtick, while Knudsen is funny as a wronged tough cookie who knows she's being played for a sap). Second, the central "multiple Santas" bit at Ellen's townhouse is a classic farce set-up, complete with Flynn running around the house and slamming doors, kissing an undressing Parker and slapping his ex-mother-in-law on the rump (much to their delight), as he pretends to be the stuffy Woods. The scripters even drag up the old Marx Bros.' "mirroring" bit (which Flynn performs flawlessly), before there's a funny wrap-up as Flynn-as-Rex hands out gifts (none for the "old bag" Watson, he states) before smashing Woods over the head with a cocktail shaker (Woods does a hilarious crash into the Christmas tree). And finally, there's a great bit at Ellen's townhouse where Flynn tries and fails to compete with athletic Tucker in Ellen's kitchen, lampooning his own superior swashbuckling abilities to good effect (it looked at one point like the story was going to move to a Connecticut cabin for the third act―familiar terroritory indeed for such a Christmas farce―but they remain in New York (too bad)...perhaps for budget reasons?).
The pro cast here in Never Say Goodbye certainly helps, too. Forrest Tucker, getting an early chance to show his comedic side before he was plugged into action/adventure roles for the next couple of decades, is just right as the kind, confident Marine who, once he knows the score with Flynn and Parker, decides to aid little Brady in her mission to get her parents back together (Tucker is a stitch doing a bad rhumba). Little Patti Brady is sweet and not too cloying as Flip; she has good chemistry with the gallant Flynn. As for "Cuddles" Sakall, what can you say once you've seen his act? It's perfection (no wonder a lot of big stars secretly hated working with him, since he steals every scene he's in). Unfortunately, Gone With the Wind's Hattie McDaniel, equally adept at swiping a scene out from under a big star, is wasted as Flip's nanny, not because she's playing another domestic, but because the scripters give her absolutely nothing to do, nor an opportunity to flash her sassy attitude (her character feels like an afterthought, or perhaps an element that was whittled away from the final script). Frankly, the lovely Eleanor Parker has little to do here, either, except look lovely, which she certainly does (a major flaw in the script, since a good screwball should have battling partners who appear equal in give-and-take). A lot of time is spent on Flynn crashing around the house, as Santa and with Tucker, but not enough on Parker getting mad at Flynn and getting her own back at him. As for Flynn, he's terrific here; why Warners didn't give him more Cary Grant/Fred MacMurray/James Stewart roles like this, I'll never know. He's light and charming with sweet Brady, a gallant, handsome "suitor" any little girl would be in love with, while he's a real smoothie with Parker, singing Remember Me in her ear while they dance. And he has the farcical elements down, too, with the right attitude of just enough seriousness around the silliness to make it palatable for the viewer. His best bit comes during an inspired bit of looniness when he playacts perfectly as Humphrey Bogart...with Warners allowing the real Bogey to dub in Flynn's lines, to beautiful effect―a bright, hilarious moment in a charming little piffle.
The DVD:
The Video:
The full-screen, 1.33:1 black and white transfer for Never Say Goodbye is a tad dark, and rough in a few spots (scratches and dirt), with grain apparent but not too distracting.
The Audio:
The Dolby Digital English mono audio track is serviceable and unspectacular, with hiss noticeable (and expected), and a decent-enough re-recording level. No subtitles or close-captions available.
The Extras:
No extras for Never Say Goodbye.
Final Thoughts:
Clever-at-times romantic screwball farce, with the solid cast helping greatly. If you only see tights and flashing sabers when you think of Errol Flynn, you should think again: he's urbane and silly and loose as a goose here in this farce, while the rest of the cast lend able support. A perfect little film for all the romantics out there to watch in front of the fire, with the Christmas tree lights softly twinkling. I'm recommending Never Say Goodbye.
---
Paul Mavis is an internationally published film and television historian, a member of the Online Film Critics Society, and the author of The Espionage Filmography.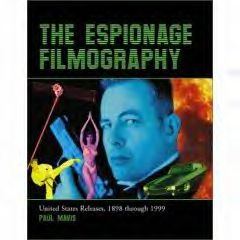 ---
C O N T E N T

---
V I D E O

---
A U D I O

---
E X T R A S

---
R E P L A Y

---
A D V I C E
Recommended
---
E - M A I L
this review to a friend
Sponsored Links
Sponsored Links