Iron Rose (La Rose de Fer) - Remastered Edition, The
List Price: $19.95 [Buy now and save at Amazon]
---
Reviewer's note: Having reviewed The Iron Rose back in 2007, I'll port over my comments on the film proper, while updating the A/V and extras information on Redemption's new bonus-filled, remastered transfer here.
Redemption has gone back to the movie's original 35mm elements and released a remastered edition of cult director Jean Rollin's The Iron Rose (La Rose de Fer; released here in the States as The Crystal Rose), the beautifully languid fantastique from 1973 that will entrance romantics with a gothic bent...and no doubt disappoint newer horror fans expecting a lot of skin and gore. Starring the gorgeous Francoise Pascal and Hugues Quester, The Iron Rose's insistence on atmosphere and visual poetry over any semblance of plot, concrete explanations, blood or nudity keeps it timeless, and now with Redemption going back to the film's original negative, we get to experience it closer to how Rollin intended it to be seen. Some attractive bonuses definitely make this new release worthy of a double dip (for the screen caps, the ones on the left represent Redemption's 2007, with the caps on the right from the newly remastered transfer, for comparison).
After a walk on a foggy, dreary beach, where a beautiful girl (Francoise Pascal) finds a rose made of iron (does this really happen first in the film, or is this a flashforward? As with almost everything in The Iron Rose, there's no real answer), she walks through a seemingly deserted town, eventually finding herself at a wedding reception. There, a handsome young man stands up and asks permission to give a poem―a poem about a couple longing for death (some wedding gift). Outside, the young man meets up with the girl, and admits he gave the poem as a way of meeting her. They agree to take a bike ride the next day.
After frolicking at their meeting place (a foggy deserted railway station), they ride into town, where they stop for lunch outside a massive, overgrown cemetery. She doesn't want to enter, but he cajoles her into going inside, and they start to explore the impressively spooky enclave. Settling in for a snack, the man knocks over a cross, and they see an old woman, dressed in black, walking around the grounds with flowers. They continue to explore the grounds, and the girl and boy discuss souls and death. They come across an underground crypt, covered with heavy metal, sealed doors, while a strange, berobed man (Rollin in a cameo) watches them intently. A clown in full makeup puts flowers on a grave. The young man goes into the crypt, while she begs him not to―but she eventually follows, and they make love.
When they're finished, they look up to discover it's night. Worried, but still calm, they make their way out of the crypt, and search for a way out. But no matter what direction they take, they either wind up back where they started, or find endless more sections of the graveyard. The girl begins to panic, and the boy attacks her, which eventually leads to another lovemaking session in an ancient exposed burial pit, atop the bones and skulls of a mass grave. However, it soon becomes apparent that time spent in the graveyard has significantly changed the girl....
SPOILERS ALERT!

Those looking for explanations in The Iron Rose are on a fruitless quest. Rollin himself has stated that he wanted to make a film as close to a spontaneously made-up campfire story as possible, with a sense of impenetrable dread and eroticism permeating the largely silent, diffused narrative. As well, the primary thematic element of the fantastique genre is the inexplicable appearance of supernatural elements that the protagonists cannot and will not accept or understand. The Iron Rose isn't really about anything, other than creating a visual poem that intrigues and mystifies the viewer. Of course, you can employ Film Criticism 101 theories as to what Rollin is really doing; that's always fun to do. There's certainly enough overripe filmic semiology and seemingly portentous symbolism to spur on anyone looking for a fun after-dinner discussion (the girl's gradual journey from unwilling visitor at the cemetery to her uncontrollable urge to make love in the grave pit, to her desire to join her lover in the sealed pit for eternity ― all linked by the obviously symbolic iron rose ornament). But by Rollin's own admission, much of what he includes in The Iron Rose is put there for visual and emotional impact ―and not for logical examination.
That being said, The Iron Rose shouldn't be approached in any manner as a traditional horror film from the 1970s ―or at least the kinds of horror films that usually played here or abroad. That isn't to say that The Iron Rose was even well received in Rollin's native France ―it was a financial and critical disaster when first released (it didn't help that sensation Last Tango in Paris opened the very same night in Paris). Traditional "horror" film elements included in The Iron Rose― the young man screaming to be let out of the crypt, the young girl holding up a skull to cover her face (a marvelously creepy image)― are few and far between. And as for nudity, it does show up, once, with the sensual, lovely Pascal nude on the beach during a flashback (or is it a flashforward?). But that's certainly not the point of The Iron Rose, either. Rollin had done soft-core porn before The Iron Rose, so he obviously wouldn't have been adverse to filming overt sex scenes. When the couple make love, it's discreet enough for a PG-rated film.
What Rollin is trying to achieve is a sustained atmosphere of suppressed, macabre eroticism; there's no need to be explicit in either the horror or sex elements to get across his musings on death, sex, the soul, and simple, primal terror of being lost in the dark. Critical to the success of The Iron Rose is the simply amazing location used for the cemetery where our protagonists end their lives. The cemetery pictured here is unlike any I've seen here in the States. A massive, decaying ruin, with crumbling monuments overgrown with weeds and covered with autumnal leaves, the grounds are crammed with huge, overarching trees that give the place a primeval feel, as if this was the first cemetery ever conceived. And Rollin, with his cinematographer Jean-Jacques Renon, do a remarkable job of conveying a mossy, decomposing deathscape, shrouded in fog and utter, frightening darkness, that delivers the appropriate shudders (aided as well, by the evocative Pierre Raph score).
Key also is the performance of Francoise Pascal, who has a perfect enigmatic allure―as well as a perfect, highly desirable sexual presence―that believably conveys to us the dichotomy of her emotions. Believable as reluctant to enter the cemetery, we're equally drawn to her decision to make love to the boy not only in the crypt, but later in the open skull-and-bones pit. Why does she do it? Who knows? But Pascal's highly charged sensuality, nicely shaded by a tentative, hesitant fearfulness (epitomized by Rollins' smart move of costuming her in an innocent―and tempting―schoolgirlish pleated tweed skirt) has impact enough to convince us that something, however inexplicable, is driving her on. Quester is less successful with his role; it's unclear as to whether he should be viewed as some kind of tempter, initiating her into crossing forbidden borders of religion and sex, or as flat-out scared lover who's terrified of his gradually flipping-out pick-up. Whether that ambiguity is Rollin's intention, or the fact that Quester was reportedly at odds with his director from day one (he had his name changed in the credits), is unclear. But again, that abstruseness is part and parcel of Rollin's wonderfully evocative design.
The DVD:
The Video:
I'm of two minds about Redemption's new transfer. First, if you already own their 2007 release of The Iron Rose, you'll notice on the back of the DVD case, the runtime is incorrectly listed at 86 minutes. In fact, that particular print runs 76:47. Now...on this new transfer, the movie times in at 80:11. My first thought was―cool: a longer cut. However, I ran both discs side-by-side, and there were no additional scenes. However, this newer transfer continually lagged in synch. So, I'm assuming that the 2007 disc was transferred just a tad faster (or this new one a tad slower), because you only need a 2 or 3 seconds per minute on an 80 minute film to account for the "extra" 3 minute runtime.
Next, Redemption states they went back to the original 35mm neg and made a HD transfer. Compared with the 2007 transfer, which looked a bit blown out (telecined in, too, with a slight squeeze) and fuzzy, this new transfer is sharper, with truer colors. However...it seems that maybe they went too far the other way and made it just a tad too dark...at least to my eyes. More picture details seem to get lost in a lot of the nighttime scenes with this transfer, so....(the original elements aren't perfect, either, with scratches and dirt, and other screen anomalies present at times)
The Audio:
In a nice upgrade from the 2007 disc, you can watch The Iron Rose with either the original French language track, or the English dub. English subtitles are available, but they correspond to the French track, not the English.
The Extras:
Not carried over from the 2007 disc is the fifteen-and-a-half minute short from Rollin, filmed in 1965, called Les Pays Loins, presented in black and white anamorphic widescreen, which deals with some of the same themes found in The Iron Rose (the still gallery is missing, too). A terrific 20-page, full-color booklet, written by Tim Lucas, is included, giving some great background on and discussion of Rollin's work. There's a rather strange 2 minute "intro" of The Iron Rose by Rollin himself, shot in 1998 (what's with the guy next to him in the mask?). An interview with star Francoise Pascal is included; it runs 22 minutes and is quite interesting for her recollections about the film's production. An interview with Rollin's closest creative collaborator, Natalie Perrey, is included; it runs 7 minutes. And there's the original English opening title sequence of The Iron Rose, with English titles. Four original trailers for The Iron Rose are included: two French and two English. As well, there are trailers for four other Rollin films: The Shiver of the Vampires, The Nude Vampires, Lips of Blood, and Fascination.
Final Thoughts:
Maddening only if you fight it, The Iron Rose isn't meant to be figured out. It's meant to be experienced much like hearing a poem―if that poem dealt with death and sex, read by campfire in a spooky dark forest. Wonderfully evocative in its cinematography, and downright sexy/weird with the conflicted performance of Francoise Pascal, The Iron Rose shouldn't be approached with the expectations of today's horror films―no gore, and one brief shot of nudity. But that doesn't mean it's a cerebral, dull noodle of a philosophical bore, either. Just experience it, and float along on director Jean Rollin's marvelously sensual tone poem of eroticism and death. As for this new transfer...it's an improvement over Redemption's 2007 transfer...and it's a step back―take your pick. The extras, however, more than make up for this, making a double dip advisable for fans of this cult item. I'm highly recommending The Iron Rose.
---
Paul Mavis is an internationally published film and television historian, a member of the Online Film Critics Society, and the author of The Espionage Filmography.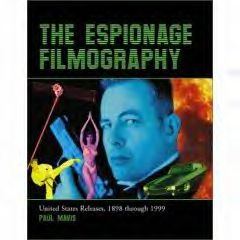 ---
C O N T E N T

---
V I D E O

---
A U D I O

---
E X T R A S

---
R E P L A Y

---
A D V I C E
Highly Recommended
---
E - M A I L
this review to a friend
Sponsored Links
Sponsored Links