Daktari: The Complete First Season
List Price: $54.99 [Buy now and save at Amazon]
---
Irresistible for kids and families. Warner Bros.' indispensable Archive Collection, their M.O.D. (manufactured on demand) library of little-seen TV and movie favorites, has released Daktari: The Complete First Season, a four-disc, 18-episode collection of the smash-hit CBS mid-season replacement from 1966, based on producer Ivan Tors' 1965 feature film success, Clarence, The Cross-Eyed Lion. Starring Marshall Thompson, Cheryl Miller, Yale Summers, Hedley Mattingly, Hari Rhodes, Clarence the Cross-Eyed Lion himself, and Judy the Chimpanzee, Daktari is typical second-phase fare from producer Ivan Tors: family-friendly, (largely) non-violent, animal-centric, and simplistic perhaps in storytelling...but entertaining, nonetheless. No extras for this nice-looking transfer.
East Africa, 1965. In the Wameru province, still under the nominal control of the British Empire, veterinarian Dr. Marsh Tracy (Marshall Thompson) has secured permission from the area governor to set aside not only many square miles for a game preserve, but also to operate the Wameru Study Center for Animal Behavior and hospital. There, with the aid of his pretty young daughter Paula (Cheryl Miller), "Daktari" (Swahili for "doctor") is experimenting with his "affection training" method of dealing with animals: no guns, no prods, no whips―just love and affection and respect when handling a wild, savage animal that could easily rip out your throat. Aiding him in his research is handsome American Jack Dane (Yale Summers), and handsome African local Mike (Hari Rhodes), both aspiring zoologists working on their field studies. Of course, Daktari's new methods of respecting these brutes rubs the various poachers, thieves, and local tribesmen that seem to crawl all over Africa the wrong way, so Daktari's preserve is under constant assault from small-minded men who can't see that if you only talk slowly and clearly to a fang-dripping leopard, letting him know you want to be friends, the leopard will automatically release your throat and begin purring like a tabby kitten. Helping keep those persistent poachers away are District Officer Hedley (Hedley Mattingly), a "veddy" British military officer, Clarence, a cross-eyed lion who's as gentle as a lamb, and Judy, the mischievous chimp who apparently is the smartest one of the bunch, such are her powers not only in understanding human speech and cognitive thought, but also her ability to positively slay any foe with a deadly show of overwhelming cuteness.
I have very vague memories of Daktari from my childhood, most probably from syndication rather than during its original run. Certainly producer Ivan Tors' Flipper played more frequently in re-runs, attaining a level of pop culture awareness that far exceeded Daktari―an ironic development considering Daktari's strong showing in the Nielsen ratings, compared to Flipper's lower profile. With producer Tors in full animal/kid/family-friendly mode by 1965, it probably wasn't hard for CBS to bet on another Tors animal series. Flipper, over on NBC, was coming to the end of its successful run, so Tors certainly didn't want his presence on network television to wane. The feature film that was the basis for Daktari, Clarence The Cross-Eyed Lion (starring Daktari's Marshall Thompson and Cheryl Miller in the same roles) had been a drive-in and matinee hit for M-G-M in the summer of 1965. A few years before, Howard Hawk's Hatari (which Daktari resembles in structure), had been a solid hit for John Wayne, whileMutual of Omaha's Wild Kingdom was cleaning up in syndication. And as always, all those Hollywood Tarzan epics were delivering consistent ratings on local TV stations with a whole new generation of kids whose parents grew up on those jungle adventures (with ABC soon putting Tarzan on the small screen in the fall of 1966, no doubt buoyed by the success of Daktari). Couple all that with a killer time slot on the CBS sked (right behind The Red Skelton Hour, the fourth most-watched series for the year), and all Tors had to do was get an hour's worth of serviceable jungle adventure together every week, and watch the money roll right in.
As for those "serviceable" adventures, let's face it: Daktari isn't high drama. Nor does it have to be, frankly. Daktari is designed as family entertainment, with heavy doses of it aimed squarely at young children, so simplistic storylines about Daktari and his crew patching up sick and wounded animals, with evil, one-note poachers prowling around the peripheries (it's remarkable how many poachers show up this season) work well enough (like the Tarzan movies, interlopers always equal trouble). As produced, these episodes mesh perfectly into kids' short attention spans, with dialogue scenes kept short and uncomplicated, punctuated more than frequently with cutaways to a cute animal like Judy, or stock footage from Africa. The deepest discussions you're going to get from the rather stock characters here are whether or not man should kill animal; in Return of the Killer, Part 1, Mike asks Daktari several times who created all of this (nature), to which Daktari grimaces sheepishly and says nothing. Clearly, Daktari at this point is more interested in the animals than the humans. And again, that's just fine. What 8-year-old needs a discussion in existential angst over man's place among the beasts?
Those kids wanted to see Judy the chimp in action, and executive producer Tors makes sure she gets more screen time than all the other actors combined. If Daktari was intended to capitalize on the popularity of big-screen Clarence The Cross-Eyed Lion, clearly a decision was made early to focus instead on Judy, who is leaps and bounds more appealing (all sleepy Clarence can do is look confused or annoyed as the double-vision special effect is slapped on for diminishing-returns laughs). Like Tors' Flipper, she's a star who knows it. As an adult, it's easy to laugh at the frequently ridiculous things we're shown that Judy supposedly can understand and do without prompting, just by merely telling her. But kids believe it (and love it, as evidenced by a couple of my little kids who squealed every time Judy came on). Like Lassie or Flipper, Judy apparently can follow quite complicated instructions from her human counterparts, along with deciphering subtle interpersonal intimations that would confuse a 10-year-old...that is, when she isn't just cognitively acting out on her own (I love when she takes it upon herself to take out a poacher by setting up a trap to block his car). It's hilarious when Paula or Daktari make her look right at them and rattle off a long explanation as to why she needs to stay and nurse a sick fellow animal (which she does immediately and with alacrity), but no one is denying it's also enormously entertaining to see this charismatic little actor go through her paces. In Judy and the Hyena, she has to fake an arm injury, and the way she holds her little arm, it's remarkable how believable it looks (unless....). In that same episode, this little chimp is actually able to express, with the help of editing, of course, something as complex as ennui, for god's sake―a level of subtle emotion her human counterparts aren't exactly called on to execute here, considering their cardboard construction.
The other animals get in on the act, too; I thought I'd die laughing when Paula is supposedly giving Clarence complicated instructions...over a walkie talkie (I wouldn't have even been able to follow them), but Judy is clearly the star here (monkeys acting silly are money in the bank for kids. There's a terrific sequence that goes on quite long where a family of monkeys destroys the hospital―complete with a shot of the handler sneaking into the frame―that's about as close to "monkey porn for kids" as you're ever going to get). As for all that "affection training" mumbo-jumbo that Daktari is always touting, it sure sounds nice (if you ignore the accusations that trainer Ralph Helfer was merely doping up all those critters). But you'd have to be mental to go out into the African bush with a dart gun-toting Daktari who claims very few animals have natural enemies, or that most animals in the bush are "friendly and intelligent, and we treat them with respect and fondness (remind me of that when a vicious, screaming baboon is squatting on my chest). There's no question some of the actors feel differently, though; Hari Rhodes, in the first episode, looks like he's ready to bolt for the honey wagon when that "friendly, intelligent" cheetah flips out and gets ready to pounce on him, while Hedley Mattingly looks decidedly nervous, locked up in a cage with a big black bear (in Africa?) that starts gnawing on his arm.
If anyone back in 1965 cared about tigers and bears showing up in a show about Africa, Tors and his team of scripters simply toss it off as Daktari's experiments in "interspecies relationships," and the problem is solved. Clearly, the locale of the hospital isn't Africa, but Africa, U.S.A., animal trainer Ralph Helfer's wildlife park in Soledad Canyon, 40 miles outside of Los Angeles (is that snow on the ground in one scene?), and supposedly, the interiors were shot at Tors' Florida studios (that must have been a fun commute for the actors―perhaps it was cheaper for Tors that way, rather than shooting at M-G-M and getting charged for the studio overhead?). But again, what kid knew that back in 1965? The production design is skillful enough to make anyone but the most curmudgeonly accept it all as a smack at bush reality; if the editing is a little rough, and some of the stock footage is overused, who cares? Certainly not the target audience, then or now. After watching a few episodes before they peeled off to do other things, I asked my littler kids if they thought Africa looked like fun, and they said, "Sure. The monkeys there know just what you're saying." Case closed for Daktari.
It's hard to say if CBS thought they had as big a winner on their hands as they got with Daktari, but clearly someone placed it with care on the CBS sked. Coming in at mid-season in January, 1966, occupying once-mighty Rawhide that had since crashed and burned out, Daktari decimated its competition in its Tuesday 7:30pm timeslot. Over on ABC, Combat, which had been the 10th most watched series in the country the year before, dropped out of the Nielsen Top Thirty altogether against Clarence and Judy, while over on NBC, Daktari faced one of the all-time most popular butt-of-the-joke series in television history: the legendary My Mother the Car with Jerry Van Dyke (it's really not that bad...) and the innocuous non-starter, Please Don't Eat the Daisies. With 4th most popular show in the country The Red Skelton Hour as lead-out, Daktari in just half a season scored as the 14th most show of the entire 1965-1966 season, a remarkable feat that it would best in its sophomore session, when it would enter the vaunted Nielsen Top Ten.
The DVD:
The Video:
The full-screen, 1.33:1 transfer for Daktari: The Complete First Season looks fairly good, with okay-to-good color (perhaps a bit muddy at times, but that could be the original look), a sharpish picture, and minimal grain.
The Audio:
The Dolby Digital English mono audio track is okay, with a bit more hiss than expected, but a strong re-recording level. No subtitles or close-captions available.
The Extras:
No extras for Daktari: The Complete First Season.
Final Thoughts:
Recommended family fare. Producer Ivan Tors may not have been John Houseman, but he delivered a quality product that was entertaining, time and again, and Daktari was no exception. A natural for little kids who like to watch animals do funny tricks and stunts, Daktari keeps it simple, keeps it light, and keeps it fun. I'm recommending Daktari: The Complete First Season.
---
Paul Mavis is an internationally published film and television historian, a member of the Online Film Critics Society, and the author of The Espionage Filmography.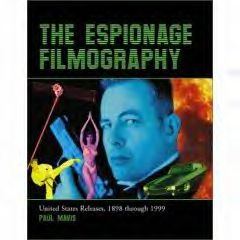 ---
C O N T E N T

---
V I D E O

---
A U D I O

---
E X T R A S

---
R E P L A Y

---
A D V I C E
Recommended
---
E - M A I L
this review to a friend
Sponsored Links
Sponsored Links