List Price: $19.95 [Buy now and save at Amazon]
---
Trim little "B" noir...with a nicely perverse subtext. M-G-M's increasingly valuable M.O.D. (manufactured on demand) program, the Limited Edition Collection, has released The Big Caper, the 1957 crime meller based on Lionel White's pulp thriller, directed by Robert Stevens and starring Rory Calhoun, Mary Costa, James Gregory, and Corey Allen. Directed with an eye for economical terseness by "Dollar Bills" producers Howard B. Pine and William C. Thomas, The Big Caper isn't as well known as The Killing, Stanley Kubrick's 1956 adaptation of another White heist novel...but it delivers the crime action goods while giving a deviant little poke in the eye to pop culture's stereotypical view of 1950s America. No extras for this razor-sharp transfer.
Professional booster Frank Harper (Rory Calhoun) was flush six weeks ago, after his last successful heist backed by money-man Flood (James Gregory). But after dropping two thousand clams on a three-legged nag, Frank is desperate for some lettuce, fast. Visiting Flood at his rented luxury mansion, Frank tries to sell his new score to a disinterested Flood: knock over a sleepy, fat bank in sleepy San Felipe, California, where one million dollars in Marine Corps payroll is just sitting there. Flood eventually comes around, and soon, Frank and Flood's moll, Kay (Mary Costa), are buying a gas station―conveniently located across the road from the San Felipe bank―and setting up housekeeping to fool all the town's squares into thinking they're regular joes. They even make friends with the town's banker, Sam Loxley (Patrick McVey) and his cute family, and with the town's flatfoot, Sergeant Waldo Harrington (James Nolan). But what Frank didn't expect is for Kay to start wishing this pretend Dullsville life was real, with Frank her real husband―a situation that won't stand well with Flood and his own extended nuclear family who plan on blowing up the town for the heist's diversion: alcoholic pyromaniac Zimmer (Robert Harris), ladies' man Harry (Paul Picerni) and his "B-girl" dame, Doll (Roxanne Arlen), expert safecracker Dutch (Florenz Ames), and all-American health nut/psychotic bondage freak Roy (Corey Allen).
I hadn't heard about The Big Caper prior to this screener's arrival, but I was more than pleasantly surprised at what a neat little package it turned out to be. Despite its modest budget, some heavyweight talent can be found behind the scenes here. Producers Howard B. Pine and William C. Thomas (apparently known as "The Dollar Bills," according to what I've read, for their careful eye on budgets), together and individually, churned out reliable, fast-moving product like They Made Me a Killer, Caged Fury, The Eagle and the Hawk, The Far Horizons, Lucy Gallant, Cult of the Cobra, The Private War of Major Benson, and Speedtrap. Prolific screenwriter Martin Berkeley had penned everything from cult sci-fi outings like Tarantula and Revenge of the Creature, to the brilliant Western, Trooper Hook, while cinematographer Lionel Lindon had lensed classics from O.S.S., The Blue Dahlia, and Destination Moon, to the previous year's smash Best Picture winner, Around the World in 80 Days (and he would go on to lens such classic TV fare as Alfred Hitchcock Presents and M Squad, as well as big screen efforts like Grand Prix). As for director Robert Stevens, he had already made a name for himself in television, turning out tight, quickly shot gems on series like Suspense and Alfred Hitchcock Presents (and he would go on to helm one of The Twilight Zone's best entries, Where Is Everybody?, as well as big screen entries such as I Thank a Fool and In the Cool of the Day, two excellent glossy melodramas). Not too shabby for a tiny-budgeted "B" noir indie.
With an emphasis on hustle and thrift of storytelling, The Big Caper moves not only quickly but assuredly through its familiar plot. It's a solid "B," through and through, with plenty of action and intriguing characterizations inhabiting its sordid little world. Those characters may not be dramatically "full" in the truest sense of the word, but they're vivid. For instance, when Flood goes to meet old-timer safecracker Dutch at a park, a little boy comes up and asks for a knife: his kite string is tangled. Flood shoos him away, but Dutch stops him (director Stevens inserts a red-herring ominous shot of his menacing knife) and cuts the boy's string, never looking away from the kid. Watching the boy leave, he lets Flood know he wants his money up-front, because he's not going to be around very much longer. It's a telling little scene that carries more import than it should (you can read a lot into Dutch's expression, cutting the kid's string, and watching him run off), carried over by the relatively subtle performances and Stevens' tasteful, almost invisible direction (I particularly enjoyed the dark, menacing Rory Calhoun here; he's clearly a hard-ass―a real-life stint at the San Quentin pen will do that to you―and his no bullsh*t performance fits in perfectly with Stevens' quick, restless schematic).
Where The Big Caper breaks away from many other similar mid-50s low-budget black and white "B" crime mellers is in its sly commentary on the then-held notions (at least in the pop culture) of "normal" family life in America. The small-town San Felipe of The Big Caper may appear to be the ideal of "the good life" as outlined in a typical Sunday color newspaper supplement of the time, but to the cons and criminals who hold their noses while inhabiting it, it's a dull, stupid, almost unbearable entity that is ripe for fleecing and even blowing up (literally). It only takes one month of small-town life to make Frank go completely buggy. He hates the routine of working in his grimy little gas station, making friends with all the "squares," paling around with authority figures like bankers and cops, and having a "big" Saturday night boil down to a Scrabble® game before lights out at 10:00 (watch Calhoun's face drain away from a big smile to utter contempt when they wave-off their departing visitors after the game). High-roller Frank, who steals for a living and who can drop 2K on a horse race without thinking, is completely contemptuous of his new best buddies complimenting him on a weekly profit of a measly $145 bucks at the filling station. Although he allows that banker Sam is "alright for a square," and that his family is "cute," that doesn't mean he really wants that way of life for himself, as Kay begins to crave. Director Stevens and scripter Berkeley even work in little ironic spoofs of their own spoof of this sour little take on small-town America, what with "fake" housewife Kay not being able to flip a flapjack, or the original gas station owner, after selling out to Frank, excitedly calling his wife and telling her "the sucker fell for it"...when all of San Felipians are suckers falling for Frank and Kay's criminal play acting.
Frank and Kay's transparent farce of an average, all-American couple enjoying the security and familiarity of small-town life (Kay doesn't even get conjugal benefits of this charade; loyal Frank is sticking with Flood and the plan) looks positively normal, however, next to the twisted, perverted nuclear family that Flood gathers for his heist (spoilers). "Uncle" Zimmer is a sweaty, alcoholic mole who can barely function sober, and who is unable to resist his impulses to burn and blow up buildings and people (the filmmakers make his psycho-sexual pyromania clear when he tours the town with Frank: upon seeing the school he's going to blow up as a diversion for the heist, he breathes, "I kinda like her...she'd make a nice one."). Paul Picerni's ladies' man Harry and his tramp pick-up, Doll, are an inverted distortion of the typical TV sitcom "older brother who marries and makes good," with Doll acting quite unlike a sweet, demure, loyal new member of father Flood's family (she seems willing to sleep with anyone). And bleached-blonde, angry red-sunburned, be-bop jazz-listening, wild-eyed Roy is about as far from the Beaver as you can get. Back in L.A., Flood deals with wayward Roy that way they both appear to enjoy it: Flood whips him with a rope as masochistic Roy waits expectantly on the bed (Stevens gets a lot of juice out of this sick scene).
However, once he's in San Felipe, Roy reverts to the stereotypical "all-American teen psycho," wearing a bow tie and requesting a peanut butter sandwich and milk when he arrives at Frank's house. When banker's son Bennie's barky, friendly dog runs up the stairs and almost gives away the gang, Roy does what any American boy would do to silence the dog: he pulls out his knife and almost stabs it to death. And when Flood decides to take care of the unreliable Doll once and for all, Roy acts like any little "brother" would with his pretty "sister-in-law": he makes love to her (on "Dad's" command); takes her out for a moonlight swim on the beach...and then strangles her. And through it all, Flood maintains a preternaturally calm, soothing manner, a la Robert Young in Father Knows Best, gentling down crazy Uncle Zimmer with reassurances he can go back to drinking, and putting insane teen Roy in his place with a stern-but-kind, "I want to talk to you," as if Roy just goofed up his latest spelling test (Rebel Without a Cause's Corey Allen has a field day here; he's hilarious and creepy). As this new "family" settles into Roy's house, director Stevens tightens the framing and gives the cramped hallways some ominous shadows on the blank walls, further creating a bizzaro-world American home that's miles away from what usually showed up on the big and small screens in 1957. If the very ending of The Big Caper seems contrived and too pat, it doesn't dim our appreciation of this nicely sick little joke of a typical 1950s American family, hiding out in this crackerjack "B" meller.
The DVD:
The Video:
It's possible, considering its budget, that The Big Caper was shot at 1.33:1 for an open matte of 1.66 at screenings (I doubt it); if not, you can still mask out this 1.33:1 black and white transfer to get a good―if slightly grainer―"widescreen" look (some of the framing is a bit tight, making me think the 1.33 is a DVD compromise from the original 1.66). As for the transfer itself, it's pretty spiffy, with a razor-sharp image, deep blacks, and little if any imperfections. Very nice.
The Audio:
The Dolby Digital English mono audio track is quite serviceable, with little hiss and clear dialogue. No subtitles or close-captions.
The Extras:
No extras for The Big Caper.
Final Thoughts:
A nice find with this obscure little "B" noir crime meller. Director Robert Stevens and scripter Martin Berkeley, working from cult pulp fiction writer Lionel White's novel, create a speedy, coarse heist movie...while laying down a subtext of a perverted 1950s all-American family that gives the movie a nice jolt. Smoldering, dangerous Rory Calhoun is excellent here, as is the rest of the cast. I'm highly recommending The Big Caper.
---
Paul Mavis is an internationally published film and television historian, a member of the Online Film Critics Society, and the author of The Espionage Filmography.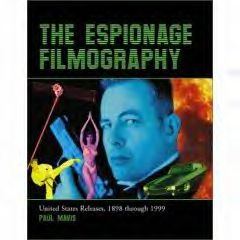 ---
C O N T E N T

---
V I D E O

---
A U D I O

---
E X T R A S

---
R E P L A Y

---
A D V I C E
Highly Recommended
---
E - M A I L
this review to a friend
Sponsored Links
Sponsored Links