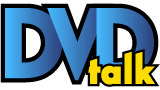 Adventures of Tintin, The
List Price: $44.99 [Buy now and save at Amazon]
---
THE FILM:
Steven Spielberg's The Adventures of Tintin may be light on story, but the performance-capture adventure is solid escapist entertainment. Based on the comic albums by Hergé, The Adventures of Tintin follows its titular hero detective and his dog, Snowy, as they search for sunken treasure and try to sidestep a nefarious villain.
Spielberg turns Tintin loose on the high seas and across several continents into impressively realized environments, and the animated characters display very human emotions. The Adventures of Tintin is reminiscent of Spielberg's own Raiders of the Lost Ark, and is good fun from beginning to end.
The film wastes no time jumping right into Tintin's (Jamie Bell) world; the well-traveled reporter and detective's accomplishments are displayed through newspaper articles shown during the opening credits and hung in Tintin's apartment.
Tintin buys a model ship at an open-air market, which Ivan Sakharine (Daniel Craig) offers to buy at any price. Tintin refuses, and the ship is later stolen from his apartment. Tintin and Snowy discover that Sakharine has a second model ship and that each has a small scroll hidden in the mast. Before he can understand the importance of the scrolls, Tintin is abducted and taken aboard the SS Karaboudjan, which Sakharine has commandeered from its drunken captain, Haddock (Andy Serkis).
The Adventures of Tintin remains in perpetual motion as its hero becomes ensnared in a worldwide treasure hunt. Spielberg's last take on swashbuckling adventure, Indiana Jones and the Kingdom of the Crystal Skull, was a bit creaky, but The Adventures of Tintin recalls the simple fun of Spielberg classics like Raiders of the Lost Ark, Jurassic Park and Jaws.
Gone are the cold, dead-eyed pawns of motion-capture stepping stones like The Polar Express, replaced by fluid, emotive characters and inviting landscapes. The sheer scale of The Adventures of Tintin made the use of performance capture necessary, and producer Peter Jackson and his company, Weta Digital, made sure it was done right.
The story is taken from three of Hergé's books, and is a mix of detective fiction, pirate adventure and breathless action. Tintin is an enthusiastic hero, running about tirelessly without sign of frustration. Haddock, who is intimately tied to the sought-after treasure, is a humorous sidekick. Haddock has Tintin risk life and limb to steal a key from one of Sakharine's thugs so he can raid the ship's liquor cabinet before proceeding onward. When he eventually sobers up, Haddock is less than helpful, and his newfound clarity knocks him on his ass. Nick Frost and Simon Pegg also lend their voices to two bumbling policemen, Thomson and Thompson, who appear to be but certainly are not identical twins.
The Adventures of Tintin is a refreshingly straightforward adventure. There's a hero and his dog, a cunning villain and a sizable treasure. The simplicity of the story allows Spielberg to create a lean, rollicking adventure that rarely stops to catch its breath. At times, the film moves a bit too quickly between its locations, relying completely on Tintin to vocalize his understanding of the clues. A bit more audience participation may have added to the film's impact, but this is a small quibble, especially since Snowy outsmarts Tintin from time to time anyway. Spielberg's first animated film is a visual treat, especially the extended action sequence on the harbor, and the big-name voice actors complement the story instead of becoming a distraction. The Adventures of Tintin made a bigger splash overseas than it did in America, but it makes for a nice evening in the home theater.
THE BLU-RAY:
PICTURE:
The 2.35:1/1080p/AVC-encoded transfer for The Adventures of Tintin looks amazing. The film's digital source translates exceptionally well to Blu-ray, and the characters and environments all are rendered in perfect clarity. Detail is incredible; from the individual strands of Tintin's fiery hair and Snowy's furry coat to the grains of desert sand and the waters surrounding the Karaboudjan, surfaces near and far exhibit wonderful texture. Colors are explosive and perfectly saturated, black levels are inky and shadows never rob the image of detail. Aside from some very minor aliasing, this is demo-worthy material.
SOUND:
Paramount continues the welcome practice of including 7.1 DTS-HD Master Audio soundtracks on its biggest releases. The mix is aggressive, with perfect range and clarity that support the film's impressive sound design. The work of the voice actors is expertly integrated with the action effects and John Williams' pleasing score. The track is quite immersive, with a strong LFE presence. Gunshots ricochet throughout the sound field, and Tintin's motorcycle chase makes for some dynamic pans and action effects. This impressive soundtrack is also demo material. English, French and Spanish 5.1 Dolby Digital tracks are also included, as is an English DVS track. English, English SDH, French and Spanish subtitles are available.
PACKAGING AND EXTRAS:
Paramount releases The Adventures of Tintin in an excellent package that includes the Blu-ray, a DVD copy of the film, and digital copies for both iTunes and the UltraViolet streaming service. The discs and digital copy insert are housed in a Blu-ray eco-case. An attractive, embossed slipcover wraps the case. If you're interested, a Blu-ray 3D version is also available and includes everything here plus the 3D disc.
The Blu-ray includes a slew of featurettes, which, when presented together, comprise an excellent, feature-length making-of documentary that is presented in high definition. With an aggregate running time of 96:20, the bonus materials cover nearly every aspect of the film's production. The voice actors, filmmakers and crew provide valuable insight into the film's genesis and production. Spielberg details the long process of bringing the project to the screen after Hergé's death in 1983, and his reasons behind animating the film. Serkis again proves a talented actor, especially in the performance-capture world, in glimpses of his on-set work, and Bell recalls reading the source comic books as a child. Laurent Bouzereau, who has created excellent documentaries for Spielberg, Jackson, George Lucas and others, produced this material. The individual sections are as follows:


Toasting Tintin: Part 1 (1:24/HD)


The Journey to Tintin (8:54/HD)


The World of Tintin (10:46/HD)


The Who's Who of Tintin (14:18/HD)


Tintin: Concept Design (8:38/HD)


Tintin: In the Volume (17:54/HD)


Snowy: From Beginning to End (10:11/HD)


Animating Tintin (11:00/HD)


Tintin: The Score (7:07/HD)


Collecting Tintin (3:58/HD)


Toasting Tintin: Part 2 (3:12/HD)


FINAL THOUGHTS:
Steven Spielberg's The Adventures of Tintin wastes little time dropping its hero into the middle of a continent-crossing treasure hunt. This performance-capture adventure, based on the comics of Hergé, stays in perpetual motion, and the simple story complements the impressive action. For pure escapist entertainment, Spielberg's first animated film cannot be beat. Paramount's Blu-ray is excellent, with stunning picture and sound and an extensive making-of documentary. Highly Recommended.

William lives in Burlington, North Carolina, and looks forward to a Friday-afternoon matinee.
---
C O N T E N T

---
V I D E O

---
A U D I O

---
E X T R A S

---
R E P L A Y

---
A D V I C E
Highly Recommended
---
E - M A I L
this review to a friend
Sponsored Links
Sponsored Links