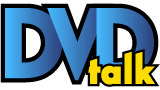 List Price: $24.95 [Buy now and save at Amazon]
---
It's big, it's colorful with great scenery, plenty of action, and an exceptional cast. And it's also a bore. Denver & Rio Grande (1952) is as clunky as is title, a railroad-building Western overrun with genre clichés, with a particularly trite set-up from which most of the melodrama hangs. But even if this single huge drawback overwhelms the picture's many assets, those assets are still there, and that may be enough for some audiences, especially train enthusiasts. They get their money's worth here.



A Paramount title licensed to Olive Films, Denver & Rio Grande looks pretty good. Unfortunately, the label isn't sending us review copies of their Blu-rays, only their standard DVD versions, but this seems adequate. It appears Paramount did not go back to this 3-strip Technicolor film's original black & white separations (from which the best high-def transfers can be derived), assuming they still exist, but color and detail are good.






The film begins with a captivating prologue, footage of modern trains (modern in 1952 that is, including the California Zephyr) speeding along the Denver & Rio Grande Western Railroad routes, chiefly in Colorado and Utah but also into New Mexico. The great color footage of now-extinct passengers trains all by itself is pretty fascinating. The irony, of course, is that the picture crows about the Great American Railroad just as this form of transportation was falling into rapid decline.


The story proper begins around 1870, when on virgin land in the Rocky Mountains surveyors from the Denver & Rio Grande Railroad discover that a competing railroad, the Canon City & San Juan, are illegally surveying the same patch of land for their own proposed line. D&RG construction foreman Jim Vesser (Edmond O'Brien) decides to confront the trespassers, McCabe (Sterling Hayden) and Bob Nelson (Don Haggerty), the latter an old friend of Jim's.


An impressively brutal fight breaks out, but in a cripplingly clichéd bit of lazy writing, Vesser is knocked cold just as McCabe pulls a gun on him. McCabe accidentally shoots Nelson dead instead but when Vesser regains consciousness, McCabe claims it was Vesser who killed him. Further, McCabe's psychotic lieutenant, Johnny Buff (Lyle Bettger), provides false testimony that Vesser pulled the trigger. For his part, Vesser is too groggy to dispute the charge, eventually coming to believe that perhaps he did kill his old friend after all. How convenient.


Vesser is cleared of murder charges but leery of returning to his old job, even though railroad magnate Gen. William J. Palmer (Dean Jagger) and engineer Gil Harkness (J. Carrol Naish) desperately need his leadership. He relents, however, after the D&RG becomes the victim of increasingly dangerous acts of sabotage ordered by McCabe and Buff.


Meanwhile, unbeknownst to Vesser, Palmer, and Harkness, Palmer's secretary, Linda Prescott (Kasey Rogers) is actually Bob Nelson's widow, and despite her loyalty to Palmer she's been working as a mole for McCabe, ostensibly to punish Vesser for his "cowardly murder."


Byron Haskin, a cameraman and special effects supervisor going back to the silent days, directed the picture. He was known during this time as something of an expert shooting big, masculine outdoor adventure films and/or those involving myriad logistical problems like trains and miniature effects. At the time, pictures like Denver & Rio Grande were his calling card though today he's better remembered today for his sci-fi movies, notably War of the Worlds (1953) and Robinson Crusoe on Mars (1964).


Haskin previously teamed with Edmond O'Brien on Warpath (1951), also co-starring Dean Jagger; and Silver City (1951). O'Brien's movie career stretched from the late 1930s to the mid-1970s, but his years as a tough-talking if paunchy leading man were much more limited, confined mostly to the late-1940s into the middle-'50s. In fact he was a much better character actor and second lead than he was a dashing hero; in the latter capacity he was often grossly miscast, such as in the 1956 film version of 1984. He worked for years despite advancing Alzheimer's disease whose symptoms may have first appeared as early as 1953 or so.


His character's all-too-convenient memory lapse and out-of-character ineffectualness seriously damage the film, as does Linda's confused loyalties. Sterling Hayden and Dean Jagger are far better actors than the tired characters they've been given here. Zasu Pitts, meanwhile, is brought in for comic relief, and though she's fun to watch she's stuck playing the same character she's played a million times before, the eccentric spinster trying to win the heart of the equally eccentric older man oblivious to her efforts to woo him.


Helping somewhat is that the great character actor Paul Fix plays the man, a locomotive engineer named Moynihan. Early in his career, Fix seemed to specialize in weak-willed (there's that word again) henchmen parts, but around this time Fix really got to show off his impressive range. Here he's a gregarious, working-class Irishman, a stereotype to be sure, but Fix plays him with such enthusiasm he comes off better than just about anyone in the cast.


The murder early in the film was shot on a soundstage exterior set, but virtually all the other outdoor scenes were filmed on location in Colorado, which Haskin and cinematographer Ray Rennahan make excellent use of. The action is occasionally big scale, including an avalanche and an epic head-on collision between trains (less dramatic but more realistic than the one seen in another 1952 Paramount release, The Greatest Show on Earth).


Video & Audio


As noted above, Denver & Rio Grande's transfer is okay but not great, with Olive probably saddled with whatever Paramount was willing to provide. The colors are rich and contrast is reasonably good, though there is a fair amount of dirt and other blemishes, and the film gets a few frames out-of-synch for a bit around the 33-minute mark. The full-frame release (original theatrical aspect ratio: 1.37:1) is region 1 encoded. English-only mono audio is fine, though not supported by subtitles, closed-captioning, or other audio options.


Extra Features


None.


Parting Thoughts


Colorful but just okay due to its cliché-ridden screenplay, Denver & Rio Grande is an overly-familiar Western compensated somewhat by a good cast and plenty of action. Mildly Recommended.



Stuart Galbraith IV is a Kyoto-based film historian whose work includes film history books, DVD and Blu-ray audio commentaries and special features. Visit Stuart's Cine Blogarama here.

---
C O N T E N T

---
V I D E O

---
A U D I O

---
E X T R A S

---
R E P L A Y

---
A D V I C E
Recommended
---
E - M A I L
this review to a friend
Sponsored Links
Sponsored Links