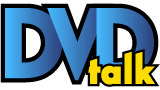 Fox // R // January 28, 2003
List Price: $26.98 [Buy now and save at Amazon]
---
"See that toilet? Jim Morrison passed out in there one night with me underneath him."


The Feature:

What happens to groupies when they get older? Honestly, I have never given that question much thought; but "The Banger Sisters" attempts to answer that question for all of us. It's a story of two world-renowned groupies, appropriately named The Banger Sisters by Frank Zappa, who reunite one day long after going their separate ways years ago.


Meet Suzette (Goldie Hawn). She works at a bar, and can't accept that her glory days are over with. One day, she decides to take a road trip to Phoenix to visit the other half of the Banger tag-team, Livinia (Susan Sarandon). Along the way, she encounters a man named Harry (Geoffrey Rush), who offers her gas money if he could bum a ride with her to Phoenix. They ride together, and Harry lets Suzette in on a little secret… he's going to kill his father. Anyways, Suzette meets up with Livinia, who is living a nice, normal life. She has two teenagers, and a husband who is clueless of her past life. Can you feel the wacky sitcom plots brewing here or what?


The most shocking thing about this movie is that it's rated R. I figure that with Hawn and Sarandon, they would have gone for the PG-13 rating, as to attract a larger audience. Regardless of what the rating is, I didn't like this movie very much at all. Hawn works with the material the best she can, but there's not much to the script that lets her show off her stuff. Many of the other characters, most notably Livinia's husband, are not fleshed out, and only seem to exist to advance to create conflict.


Video:

Fox presents "The Banger Sisters" in Anamorphic Widescreen 2.35:1 on one side of the DVD, and Full Frame 1.33:1 on the other. Everything looks good in the widescreen presentation, with a small amount of grain present, and generally, a sharp and vivid picture.


Audio:

The audio is presented here in Dolby 5.1, French 2.0, and Spanish 2.0. Fox has done an okay job with the audio presentation, although this movie didn't utilize all the benefits of having 5.1 audio. In fact, this could have very well been done in 2.0, and I wouldn't have noticed much of a difference. Dialogue is clear, though; which is the major thing you'd want done right if you were buying this release.


Menus:

An interactive DVD menu playing clips from the movie offers the choices of "Play", "Scene Selection", "Language Selection", and "Special Features."


Extras:

The first extra on this DVD is a running commentary by director Bob Dolman. A novice to the directing game, Bob makes some interesting comments about the cast, as well as filming the movie in only 33 days. He tends to take long pauses, but if only to gather his thoughts (he is clear, and doesn't trip over his words). In addition to the commentary is the "Theatrical Trailer" (as well as one for "Bend it Like Beckham"), as well a pretty entertaining blooper reel, which ironically has all the cuss words bleeped out (remember, this is an R rated movie).


Final Thoughts:

I'm a big fan of Goldie Hawn, as I find her to be one of the most charming and engaging actresses ever. Unfortunately, my love of her isn't enough to highly recommend this movie to anyone. "The Banger Sisters" is fairly predictable, and didn't hold my interest past the halfway mark. But because of the decent extras and good audio/video, I'll give this one "Rent It."
Sponsored Links
Sponsored Links