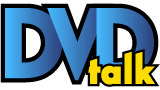 Tales That Witness Madness
List Price: $24.95 [Buy now and save at Amazon]
---
The Movie:


A creepy, cheesy horror anthology from the U.K., 1973's Tales That Witness Madness counts among the latest vintage Paramount-distributed films that are currently getting redistributed on DVD through Olive Films. Its four segments all concern people who have been driven mad by various wild circumstances. Altogether, the stories are told with simple characters, by-the-numbers shocks, and "twists" that most viewers will spot from a mile away. As long as you dial your expectations way down, there's some kitschy thrills to be had amongst these tawdry tales of psyches that collectively took a wrong turn at Albuquerque.


The bridging segments in Tales That Witness Madness take place during one dark night at a maximum security insane asylum. Hearing of the unusual patients under observation at the facility, Dr. Nicholas (Jack Hawkins) visits with his colleague, the enigmatic professor Tremayne (Donald Pleasence), to learn more about how these strange, special cases came to be. Under the spell of home-made cocktails mixed in the facility's chemical lab, Tremayne takes Nicholas through the asylum's gleaming white hallway of rooms where each patient is sequestered, regaling us with their spine-chilling back stories:




In Mr. Tiger, the attachment that an inquisitive little boy (Russell Lewis) forms for his imaginary friend causes concern with his parents. The child-rearing disagreements between the boy's workaholic father (Donald Houston) and his boozy, materialistic wife (Georgia Brown) drives young Paul to retreat further into his fantasy world caring for his buddy, a man-eating tiger. Which would be fine, except this tiger has a special appetite for argumentative parents.

Penny Farthing concerns a young antiques merchant named Timothy (Peter McEnery) who acquires an old penny farthing bicycle and framed portrait from the same estate. The portrait, a photograph of a scowling man named Uncle Albert (Frank Forsyth) has a strange pull on Timothy, compelling him to pedal the bicycle against his will. Riding the bike transports Timothy to a circa 1900 park setting in which he interacts with a beautiful widow (Beth Morris), all of which is observed by Uncle Albert in crusty disguise as a statue. The time travel hijinks eventually spill over into current times, placing Timothy and his wife (Suzy Kendall) in peril.

The silly, bizarre Mel follows a guy named Brian (Michael Jayston), who arrives home from one of his morning jogs with a new piece of living room decor - a huge, dead tree that he lovingly bestows with the name "Mel." This doesn't sit well with Brian's wife, Bella (Joan Collins), but she reluctantly agrees to try it out. As the days go by, Bella becomes frustrated as Brian develops a strange, quasi-erotic fixation on the tree, leaving her fuming and alone in the bedroom. Before she can get rid of the giant hunk of wood, however, Mel decides that there's room for one person in the house - and it's not the sniveling wife!

The terror-filled flashbacks conclude with Luau. Auriol (Kim Novak), a vivacious literary agent, is excited to throw a party for her latest client, a swarthy looking author named Kimo (Michael Petrovich) who hails from an unspecified island region. Staying at Auriol's estate with his associate, Keoki (Leon Lissek), Kimo becomes entranced by Auriol's ripe young daughter, Ginny (Mary Tamm). As the date for the gala party approaches, lusty Auriol is oblivious to the fact that Kimo and Keoki are actually carrying out the dying wishes of Kimo's mother, a ceremony that involves elaborate ritual sacrifice and cannibalism.

Well ahead of the time that Tales That Witness Madness reaches the conclusion that ties these stories together, it becomes apparent that this is one of the more lackluster UK horror entries - for three of these four segments, at least. Its attempts to dose out frights and dark humor in equal amounts make it doubly disappointing. The film has the feel of a marathon of mild, less compelling Night Gallery episodes from that period, perhaps one with a bit more gratuitous blood and gore. There's also the inevitable bare breast shots, one of which involves Joan Collins' character (more than likely belonging to a body double). The Collins segment, Mel, wound up being the most funny and intriguing. After all, how often do tree fetishists pop up in movies? Collins looks foxy as well, doing her best with a thankless role.


As for the other segments, Mr. Tiger is too slight and predictable, while Penny Farthing is a mess that borders on the incomprehensible. Luau boasts the most complex script, but it fails to rise above the kind of pulpy stuff handled in a zillion b-movies of yore with the exotic villains threatening the pampered white women. Perhaps the oddest aspect of this already weird exercise lies in the performance of Kim Novak, whose slurry, vulnerable take on Auriol makes one wonder exactly how much of it was acting (or was she tipping back a few between takes?). Novak was apparently coaxed out of retirement to appear here, replacing her Pal Joey co-star Rita Hayworth. What motivated her to return in a low-rent Brit horror flick like this is a mystery. Surely she must have known of what Tales' director, Freddie Francis, did for Joan Crawford in her "murderous cavemen need love, too" opus, Trog (1970).



The DVD:

---
Video:


The anamorphic 16x9 image on Tales That Witness Madness is somewhat soft but nicely balanced and remarkably free of grain and dirt. Visually this one fares better than Olive Films/Paramount's recent disc treatment of another 1973 film, Hit!.


Audio:


Tales' soundtrack is decently mastered here with dialogue and music mixed in clear manner with no apparent glitches. No subtitle options on this no-frills disc.


Extras:


None.


Final Thoughts:


While Tales That Witness Madness holds a certain camp appeal for fans of cheesy '70s British horror, even on those low, low standards it doesn't hold up. While the man-loves-tree segment Mel has a cheeky, offbeat charm, the others wind up being done in by lameness and predictability. Kim Novak's appearance may be worth a peek for those with a macabre interest in older silver screen sirens debasing themselves in exploitation fare, everyone else is well-advised to skip it.



---
Matt Hinrichs is a designer, artist, film critic and jack-of-all-trades in Phoenix, Arizona. Since 2000, he has been blogging at Scrubbles.net. 4 Color Cowboy is his repository of Western-kitsch imagery, while other films he's experienced are logged at Letterboxd. He also welcomes friends on Twitter @4colorcowboy.
Sponsored Links
Sponsored Links