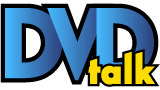 List Price: $26.98 [Buy now and save at Amazon]
---
The Movie:



A gritty, slow-moving thriller that was largely overlooked by audiences last Fall, "City by the Sea" is a welcome return to drama for actor Robert Deniro. Although Deniro's string of comedies lately have had their high points, it was apparent that the actor needed to do something a little different. Is it a successful film? Not really, but it's not bad, either.



Reportedly based upon a true story, the film stars James Franco as Joey LaMarca, a drug addict who, as the film opens, tries to sell his guitar to get enough money to score his next fix. Joey kills the local drug dealer in self-defense and, when the body washes up, its Joey's father, Detective Vincent LaMarca (Deniro), who ends up heading up the investigation.



In this dreary picture, all of the characters are essentially involved in a circle of problems. Joey is angry at his father for walking out on him years ago. Vincent's girlfriend, Michelle (McDormand) is unhappy with all the secrets he seems to be holding, Vincent's ex-wife continues to remind him of his failure as a father (everyone in the movie keeps telling Vincent how he walked out on his family). Joey's sometime girlfriend, Gina (Eliza Dushku, looking cute even when made to look frumpy) also tells Vincent that he has a grandson.



"City by the Sea" is one of those films that always seems to be heading somewhere, but never quite does. Somber and slow, the film is well-acted, but lacks urgency and energy. Several other issues don't help: while the film is quite good as a police drama, the family issues are presented in a one-dimensional way. The relationship between the Deniro and McDormand characters is well-played, but lacking in much-needed depth. John Murphy's score also tends to underline the Big Emotional Moments.



Somehow, cliches, pacing and other problems aside, the film at least remains watchable. DeNiro provides one of his most restrained and compelling performances in quite some time, giving great depth and emotion to a character that may not have been so well-defined by the screenplay. Dushku's good in a small role (I'd like to see her in more dramas), while Franco is merely okay. Karl Walter Lindenlaub's cinematography is another star of the show, as it captures the crumbling buildings and dark streets quite well, adding atmosphere.



Most of the elements are here to make a perfectly good thriller, but they really never come together. Franco's character is never well-defined, while the movie spends entirely too much time on Vincent's past, which it never really deals with in more than a one-dimensional fashion. Still, Deniro really elevates the material and some of the supporting performances are solid, too. Decent and watchable, but I had the sense this could have been better.




The DVD



VIDEO: "City by the Sea" is presented by Warner Brothers in 2.35:1 anamorphic widescreen. The picture quality is, as with most of the transfers of new releases from the studio, quite nice. Sharpness and detail are first-rate, as the picture appeared consistently clean and clear, with fine detail often visible and a nice, crisp picture that offers good depth to the image.



Problems were generally minor and really didn't cause much concern. Slight edge enhancement was spotted briefly on a couple of occasions, while very light grain was also seen in some of the dimly-lit scenes. Compression artifacts were not spotted and the print looked clean.



Obviously, the settings and tone of the movie lead to a subdued, low-key color palette. Still, the picture presents the colors quite well, with crisp tones and no concerns. Black level remained solid, while flesh tones appeared accurate.



SOUND: "City by the Sea" is presented in Dolby Digital 5.1. The presentation really doesn't offer anything that I wasn't expecting, given the material. Surround use is restricted to some minor ambience and a fairly surprising amount of reinforcement for the score. The audio quality remained pleasing, as the soundtrack remained dyanmic and clear-sounding, with a wide front soundstage. Dialogue was natural and clean sounding. There's nothing incredible about the film's sound, but it was certainly satisfactory.



EXTRAS: An interview featurette with director Michael Canton-Jones, audio commentary from writer Ken Hixon and producer Matthew Baer, trailer and bios.



Final Thoughts: "City by the Sea" remains watchable due to its performances, but if the writing was better, this could have been a considerably better movie. Warner Brothers has put together a fine DVD, with good audio/video quality and a few supplements. Maybe worth considering as a rental.



Sponsored Links
Sponsored Links