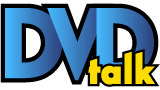 Starship Troopers: Invasion
List Price: $30.99 [Buy now and save at Amazon]
---
You sort of have to hand it to Sony: against all odds, they managed to turn Starship Troopers -- which only earned $120m worldwide against a $100m budget -- into a surprisingly valuable franchise. First, there was the seemingly popular animated TV series "Roughnecks," followed by two live-action direct-to-video sequels. Last year, Sony announced a remake was also in the works, but that hasn't stopped them from releasing a new chapter in the series, Starship Troopers: Invasion, which combines the two approaches: direct-to-video sequel, and CG animation.



Because I haven't seen them, it's hard to say how much carries over from the other two direct-to-video sequels, but Starship Troopers: Invasion brings back characters from the original: Captain Carmen Ibanez (first played by Denise Richards, Tish Hicks on "Roughnecks," and now by Luci Christian) and Dr. Carl Perkins (Neil Patrick Harris, Rider Strong, and now Justin Doran). Curiously, although series standby Casper Van Dien is an executive producer, he does not voice General Johnny Rico (David Matranga takes over), even though the character also plays a big role. The story follows a team of troops escorting Captain Ibanez back to her ship the John A. Warden after Dr. Perkins abruptly takes off in it and then goes dark out in the middle of space. Upon arriving, the troops discover they've fallen into a trap pieced together from pieces of popular sci-fi movies: the ship contains a significant bug infestation, and it's heading through a nebula on a crash-course toward Earth.



Although it got a tepid critical reaction back in 2001, Final Fantasy: The Spirits Within is still probably the most successful film thus far to tell a story with "photo-realistic" CG characters. Whether that story was worth the effort is debatable, but from a filmmaking standpoint, it was delivered in a way that helped the viewer focus more on the story and characters than the technique. I've found myself unable to engage with other non-stylized CG animated films; although I admit I'm not a video game player, which might've served as a good stepping stone, the direction of these films seems to be falling into its own uncanny valley, caught between its attempts to mimic live-action films and shots that would only make sense in the world of animation. When showing us a doctor's nervous shaking, director Shinji Aramaki doesn't cut in for a close-up of his hand, but when observing Captain Ibanez in the shower, he slowly pans up from her feet all the way up around her ass and around to her chest on the way to her face.



Actually, Starship Troopers: Invasion contains a fair amount of CG nudity -- another character, Ice (Melissa Davis) seems to exist solely so she can walk around the ship with no shirt on between battles, and there's a love scene between sexy sniper Trig (Emily Neves) and Bugspray (Andrew Love). Suit technology (something apparently brought over from the original Heinlein novel) also takes up a distracting amount of screen time, as well as large helpings of bug and human splatter. With some truly ludicrous heroics showcased in the last 20 minutes of the film to top things off -- had Van Dien reprised his role, I just might have accused screenwriter Flint Dille of pandering to him -- the whole experience feels exceptionally adolescent, desperately diving toward base male pleasure points in hopes of endearing the Starship Troopers "brand" to a new generation of 16-year-olds.



Aside from the obvious lack of creativity that comes with this kind of pandering, I have a hard time believing people can't get the simple-minded pleasures of Starship Troopers: Invasion somewhere else. It's probably too easy to wonder why this isn't a video game, but I bet it'd be more fun to blast bugs yourself than watch a bunch of faceless CG mannequins do it. With the helmets on, it's hard to keep track of who's who, and that not-quite-natural direction adds another layer of disconnect between the audience and what's happening on screen. Starship Troopers: Invasion looks decent -- the technology that was groundbreaking in Spirits Within can now be out-performed on the cheap -- but the movie is pure product, hoping that covering all the bases its demographic is interested in will be enough to pry a few Redbox dollars from people's wallets -- no need to know more.



The Blu-Ray

I guess the artwork for Starship Troopers: Invasion suggests what the story of the film is, but you'd never understand it until you'd actually watched the film. Plus, although the packaging mentions "the latest in CGI technology," it never actually uses the word "animation" anywhere. The pictures of people on the back are pretty small, so I wouldn't necessarily be surprised if anyone rented this not knowing it was a CG animated film. The disc comes in a plastic-saving eco Vortex Blu-Ray case, and there is a flyer on the inside with a redeemable UltraViolet digital copy code.



The Video and Audio

Viewers expecting this digital animation to be demo-worthy A/V material will, surprisingly, be disappointed on both counts. The video fares worse: this 1.78:1 1080p AVC presentation has been given a layered coating of a) film grain, b) lens flare, and c) depth of field simulation, all of which combines to rob this CG cartoon of its naturally unnatural appearance. Instead of the razor-sharp clarity, color, and contrast of your average CG animation, this kind of looks more like a live-action film, in a way, if somehow the visual limitations of shooting live-action footage could try too hard. Maybe this "realistic" effect helps cover some of the seams, but it flattens and dulls the image significantly. Contrast suffers the most, with dark shadow areas crawling with "film grain" and plateauing at a dark gray.



An English 5.1 DTS-HD Master Audio track fares better than the picture, but on the whole it lands in that frustrating gap between "too good to write off as serviceable" and "missing that special something." The frequent gunfire and explosions are certainly enveloping, but they never quite pack the thunderous punch that would grab the viewer's attention. Dialogue sounds fine, and it's nicely put together for a direct-to-video effort, but I expected more from such an action-heavy effort. French and Spanish 5.1 DTS-HD Master Audio tracks are also included, as are Spanish, Thai, and Chinese Dolby Digital 5.1 tracks. English, French, Spanish, Chinese (traditional or simplified), Indonesian, Korean, and Portuguese subtitles are available, as are English captions for the deaf and hard of hearing.



The Extras

An audio commentary with Shinji Aramaki and "Ishizuka of Sony Pictures" is included, with English subtitles. Aramaki does a good job of staying screen-specific, discussing his decision-making process behind individual choices, but this is a bit on the reserved, quiet side, and they may also be seeing the final animation for the first time, which frequently grabs their attention. The subtitles also ought to identify which one is Aramaki and which one is Ishizuka at all times in order for the viewer to keep track of who is speaking.



"The Making of Starship Troopers: Invasion" (1:19:59) is an 11-part making-of documentary that dives right into the why and the how, via interviews with director Shinji Aramaki, producers Ed Neumeier and Casper Van Dien, and other members of the cast and crew. Interesting topics covered include the powerful influence Heinlein's book had on Japanese pop culture (it was one of the first pieces of entertainment to introduce the idea of the mecha suit, a staple of modern anime), the decision to jump from live-action to animation, traveling from America to Japan to do motion capture, and adding post-production effects to make the film look more realistic. One particularly amusing chapter documents Aramaki and producers Shigehito Kawada and Joseph Chou visiting the Sony archive to look at materials created for the original Starship Troopers and barely managing to contain their glee. Still, two quotes stand out as defining the documentary: Casper Van Dien revealing, "It wasn't the sense of humor [of the book] that I liked, it was the suits!" and Aramaki's summary of the book as "a very impacting product."



Two deleted scenes are included (01:36), but the actual excised footage is something like 20 seconds. A gag reel (03:24) is a weird bunch of voice-over flubs or bits combined with footage from the finished film. Since all of these were recorded with one actor, by themselves, in the voice-over studio, they have a strong "you had to be there" vibe to them. The disc finishes up with a Blu-Ray exclusive conceptual art gallery.



A promo for Blu-Ray and trailers for Resident Evil: Damnation, The Raid: Redemption, Looper, 6 Bullets, and Meeting Evil play before the main menu. No trailer for Starship Troopers: Invasion is included.



Conclusion

Starship Troopers: Invasion sounds like it might be fun on paper, but the final product is clearly more interested in hitting a target demographic than telling a particularly interesting story or expanding the Starship Troopers movie universe. Anyone who sat through the other two Starship Troopers sequels might rent this out of curiosity, but it's forgettable franchising through and through. Skip it.
---
Please check out my other DVDTalk DVD, Blu-ray and theatrical reviews and/or follow me on Twitter.
Sponsored Links
Sponsored Links