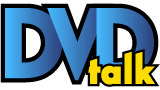 List Price: $29.99 [Buy now and save at Amazon]
---
The Movie:
Directed by William Kaufman, who proved himself early on with The Prodigy and has been a little hit or miss ever since, 2012's One In The Chamber begins in Prague with a pretty intense scene where on Russian mobster gets a phone call from another Russian mobster that he's recently screwed over. From here we meet Ray Carver (Cuba Gooding Jr.), an assassin who opens fire and wipes out everyone in the apartment except for one man who escapes after taking a hostage. From here we meet Aleksey Andreev (Dolph Lundgren), known in certain circles as 'The Wolf,' a moniker he discourages as he's aware that it's as corny as the shirts on his back. Aleksey smokes cigars, wears tight white pants and Hawaiian shirts and cracks a lot of smart ass jokes but he's widely regarded as one of the most dangerous assassins in the area.
As violence erupts between a Russian gang and Czechoslovakian gang, Carver's employers call in Andreev to finish what Carver could not and take out the one remaining member of the rival gang. As their respective paths cross, loyalties change, plots twist and lots of people get shot...
One In The Chamber is a decent enough modestly budgeted B-grade action movie that should have been a whole lot better than it is. That's not to say that the movie isn't worth seeing - if you're a Lundgren fan you'll definitely get a kick out of this as he's quite good here - but you do get the impression that with a better script and some tighter editing that this could have wound up a more impressive picture. Once we start falling prey to the internal narration of Gooding's character, the movie gets a little too melodramatic and while it's obvious that the script was, with this technique, trying to infuse a more human element into the killer, it winds up coming off as corny. Thankfully, we get a really good They Live style brawl around the halfway point between Lundgren and Gooding that more than makes up for the moments where the movie loses step.
As far as the performances go, Cuba Gooding Jr. is perfectly fine in his part. He does the tough guy thing reasonably well here as he has in a few other recent straight to video action movies (not the least of which was Hit List, also directed by Kaufman) and we can believe him as a smart and cunning gunman, the kind that rarely misses and who is quite a dangerous character in his own right. The real star of the show, however, is Lundgren. Not only does he spout of some of the most intentionally corny dialogue of his career in this picture but he gets to sport one of the most ridiculous wardrobes you could think to put him in. He looks like he should be pulling up to the bar on the beach in Waikiki and sipping a pina colada, not brawling with assassins and shooting anyone who gets in his way. Those who have followed Lundgren's career know that he's actually got a pretty solid knack for comedic timing and deadpan delivery and this movie makes good use of that. As to the rest of the cast? They're pretty disposable but that's fine, we're watching this for Cuba and Dolph anyway, anything else that stands out here is just gravy.
The opening sequence where Gooding takes out his targets with a sniper rifle is handled well... and then the movie slows down for twenty minutes, at which point it moves at an uneven pace to a fairly well played conclusion. The sporadic violence and scenes of heavy action that do occur are done nicely, with minimal CGI and some impressive stunt work to keep action fans happy. The movie could have done a better job of playing up the juxtaposition of Carver's morose assassin against Andreev's grinning killing machine but it doesn't really succeed at this on anything more than a surface level. As such, One In The Chamber does not wind up a deep film, but it's a fun way to kill ninety-one minutes without having to think too hard and there's nothing wrong with that.
The Blu-ray:

Video:


Anchor Bay presents One In The Chamber on Blu-ray in an AVC encoded 1.78.1 widescreen transfer that is clean, colorful and nicely detailed. Aside from a couple of scenes that have 'grindhouse' style scratch marks and effects over top of them, the picture is very crisp and clean looking and it boasts very nice colors throughout. Black levels are pretty strong and skin tones look good. There's some mild shimmering here and there but no heavy edge enhancement or noise reduction to note. Texture is pretty impressive, you'll be able to notice the fibers that make up the various bad shirts Dolph wears throughout the movie and there's plenty of background detail to ogle throughout the movie. All in all, the movie looks quite good on Blu-ray.
Sound:
The English language Dolby True HD 5.1 on One In The Chamber is very solid. Gun shots pack a pretty strong punch and there's a solid low end here that offers some nice rumble when the movie calls for it. Dialogue stays plenty discernible and easy to follow as the levels are properly mixed ensuring that the performers never get lost in the mix. Channel separation is frequent and generally handled quite well, a few of the shoot out scenes have some nice pans across the room as the bullets fly. As you'd expect from such a recent film, there are no issues with hiss or distortion - everything comes up just fine here. Optional subtitles are provided in English SDH and Spanish.
Extras:
Aside from menus and chapter selection, the only extra on the disc is a fifteen minute featurette entitled One In The Chamber: Behind The Scenes which is little more than some random footage shot on the set during the production of the movie with occasional comments from those involved. It's not much, but it's something. As this is a combo pack release, a standard DVD containing the same cut of the movie and the same extras as the Blu-ray is also included inside the case.
Final Thoughts:
One In The Chamber isn't going to win any awards but it's a reasonably entertaining mindless action movie thanks in no small part to Dolph Lundgren's bizarre character. The shoot outs are tense and the action consistent enough that we're able to look past the pedestrian story and ridiculous plot. This probably won't win Dolph any new fans, but it might win Cuba some - predictable, cliché ridden, but still a fair bit of fun. Anchor Bay's Blu-ray is light on extras but looks and sounds good. If you're a fan of Lundgren, consider this one recommended.
Ian lives in NYC with his wife where he writes for DVD Talk, runs Rock! Shock! Pop!. He likes NYC a lot, even if it is expensive and loud.
---
C O N T E N T

---
V I D E O

---
A U D I O

---
E X T R A S

---
R E P L A Y

---
A D V I C E
Recommended
---
E - M A I L
this review to a friend
Sponsored Links
Sponsored Links