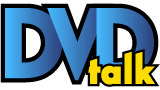 Colossus of New York, The
List Price: $24.95 [Buy now and save at Amazon]
---
"I try to be good...but it isn't easy."
I can almost hear his heart breaking. Olive Films, that purveyor of all those fun Paramount library titles, has released The Colossus of New York, the 1958 cult sci-fi robot monster flick starring Otto Kruger, Ross Martin, John Baragrey, Mala Powers, Robert Hutton, and little Charles Herbert. Always a big hit with the small fry whenever it popped up on TV horror shows (Happy Hauntings, Sir Graves!), enjoying The Colossus of New York now probably requires not looking too closely at its cracks and seams, and instead just going along with its strange, low-budget vibe. No extras for this sharp, sharp black and white transfer.
Genius scientist Dr. Jeremy Spensser (Ross Martin), as head of the World Food Organization, has developed a strain of frost-resistant plants, opening up a whole new "bread basket" in the Earth's polar regions. For his breakthrough efforts, he's awarded the International Peace Prize. Returning with his wife, Anne (Mala Powers), and his young son, Billy (Charles Herbert), from the ceremonies in Stockholm, Jeremy is greeted by his father, brilliant brain surgeon Dr. William Spensser (Otto Kruger), Jeremy's brother, Dr. Henry Spensser (John Baragrey), a brilliant specialist in electronics and automation, and Jeremy's best friend, brilliantly handsome Dr. John Robert Carrington (Robert Hutton). With all those eggheads in one basket, you'd think Jeremy would at least make it out of Idyllwild alive, but when a truck flattens him like a pancake on the tarmac, Dad gets the scalpel and goes to work, saving Jeremy's brain and eventually convincing a reluctant Henry to construct an automated robot to house Jeremy's noodle. Unfortunately, Henry let his barely sublimated resentment towards Jeremy surface during that critical R & D phase, resulting in a terrifying behemoth that is indestructible. Once Jeremy comes to grips with his new existence, he soon discovers just how powerful he can be...and how expendable puny "human trash" is to his new world order.
A potentially interesting mix of the older Jewish folktales that described holy men creating golems to protect their communities (only to see them grow more powerful and deadly), and the Frankenstein mythos (itself a golem permutation) of the blasphemous, godless scientist creating life as an expression of secular superiority, the painfully self-serious The Colossus of New York works best as a creepy kiddie spookums show, rather than as a "serious" meditation on those artistic and cultural inspirations. Indeed, kids have a much easier time of overlooking The Colossus of New York's biggest drawback―its own frequent funeral tone of haughty self-importance―while concentrating on the big, scary monster robot that wants to love mankind, but who can't help killing. No one is saying The Colossus of New York should come off as a superficial comic book (not that there's anything wrong with that tack, either), but for a movie that involves a mammoth cyborg hypnotizing and killing people with his X-ray eyes....this sure is one yakky, self-satisfied, smug effort.
Produced by William Alland (The Revenge of the Creature, Tarantula, The Mole People, The Deadly Mantis, The Space Children), written by Thelma Schnee from a story by Willis Goldbeck (The Man Who Shot Liberty Valance, several Dr. Kildare "Bs"), and directed by multi-talented production designer and special effects expert, Eugène Lourié (The Giant Behemoth, Gorgo), The Colossus of New York spends far too much time on its most interesting but least successful thematic element: the notion of a "soulless," "godless" brain/entity becoming twisted and perverse without its human flesh, its human heart. Admittedly, it's quite funny (unintentionally, of course), to see drama queen Otto Kruger purse his lips and spit out hilarious lines like, "Nature! What errant drivel!" and "You are an idiot!" when philosophically sparring with his cowardly son Baragrey (my favorite exchange comes when snide Kruger asks Baragrey, "Do you know what it is?" showing his son Jeremy's brain, with Baragrey dully responding, "A human brain," to which Kruger sneers, "Brilliant!"). Unfortunately, none of that gold is delivered with even a modicum of self-awareness of how silly it all is (listen to Kruger's supercilious lecture on "genius" brains; it's so...stupid). What The Colossus of New York needed big-time was a dose of self-deprecating humor, instead of all the bone-headed speechifyin' that everyone delivers with a solemnity reserved for the death of popes (and don't even get me started on the paranoid, self-congratulatory liberal fantasy politics that float through the narrative; when a robot starts talking about killing slum-dwelling "human trash" and "idealist scientists," you understand completely why the movie wraps up at the U.N. building under a pacifist motto about beating weapons into plow shares).
Much better are the moments where we see the Jeremy cyborg come to life, and gain (inexplicable) power. Granted, the moviemakers missed the boat on a potential subplot that really could have given The Colossus of New York a jolt: some hot, horny, robot-on-widow action, in the best tradition of I Married a Monster From Outer Space and all those '50s men's magazine covers and comic books that promised "unnatural" desires fulfilled on busty blondes via assorted fang-dripping apes, Nazis, and otherworldly aliens. Clearly, someone thought this might be a route worthy of going down, since we get a sequence that seems tailor-made for setting up that scenario: Jeremy-bot angrily speaks of "flesh that cannot feel," before he's outside Anne's bedroom window...where stacked Anne, in some sexy lingerie, lays frustrated and sleepless in her bed. For whatever reason, after Jeremy-bot places her chastely on her bed, the plug is pulled on that perverted but thoroughly respectable sci-fi convention―robots, like Mars, need women, too, after all―and we're back to standard scenes of Jeremy-bot menacing people and roaming around the bottom of the East River (further proof of his absolute invincibility) like the Gilligan's Island robot who walked to Hawaii.
He is, though, a very cool robot. I don't particularly care if the script doesn't explain exactly how Jeremy-bot develops the powers of clairvoyance, hypnotism, and laserbeam-killing eyeballs, just as long as they're visualized with some snap―which Lourié does quite well. If nothing else, The Colossus of New York is good at creating a strange black and white waking nightmare feel that's further weirded-out by Van Cleave's dramatic solo piano score (it's also quite funny at times; listen for the soap opera flourish when everyone shakes their head at poor Jeremy's tirerack body). When Jeremy-bot "sees" for the first time, Lourié gives us his P.O.V. via bad television reception, including snow and interference―a remarkably modern touch. Conversely, Jeremy-bot's design seems to want to invoke some approximation of 16th century dress (the bunched robes and sawed-off britches look), with a frightening skull head and barely moveable mouth that suggest an inhume automaton; this mixing of the old and the new work well here. Clearly, the creepiest scene in the movie is when Jeremy-bot comes to life, with Lourié perfectly orchestrating his various elements―framing, sound effects, performance―for maximum effect. When Jeremy-bot first tries to speak, the sound is this hellish, squelchy electronic feedback that's immediately off-putting, accompanied by the sound of a swarm of mosquitoes hitting a bug lamp (his electronic synapses firing?) that further unnerves the viewer (Lourié really scares you when Jeremy-bot looks at himself in the mirror for the first time, and lets out a frightening scream). Those moments make The Colossus of New York memorable, when the low-key but effective special effects are married to the solid production design (no surprise from Lourié) for a suitably nightmarish evocation of a thinking human brain encased in lead and gears and pulleys. All of The Colossus of New York's concerned talk doesn't come close to illustrating that concept so well.
The DVD:
The Video:


The anamorphically-enhanced widescreen transfer for The Colossus of New York looked a little tight at times at 1.78:1 (would this have been matted out to 1.66:1 in the theaters back in '58?), but the quality of the original materials used more than made up for it: smooth, velvety contrast, very few scratches, and a razor-sharp image. Very nice.


The Audio:


The Dolby Digital English mono audio track is quite clean, with mild fluctuation here and there, and a healthy re-recording level. No subtitles or closed-captions available.


The Extras:


No extras for The Colossus of New York.


Final Thoughts:


As kids we probably just went back to reading our comic books when all the pompous blathering droned on in The Colossus of New York. Now, we can enjoy that silliness right along with the cool cyborg robot who kills with his eyes. A sense of humor would have pushed this into "classic" status, but as it stands, The Colossus of New York is definitely a cult curio worth seeking out for those, like myself, who grew up on this kind of baloney. I'm recommending The Colossus of New York.


---


Paul Mavis is an internationally published movie and television historian, a member of the Online Film Critics Society, and the author of The Espionage Filmography.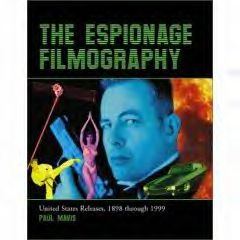 ---
C O N T E N T

---
V I D E O

---
A U D I O

---
E X T R A S

---
R E P L A Y

---
A D V I C E
Recommended
---
E - M A I L
this review to a friend
Sponsored Links
Sponsored Links