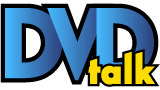 Umberto D.: The Criterion Collection
List Price: $39.95 [Buy now and save at Amazon]
---
THE FILM:
Please Note: The images used here are taken from promotional materials/stills, not the Blu-ray edition under review.

How hard a line you draw regarding the innate appeal of animals as avatars of sweet tenderness will weigh heavily upon whether or not you accept Umberto D., the renowned Italian director Vittorio De Sica's (Bicycle Thieves) 1952 drama, as a genuinely heartwarming piece of work or something that wanders too far into sentimental territory. In this reviewer's humble opinion, though, you'd have to have a pretty stony, prejudiced heart not to succumb to Flike (played by a little dog called Napoleone), the canine companion belonging to the elderly Italian pensioner of the film's title (played by the perfectly cast, feisty, raspy-voiced little Carlo Battisti, a nonprofessional actor and professor in real life). Once a proud civil cervant who was able to make his way with some dignity and feel he belonged to society, the retiree, whose meager pension can't keep up with Italy's ghastly postwar inflation and isn't nearly enough to cover his long-overdue rent and other expenses, finds himself caught at desperate ends he never expected, in his hardworking, bourgeois confidence in the fairness of the system, to have to confront. In that context, however special and adorable he is, little Flike -- whose fourl-legged charm, understandably, does not go unexploited by De Sica -- is not just some extraneous badge of cuteness sneakily added in for an extra, unearned "awwww" factor. What he comes to represent is what's really important in life, what stokes the will to live, not just for the increasingly desperate Umberto D. but for any of us: some anchor that remains when the unpredictable tides of life threaten to wash us away, something that depends on our remaining alive, a living reminder (whether it's a spouse/partner, child, or beloved pet) that our presence on earth is valuable and not to be squandered or thrown away in defeat.
It's an open question for Umberto D, the will to live and the ability to stay alive; the many factors jeopardizing his survival are what gives the film its tension and suspense, and the axis around which all that spins is Battisti's wonderful, incredibly moving presence (you almost don't want to call it a "performance," it's so authentic). The old man, all alone in the world except for Flike, lives in a little flat in Rome in which he's resided for years and years, but his housed status grows more tenuous by the day. As the film opens, De Sica's camera takes us from the broader social context -- a large, unpermitted public protest, busted up by the cops, calling for a raise in the paltry state retirement pension -- down to the individual thread in that tapestry, Umberto D., who explains to his fellow marchers that a 20% raise in his pension would let him pay off his debts. And his debtor isn't about to cut him any slack; his landlady (Lina Gennari) is someone Umberto has known since her youth, but she's a social-climbing adherent to the postwar pursuit of material gain, and this old man, lingering on in an apartment she would rather rent out to "better," more glamorous and successful people (as well as discreet, lucrative hourly-rate prostitutes), stands as an unpleasant reminder of a more communal but unpleasantly impoverished personal and national past she can't wait to get rid of. At first, it's Umberto's defiance, his determination not to succumb to his highfalutin, pretentious, contemptuous landlady, that keeps him alive. An age-appropriate vulnerability to illness is a setback, but after he's discharged from a local Catholic sanitorium (where a fellow patient, another casualty of the nation's race toward consumer capitalism, has informed him he could find a semblance of a home if he can convince the doctors and nurses/sisters of a continued illness), he has more than enough pluck left to keep his spirits up. In the film's funniest scene, the little old man hides behind a corner, waiting for his landlady and her oily, besuited paramour (notably, the owner of the local cinema) to approach so he can plop Flike out into their path and gleefully emerge, anouncing his return and informing them that he won't be gotten rid of so easily. Further lifting Umberto's spirits is the building's servant girl, Maria (Maria Pia Casilio), who habitually sneaks him and Flike tidbits from the kitchen and makes their excuses to the landladly, but is confronting her own "trouble" after dating two soldiers from different towns, either of whom could be the father of her unborn child. Her confession of her condition to her old-fashioned friend/tenant shocks him, but he doesn't hesitate to offer supportive, often humorous advice (he doesn't know either of the boys, but has a prejudice against the one from Naples), and a shoulder to cry on, and Maria's own plight becomes the film's primary subplot as well as a factor that pulls Umberto and Maria even closer together in solidarity.
But lack of sufficient financial resources has a discouraging way of eating away at determination, taking a nibble out of one's self-worth here and a big bite out of one's dignity there. The film's trajectory is thus one of a sad, inevitable descent that, while never harsh (De Sica is perhaps the least tough of the Italian Neorealists; his sensibility is much milder than, say, Rossellini's, and he would never have been capable of making something like Germany Year Zero, a bitterly tragic version of a similar postwar story), is rather harrowing on the previously "respectable," now destitute terms of Umberto's view of himself and the world, as transmitted carefully and most effectively by Battisti's very body language, as well as the milieux in which De Sica has his sad journey play out. Umberto's reluctant, subtle attempts to try selling off his few valuables -- a wristwatch, some books -- to raise his back rent become increasingly desperate, devolving into a heartbreaking scene in which, "inspired" by a ragged beggar he sees on the street, he tentatively holds out his hat but can't bear the humiliation, and so hides away and sends out little Flike, hat gripped between his teeth, to do the begging instead. Meanwhile, his formerly (and, it's implied, delusionally) comfortable past haunts him; a harried former coworker tells him one of their colleagues is now dead, and the man who was his boss, and who was apparently left with a much healthier retirement package, is cheerfully indifferent to his plight. Maria, herself under the firm thumb of the landlady and beset by her own pressing problems, holds little sway and can't do much more than sympathize with her old friend who's about to lose his home. At least a heartstopping episode in which Flike is lost, leading to Umberto's horrified visit to a dog pound where lost pets and runaways are euthanized (and an observation on our part that both Umberto and Flike are at the mercy of an underfunded, inhumane bureaucratic system that can't really accommodate or care for them properly) doesn't end badly. But, as it begins to seem certain that man and dog will be left homeless, the question shifts from whether Umberto will be able to hold onto his apartment to whether he'll give in to the increasing, actually suicidal hopelessness of a situation that's closing in on him, his feeling that if the world doesn't want him or Flike (for whom he tries, in another tear-eliciting sequence, to find a good home), they may as well make their exit before their time.
The bittersweet urgency of Umberto's jeopardized existence is carried along by Alessandro Cicognini's orchestral score (who also scored De Sica's Bicycle Thieves and Shoeshine), which could have been disastrous if too overdone. But the music is neither omnipresent nor overly manipulative; it's complementary, following from, not leaning too heavily onto, what's playing out. The musical balance struck between emotional emphasis and conscientious avodiance of pushiness or gloopy sap offers a good illustration of the care with which De Sica has approached all the other dimensions of his film, too, in order to draw us in emotionally while remaining authentic, never indulging in false sentiment. The movement of shots and editing is put entirely at the service of Umberto D.'s linear story, and the film moves along at a good clip, but it never seems harried, never in any rush to merely move plot along; moments that offer depth -- like the longish sequence that depicts the household events of the feverish night when Umberto falls ill (allowing for a contrast, through parallel editing, of his extremely modest space with the gauchely ornate drawing room of the landlady, where she's entertaining in a way so noisy as to make Umberto's sleepless night even more unpleasant), or, perhaps the film's best moment, a real-time shot in which Maria goes about her chores and sits and thinks alone, letting herself show emotion in isolation that she would never reveal in the presence of others -- arrive as important and captivating as the more dynamic scenes, not slowings or interruptions.
De Sica's style is much more classical than that of the immediate peers with whom he's usually grouped, placing him decidedly on the smoother side of Neoralism. It's film authorship of the invisible-hand variety, never shaky or sharply/awkwardly spontaneous, with the "realism" coming from the plain, simple, ordinary, utterly sympathetic hard-luck characters and moments he brings to the fore, and the "neo" social consciousness from the way he composes his frames, usually staying away from close-ups and employing lots of medium and long shots that place Umberto and Flike, without obvious exposition/explanation or any need for preachiness, against a backdrop of the real postwar Rome and its parallel strife and economic advancement. His way of pacing and framing these scenes of "unimportant" action, and the performances he draws from his actors, convince us entirely of their vitality and interest. It's these moments that show us the film's distinguished soul, that really let us see who the characters are and what's at stake for them in the swifter action and danger that plays out elsewhere.
Umberto D.'s power, like that of all of De Sica's best films, lies not in any rawness to its realism (there is scarcely any), but in another kind of integrity, the dovetailing of the filmmaker's style with the moral/ethical point of view, revealed without ever grandstanding or self-righteously pamphleteering, inherent in the story he's chosen to tell -- the "message," never for a moment announcing itself as such (because it doesn't need to; it's there in De Sica's very treatment of his people and their stories), which is nothing more complex, urgent, or easily forgotten than what is brought forth and rendered compelling and moving in most every frame of Umberto D.: the fact that old age, socioeconomic realities, and the basic need for food, shelter, and human connection are unavoidable factors that implicate everyone, and the concomitant idea that we could do much worse than keep ourselves aware of, and open to sharing as we can, the burdens that the human race has in common -- burdens that this wondrously entertaining and gloriously humane film very effectively make it seem a joyful duty to share and a shame to ignore or evade.
THE BLU-RAY DISC:

Video:
The big pluses of the AVC/MPEG4, 1080p transfer are a noticably sharper image, increased vibrancy, and more details in the beautiful B&W contrast when compared to the prior Criterion SD release of the film. Another plus is that this new Blu-ray release has apparently restored the film from its (incorrect?) SD aspect ratio of 1.33:1 to the original AR of 1.37:1. (This also involves the elimination of the rounded corners of the frame previously visible on the SD edition, which reliable sources tell me would normally have been cropped by projectionists to attain the correct aspect ratio.) There is no edge enhancement or aliasing. The only downside, aside from fleeting signs of print wear so brief and intermittent as to be completely forgivable, is the possible slight overuse of digital noise reduction at certain points in the film (usually, but not always, in scenes leading up to and immediately following reel transitions, which may present a technical problem that give those at the telecine better justification for DNR). Still, the big picture here is one of very high, conscientious quality, and this edition can be recommended without reservation.
Sound:
The film's uncompressed PCM monaural soundtrack preserves the film's audio (in Italian, with optional English subtitles) very well, with a certain grit and tinniness to the sound not really drawbacks as such, but simply due to the sound technology available at the time and place of Umberto D.'s production. In itself, the transition of the film's sound to disc has been handled with all due care.
Extras:
Most of the extras from Criterion's 2003 SD release of Umberto D. (save for a couple of brief written comments on the film that were contained in an onscreen-text supplement on the DVD) have been grandfathered in for the Blu-ray:
--"That's Life: Vittorio De Sica," an approximately hour-long Italian television program from 2001 that recaps De Sica's career through tons of well-organized archival footage of the director, from his days as a matinee idol through his Oscar-winning international stardom as a filmmaker to his gracefully adopted role as a grand old gentleman of the cinema (complete with, apparently, multiple TV appearances to discuss, with great good humor and openness, his career). The supplement serves the general purpose of encapsulating De Sica's long, diverse career (reminding you to re-watch his other, even greater ones like Bicycle Thieves and The Children Are Watching Us, or get on them if you've never seen them) and revealing that Umberto D. was a film he had to fight to get make (after the success of the much more commercial Miracle in Milan), and the one of which he was most proud.
--A 12-minute interview with actress Maria Pia Casilio (who plays Maria in the film), in which she recalls her reluctant, serendipitous transformation from carefree provincial girl to Roman film star. Casilio tells in detail the fairytale-like story of being auditioned and cast by De Sica at the start of her very prolific career in the Italian cinema, which encompassed a long-running collaboration with her first director (De Sica put her in his films whenever he could, even making up small roles for her, as his "good-luck charm").
--The film's entertainingly grandiose (and therefore dissimilar to the unassuming film itself) theatrical trailer.
--An 18-page booklet containing an excellent appreciation of the film by Nation critic Stuart Klawans and brief recollections on its making by De Sica and Battisti.
FINAL THOUGHTS:
It's a true-enough truism that Vittorio De Sica was the least "gritty" of the Italian Neorealists (Rossellini and Visconti both did much more quasi-documentary, "realistic" films in that vein), but Umberto D. stands as a cinematic monument to the idea that grit is not the only path to striking, compelling socio-political enlightenment. The sweet and simple tale of a proud, unexpectedly poverty-stricken old man -- a former civil servant on an inadequate pension who's struggling and failing to make ends meet -- and the heartbreakingly tentative connections and bonds between him, his dog/companion, and a single and pregnant servant girl of his acquaintance, De Sica's film is also told sweetly and simply, with a confident, invisible assurance -- an unprepossessing, adept style that subsumes itself, always, to the story and the revelation of its emotional resonsances. The straightforwardness of De Sica and co-writer Cesare Zavattini's tale leaves plenty of room and screen time for the film to remind and convince us -- through its loose, relaxed pace and its taking adequate time to let us experience the character's lives -- of what its makers obviously feel are the truly important things: the ever-dramatic stuff of life that doesn't need to be exaggerated or contrived to be engaging; the mundane moments of survival, routine, doubt, worry, friendship, and play that here take on an almost holy resonance through the way De Sica's camera (with the indispensable aid of cinematographer Aldo Graziati (Senso)) captures the protagonist's difficult, desperate, fragile and therefore invaluable existence. Umberto D. is no hero, just a human being trying to make his unfairly obstacle-ridden way, but for De Sica, et al, that's a false distinction; the earnest, gentle beauty of Umberto D. impresses upon us, in the most involving and moving ways, that being human, just trying one's sincere best to maintain one's humanity in the face of an inhumane world, is heroic enough. Highly Recommended.
---
C O N T E N T

---
V I D E O

---
A U D I O

---
E X T R A S

---
R E P L A Y

---
A D V I C E
Highly Recommended
---
E - M A I L
this review to a friend
Sponsored Links
Sponsored Links