List Price: $19.98 [Buy now and save at Amazon]
---
Low-key, dreamy French noir thriller with an intriguing, high-powered cast. M-G-M's own M.O.D. (manufactured on demand) service, the Limited Edition Collection, which caters to movie lovers who crave hard-to-find library and cult titles, has released The Outside Man (original title Un homme est mort, the 1972 suspenser from director Jacques Deray, starring Jean-Louis Trintignant, Ann-Margret, Roy Scheider, Angie Dickinson, Georgia Engel, Michel Constantin, Jackie Earle Haley (in his big-screen debut), and famed noir alumnus Ted de Corsia in his final movie role. Shot on location in Los Angeles, The Outside Man doesn't offer anything particularly new in the way of noir exposition or mise en scene, but The Outside Man does what it does with sleepy dispatch, and with an interesting, neurasthenic feel to it that fits right in with the drowsy, grungy, sun-bleached locales. No extras for this okay-looking transfer.
French hitman Lucien Bellon (Jean-Louis Trintignant, a tad pallid here) arrives from Paris to Los Angeles and checks into the Beverly Hilton Hotel. There, an attaché case is already waiting for him; it contains a newspaper, quite a bit of cash...and a gun. Bellon receives a phone call from his contact Antoine (Michel Constantin), who gives Bellon his assignment: kill mob boss Victor Kovacs (Ted de Corsia) at his Beverly Hills mansion. And this Bellon does, shooting Kovacs point blank and escaping by calmly walking out the front gates...as son Alex Kovacs (Umberto Orsini) and lover/mother-in-law/widow Jackie Kovacs (Angie Dickinson, completely wasted) coolly look on. Returning to the Hilton, Bellon discovers that his "secretary," who so helpfully provided him with his gun and money, has now checked him out, along with Bellon's dough. And before he can figure out why, hitman Lenny (Roy Scheider, having a lot of fun here) almost blows his head off. Now it's a race to see if Bellon can find out what happened to his money before Lenny kills him. Fortunately, Bellon can rely on old flame and topless bartender Nancy Robson (Ann-Margret, gorgeous in a silly role) to help navigate the mean streets of Hell-A.
Judging by that sweet half-sheet poster I have of The Outside Man, I'd guess that this French-Italian co-production was picked up for U.S. release largely because of its American locales and stars, particularly Roy Scheider, who had just scored big in the Oscar-winning smash hit, The French Connection, the previous year (the poster art makes strictly supporting player Scheider look like the main protagonist here). I'm not familiar with director Deray's work, other than his big international hit, the period gangster flick Borsalino, starring Alain Delon and Jean-Paul Belmondo, so I can't "place" The Outside Man in any kind of meaningful context relative to Deray's other films. However, it's clear from The Outside Man that Deray has an deep-seated appreciation for noir conventions. He may not be reinventing the noir thriller genre here, or even giving us a marked or exceptional example of it, but director Deray does manage to give the story a strange, sleepy vibe that's interesting, nonetheless.
With an original screenplay by Deray, Ian McLellan Hunter (probably most famous for fronting for Dalton Trumbo's Roman Holiday), and heavyweight Jean-Claude Carrière (Belle de Jour, That Obscure Object of Desire, The Tin Drum, Danton), The Outside Man central story will be at the very least familiar to noir and thriller fans―the emotionless, cold-as-ice assassin unknowingly marked for prey by his employers― while conventions of the genre are easily spotted: the dangerous urban landscape with its dehumanizing mechanization; corrupt organized crime figures and the cops who can't do anything about them; the sexy femme fatale wife who isn't bothered by either her old husband's death or the perversion of taking her son-in-law as a lover; the erotic "good bad girl" who offers love to the assassin amid all the nihilism; and the killer who would rather risk his life and find out why he's marked for death, than escape not knowing. All of this you've seen before―as undoubtedly Deray had, as well.
Of course, there's nothing wrong with genre orthodoxy, so just from the standpoint of being faithful to the expected standards, The Outside Man succeeds well enough. I can't say if newer viewers or those with no nostalgia for early 70s thrillers will accept the deliberate pace (elongated by Deray's quiet, contemplative tone amid the set pieces) and the sporadic PG-rated violence and sex here (as well as the truly regrettable failure to allow Dickinson or Ann-Margret to shed all their clothes); that time period is increasingly an acquired taste to be sure. However, Deray's insistence on making The Outside Man be a workmanlike exercise of noir conventions rather than a slavish, obvious homage to the genre gives the movie a matter-of-factness that I rather liked. The killing of Victor Kovacs is a good example: Bellon simply walks into the mansion (under the guise of being Kovacs' European lawyer) and plugs him straightaway when Kovacs realizes he's a stranger. And then Bellon simply walks back out again. Done. Over. Casual, unemotional violence in the land of casual violence.
That strange, numbed tone Deray achieves seems to spring organically from the just-right L.A. locales he captures on film. Metaphorically Trintignant is an "outsider," certainly, because of his profession, but he's literally one in Los Angeles because he's a foreigner. Yet, Deray doesn't have Trintignant act scared or lost or even uncomfortable. He's not "feeling his way" around; he's just...surviving, existing in this modernized L.A., with its switched-on TV in every possible room, and coin-operated gadgets galore (I sure don't remember the public use electric shaver machines in men's rooms!). Deray might be saying something about the dehumanization of a modern society that creates an array of dysfunctional characters like these found here (I love it when Trintignant closes his eyes like a robot the second the TV channel signs off for the night), but he doesn't make a big deal about it. It's there to put us off kilter, but he doesn't hammer it into us with obvious "Please pay attention" representation (a young mother and her little boy are being held prisoner by a man with a gun, but look at the bored, switched-off expressions of Trintignant, Haley, and Engel as they watch a hilariously bad clip from Star Trek). Deray's L.A. isn't commented upon for effect; he shows us Beverly Hills, grungy Venice, sleek nighttime downtown, the dirty roller derby rinks, and the dilapidated remains of Marineland, U.S.A. with equal dispassion. They're not thrown up on the screen for scenic value, or for evident symbolism; they're stripped equally of glamour or romanticized squalor.
It really doesn't matter, either, that at times The Outside Man doesn't make much sense. How did the cops know to contact Ann-Margret about Trintignant (and what exactly is their prior relationship)? How does Engel escape death from Scheider when he's been killing off every single witness who's come into contact with Trintignant (they set this scene up for a sure kill for Engel...and then she's alive, with no explanation)? Those points nag at you later, but with noir, confusion of events only aids the viewer's disorientation; you only start to ask questions after the pleasantly confusing experience is over. Equally pleasant is Deray's subtle sense of humor here. Scheider, the supposed dreaded assassin, constantly misses Trintignant, swearing afterward like a baseball player powering through his third strike. The senseless killing of a former drug addict/Jesus freak hippie is treated for black laughs; Engel comes to life when she gets to discuss her ordeal on television (with Scheider shown watching her, chuckling at her naïve enthusiasm); and Deray has de Corsia's corpse seated in an upright position at his funeral, on his kingmaker throne, cigar in hand, with a spotlight on him as if he was heading up a meeting of the board (I love the "S'alright? S'alright" moment when a terrified Orsini flips opens and closes a coffin lid like a jack-in-the-box).
That final shoot-out at the funeral is quite good, too, where everyone seems to get shot via attractively messy choreography, blocking that felt open and quite funny (the movie's one truly remarkable shot shows a mortally-wounded Constantin hanging onto a hearse bumper as he's dragged across the grass). True to the genre conventions as always, Deray ends The Outside Man the only way it can end: MAJOR PLOT SPOILER an incredulous Trintignant dying behind the wheel of a hearse, his efforts for naught, as Ann-Margret waits for him at the airport. It's not an entirely unexpected ending, but it comes as swiftly and abruptly as those nasty slaps Trintignant gave Haley earlier. No muss, no fuss. No big statement. Just...fade out, with the movie's original French title so much more apropos.
The DVD:
The Video:
The anamorphically-enhanced, 1.85:1 widescreen transfer for The Outside Man looks pretty good, with nicely-valued color (it's dark at times, but that may be the original intent), a fairly sharp image, and expected grain.
The Audio:
The Dolby Digital English split mono is decent, with low hiss and clean dialogue. No subtitles or closed-captions.
The Extras:
Pity: no original trailer (or any other kinds of bonuses) here. I would have liked to see how they sold this.
Final Thoughts:
A cool, numbed, workmanlike noir. The Outside Man won't be to everyone's taste, considering its deliberate pace and its patchy violence. But director Jacques Deray has a way with neurasthenic suspense, and a surprisingly deft comedic touch amid all the zoned-out mayhem. For noir and 70s thriller fans, I'm highly recommending The Outside Man.
---
Paul Mavis is an internationally published movie and television historian, a member of the Online Film Critics Society, and the author of The Espionage Filmography.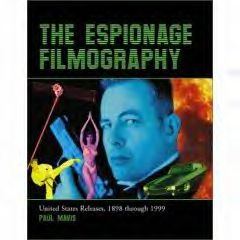 ---
C O N T E N T

---
V I D E O

---
A U D I O

---
E X T R A S

---
R E P L A Y

---
A D V I C E
Highly Recommended
---
E - M A I L
this review to a friend
Sponsored Links
Sponsored Links