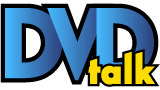 List Price: $19.95 [Buy now and save at Amazon]
---
Billy Halleck (Robert John Burke) has a beautiful wife, Heidi (Lucinda Jenney), a loving daughter, Linda (Bethany Joy Lenz), and a secure job, thanks to his successful defense of big-shot mobster Richie Genelli (Joe Mantegna) in court, but his weight continues to taunt him. Try as he might, Billy can't seem to stop stuffing his face with whatever he can find when his wife isn't forcing fruit smoothies on him. She's in the middle of giving Billy a little, ah, "intimate" encouragement when he accidentally hits and kills a little old gypsy woman crossing the street. Billy's court connections easily get him off the legal hook, but the gypsy's 109-year-old father (Michael Constantine) catches him on the way out of the courthouse, puts his hand to Billy's head and whispers, "Thinner," and suddenly, shedding pounds is all too easy.



I imagine almost everyone would like to discover a magic diet that works like a charm, making the premise of Thinner a potent "be careful what you wish for" scenario. Growing bigger and bigger just doesn't capture the imagination quite as vividly; the combination of a good thing gone wrong and the helplessness of being unable to stop shedding pound after pound makes for an appealingly unsettling premise. It helps, too, that the producers have hired Todd Holland, who executes the concept with the right balance of horror and a wicked sense of humor. It's suggested that Thinner's failure at the box office was due to a lack of likable characters, but I don't think you should have to like Billy. Bad things are supposed to happen to horror movie characters, so the audience can be creeped out by what's happening to Billy without necessarily hoping for a happy ending.



Before Thinner, my only experience with Robert John Burke was the all-time disaster RoboCop 3, so I was pleasantly surprised by his performance here. Before he's cursed, Billy isn't so much a bad guy as he is an oblivious one, coasting through an easy life and still complaining about the little things. As his body disappears, so does his pleasant facade, revealing a bitter jerk who continues to blame everyone around him for the mess he's gotten himself into (much like Alison Lohman in Drag Me to Hell). His shrinking figure is assisted by Greg Cannom, who does a nice job of bulking Burke up and then peeling it away. Then again, I can't help but think of a film like The Machinist and feel that authenticity is even creepier; the make-up chair is a commitment, but Burke himself only gets so thin.



Unfortunately, if you're gonna make a movie that's basically a modern moral fairy tale, you've gotta have a good payoff, and Thinner can't even make it 60 minutes before its hold over the viewer begins to wear off. Billy, whose condition is beginning to get dire, basically drops out of the movie for ten or fifteen minutes after he calls in Genelli to help convince the gypsies that they should take the curse off of him. Genelli's mobster scare tactics suddenly shift Thinner from horror to action, and without Billy even being present for it, it's not a particularly interesting change of pace.



There's also the fact that Thinner gets unusually sexist as it goes along, with Billy beginning to suspect his wife is cheating on him with no evidence whatsoever. He begins to blame her for the accident (despite the fact that she was pleasuring him at the time), as well as revealing some sort of repressed anger for being forced to go on a diet in the first place. There's probably a way to make this section play the way it was intended, as a resolution that illustrates the many ways Billy hasn't learned his lesson, but it's missing some stylistic touch that would push it from sad cruelty into dark comedy. Then, of course, there's the film's fairly infamous re-shot ending, in which Burke visibly goes from makeup-thin to actual thin, and the film tries to jump over or ignore Billy's last horrible mistake. (I also think it's a missed opportunity for a big, gory special effects moment.) For awhile, Thinner is meaty, bloody fun, but it's all skin and bones before the credits roll.



The DVD

Someone at Olive really got to stretch their design muscles with this attractive new key art for the movie, which stands out next to hundreds of Photoshop disasters lining Best Buy shelves. The back cover is a little sparse (a list of extra features might've filled it up, hint hint), but all in all this is a really great-looking package. Inside the case, there is also a card-stock catalog of other Olive Films releases.



The Video and Audio

This newly-minted 1.78:1 anamorphic widescreen presentation of Thinner is very nice. Colors might be a tiny bit muted, but fine detail is very good for standard definition and I don't see any artifacting, noise, posterization, aliasing, or edge enhancement applied. In fact, I actually see a nice layer of film grain on close inspection. I don't have the Republic DVD to compare, but I doubt it looks half as good as this.



Audio is only Dolby Digital 2.0, which may be a disappointment, but dialogue, effects, and music are all rendered really nicely on this stereo presentation. It may not pack the surround punch of a 5.1 mix, but it sounds fresh and clean for what it is. No subtitles or closed captioning is available on the disc.



The Extras

None. No trailer for Thinner is included, nor even any auto-play trailers. It's especially disappointing, as the previous DVD release by Republic pictures included a featurette on the makeup and an audio commentary by director Tom Holland and Joe Mantegna.



Conclusion

Although the presentation is very good, Thinner runs out of gas before it hits the finish line, and an earlier edition of the film on DVD offered better supplements. That leaves Olive's new release sort of a toss-up; rent it before deciding whether or not this is a movie you need to own.
---
Please check out my other DVDTalk DVD, Blu-ray and theatrical reviews and/or follow me on Twitter.
Sponsored Links
Sponsored Links