Chain Gang (Sony Choice Collection)
List Price: $20.95 [Buy now and save at Amazon]
---
Doesn't make a lick of sense...but then when didn't producer Sam Katzman deliver anything that was at least watchable? Sony's Choice Collection vault of hard-to-find cult and library titles has released Chain Gang, the 1950 grade-B prison actioner directed by human dynamo Lew Landers, scripted by old pro Howard J. Green, and starring a roster of familiar faces: Douglas Kennedy, Marjorie Lord, Emory Parnell, Bill Phillips, Thurston Hall, and Harry Cheshire. Clean, square as hell, and economically produced (to say the least), Chain Gang offers nothing new in the prison chain gang subgenre, with some big-time plot holes pretty much sinking what could have been a snazzy little programmer. Still...it's fun to watch at the beginning, if for nothing more than in appreciation of unselfconscious, anonymous craftsmanship...even if it is in service of a fatally-flawed script. No extras for this super-clean black and white fullscreen transfer (and by the way, Sony; those stills used on the DVD case are not from this movie...).
A chain gang riot at the Cloverdale Prison farm leads to a state senate investigation that goes absolutely nowhere: in this unnamed American state in 1950, certain factions have their "way" with the politicians, and that's that, according to Chronicle reporter, Rita McKelvey (Marjorie Lord). Her boyfriend, Cliff Roberts (Douglas Kennedy), newly promoted capitol reporter for rival newspaper, the Evening Standard, isn't happy about the political corruption or the chain gang cover-up, so he proposes a new series of articles to his editor, kindly Henry "Pop" O'Donnell (Harry Cheshire). Cliff wants Pop to call his friend at Bonneville Penitentiary and have him mock-up a new identity for Cliff―"Jack Granger, prison guard"―as well as get him a position as a chain gang guard at Cloverdale. Equipped with a high-tech camera/lighter, Cliff plans on getting the goods on whomever is abusing prisoners at Cloverdale. Meeting his new boss, Captain Duncan (Emory Parnell), Cliff learns within his first five minutes on the job that abuse is endemic to the prison farm, with Duncan and his guards meting out cruel, violent punishment as a way to keep the men in line. And they're kept in line for a reason: to work in a "convict lease" scheme involving some heavy-hitting V.I.P.s. With that kind of money and power on the line, Cliff's life won't be worth a plugged nickel if he's found out.
I'm not going to write a book about Chain Gang because it's not that kind of picture. It's not a lost or ignored classic. It isn't a "B" with hidden meaning or uncelebrated mise-en-scene. It doesn't have a subversive or novel twist to its narrative. And there aren't any performances here of particularly special note. It's a meat-and-potatoes B-actioner, made by pros for an undiscriminating audience, that's fun to watch until the script springs a really dumb fatal flaw in the storyline that deflates the overall impact. Simple as that.
Produced by the legendary Sam Katzman (one of 11 productions he had out in 1950), and directed by one of his and Columbia's favorite journeymen directors, Lew Landers (Chain Gang was one of nine pictures Landers had released in 1950, giving you an idea of how quickly his titles were shot), Chain Gang's familiar (even by 1950) message is that chain gangs are bad because corrupt state politicians and businessmen are in bed together to make a buck off slave labor, with the rot going all the way down to the lowly chain gang guard (who may get a payoff for whipping the cons into higher productivity). Any in-depth look at that theme is shoved aside as Landers and screenwriter Howard J. Green get on with the suspenseful, straightforward exposition of Kennedy infiltrating the prison farm and documenting the abuse. Chain Gang may have something powerful to say, but that message isn't commented on or elaborated upon: it's merely in service of the story, rather than the reason for the story. Complications that might have made the audience uncomfortable are never addressed; Chain Gang's nastier implications are made easier for us by their simply being ignored. How would we feel about the abuse the men were suffering, if we knew what they were imprisoned for? Would that make a difference? Would we root for Cliff to save Sneed, if Sneed were a murderer or rapist or pedophile? And what about the potentially intriguing theme of Cliff having to whip Sneed to maintain his cover identity? Years and years before scripter Green had penned one of the landmark prison pictures, I Was a Fugitive From a Chain Gang, noted as one of Warner Bros. foremost social protest movies. Yet here in Chain Gang, he just brushes aside any potentially intriguing moral quagmires aside: after Cliff whips Sneed to save his own ass, Cliff offers Sneed a sandwich and a good word, and everything's jake with Sneed to the point where he doesn't even think twice about saving a wounded Cliff at the end of the movie.
Depth of meaning isn't a necessity, though, if a "B" like Chain Gang moves, and to Landers' credit, the picture goes along like clockwork, with his scrubbed, anonymous framing and sensible pacing giving us storytelling at its most primitive (not a pejorative here) and effective. This is craftsmanship of a kind at its highest level, executed by a professional who may not have been a Hitchcock or a Hawks or a Ford, but who could churn out 8 or 10 of these simply-mounted, clean little efforts year after year with a remarkable consistency of the end product. Too bad, then, that someone couldn't have spoken up and mentioned that Green's catalyst for the movie's second half―SPOILERS ALERT! Pop's decision to publish Cliff's article while Cliff's still pretending to be a guard at Cloverdale―is completely inexplicable from a logical standpoint and downright insulting to even the most casual of moviegoers. No one in Katzman's office could come up with a better way of having Cliff get caught? This is either lazy or rushed scripting (the latter certainly a possibility under Katzman's production schedules) that compromises the most basic―and strongest―pleasure of Chain Gang: the clean, logical efficiency of its storytelling. Once it happens, you just...check out from Chain Gang, noting how dumb everything starts to turn: the Captain leaving Cliff alone with only one guard; what a good swimmer Cliff suddenly is after resting up just one day after being shot in the shoulder; the guards running around ready to kill Cliff when a major newspaper has already implicated them all and identified Cliff.
And then it's over and you forget Chain Gang like you never saw it.
The DVD:
The Video:
The full-frame, 1.37:1 black and white transfer for Chain Gang is near pristine, with a super-sharp image, nice blacks, low grain, few imperfections, and well-balanced contrast. Very nice.
The Audio:
The Dolby Digital English mono audio track is just fine: decent re-recording level, and low hiss. No subtitles or closed-captions, though.
The Extras:
No extras or even a menu: the movie just starts and keeps looping when it's finished.
Final Thoughts:
Expert, workmanlike craftsmanship from Lew Landers, in service of Chain Gang's centrally-flawed script. The performers, though, are as anonymously competent and enjoyable as the direction. A rental, at best, for aficionados of Bs and this particular subgenre...but that's all.
---
Paul Mavis is an internationally published movie and television historian, a member of the Online Film Critics Society, and the author of The Espionage Filmography.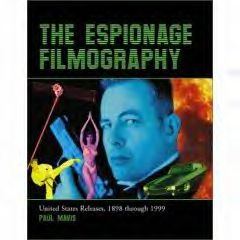 Sponsored Links
Sponsored Links